Tweet Leads to Mellow Johnny's Classic
Lance Armstrong floated the idea of a mountain bike race on his ranch on Sept. 22, 2009. The race, coming this weekend, was sold out in a matter of days.
Heading out the door? Read this article on the new Outside+ app available now on iOS devices for members! Download the app.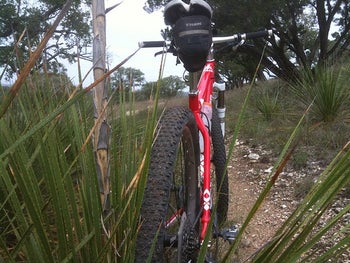 And so on the twenty-second day of the ninth month 2009 AD, it was begot in a solitary tweet: "Down here at @mellowjohnnys kicking around some ideas. Thinking we need a fall mountain bike race at Juan Pelota's ranch. Thoughts?"
The thoughts were unequivocal: In a matter of days, the 2009 Mellow Johnny's Classic @ Juan Pelota's Ranch was created — and then sold out. On Nov. 22, 700 riders, plus their families, will descend on Juan Pelota's 445-acre ranch 45 minutes west of Austin, Texas to benefit the Lance Armstrong Foundation.
But who is this Juan Pelota, you ask?
The same guy who can send out a message on Twitter in any city in the world and within a matter of hours have thousands of people riding with him on their bikes. Yes, it's Lance, aka, Mr., um, One Ball — Juan Pelota, just as in the Mellow Johnny bastardization of Maillot Jaune.
MELLOW JOHNNY'S CLASSIC: NOV. 22
• Pro/Cat 1 Men 19-39 ………………….. 24mi
• Cat 1 Women .…………………………..16mi
• Cat 1 Men 40-99………..………………16mi
• Cat 2 Men/Women & Single Speed.….16mi
• Cat 3………………………………………8mi
• Cat 3 12/10 and Under…..……………..4mi
Hammered linguistics aside, Lance is throwin' a mountain bike party at his place this coming weekend. And had you been following his thoughts on Twitter, you'd have your number plate by now and the chance to check out Armstrong's very own off-road playground.
The course — 24 miles for the pros, 16 for Cat 1 women/men 40+ — takes advantage of the Texas Hill Country, according to a guy who knows a thing or two about trails and mountain biking: Dave Wiens.
"It's pretty cool. It's a good spot," said Wiens, who is a trail consultant and designer. "The topography is good. It's a hard little course. All singletrack with some limestone ledges; all up and down, not flat at all. It's cool riding."
While Armstrong and Wiens won't be reprising the Leadville Trail 100 at the ranch come Sunday — Wiens has been sick and it's unclear whether Armstrong will race — pros like husband-and-wife duo Jeremy Horgan-Kobelski and Heather Irmiger are set to line up. So is Len Zanni, Leadville Trail 100 top-ten finisher who also rode with Armstrong in the 12 Hours of Snowmass.
Then there are the many local ringers who will be gunning for the bragging rights of winning the first-ever Mellow Johnny's Classic.
"Texas is one of the — I don't want to say hotbeds — but one of the areas of enthusiasm for mountain biking," Wiens said, adding that the Mellow Johnny's Classic could fit in well between Sea Otter and the World Cups.
"We need more classic races on the calendar," he said.
Perhaps Lance can send out a tweet and get that taken care of.