US Cup Contest Fights Cancer
The grand prize is a Specialized Epic EVO, which retails for $4,100.
Heading out the door? Read this article on the new Outside+ app available now on iOS devices for members! Download the app.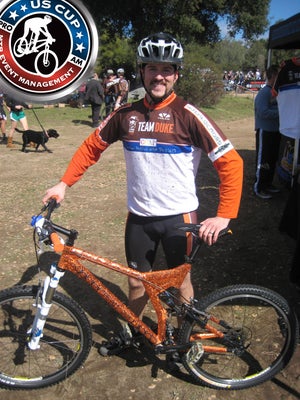 The US Cup and the 2011 Kenda Cup West Series are teaming up with the John Wayne Cancer Foundation to raise funds to fight the disease.
The fundraising period and a contest will be the duration of the US Cup racing series — February through June  — and will end just before the last event of the Kenda Cup West Series on June 19. The fundraising will be done through JWCF's Team DUKE Program.
The contest is open to all US Cup racers regardless of what team they are on, including all US Cup racers who are not on a specific team. Each racer/fundraiser that joins the fundraising contest will set up their own Team DUKE web page and ask their friends to donate through their personal web page, which will show the total amount raised. At the end of the contest, JWCF will check all web pages and see who raised the most and the top fundraiser will win the prizes at the final race of the season.
Minimum fundraising amount is $3,000 to be eligible for the grand prize — a Specialized Epic EVO Epic, which retails for $4,100.
US Cup racer and Team DUKE rider Michael Page beat cancer personally. Page also races a bike that was decorated by children who are fighting the disease and jersey that was hand decorated by Cooper, a child cancer patient. The project enabled Cooper and the other kids to be part of the team as the team artists, while being treated for cancer in the hospital.
"That was about the greatest experience a rider could have," Page said. "Cooper was the biggest inspiration for me to push it to the limits."
Examples of JWCF programs include:
$3 Educate one teenager about skin cancer prevention and early detection.
$20-40 Use the healing power of art and music by providing a one hour project for child cancer patients in the hospital, so they can be encouraged for the art and music they create.
$40 Provide a free mammogram to an underinsured woman to help her detect breast cancer early.
$1,000 Help send a cancer survivor to an outdoor adventure support group camp where they support each other as they transcend their diagnosis together. These camps also empower cancer fighters to lead active lifestyles.
$2,500 Sends a child cancer fighter to a western camp support group for a week.
To join the fundraising contest contact JWCF's Greg Graber at greg@jwcf.org or 949-631-8400.  All contestants are required to contact Greg to enter this contest.
Contest start: Kenda Cup West Sagebrush Safari-2/27/11
Contest ends: Kenda Cup West Santa Ynez -6/5/11 2011
Contest winner awarded: Kenda Cup West-Big Bear-6/19/11
Minimum fundraising amount: $3,000 to be eligible for below prize package.
Prizes for the top fundraiser:
Specialized bike – Epic EVO Epic. Retail $4100.00
Specialized pro pack – S-Works Shoes, S-Works Prevail Helmet & BG Pro Gloves. Retail $650
Sho-Air Kit (Bibs, socks, jersey, arm/leg warmers). Retail $225
Oakley Sunglass-Retail $225
Team DUKE Knife – collector's item with certificate by W.R. Case & Sons Cutlery
JWCF Sunscreen
JWCF T-shirt and Baseball Cap
A pack of John Wayne Beef Jerky
Over $5500 in retail product to be given away.
Please visit Teamduke.org and the John Wayne Cancer Foundation.