Why Luke Vrouwenvelder is the fastest guy you've never heard of
Balancing his coaching business and ambitions as a pro mountain biker, Luke Vrouwenvelder has been beating some of America's best riders.
Heading out the door? Read this article on the new Outside+ app available now on iOS devices for members! Download the app.
BENTONVILLE, Arkansas (VN) — Luke Vrouwenvelder lacked the various accouterments of the other top riders at last weekend's Oz Trails Off-Road in Bentonville, Arkansas. There was no tent to shield him from the rain, no team mechanic to wrench on his bicycle. Instead, Vrouwenvelder traveled to the race with his mom, Angie Shatas, from his home in Chapel Hill, North Carolina.
He left the weekend with a second-place medal and a check for $5,000 in prize money.
This is how Vrouwenvelder has operated his racing program all season. At 23, he is one of the country's top up-and-coming off-road racers, with a resume of impressive results on the U.S. Cup series. Fifteen years ago, those results could have earned Vrouwenvelder a paying job on one of North America's factory cross-country teams. But mountain biking's heyday is long in the rearview mirror, and today, top talent like Vrouwenvelder often operate privateer programs.
That means scraping together what little support Vrouwenvelder can find. He has Trek as a bike sponsor, along with seven other companies providing a range of products — Bontrager, Oakley, Clif Bar, Vittoria, Cutaway, Fox, and Violich Farms, a California orchard that grows almonds and walnuts. He also races under the team name of his personal coaching business, LukeVCoaching, and uses his presence at the races to find new clients.
"I get to meet clients that I coach. I get to see them, put a face to a name, I get to race alongside them," Vrouwenvelder told VeloNews in Bentonville. "It can be a bit much at times but as long as my time management's there, it's doable. It's the only reason I'm here, otherwise I wouldn't have the money."
No, it's not the easiest or most obvious way to take on the best American mountain bikers in his debut season in the pro ranks. So far, it's working for Vrouwenvelder.
He started in April with the Fontana and Bonelli US Cup races, where he was seventh and 10th, respectively. The next month he was fifth in the short-track and sixth in the cross-country at Soldier Hollow. Then, he was hit by a car in early June while riding, suffering a severe bone bruise on his tibia. He was off the bike for about a month and had to cancel a trip to Europe for World Cups in Italy and Andorra.
"The injury is sort of like what could have been," Vrouwenvelder said. "At the same time, it's easy to focus on the negative at the time, in the moment. But a forced break like that, mentally it's really motivating."
Vrouwenvelder came back stronger. He was second in the elite cross-country and third in the short track at USA Cycling National Mountain Bike Championships, beating rivals with factory sponsorships like Christopher Blevins (Specialized) and Keegan Swenson (Pivot-Stan's No Tubes).
Vrouwenvelder is hardly a novice. He won three national championships in collegiate cycling at the University of North Carolina. After graduating in 2017, he launched his coaching business. After one year as a coach, Vrouwenvelder counts about 15-20 clients, some of whom were out racing at the Oz Trails Off-Road.
Vrouwenvelder's impressive results have begun to earn him sponsors. Ken Avery, vice president of marketing for Vittoria tires, met Vrouwenvelder at the Boston Rebellion Pro XCT race. Vrouwenvelder finished fifth overall at the race, and the impressive ride caught Avery's attention.
"For me, it was like, 'Dude you're one of the best in the country and you're buying our product? Let's work together,'" Avery said. "I liked the fact that he had full freedom to ride whatever because it really underscored that he's using our stuff because he believes in it."
Of course, there are disadvantages to the privateer program, Vrouwenvelder said. His race at the Oz Trails Off-Road almost didn't happen; during Friday's fat tire crit he broke a chain and didn't finish.
Vrouwenvelder tried to troubleshoot the problem with Brad Copeland, the mechanic for Howard Grotts and the Specialized team. The two realized that Vrouwenvelder's cassette was causing a problem, and the Specialized team loaned Vrouwenvelder a new one for Sunday's backcountry race.
Vrouwenvelder made the most of the good fortune — he out-sprinted Grotts for second place and the $5,000 payday.
"Luckily Howard [Grotts] and Brad [Copeland] from Specialized were nice enough to take a little pity on me," Vrouwenvelder said. "I feel a little bad — their new cassette is probably what won me the sprint. They didn't have to do that."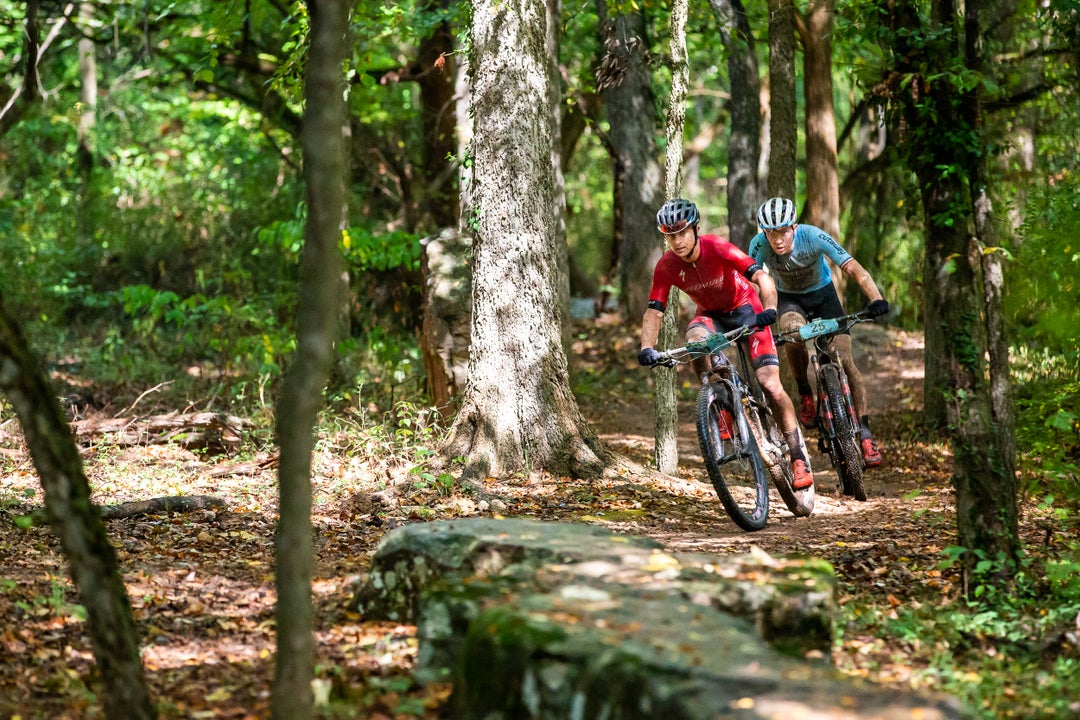 The privateer program may work for now, however it isn't enough to help Vrouwenvelder meet his ultimate goal. Vrouwenvelder wants to someday compete on the World Cup series. Racing the World Cup, which has races scattered across Europe, requires resources and team support.
"The teams that are offering, they're not necessarily a better situation than what I'm doing right now," Vrouwenvelder said. "Because I would obviously lose the ability to put my coaching service on the front of my jersey, which definitely delivers a few clients now and again. I'd have to weigh the pros and the cons."
Avery believes Vrouwenvelder has the right combination of natural talent and intelligence to someday advance him to the sport's premier series.
"With Luke, he has the ability and the mindset, and he understands how to do it all because he's a coach himself. Because of that, he's got great potential," Avery said.
"He is the fastest guy you may have never heard of."
Yet.