World Cup Women: North Americans Eyeing Offenburg
Willow Koerber, Georgia Gould, Heather Irmiger, Catharine Pendrel and other North American women all have a legitimate chance of finishing on the podium at World Cup 3 in Germany on Sunday.
Heading out the door? Read this article on the new Outside+ app available now on iOS devices for members! Download the app.
By Wendy Booher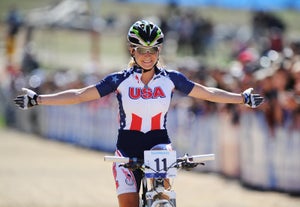 OFFENBURG, GERMANY — Not since the early part of the last decade has North America dispatched a leader in World Cup mountain bike racing.
On May 23, Willow Koerber (Subaru-Gary Fisher) will take her place on the front line in round three of the UCI World Cup Mountain Bike Series in Offenburg, Germany, resplendent in the leader's jersey. She earned the lead by placing second in the first two rounds while the world's other elite cross-country racers posted scattered results.
Koerber and teammate Heather Irmiger, the reigning U.S. national cross-country champion, and compatriots Georgia Gould (Luna Pro Team); Katie Compton (Stevens/Planet Bike); and Canada's Catharine Pendrel (Luna Pro Team), will each go to Offenburg with solid aspirations to finish on the podium.
"All these women are also racing consistently well internationally, so competition is good," Pendrel said, referring to the depth of talent in the women's field. "I think you are seeing more women racing with the confidence they could win. There is no one great standout rider like Gunn Rita was. People used to race for second; now they dig deeper because a win is possible."
The buzz around Koerber really started to hum following last year's World Mountain Bike Championships in Canberra, Australia, where she took the bronze medal. The performance marked both a personal triumph for Koerber and a game-changer in women's pro mountain biking.
The power of positive thinking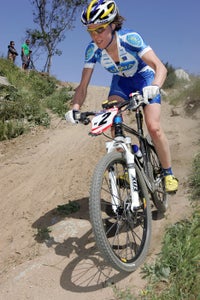 Starting in June 2009, Koerber changed her mind about a few "minor" things, like who she was and how she wanted her life to turn out. She moved to Durango, Colorado where she met her current boyfriend, Myles Rockwell, who has a rainbow jersey of a former world downhill champion (2000) hanging in his closet. Koerber admits to having a light side and a dark side, which eclipsed everything else much of the time. She credits Rockwell for helping her change her attitude about racing.
"My results in the second half of last year were a direct result of this change in attitude," Koerber said. "When I went to Australia, I went to win.  It is not easy to overcome my demons, and I wanted to prove to myself that I could do it. Amazingly enough, whenever you prove something to yourself, everyone else notices too."
Someone who not only noticed but who made sure everyone else noticed was Koerber's former RLX-Polo Ralph Lauren teammate and two-time Olympian, Jimena Dolzadelli (formerly Florit).
"Willow has evolved to be the racer she is because of hard work and dedication," Dolzadelli said. "She is committed to the sport that saw her going through ups and downs, and seeing her at some downs, I can tell she is an emotional racer.
"When Willow is happy, Willow is fast. Willow is happy now," Dolzadelli continued. "Besides her happiness, she is more mature and has made a few changes to her training, but mostly all the years of racing and training are coming together to click at the right time."
How to win a World Cup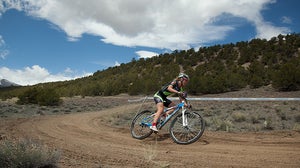 What it will take to win on Sunday will be superlative technical skills matched to superior fitness — and preferably a first- or second-row call-up to the start line.
"Offenburg is always a huge race — tons of racers and spectators," Georgia Gould said. "The course is challenging technically and physically and there is lots of single-track. A good start is crucial because you can lose lots of time getting stuck behind people in the single-track — trust me, I know."
Different this year in Offenburg will be the presence of big-wheeled bikes. 29er loyalists earned a vote in their favor earlier this year when Germany's sanctioning body for cycling, the Bund Deutscher Radfahrer, repealed restrictions on racing 29ers. That means Koerber and Irmiger will be able to race on the bikes that they've each credited on various occasions for their recent successes. Despite rumors, Katie Compton, who will make her 2010 World Cup debut in Offenburg onboard German bike brand Stevens, will be racing a 26-inch bike this weekend.
"They are building me a prototype 29er so I hope to have that one soon too, but I won't have it for this weekend," Compton said. "I like having the ability to choose the bike that works best for the course."
In the women's race, current world champion Irina Kalentieva (Topeak/Ergon), will be a race-favorite on Sunday, not only for her prowess but because she races for a German company and fans have claimed her as one of their own. Compton, due to her successes in cyclocross, should also expect a warm welcome, especially now that she's racing on a German-engineered bike.
Absent from Sunday's race will be Luna's Katerina Nash, who will remain in North America to attend a product launch for Orbea, and to race the following weekend.
Racing in Offenburg for the elite women starts at 10:45 am (CET), followed by the men at 2:30 p.m.