Yeti AS-R Carbon
Mountain Bike Test: The Yeti AS-R Carbon is a point-and-shoot bike with super crisp handling.
Heading out the door? Read this article on the new Outside+ app available now on iOS devices for members! Download the app.
By Singletrack.com Test Crew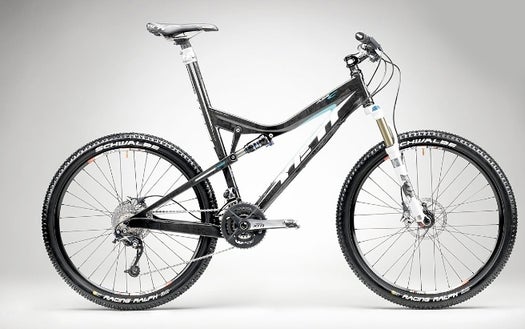 The Yeti AS-R Carbon and the AS-R 5 Carbon elicited the most discussion amongst the test group.
With their stout carbon chain stays, head tubes and bottom brackets, both the four-inch and five-inch Yeti rigs, it was widely agreed, were stiff sumbitches. Bottom bracket and head tube stiffness were both exceptional and contributed to lazer-sharp handling.
YETI AS-R CARBON
•
Price:
Yeti sells either a frame or complete bike. AS-R Carbon frame only: $2,700. AS-R Carbon race kit complete: $4,800 (primarily XT with thru axle on front and rear)
• 24.5 lbs (Size large as tested)
• Full carbon frame
• 4-inches of travel
• Front and rear triangles are constructed entirely of hand-laid
carbon fiber with co-molded aluminum lugs at the bearing and
pivot connections.
• Bottom bracket is a press-fit-style instead of traditional
threaded cups, which reduces weight and adds stiffness.
• Carbon "dogbone" helps create the ideal shock rate and
provides solid connection between front and rear of bike.
• Curved top tube allows for greater standover for all types of
riders.
• Oversized sealed bearings on main pivot for low maintenance and
stiction-free performance.
• Integrated seatmast improves the power transfer to the pedals.
•
yeticycles.com
The four-inch ASR Carbon's light weight (24.5lb for our size large test bike) makes it a great choice for a cross-country racer going from a hardtail to a suspension bike. By far, the head tube and bottom brackets were the stiffest of the carbon bikes in our test, which gave the ASR Carbon razor-like feedback in corners and climbing.
"I loved it," a test rider said of the AS-R Carbon. "You put it on a line and it stayed exactly where you put it. I could get inside the bike on corners and almost two-wheel drift."
On climbs, one tester said the AS-R Carbon transferred power like a road bike. That's due in part to the bike's integrated seat mast. The seat mast is cut to a rider's specification with the clamp allowing up to an inch plus/minus of adjustment. The set up, however, is somewhat involved, especially compared to a standard post and seatpost clamp.
"There's no question it's a point-and-shoot bike with super crisp handling," said a tester. "I also like that it's not too twitchy in corners. It tips into turns very well and very predictably, so it's super easy to pick a precise line. But at the same time, it has high-speed stability in spades."
Where the discussion about the ASR Carbon became even more detailed was with its suspension. Riders generally felt that when the bike was set up with correct sag, it tended to feel as if it were operating in a limited travel range near that sag point. Whether or not it was a good or a bad thing turned out to be a matter of personal preference among the test riders.
Those who favor pure speed and precision absolutely adored the AS-R Carbon. The comment about the bike being great for a hardtail racer moving to a dually was spurred by the tester's perception that when he first rode the bike he would have guessed it as offering 2.5- to 3 inches of travel.
"I did find that I had to run more pressure than recommended in order to keep the bike from sagging halfway into the travel," said a tester, "which at the same time seemed to dissolve the possibility of using the bottom-end. This is probably where the 'short-travel' feel came from."
For other riders who favor more supple and pillowy performance, this trait was less attractive.
"It ramps pretty well at the end of the stroke, and doesn't feel nearly as bottomless as I would expect," one tester said. "And on the other side, in the early portion of travel, it doesn't feel like there's very good pickup on small bumps."
That said, the suspension felt balanced front to rear. The ASR Carbon is reasonably quiet in terms of pedal feedback, especially with the FOX RP23 in its firmer platform settings. But that speaks to the rest of the suspension performance as well — it's bred for speed and less oriented for purely plush riding. But remember it's a race bike and doesn't compromise in the efficiency department.
Yeti uses very corner-friendly geometry on the ASR Carbon with its relatively relaxed head tube, low bottom bracket and slightly longer chainstays. However, aggressive riders may find that the lower bottom bracket will cause clearance issues with the cranks/pedals and the longer chainstays will ballast down the front end.
Conclusion
So, if we wanted a solid cross-over rig, which one of the two tested Yetis would we go with: The AS-R Carbon or the Yeti AS-R 5 Carbon. The four-inch AS-R Carbon feels faster and stiffer and very racy, but if you're looking for the comfort of an all-day rig, you won't be as happy with the more limited suspension feel on this one.
So for our needs, we'd go with the AS-R 5 Carbon. The five-inch rig handles and climbs like a cross-country bike yet is only .33lbs heavier than its four-inch cousin, and it still bombs downhill with more stability. In fact, it's fully a pound lighter than the next lightest five-inch bike in the test group.
Anyway you look at them, though, both the AS-R Carbon and the AS-R 5 Carbon are beautiful to behold, with gorgeous carbon frames and massive boxed chainstays. They are screaming "speed" even when standing still.