A conversation with Phil Anderson, the first Australian in the maillot jaune
Anderson in the 1983 Tour, when he finished 9th. Photo: Graham Watson | www.grahamwatson.com Australia has been a powerhouse in cycling over the last decade, with impressive results on the track and road, a Tour de France win with Cadel Evans and an expected top-tier pro team for 2012.
Heading out the door? Read this article on the new Outside+ app available now on iOS devices for members! Download the app.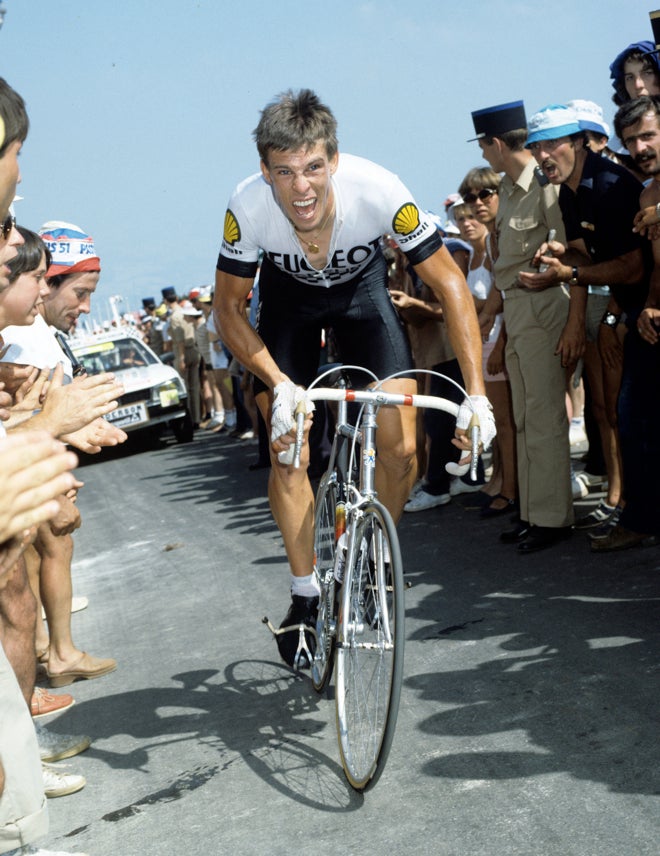 Australia has been a powerhouse in cycling over the last decade, with impressive results on the track and road, a Tour de France win with Cadel Evans and an expected top-tier pro team for 2012.
But one of Australia's early pros will forever be in the hearts of fans of a certain age: Phil Anderson.
Now in his early 50s, Anderson lives along the Great Ocean Road, in Victoria, Australia, close to Cadel Evans. He runs a bike tour company and still rides the odd mass participation event and takes part in triathlons.
Phil Anderson major results
1981: Tour de France, 10th overall, first Australian to wear the yellow jersey (for one stage).
1982: Tour de France, 1 stage win and 5th overall; wins Best Young Rider competition, wears yellow jersey for 9 days
1983: Tour de France, 9th; Amstel Gold Race, 1st
1984: Tour de France, 10th; Züri-Metzgete, 1st; Rund um den Henninger Turm, 1st; Setmana Catalana de Ciclisme, 1st; Liège–Bastogne–Liège, 2nd.
1985: Tour de France, 5th; Critérium du Dauphiné Libéré, 1st; Tour de Suisse, 1st, 3 stage wins; Rund um den Henninger Turm, 1st; E3 Prijs Vlaanderen, 1st
1986: Paris–Tours, 1st
1987: Milan-Torino, 1st
1988: Danmark Rundt, 1st
1989: Tour de Romandie, 1st
1990: Giro d'Italia, 1 stage win
1991: Tour de France, 1 stage win; Tour of Britain, 1st; Semaine Cycliste Intl., 1st; Tour Mediterranean, 1st; Tour DuPont, 1 stage win
1992: Tour of Ireland, 1st; Tour DuPont, 3 stages
1993: Tour of Britain, 1st; GP Impanis, 1st; Tour of Sweden, 1st
1994: Commonwealth Games, Gold, Team Time Trial
In July of 1981 a 23-year old Anderson made cycling history by becoming the first ever non-European leader of the Tour de France.
"At the time I had no idea of the significance of taking the jersey," Anderson told VeloNews recently. "You don't tend to dwell on your results. I wasn't trying to be the first, I just wanted to get the best results for myself and the team."
Anderson was riding in his first Tour, and this was his second season of riding with the illustrious French Peugeot team, where he was bunked alongside Scottish climber Robert Millar; both were graduates of the Parisian-based ACBB club.
Earning a "scholarship" to ride for the club was prized as one of the greatest opportunities in cycling for riders from "non-mainstream" cycling nations such as Australia, USA, UK, and Ireland. Graduation from the ACBB was another level all together, and only the creamiest of the cream made it through to the pro ranks; names like Yates, Bauer, Roche, and Millar amongst their number, with the club's bike sponsors, Peugeot, being the most popular pro team port of call.
On coming to Europe he was introduced to a whole new world; "When I started racing in Europe I became a lot more aware of the pro circuit. The Sun Tour (Paris-Nice) started nearby to where we were living, and I remember going down there and seeing the riders; Hinault, Knetemann and Lubberding, all warming up. I'd never seen the professional aspect of the sport before and I though it would be great to be racing on the pro circuit. During the year I got offers from teams, and it just got better and better."
The awakening
Back then cycling was very much a minority sport at best in countries such as Australia and the U.S. There was no Internet, and virtually no chance for Australian cyclists to get any kind of a glimpse into the big wide world of pro bike racing.
"I didn't really know what to expect, there was so little cycling culture in Australia. I had no pre-conceived ideas. I knew it would be hard, and expected the worse. I got over there and there were 250 riders in a one-day race, while in Australia there were probably not even 250 riders in the whole country. The difference was huge. Some riders were not prepared and got sent home."
The concept of professionalism was naively new to the young Aussie; "I didn't really know that it existed. I mean, we had professionals in Australia, but the only difference was a few extra dollars (I think) for a licence."
The French factor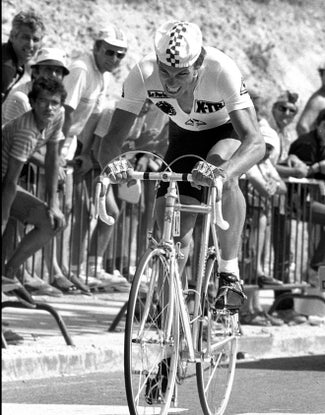 Being a non-European rider — and even more so a non-French rider — on a team like Peugeot was no easy task, even if it was one of the few teams at the era to take in these foreign "waifs and strays."
Proving yourself and gaining support was a major issue, something highlighted in numerous TV documentaries of the era; including "23 Days In July", which followed Anderson through the 1983 Tour, where he was designated team leader of the Peugeot team.
Things had looked promising that year in the Tour, until his teammate Pascal Simon attacked and seized his five minutes of glory and took the race lead. For a Frenchman the opportunity was just too much to turn down, and the whole team rallied around him – although the Anglophiles on the squad were certainly not happy about the support given to the Frenchman, who had no serious chance of taking the jersey all of the way to Paris.
"He saw the opportunity and took it – pretty much as I'd done in the 81 Tour. You go across against team orders (as I did in 81). I couldn't really blame him. You wouldn't see it happen these days; one of Cadel's teammates going up the road and riding away with the Schlecks, but it's the difference in teams now and back then."
Just after taking the yellow jersey Simon was involved in a crash, and broke his collarbone; but he was determined to continue and cling onto yellow for as long as he could, Sure, it was the stuff of Tour legend; imagine if Voeckler had broken himself this year.
The whole of France went Simon crazy; but the upshot was that he had to be pushed and nursed by the entire team until he finally conceded.
The Tour dream was over for Anderson; "I went into the race as a favourite, but I didn't come up with the results."
Some of his comrades in the peloton, and many leading journalists of the day, believed Anderson would have won the Tour had he had the full support of a team.
"Things were different back then, and we raced and approached things differently. If I'd had the team that Cadel had this year, and been able to focus on certain aspects … But I also went for the classics and other tours; we did 110 day of racing a year back then, which is very different to the pros these days. It's hard to compare, but I think I could have done better, although I don't think I had it in me to ever win the Tour."
Moving on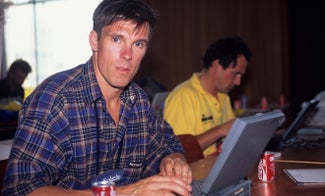 Part driven by the frustration of his 1983 Tour he moved on to the Dutch-based Panasonic team in 84, under the demanding control of Peter Post, a master tactician and a task master who reputedly broke as many riders as he made.
"For me it was exciting. The team was, well, a lot less French. Having Peter Post at the helm, he was a very strong character and the riders all clicked in to his plans. At Peugeot the team meetings were all in French and I was pretty much left out.
"With Post (the meetings) were a lot more disciplined team; if I punctured there'd be seven or eight guys waiting for me, not like at Peugeot. For me that was critical, I needed that support."
Things had moved on in cycling, and English voices were becoming very prominent in the pro peloton of Europe by the end of the eighties, many of them were the rookie American voices of the 7-Eleven team.
"I'd always wanted to be on 7-Eleven and the opportunity came up. I hadn't re-signed yet with TVM, and Jim Ochowicz caught me in a lift in Montreal and asked if I'd ever thought about coming to the American team. I was excited at the prospect."
There was limited history and protocol to draw on for a maverick and evolving set up like 7-Eleven.
"I really looked forward to joining a non-European team, and an English-speaking team, and the freshness, and not being bogged down with tradition. It was good in some respects, and bad in others; there were a lot of things they didn't understand.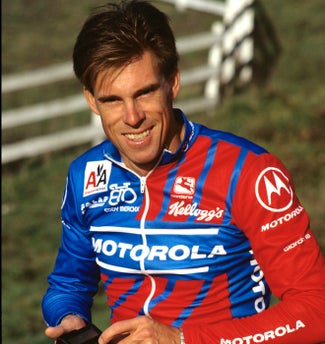 "It was quite a big difference. They were mostly all American, not like the more recent incarnations (U.S. Postal, RadioShack), so it was a lot more relaxed. The training and approach to racing was totally different, a fresh mentality."
Evans' win was some 30 years in the making; from his pioneering yellow jersey to an Australian rider actually winning the Tour. Many thought that Evans would never quite manage to step up to the top of the podium.
"You could see he was on form from day 2 (The TTT). He'd never had a crack team like that before, and they put him up there. On day 4 you could see he was really on his game; the way he just rode up to Contador. He was very confident. He could have taken the yellow jersey then, and had it through the Tour. But he wisely allowed Europcar to take it, and saved his team for those critical moments."

Over the edge
As Australian cycling continues to go from strength to strength it also prepares to launch its first ever World Tour team, GreenEdge. Having seen the teething problems with Team Sky how are they likely to shape up?
"It's exciting. An Australian team has been talked about for some time. Finally it's going to fly. I think they'll do a great job. I'd liked to have seen a team develop over a number of years rather than just jump in. But they have good management and structures there."