Abbott agonizingly close to Olympics medal
American Mara Abbott was 150 meters from winning gold in the women's Olympic road race before she was caught by three riders.
Heading out the door? Read this article on the new Outside+ app available now on iOS devices for members! Download the app.
RIO DE JANEIRO (VN) — They were tidal, Mara Abbott's eyes, glistening pools that dried out only in brief moments of distraction from the all-encompassing loss. She stood in front of the media and pulled herself together and answered questions until she couldn't, and we couldn't, anymore.
One hundred fifty meters from gold. Four seconds after nearly four hours of racing. Imagine it, and know that the pain of defeat is magnified by its proximity to triumph. "You'll never have that chance again in your entire life," Abbott said, as the weight of a truth seemed to settle on her.
Was it regret reflected in those glimmering eyes? I don't think so. It seemed more like helplessness. She did everything she could and then did some more; it was so close, she thought she had it, just 150 meters to go and there they were, passing her, her gold medal gone and her legs and lungs and heart too broken and helpless to stop them. There can be no regrets because there was nothing left to give. Helplessness is not an indictment; quite the opposite.
[related title="More Olympics news" align="right" tag="Rio-Olympics"]
On the slope to Vista Chinesa, a brutal 25-minute climb into Rio's quickly gathering clouds, attacks and counter-attacks flew until two riders drew themselves clear. Annemiek van Vleuten in Dutch orange and Abbott in red, white, and blue had no equals. They passed over the top of the day's final climb with nearly a minute's lead and dropped into the descent just as light rain began to spit down.
There are a few moments from the women's Olympic road race that will play on a loop in Abbott's head. This is surely one of them. The replay will show a pair of climbers off the front, cresting the climb, medals in sight.
The descent is the same that took out two of the front three in Saturday's men's race. It sent Richie Porte and Vincenzo Nibali and Geraint Thomas to the hospital. It is not easy.
Abbott was quickly dropped by van Vleuten in the damp corners. She picked her way around bends as the Dutchwoman besieged them curb-to-curb. The courage would be her undoing.
Alone in search of gold, van Vleuten crashed horribly. A fistfull of rear brake led to a skid. She flipped and smashed into a deep curb. It sent her to the hospital with a concussion and spinal fractures.
Abbott shot back into the lead, past a crumpled competitor. Another moment forever on replay, surely: the instant she stepped into the race lead and went from pursuer to pursued. She refocused as she's done so many times. "Shocking things happen and surprising things happen and you just have to keep your focus and keep going," she said. "It's a really creepy single-mindedness."
She was alone. Behind, a chasing trio: Anna van der Breggen, Emma Johansson, and Elisa Longo-Borgini. Ahead, a long, flat road back to Copacabana.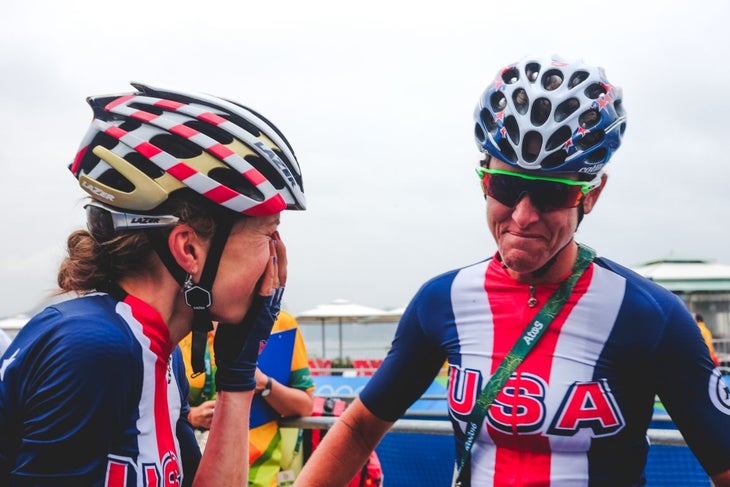 There was something fundamentally incongruous and oddly uplifting in Abbott's flatland effort. Her thin limbs churned, she rose out of the saddle at odd moments; with wind as a foe, and not gravity, the world-beater became an underdog. Of course she was outmatched in such a road pursuit. The world's best climber would be. Almost any solo rider is helpless against three, let alone such a fish out of water. Her gap remained steady early in the chase, then slowly began to drop. As the meters-to-go clicked down, so did Abbot's time gap, yet there was still no clear indication which side would reach zero first.
"I knew that it was probably going to come right down to the wire, just watching the speed with which they were closing," Abbott said. "I just didn't know which side of the wire."
The last corner of the 137-kilometer women's Olympic road race came 400 meters from the finish line. Make the sweeping left and the finish line was in sight. Another replay moment. Here Abbott still led, her advantage over the chasers down to mere seconds. It was near the end of a 7km fight, three against one, that Abbott was slowly losing.
"You never know until you finish what it's going to be," she said. "There's nothing else that makes sense."
Translation: Keep riding. Leave nothing. Focus.
Abbott was caught with 150 meters to go, her legs and body shaking with the effort, and left behind by the sprinting trio. In the finish line photo, van der Breggen has her arms raised to the sky, Johannsson a hand up in joy, Longo-Borgini a smile of satisfaction. In the fuzzy background, the fourth-placed Abbott slumped her shoulders and bowed her head as she crossed the line.
Fifteen minutes passed. A frantic search for information on van Vleuten's condition ended in the happy news that she was conscious and attended to. Abbott arrived in the media zone with gusto, surprising levity, and one request: "Just don't ask me any more stupid questions," she said. It was not said rudely. She laughed. She would not attempt to explain, once again, how it feels to lose a gold medal 150 meters from the finish line. She would not explain because she did not yet know.
"It will take my lifetime to process," she said. And if not quite that long, certainly more than 15 minutes.
As she talked the tide of her eyes washed back and forth, breaking at times and drying at others. Teammate Kristin Armstrong arrived, embraced, and stood by Abbott's side. The result was so clearly painful for both. Perhaps the replays were already looping in Abbott's mind: the top of Vista Chinesa; the crumpled competitor; the final corner; the realization of loss.
Regret? No. Sadness? Of course. Helplessness? We think so. But what emotion could be more fitting or a greater source of pride? To finish helpless is to finish with nothing. To finish helpless is to have ridden without fear of consequence. In those final meters, when gold turned to dust, there was simply no more Mara left to give.