Andreas Klier accepts USADA suspension for PED use
Retired German Andreas Klier, now a director at Garmin-Sharp, has accepted a 6-month suspension for use of PEDs, subsequent to July 21, 2005
Heading out the door? Read this article on the new Outside+ app available now on iOS devices for members! Download the app.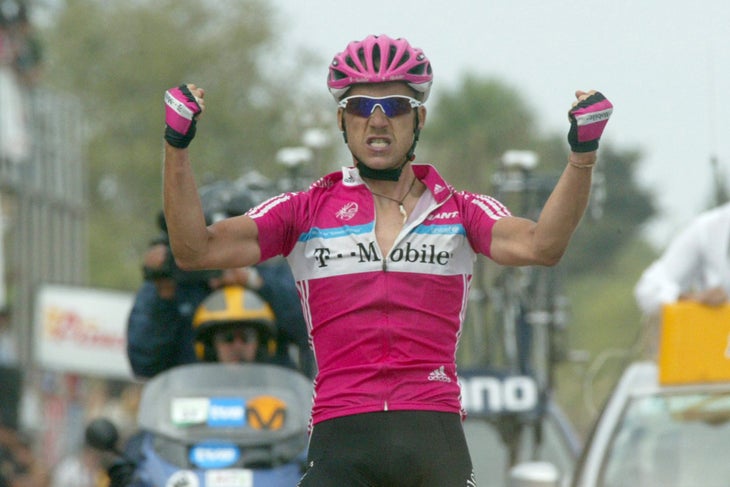 Retired German pro Andreas Klier, a director at Garmin-Sharp, accepted a six-month suspension and loss of results for his use of prohibited substances during portions of his cycling career, the U.S. Anti-Doping Agency announced Thursday via press release.
Klier, 37, admitted using prohibited substances including erythropoietin (EPO), human growth hormone and cortisone, as well as the use of the prohibited method of blood transfusion, from 1999-2006.
"I have been involved in professional cycling for 17 years, and for those 17 years cycling has been my life," Klier said in a Garmin team statement. "Some of my best memories and moments happened on my bike, and some of my worst too. Along the road to the top of the sport, many years ago, I chose the wrong path, and I have been very sorry for it ever since.  To everyone both in and out of cycling including my family, the fans, the sponsors, the sport I love, my peers — especially those who made the right choices  — I am deeply sorry.
The use of EPO, human growth hormone and cortisone, as well as blood transfusions, is prohibited under the Bund Deutscher Radfahrer (BDR) and the International Cycling Union (UCI) Anti-Doping Rules, both of which have adopted the World Anti-Doping Code.
"We are thankful for the assistance in this case provided by our international partners at the German National Anti-Doping Agency and appreciate Mr. Klier's willingness to provide full and truthful testimony about the culture of drug use in cycling," USADA CEO Travis Tygart said in the agency's statement. "We know that there are still many others in the sport, like Mr. Klier, who have important information to share about how the dangerous use of performance-enhancing drugs and methods took over the sport and was allowed to flourish. Our investigation into the sport of cycling is ongoing, and we will continue to fight for the rights of all athletes who want to have the full truth revealed so that the sport can finally move forward toward a truly clean future."
Klier, who spent the bulk of his 17-year career riding with the German Telekom/T-Mobile squad, received a six-month period of ineligibility in accordance with WADA Code, for being forthcoming and providing full and true substantial assistance.
In 2009 Klier left T-Mobile for the Cervélo TestTeam. After that team merged with Slipstream Sports in 2011, he rode for Garmin in 2011 and 2012 before announcing his retirement as a pro rider on May 13, during the Giro d'Italia.
"I stopped what I was doing and started competing clean well before I ever joined Slipstream, but I am proud today to be a part of an organization that makes racing clean its only priority," Klier said. "In my heart and my mind I know that telling the truth about my past to the proper authorities is the right thing to do to continue to help the sport I love move forward. I accept responsibility for the mistakes I made in my past and the punishment that comes along with them."
Last September, three Garmin-Sharp riders — Christian Vande Velde, Tom Danielson, and Dave Zabriskie — received six-month suspensions after assisting USADA in their investigation into Lance Armstrong and doping at the U.S. Postal Service team. Those suspensions ended in March; last weekend, Danielson won the overall at the Tour of Utah.
Slipstream Sports issued a statement regarding Klier's suspension, commending him for telling the truth: "Slipstream Sports was created because we wanted to build a team where cyclists could compete 100 percent clean. We understood cycling's history and we wanted to create a different environment for riders where they did not have to make the difficult choices of the past. We support Andreas for telling the truth about his past, a past that pre-dates Slipstream Sports by years, and accepting the consequences that come along with it. Nothing can erase what happened in cycling's history, but we can learn from it. We can look at the crop of young athletes coming up not just on our team, but also on other teams, and have confidence that the future of the sport is here.  Cycling has never been cleaner and we will work, every day, to help it continue to progress."
Klier's six-month period of ineligibility began on August 12, 2013, and, due to the eight-year statute of limitations, he has also been disqualified from all competitive results achieved on and subsequent to July 21, 2005, meaning he will keep his 2003 Gent-Wevelgem victory, and his second-place finish at the 2005 Tour of Flanders.
The language in USADA's release —  Klier has "been disqualified from all competitive results achieved on and subsequent to July 21, 2005" — implies that Klier would be stripped of his stage win at the 2007 Vuelta, among all other results after July 2005. However, the reasoning on why Klier would be stripped of results after 2006, when he said he rode clean, was unclear. VeloNews is seeking clarification from USADA on which results will be stripped; immediate correspondence was not returned.
"I have seen both worlds of the sport and I believe that today it is in the best place it's ever been," Klier said. "The young riders racing now have never faced the same choices I did, and I will do everything I can for the rest of my life to help continue to help build the sport that I love."