Israel Start-Up Nation pulls riders out of Burgos opener
Team withdrew two riders from Vuelta a Burgos' opening stage for fears of COVID in false alarm.
Heading out the door? Read this article on the new Outside+ app available now on iOS devices for members! Download the app.
BURGOS, Spain (VN) — Alex Dowsett did not start Tuesday's first stage at the Vuelta a Burgos to become the second rider from Israel Start-Up Nation not to take part in cycling's revived racing calendar.
Race officials confirmed to VeloNews that only five of six riders that were on the final start list rolled out of Burgos with the peloton that included 14 WorldTour teams, many of them racing for the first time since Paris-Nice.
It was initially not clear which rider did not start. VeloNews identified the bikes from Davide Cimolai, Dani Navarro, Rick Zabel, Ben Hermans, and Tom Van Asbroeck. Officials later confirmed Dowsett did not start.
Overnight, another of the team's starting riders — Itamar Einhorn — was pulled out of the original seven-rider roster after he had been in contact with Omer Goldstein, a 23-year-old Israeli rider who was not scheduled to race in Burgos, but had returned a positive result for COVID-19 in team-ordered controls on Monday.
Race officials said that Einhorn and other riders and staffers who had had contact with him have been put into isolation – leading to Dowsett's withdrawal.
However, it emerged midway through Tuesday's stage that Einhorn was found to have delivered a negative COVID test, and so both he and Dowsett would have been able to race.
All riders that were scheduled to start the Burgos tour, including Einhorn and Dowsett, had returned a negative result in required pre-race controls. Israel Start-Up Nation said they conducted another round of controls Monday as a precaution and were waiting for the results when Tuesday's stage started, race officials said.
Otherwise, it appears the race started without other mishaps. Fans were kept behind barriers, and there was a strict control of the number of fans allowed in the sign-in zone in front of Burgos's famous cathedral. Fans were required to wear facemasks and apply hand sanitizer before being able to enter the area.
Riders and staffers showed up with face masks, and in some cases hand protection, for the pre-stage sign-in protocol.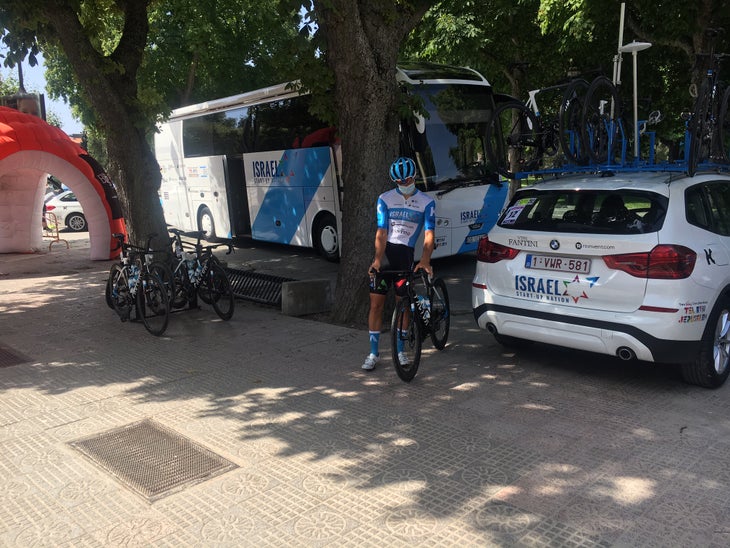 The team said in a prepared statement which was released social media:
Team ISN has started the Vuelta a Burgos with only five riders, after removing Israeli Itamar Einhorn and British Alex Dowsett from the intended Burgos squad.
The decision was made following the positive COVID-19 test result received by their teammate, Omer Goldstein (Israel). Since Einhorn was in direct contact with Goldstein, the team sent him, Dowsett and a few staff members (who were in contact with Einhorn), for further testing yesterday.
As Einhorn's test results did not arrive in time for the start of today's race, it was decided to take no risk and start without both him and Dowsett, and the staff members who had been in contact with Einhorn.
A few hours into the race, though, the results finally arrived from the lab and indicated that Einhorn was found NEGATIVE. But, of course, it was too late, and the two perfectly healthy riders will not be able to race.
"Although I am pained to see the riders miss the race, we had to avoid any risk and take this extreme precautionary measure as the tests results were not available in time," said ISN Sports Director Oscar Guerrero. "It's very unfortunate. I really feel for the riders."
Despite racing with a reduced squad, the five remaining ISN riders will do their best to stay competitive and represent the team to the highest standard.
"We will do our best in the race to make ISN fans proud. We still have great riders hungry to make things happen!"
Both Einhorn and Dowsett expressed support for the team's decision.
Alex Dowsett said, "It's a big disappointment that I did not take the start of Vuelta a Burgos. But even the tiny the risk of me returning a positive test for COVID – caused us to act responsibly and reassuringly for the whole peloton, so that everyone can put their mind at ease. The team made the right decision to ensure that the bubble is absolutely secure. I completely support and respect the decision for my withdrawal from the race and I wish the guys the best of luck and hope to start racing again soon. Big thanks to the team, the race, and UCI for the measures put in place to keep us all safe in these times."