Ashton Lambie demolishes 4km IP world record with a time of 3:59.93
"I knew it was a big goal. It was weird for me to put it out there beforehand, but it feels like such a huge barrier to break!"
Heading out the door? Read this article on the new Outside+ app available now on iOS devices for members! Download the app.
Ashton Lambie averaged more than 60kph — from a standing start — to set a world record of 3:59.93 in the 4km individual pursuit at the Aguascalientes velodrome in Mexico.
Lambie had UCI officials on hand for his world record attempt, who verified the time and sent it to the UCI world headquarters.
Lambie targeted the world record for months, dialing in specific training and equipment selection. In place of long rides, it was a lot of weight work and ultra-intense interval sessions on the trainer.
"Honestly, it was brutal," Lambie said of his effort on Wednesday, which left him struggling to get off of his bike. "I've been doing a lot more anaerobic capacity and strength work to hit that power! Which also means when your legs lock up, they lock up hard. I hate making a scene and having someone peel me off the bike, but I was wrecked."
Excluding the intense start, which his longtime coach Benjamin Sharp said could have peaked at 1,300 or 1,400 watts, Lambie estimated that he averaged between 480 and 500 watts for the four-minute effort. This is a huge amount of power for any rider for that duration, but even more so for the 5-foot-9 Lambie in an extremely aero position at altitude. (Aguascalientes is 1,887m/6,190ft above sea level.)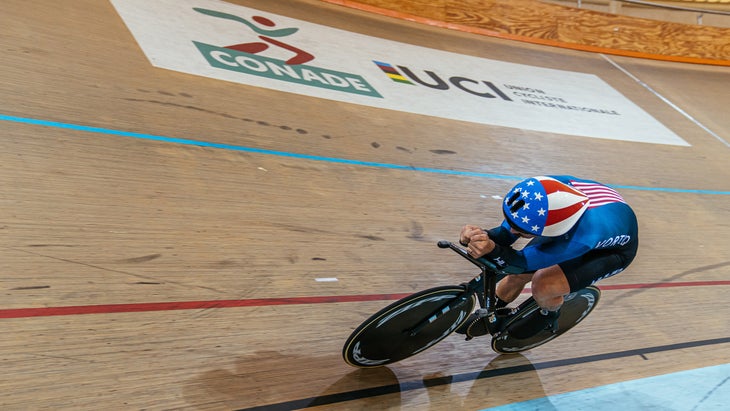 It is now the second time Lambie has set a world record in the individual pursuit. In 2018, also at altitude, he rode a record-setting time of 4:07.251.
This year, the record belonged to world time trial champion Filippo Ganna, who had set a time of 4:01.934 in Berlin.
Lambie said breaking the four-minute barrier for the individual pursuit "feels surreal."
Also read on CyclingTips: A 64×15 and $10,000 bars: Ashton Lambie's bike for the world's first sub-4-minute pursuit
In Aguascalientes, Lambie's partner Dr. Christine Birch narrated a livestream of the attempt on Zipp's Instagram account. Birch, an accomplished track racer herself, alternated between giving the Instagram audience information and screaming encouragement to Lambie.
"I knew it was a big goal. It was weird for me to put it out there beforehand, but it feels like such a huge barrier to break!" he said. "I actually tried to break it yesterday and ended up riding poorly with a 4:02. Having so many people watching today, and having my partner Christina talk me out of that hole was a huge motivation. And inspiring so many folks is incredibly humbling. That's why I love doing this, to share the journey with everyone! All the support I get from everyone involved is unreal, and the push was huge.
After the U.S. men failed to qualify for the team pursuit at the Tokyo Olympics, Lambie set his sights again on the individual pursuit world record.
Read about his road to the record in his column here.