Ashton Lambie Q&A: 'I just gotta send it' attitude key to world record
"When you're in a 4km pursuit you are so far down the well, and you're completely blacked out."
Heading out the door? Read this article on the new Outside+ app available now on iOS devices for members! Download the app.
Ashton Lambie recently made headlines by setting a new world record in the men's individual pursuit at the Pan American Championships in Aguascalientes, Mexico. Lambie, 27, completed the 4-kilometer time trial in 4:07.25, smashing the previous world record of 4:10.534, set by Australian Jack Bobridge in 2011.
For those not familiar with track cycling, three seconds represents an enormous margin of victory.
Lambie's head-turning ride is even more impressive given his unorthodox background in cycling. Prior to joining USA Cycling's national track program in 2017, Lambie raced primarily on a grass velodrome in Kansas. He also competed in randonneur races and long-distance gravel events, such as the Dirty Kanza and Trans-Iowa. Lambie also set an unofficial record for riding a bicycle across the state of Kansas.
VeloNews caught up with Lambie to talk about his record-setting ride, his background in cycling, and his stylish mustache.
VeloNews: Take us through your record-setting individual pursuit. What do you remember?
Ashton Lambie: I talked with our head coach Clay Worthington about the [pacing] I would ride and we settled on 15.3-second laps, which would have given me a 4:13. He said to me, if you feel like you're on pace for a world record and you're feeling good, don't shy away from that. I came around the first laps and was on pace, and by laps three and four, I was way over pace. At that point, Clay walks back and is pointing to the line of like you're way far ahead of the line. I'm like, well let's just hold this pace and take as long to get back on schedule. I kept doing that with seven laps to go. I hit halfway and still hadn't hit a time above 15 seconds and I knew that 15.2 was still world-record pace. So then I'm like, man I only have 500 meters to the last [kilometer] which is always the hardest part. I'm like man, I just gotta send it. There's no sense in saving anything. The last K is just terrible. You pretty much black out.
VN: How would you describe the pain of that last kilometer?
AL: It hurts everywhere. It's like, you know how you get lactic acid in your legs when you're sprinting? It's like that, only you have lactic in your entire body. I got done and there was lactic acid in my hands. You feel terrible. It's bad.
VN: You've had a rapid progression to elite track racing. Give us the highlights of your journey.
AL: I started racing on the grass track in Lawrence and won the [2016] Kansas state championships, and it all started from there. There were two big things. My wife and I took a cross-country road trip to San Diego, and I raced on the track in Boulder [Colorado] and Colorado Springs and San Diego, on my buddy's Surly Steamroller. I crushed everybody and was like, maybe it's time to take this more seriously. I then went and raced in Florida, and my goal was to get my Cat. 2 upgrade so I could race the U.S. national championships. Carl Sundquist [ed. 1988 and 1992 Olympian] saw me and told me, 'Hey man, when you get home put in for your Cat. 1 upgrade and I'll tell them about you.' The next big thing is I went to [Trexlertown] and won the Individual Pursuit national championship. Then I got on the team for worlds.
VN: So this was all in the same year?
AL: Yes, all in 2017. I raced the [2017] world championships and finished 7th, a year before that I was racing in Florida as a Cat. 4 on the same weekend.
VN: Did you have any premonition before your world-record ride that you had a world-record effort in you?
AL: There were some signs. My ride at [the 2017] world championships was a 4:17 and I knew it was a slow track. It's at sea level and it was cold. Coming up to [Augascalientes] I knew for sure that was probably four seconds, which puts me at 4:13. I've been training really hard and peaked for this event. There was one day I did an opener of a flying six laps and was banging out fast laps, no problem. Knowing I could go out and ride six laps at that pace and not totally die, I was like, maybe I can average [world-record] pace.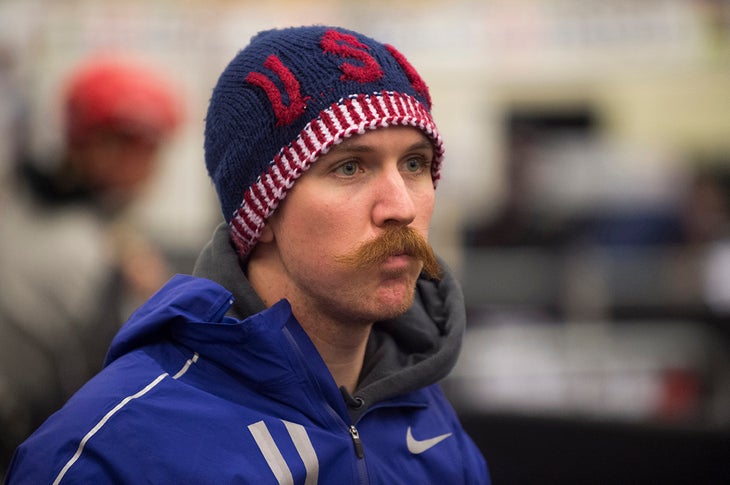 VN: You did your ride at high altitude [6,200 feet]. What's your response to people who question its validity due to the thin air?
AL: I get where they're coming from. I mean, it is a super fast track, but that's also what the UCI regulations are for. It's still a standard regulation track. Even if you were at a sea level track, going for a world record, it's not like they're saying the conditions aren't right. The altitude doesn't make it invalid. When people come up to [Aguascalientes] to set hour records, it's not like they say you can't do it there. You think the track is too fast? Go there and ride it yourself.
VN: What's worse: the pain of riding your bicycle across Kansas, or the pain from an individual pursuit?
AL: You have to go into the well, or the pain cave, of this really deep level of willpower. And so for ultra distance, you might not be going as deep into the well to get that willpower to finish, but you're just living in the well. You're in it for like 12 hours, but you might still be able to see that there is blue sky above you. When you're in a 4km pursuit you are so far down the well, and you're completely blacked out. You might as well forget that there is anything up there. You're way down in the well.
VN: What would you rather win: a world title on the track or Dirty Kanza 200?
AL: Oh man, I want the rainbow stripes really bad. Definitely the world championships. I feel like I have several years left to go for the Dirty Kanza. Although that is getting more competitive every year.
VN: With your experience in long-distance gravel racing, and now pursuit, have you thought of trying to race a cobbled classic like Paris-Roubaix? Is that on your radar?
AL: Yeah, I mean I think it would be fun. A lot of people have asked me if I want to get into road. I don't know. It's not like I super want to do it, or that I'm reaching to get a pro road contract. From my perspective, it's like I have a good gig. I'm doing stuff I love doing. I don't have to travel and have 100 race days a year or something insane like that. I get to race track. I get to grow tomatoes. It's cool. It's a good balance.
VN: Any inquiries from pro road teams?
AL: No. I don't know, it's one of those things that I'm not super worried about. It's not like I need it.
VN: You still work part-time at a bike shop. What's your work/racing balance like?
AL: I live a pretty active lifestyle even when I'm not racing and training. I do a lot of woodworking and gardening, and I live on a small acreage farm outside Lincoln, so there's always stuff to do. I work at a bike shop in town still. My second day of work, USADA came and tested me at work. I was like, 'do you mind if I use the bathroom and someone is going to watch me pee in a cup?' They were like, that's fine.
VN: Let's talk about the mustache. Is it like a Magnum P.I. thing, or more Doc Holliday?
AL: I strive for kind of a Sam Elliott. Sometimes that is too lofty of a goal. It's all a humidity thing, and how much time I'm willing to spend waxing it up. It's just a goal.