ATOC Power: Analysis of Rory Sutherland's stage 7 power data
Frank Overton analyzes Rory Sutherland's power data from stage seven of the Amgen Tour of California.
Heading out the door? Read this article on the new Outside+ app available now on iOS devices for members! Download the app.
Stage 5: Claremont to Mt. Baldy
Distance: 121.9km (75.8 miles)
Winning time: 3:33:01
Athlete: Rory Sutherland, UnitedHealthcare, 13th place, 2:34 back
In stage seven of the Amgen Tour of California the riders climbed 11,000 feet in 75 miles and the power data from Rory Sutherland (UnitedHealthcare) confirms how difficult this stage was. Sutherland spent 2 hours and 16 minutes riding threshold wattage or greater.
He arrived at the base of the Mt. Baldy climb with race leader Chris Horner and Levi Leipheimer (RadioShack), but the 8.9 percent grade, the previous 10,000 feet of climbing at threshold wattage or greater and the previous six stages of racing took its toll. In the end Sutherland "suffered out" 391 watts (5.1 watts/kg) in 27:05 up Mt. Baldy.
Mount Baldy vs. Sierra Road
Right off the bat, Sutherland's power data shows that he produced less power up Mt. Baldy than he did up Sierra Road, where he produced 478 watts. However, the drop in power output is not as cut and dried as subtracting 391 from 478. Sutherland's performance on Baldy was a function of three variables.
First, he was tired — power output may decline during stage racing.
Second, the climb was longer — the longer the climb the lower the power output.
And third, the summit of Mount Baldy is 4,641 feet higher than the top of Sierra Road — less oxygen equals lower power outputs. A rough estimate is  1 percent less power per 1,000 feet, but the effect is individual and varies depending upon whether the athlete is altitude-acclimated.
The net result was that Sutherland did 5.1 watts/kilogram up Mt. Baldy versus the 6.3 watts/kilogram he did up Sierra Road.
Describing how he felt on both climbs, Sutherland said: "The day on Sierra Road I had phenomenal legs. I felt better than I had in a long time. The last two days I've been back to feeling human again."
Power output on Baldy, with leaders and after
For the first 11:09 of the Mt. Baldy climb, Sutherland stayed with Horner and Levi, producing 417 watts at 176bpm for a 5.5 w/kg power-to-weight ratio. However, following riders who are so much lighter in weight takes its toll, and when Sutherland couldn't stay with the leaders any longer, his power output fell to 368 watts (4.8w/kg) for the remaining 16:05 to the top. Heart rate did not fall, which demonstrates that Sutherland's effort didn't decrease (it probably increased in terms of suffering).
All in all, Sutherland rode a great race and did as good a climb as he could. He was a giant among smaller men — and I mean that as a compliment.
You can view Rory's interactive race file via the Training Peaks File.
Reference: Bassett, D.R. Jr., C.R. Kyle, L. Passfield, J.P. Broker, and E.R. Burke. Comparing cycling world hour records, 1967-1996: modeling with empirical data. Medicine and Science in Sports and Exercise 31:1665-76, 1999.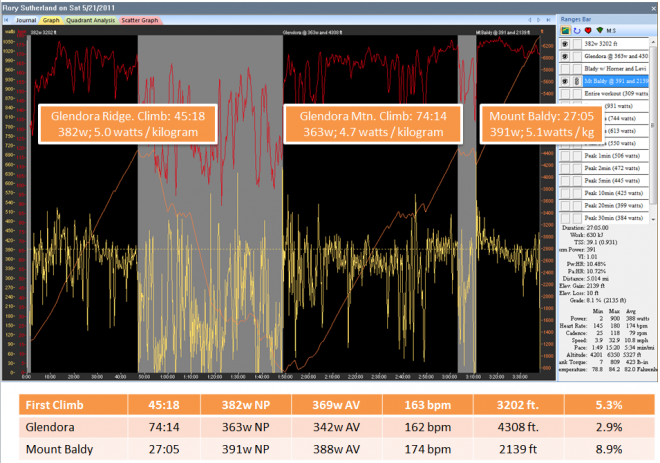 Power file analysis by Frank Overton, owner of the FasCat Performance Cycling Center in Boulder, Colorado. Overton is analyzing daily Amgen Tour of California race data for VeloNews this week.