California Power: Analysis of Rory Sutherland's stage 3 power data
From stage 3 of the Tour of California, we have analyzed the power data from UnitedHealthcare's GC leader, Rory Sutherland.
Heading out the door? Read this article on the new Outside+ app available now on iOS devices for members! Download the app.
Stage 3: Auburn to Modesto
Distance: 196km (122 miles)
Winning time: 5:14:29
Athlete: Rory Sutherland, UnitedHealthcare, 52nd place, same time
From stage 3 of the Tour of California, we have analyzed the power data from UnitedHealthcare's GC leader, Rory Sutherland.
Like Chris Jones's stage 2 data, Rory's stage 3 followed a similar pattern: easy for the first 106 miles then harder for the final 15 miles.
For a general classification rider, that's the ideal day because stage 4's Sierra Road hilltop finish is anticipated to be: 1) full gas hard and 2) the first chance for the GC leaders to show their cards. Tactically, the GC riders want to conserve as much energy as possible in stage 3 so they can throw down as much wattage as possible up Sierra Road (and the previous climb, Mount Hamilton).
Wattage, Heart Rate & Average Speed Stats:
First 106 miles: Easy: 4:45 at 301 watts normalized/ 236 watts average with an average heart rate of 133 bpm. The peloton's average speed during this time was 22.5 mph.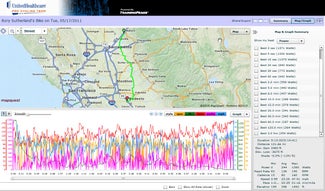 Final 15 miles: Hard: Final 30 minutes at 387 watts normalized/ 343 watts averaged with an average heart rate of 167 bpm. These power outputs and heart rates were required because Team Sky, HTC and NetApp were trying to split the field in the crosswinds and leadout their sprinters. The peloton's average speed during this time was 29.9 mph. A closer look at the final 9 minutes of the race reveals that Rory averaged 401 watts with an average heart rate of 178 bpm just to ride in 52nd place of the peloton that was travelling at 31.5 mph.
General classification tactics:
With Mount Hamilton and the Sierra Road climbs looming and because there was a non-threatening breakaway up the road, GC leaders like Rory tucked safely into the peloton and tried to do as little as possible. While 301 watts for 100 miles would be off the Richter scale for most of us, it is important to remember that Rory is a 76 kilogram (168 pound) rider and that is only 3.9 watts per kilogram of body weight. 3.9 watts/kg is only 65 percent of his expected 6.0 watts/kg ++ threshold power*. In other words it was an easy zone 2 ride as evidence by his average heart rate of 133 bpm.
You can mimic the power demands of stage 3 by riding for 106 miles in your zone 2 wattages and heart rates. Piece of cake, right? The challenge is staying with a surging peloton in crosswinds at 30 mph for 30 minutes afterwards! But that's not all — finish even harder and faster at 31.5 mph, a near max effort of your threshold wattage all the while fighting for positioning, cornering and dodging crashes.
There are some key power outputs coming up in stages 4 and 6. On stage 4, the anticipated full gas Sierra Road: 3.5 miles, roughly a 20-minute effort, ascending 1,795 feet up a 9.4 percent grade. And on stage 6 we have 24k Solvang time trial.
After each of these full-gas efforts, the average power outputs will give us Rory's threshold power, which is the leading factor in his performance.
Rory's performance during both of these stages will be critical to his general classification. Furthermore, his power outputs during those efforts will give us the raw power outputs and power to weight ratios that are required to win the Tour of California and compete against some of the best stage racers in the world.
You can view Rory's interactive race file by clicking the Training Peaks File viewer link.
Power file analysis by Frank Overton, head coach at FasCat Coaching and owner of the FasCat Performance Cycling Center in Boulder, CO. Frank will be analyzing Rory's Tour of California race data daily for VeloNews this week. For more information about Frank, FasCat Coaching, and their coaching or performance center services, please visit their website or email frank@FasCatCoaching.com