Cannondale team finding greener pastures
How Jonathan Vaughters turned the Cannondale team around by taking his whole organization back to its young, quirky, argyle-clad roots.
Heading out the door? Read this article on the new Outside+ app available now on iOS devices for members! Download the app.
Something funny started happening in the early days of the 2016 racing season: Cannondale's lime-green jersey began to pop up in the most unexpected of places. From grueling stage races, like the Vuelta al País Vasco, to the cobbled bergs of the Tour of Flanders, the team was in the mix. For a franchise that had become almost anonymous, being ubiquitous was something to cheer.
It was also confirmation that an entirely new strategy was bearing fruit.
Following a tumultuous 2015 campaign, when Cannondale came on as a new title sponsor and the team ended the season with only 11 victories and ranked 16th out of 18 WorldTour squads, everyone knew something had to change. Being the peloton's "clean team" and America's longest-running WorldTour squad wasn't good enough. The novelty had worn off, and fans and sponsors expected more than just good PR.
"Last year was a hard time for us," team founder and manager Jonathan Vaughters says. "We were caught in the middle, with one foot with older, veteran riders who've been around 10 years, and the other with really young guys. In the summer of 2015, I decided to take a full leap into a whole new generation and really embrace changing the team."
[pullquote attrib="Andreas Klier" align="right"]There is something special happening to these guys this year.[/pullquote]
That meant Vaughters — a former pro who's weathered plenty of storms throughout his high-profile and sometimes controversial tenure as the head of the Slipstream organization — had to roll up his sleeves. He stepped back from the frontline of cycling's governance wars, where he's been a vocal presence, and dove back into the job of running an expansive WorldTour operation with 30 riders from 16 nations and a support staff that includes up to 40 people.
In what he described as a "heart-wrenching" process, he dropped (or at least did not match contract demands) of franchise riders Dan Martin and Ryder Hesjedal. He then made a heavy bet on youth and balanced it with overlooked veterans, such as Rigoberto Urán, Pierre Rolland, and Matti Breschel.
Cannondale's mash-up is paying dividends. WorldTour rookie Michael Woods started things off at the Santos Tour Down Under with a fifth overall. Lawson Craddock, the promising 24-year-old Texan, grasped his chances to lead, with a top-20 finish at Paris-Nice and then an even more impressive ninth overall at the Tour of the Basque Country. Dylan Van Baarle, a budding 23-year-old Dutch classics specialist, delivered on expectations with sixth at Flanders and 16th at Paris-Roubaix. Not only was Cannondale in the mix, it actually won a few races, too.
"There is something special happening to these guys this year," says Cannondale sport director Andreas Klier with a gleam in his eye. "There is a new energy, a new spark. These guys want to race their bikes."
Coming out of the northern classics, Cannondale was ranked 12th out of 18 teams. After a couple of years lost in the peloton, the team seems headed in the right direction.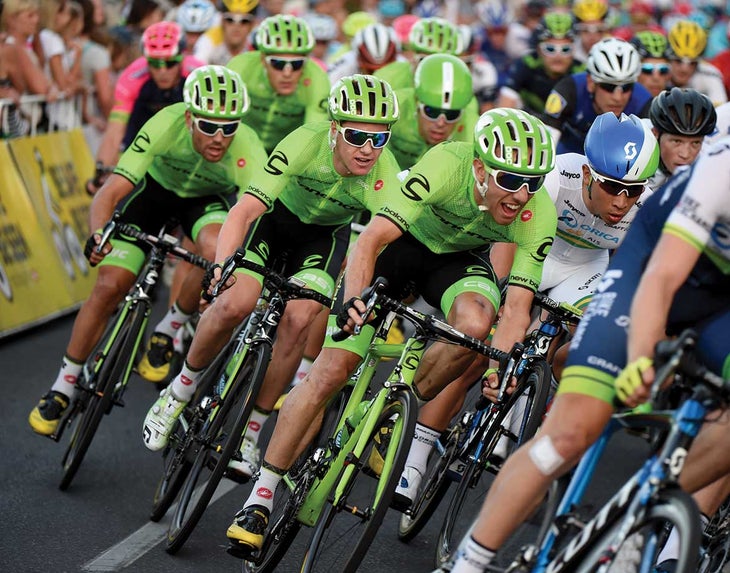 IT'S EASY TO CHEER — some might say deride — Vaughters and his sometimes oddball iconoclasts and quirky underachievers who have always done things their way. Despite possessing none of the clockwork, almost militaristic perfection of some teams, Vaughters and his merry band have been able to cook up some incredible victories over the years. With non-conformist, science-based, and sometimes contrarian methods, the team has delivered a grand tour win (2012 Giro d'Italia), monuments (Liège-Bastogne-Liège, Il Lombardia, and Paris-Roubaix), stage victories in all three grand tours, and major wins on both sides of the Atlantic.
The air seemed to go out of the tires, however, midway through last season. Something wasn't working.
Determined to hit the reset button, Vaughters dropped his biggest winners in Hesjedal and Martin. Instead of marquee riders, he signed promising youngsters like Kiwi Patrick Bevin and Norwegian Kristoffer Skjerping, both 22. Craddock is still only 24, and Germany's Ruben Zepuntke is 23.
"As hard as that was, as chaotic as it can be, it's been worth it," Vaughters says. "It was hard to give up on guys who you were counting on for 10 years. Sometimes it was heart wrenching. But it's also been fun to give a whole new set of guys an opportunity."
The 2016 roster is certainly a diverse group. There's Woods, a WorldTour rookie at 29 who used to work in a bank. Wouter Wippert, another WorldTour rookie at 25, adds speed for the sprints, replacing Tyler Farrar, who departed at the end of 2014. For the tours, Vaughters tapped Urán and Rolland, two under-achieving veterans who he believes can surprise.
From the 2014 squad, only eight remained going into 2016. Of the current lineup, the most veteran riders on the team are Ramunas Navardauskas and Andrew Talansky, who both joined in 2011. "We've gone out of Gen X, and now we're into the Millennials," Vaughters says. "I think it's the best team we've had in awhile. Let's give these guys a shot, give them a chance to live their dreams, and be a true underdog team."
CANNONDALE IS THE LATEST INCARNATION of the Slipstream organization, a team Vaughters built in the darkest days of cycling, based on the then-revolutionary idea that riders could win races without doping. After a few years at the amateur and domestic level, the team hit the 2008 season with high hopes and very modest expectations. While the team shone brightly, Vaughters, by his own admission, got sucked into energy- and morale-sucking battles between the UCI, ASO, team organizations, and rider groups over the direction of the sport.
[pullquote attrib="Jonathan Vaughters" align="left"]"I think it's the best team we've had in awhile. Let's give these guys a shot, give them a chance to live their dreams, and be a true underdog team."[/pullquote]
By 2015, after the team had merged with the former Cannondale squad, Vaughters sensed it was time to step away from the frontlines of cycling's wars and focus more on his team. "I think my time is more productive focusing on my guys. I am not worrying about AIGCP and all those battles anymore," he says. "When I look back, do I need those nasty-grams from [ex-UCI president] Pat McQuaid? Or angry phone calls from ASO? I don't need that anymore. We've got Velon, and it's a very strong group now. I don't need to be the frontline guy in all the political BS anymore."
Everyone agrees the merger in 2015 went a lot more smoothly than when Garmin joined with Cervélo in 2011 (which included a nasty fallout with then-world champion Thor Hushovd). Eight riders stayed on from the Italian outfit, and to help forge a new sense of identity and unity, Cannondale worked together at altitude training camps over the winter. At the camps and early races, riders swapped out as roommates in hotel rooms and practiced English over the dinner table.
"It was a merger last year between two teams with difficult cultures," says sport director Fabrizio Guidi. "This year, we start with our own culture, and we bring some quality riders. It was not easy for us last year, but let's look to the future and not look backward."
There's plenty of promise, including 23-year-old Davide Formolo, who can watch up close how riders like Urán and Rolland prepare for the major races.
"I feel like I am in cycling school, watching these big riders every day in their training," says Formolo, who notched the team's only WorldTour victory last year with a stage at the Giro d'Italia. "Now I feel really good here at Cannondale. Last year was a new situation, with a new structure, but everyone now is working together very well."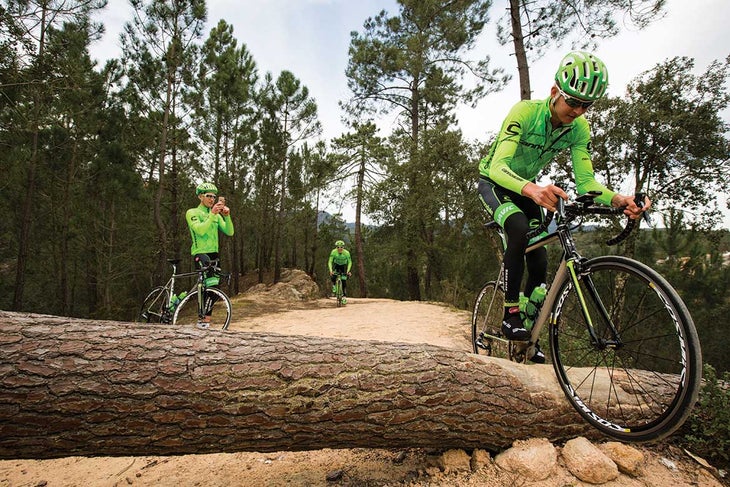 Another key arrival for 2016 is the highly touted Craddock. After two years at Giant – Alpecin, Cannondale offers him a chance to lead. He's already surpassed expectations with a strong spring, and said he feels right at home on Cannondale, especially after linking up with longtime friend Nathan Brown, also 24.
"Cannondale had a program that I was interested in since I was a junior," Craddock says. "I had some friends on the team, and I could see how they run a team. It seemed like Cannondale and I saw eye to eye on cycling. They're an American team, and I'm really excited to join."
When it went big in Europe in 2008, the squad had a strong U.S. presence, with 15 Americans among the 26 riders. Today, just as with about every team in the WorldTour, the lineup is more international. In 2016, the 30 riders hail from 16 different countries, and only seven are American (which is still more than any other team in the WorldTour).
"The last two years, we've really rebuilt the organization," Vaughters says. "We want to find super talented young riders who are super motivated, who are funny, maybe a little odd, but who have great potential. If you're looking to redefine yourself as an organization, that's what we're going to be."
To help shepherd all the new and young riders coming on board, the team also signed 29-year-old Aussie veteran Simon Clarke, who wore the pink jersey in last year's Giro with Orica – GreenEdge.
"My main role is road captain," Clarke says. "We have the youngest team in the peloton, and we have some young guys who are really keen, but they want to listen. We've got a young and brand-new group, so the goal is to gel together and try to create that family group like I had at Orica."
One can also sense a new identity coming out of the team in 2016. There's not only renewed exuberance on the road but some fresh fun that's catching on with the public. Social media is today's new playground. When Phil Gaimon was tapped to help fill out Cannondale's illness-ravaged Paris-Roubaix squad, Twitter started its own #PrayforPhil hashtag. Alex Howes donned a new jersey, with his "spirit animal" the coyote, as the mascot.
Cannondale is having fun again, and so are its fans.
IN MANY WAYS, Vaughters' latest lineup is eerily similar to his first groundbreaking group that hit Europe in 2008. That team included Christian Vande Velde, Dave Zabriskie, David Millar, Farrar, Hesjedal, and Martin, and was more of a band of merry pranksters than a well-oiled machine.
"We were so far in over our heads in 2008," remembers Vande Velde, a TV commentator who retired in 2013. "Back in 2008, only a few of us had any experience in the races. Most of us were fighting just to finish the stages."
The team was born on the then-preposterous notion of racing and winning without popping pills, taking EPO, or re-injecting blood. Those were dark days in the peloton, and Vaughters didn't escape untarnished, later publicly admitting his own use of PEDs. After retiring in 2003, Vaughters was wondering what he could do to fight the rampant doping culture that still held a tight grip on the peloton. There were small hints of change, and Vaughters wanted to be part of that movement. A key moment came in 2005, when he had dinner with Danny Pate, then a promising talent who had won the under-23 world time trial championship but was considering quitting cycling because it was too dirty. Something clicked inside Vaughters, and his quest to create a new kind of cycling became a mission.
"Pate said he didn't care about bike racing anymore, and I remember telling him that in three years he could succeed — that we were going to get him there, that he wouldn't have to dope," Vaughters recounts. "I said, 'Believe me, I swear it can happen.' And little by little, it happened. That dinner was the inflection moment: 'I owe it to this kid to make sure he gets the chance to race and fulfill his dreams.'"
Vaughters lived up to his end of the bargain, signing Pate in 2006 to TIAA-CREF and then bringing him to Europe as the team stepped up its ambitions in 2008. Pate raced in the WorldTour until 2015 and even scored a podium finish in a Tour de France stage.
No one expected much from Vaughters' oddballs, but as the team continued to evolve, they scored a stunning victory at the team time trial at the 2008 Giro d'Italia. (The win was such a shock that Vande Velde had to take a taxi back to the team hotel after he donned the pink jersey because team staffers forgot him at the podium.) That was just a start. Vande Velde floored the peloton by riding to fourth overall at the 2008 Tour, an accomplishment considered unfathomable for cycling's "clean team."
The peloton was quickly changing, especially with the introduction of the biological passport in 2008 that came on the heels of a seemingly endless string of doping scandals. Other teams adopted a cleaner approach to cycling, including the High Road franchise and Team Sky in 2010. Vaughters' team notched another fourth at the 2009 Tour with Bradley Wiggins, who later broke his contract to join Sky in 2010, eventually becoming the first British rider to win the Tour de France in 2012. Vaughters' unlikely crew also won Paris-Roubaix, Liège-Bastogne-Liège, Il Lombardia, and the 2012 Giro with Hesjedal.
"Winning the Giro was almost incomprehensible," says Vande Velde, a key helper to Hesjedal. "When we started in 2008, we didn't even think it was possible to win a grand tour. That Giro was really a litmus test for clean sport, and how far cycling has come."
[pullquote attrib="Jonathan Vaughters" align="left"]The biggest surprise is being able to survive for a decade. In cycling, people put up brave faces, but it's a hard game — a very, very hard game. I've had to stare over the abyss over and over again.[/pullquote]
RUNNING A WORLDTOUR-LEVEL team isn't without its stresses, especially when Vaughters also took on the high-profile role of trying to nudge the sport into the modern era. Along with other team owners, he wanted to shake up cycling, and that put him on a collision course with the UCI and powerful Tour organizer ASO.
Another long-running battle with Lance Armstrong reached its apogee in 2012, when three of Vaughters' riders provided key witness testimony that helped put the final nail in the Texan's coffin.
Incredibly, in the middle of it all, Vaughters got his pilot's license and earned an MBA. Controversy still dogs him occasionally, including when he decided to flick an ill but popular Millar from what would be his final Tour in 2014, and the positive test of long-time rider Tom Danielson in 2015. Vaughters retreated on his public pledge to fold the team if one of his riders ever tested positive, in part, he says, because he didn't want to put 60 people out on the street. The Danielson case remains unresolved, and Vaughters vows to keep the team despite the errors of one rider.
"I hope that's part of my legacy, but I am not really concerned about what my legacy is," he says of his efforts to clean up the peloton. "The biggest surprise is being able to survive for a decade. In cycling, people put up brave faces, but it's a hard game — a very, very hard game. I've had to stare over the abyss over and over again."
Today, a battle-scarred yet optimistic Vaughters is more realistic. Part of his new-found enthusiasm for youth is grounded by pragmatism. He knows his Cannondale budget — estimated at about $15 million annually, compared to Sky's $40 million — means he cannot get into bidding wars for the Peter Sagans of the peloton.
"From 2009 to 2014, I was always trying to fight that," he says. "I didn't want to let Wiggins go. Once, I sold a team bus to keep guys on the payroll. I just decided I am sick of fighting that fight. It's an unwinnable battle."
Today, Vaughters takes satisfaction in watching his young riders pop up on the results sheet. When Howes got into the day's breakaway at the Amstel Gold Race in April, Vaughters tweeted: "If there is one accomplishment I'm proud of during my 30 years of being in pro cycling, it's: Helping @alex_ howes do his thing. #loyalty."
For Vaughters and Cannondale, 2016 is about continuation, renewal, winning more bike races, and adding a chapter to a story that began a decade ago. He hasn't totally retreated from cycling's wars, but he won't be on the frontlines anymore. Now he's focused on shoring up the home front and winning more battles on the road. It's about rediscovering the love of racing and leaving all the controversial battles in the rearview mirror.
"I want a team that produces young riders that can kick ass, and give riders an opportunity who were overlooked by others," he says. "That's all I do, and go fishing sometimes, too."