I have chronic back pain. So I tried Floyd's of Leadville CBD
Dan Cavallari talks about his back issues and how an oil derived from the marijuana plant has helped relieve some of the pain.
Heading out the door? Read this article on the new Outside+ app available now on iOS devices for members! Download the app.
My achin' back, part I
A familiar twinge of pain turned into something entirely unfamiliar after a short ride a few months ago.
I was riding a bike that was slightly too big for me (a hazard of my job) and while I didn't notice any pain while riding, something in my lower back went pop when I dismounted in my driveway.
I've felt this pop before. It's usually followed by a few days to a week of sciatic pain that runs down my left leg. Cue the stretching, Tylenol, and limping around like an old man. I was prepared for this old routine.
But it didn't end up being routine at all. What usually ends up being a week of mild pain turned into months of limited mobility, soreness in my lower back, and the old standby, sciatic pain — this time more intense, and in both legs as well as my lower back. I was in new, and very uncomfortable, territory.
A visit to the doctor revealed the possibility of a bulging disc in my spine. Doc said an X-ray was probably in order (which I still haven't done) and he offered several solutions, from muscle relaxers to surgery, though he cautioned against the latter. I opted for a daily regimen of stretches in hopes of relieving the pain.
It worked, but only for minutes at a time. The pain hung on. I'd like to tell you there was a neat resolution to my back issues, but they persist to this day and I'm deep in the process of figuring out what to do next.
In the meantime, I've had to find ways to dull the pain enough to function daily. I've been off the bike, which has been detrimental to my physical and mental health. I'm desperate to get spinning again. But I'm allergic to Ibuprofen and Advil. Tylenol only provides mild relief. (It's also pretty rough on the liver.) And the idea of subsisting off of such medications daily certainly wasn't appealing.
So on top of daily stretching and mulling over things like acupuncture, chiropractic care, and surgery, it seemed like a good time to test out Floyd's of Leadville's CBD oil capsules.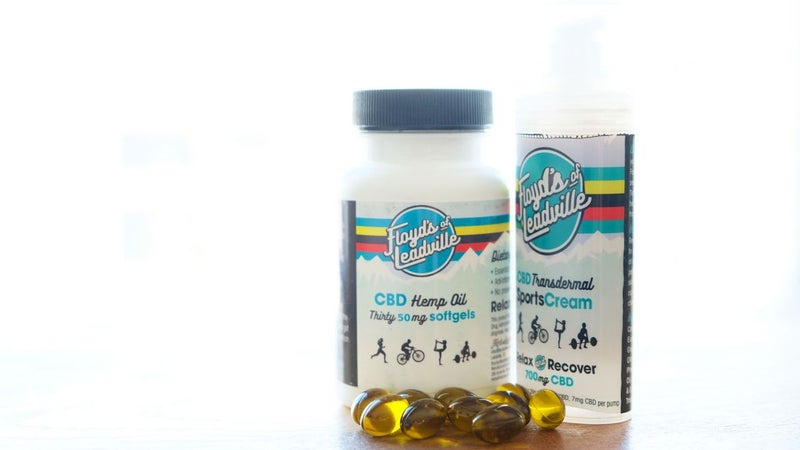 Bumping into Floyd Landis
Landis's products contain cannabidiol, or CBD. While it is derived from the marijuana plant, it won't get you high. The hemp-based CBD Landis sells is not psychoactive, and it does not contain Tetrahydrocannibabinol, or THC — basically, the chemical in marijuana that gets you high.
But the jury's still out on how to use CBD, and what it's actually useful for. The side-effects seem mild if you experience them at all (tiredness and diarrhea are most commonly listed as side effects), and while some peer-reviewed studies of CBD (such as this one from the Journal of Experimental Medicine) indicate it is useful for suppression of chronic pain, there's still a distinct lack of research. Most notably, there doesn't seem to be much of a consensus on recommended dosages.
And legality is also a bit of a gray area. Since Floyd's CBD is derived from hemp, it appears to be legal in all 50 states. But some states have specific regulations regarding CBD's legality. It's best to check your local laws before purchasing. Floyd's of Leadville ships its products within the United States only.
Distilled to the basics, Floyd's CBD oil seems like a low-risk experiment for a guy like me battling chronic pain. Landis knows a thing or two about that, himself.
"Back then, I took pharmaceutical pain meds, whatever they gave me," says Landis when I ran into him at the Sedona Mountain Bike Festival. "I injured [my hip] in 2002, 2003 I guess, at the beginning of the year. I broke it and I had a couple of surgeries. I was prescribed all kinds of Vicodin, and Oxycontin and things."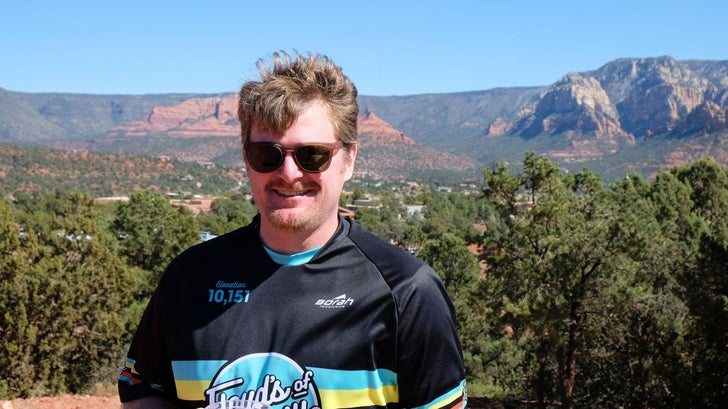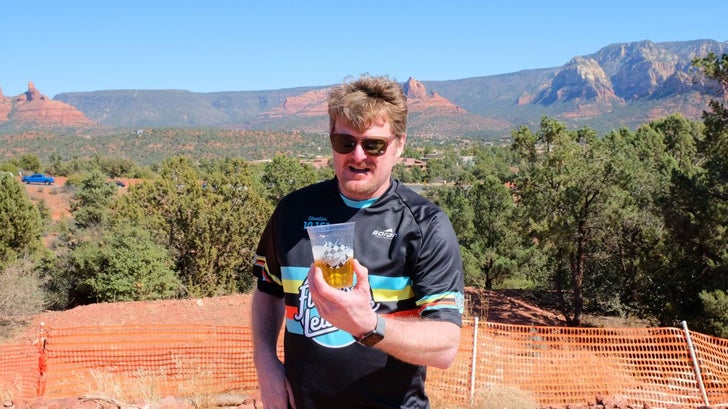 These drugs were at his fingertips when he needed them during his racing days. After Landis's career was over, he still had hip pain, so he turned to opioids again. But at the urging of friends, he tried marijuana instead of potentially addictive opioids.
"The thing is, I like marijuana from time to time recreationally, but I don't want to be high all the time," Landis says. "I need to manage the pain but I need to function. I don't want to just be high all day. So I tried the CBD, and initially, I thought it was sort of a gimmick. People trying to sell marijuana products without THC because it's easier to sell and it's less regulated. It turns out the CBD stuff, despite the fact that it's not psychoactive — you don't necessarily feel a mental state change — it has a lot of the same medicinal properties and the same pain mitigation properties. So I just started using that."
After our interview, Landis and I chatted briefly over beers. It turns out we both have toddlers at home. I mentioned that picking up my kid daily exacerbates my pain, and Landis empathized. But we both agreed the pain was worth a hug from our little girls. For those with chronic pain, that's the situation in a nutshell: balancing the things we want to do with the things we're able to do. It's all about expanding that latter category.
That got me thinking about what my back issues would be like in five or 10 years. This is a big problem that will require many moving parts to address. CBD oil can be a part of the solution, but it isn't the solution. That's important to note not just about CBD, but about any painkillers or anti-inflammation cures. I had to decide what CBD could do for me, and what I would do to ensure I wouldn't always want or need it.
My achin' back, part II
There are plenty of claims littering the internet about what CBD can do: pain relief, anti-inflammation, anxiety relief, blood sugar regulation, insomnia mitigation, even killing cancer. It's hard to prove or disprove many of these claims because studies are still very limited on CBD and its effects. It almost gets painted as a miracle cure.
So, of course, I wanted to try it for myself.
The first time I took a 25mg CBD capsule, it didn't feel like much of anything was happening. I upped my dose to 50mg (Floyd's sells both a 25mg capsule and a 50mg capsule) and that was a noticeable switch.
What exactly did I notice? For starters, the constant back pain lessened. It did not disappear, but that's because there's an underlying issue that needs addressing. CBD isn't a panacea, after all.
But it was clear the CBD was doing something. My pain had been constant, regardless of whether I was sitting or standing, moving or still. After taking the CBD capsule, it was possible for me to focus on other things. The pain abated enough that I could forget about it entirely for hours at a time.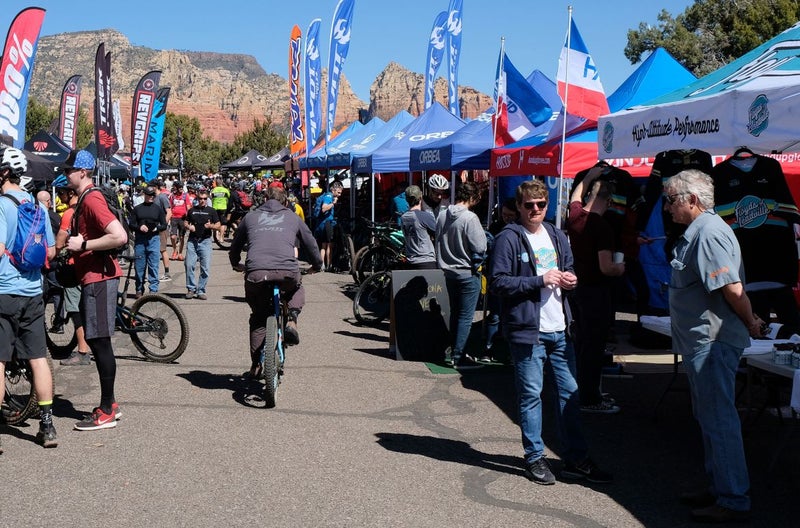 There is no high. You don't feel like you smoked a joint or ate an edible or anything like that. So if you're worried about getting stoned, forget it. You'll be alert and functioning normally when you take these capsules. The first couple of times I took the capsules I felt a sort of vagueness in my fingertips — a bit of a swimmy feeling — that disappeared almost immediately. Other than that, I felt as normal as though I'd popped a vitamin. There was no high to speak of.
I've been taking the CBD capsules for a few months now and it appears to have the same effect now as it did when I first started using it. In other words, it does not appear that I've built up any sort of tolerance that would require me to up the dosage.
"Relax and Recover" is printed on the bottle. It makes sense: After a long ride, inflammation seems inevitable. I've used the capsules after a ride and it seems to work just as well as any recovery drink I've ever tried. But I haven't yet tried it after an all-day grind in the mountains; I'll get to that this summer when I'm back on the bike. Landis says his company will be announcing a CBD recovery drink soon, too.
What it didn't do
As someone who also suffers from anxiety and mild depression, I was curious if CBD would have any noticeable effects in this regard. I can't say that it did, but I also can't say that it didn't. And that's ultimately the problem with CBD: While it was easy for me to confirm its usefulness for pain relief, it was impossible for me to determine if it was helping me out with any of the other myriad claims all over the internet about what CBD can do.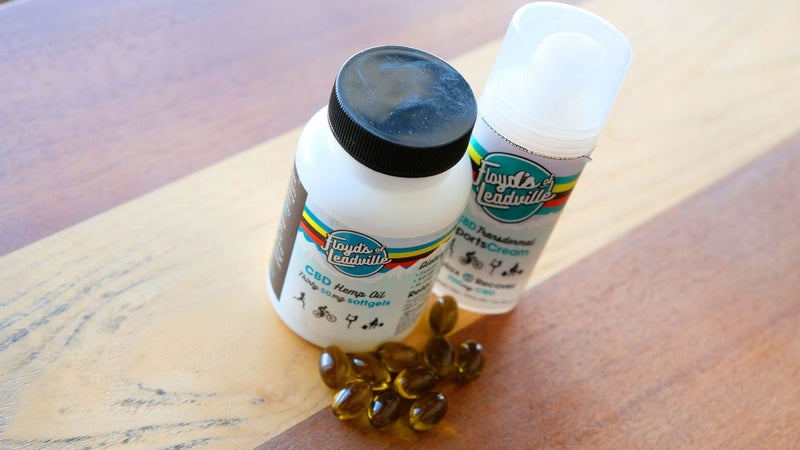 "That's a big issue for the whole industry because there hasn't been enough time where it's been accepted for there to have been any real large-scale studies," says Landis. "So we have no choice at the moment but to rely on anecdotes and our own experience. There are so few people that have called us and said, hey, this didn't work. Everyone else has reached out and said this stuff is real, thanks for making it."
Fortunately, I'm in the "thanks for making it" camp. I would take this over Tylenol any day. But as is the case with anything you put in your body, it's best to consult your doctor first. I can say that using Floyd's CBD oil has been beneficial for me, but I can't say it will be equally beneficial for you. The mystery swirling around CBD will continue swirling until more peer-reviewed studies are available.
My recommendations for getting started with CBD
• Talk to your doctor first. This is especially important if you're on any regular medications.
• Start with a low dose (25mg) and see how it affects you. Then increase from there if necessary.
• Set reasonable expectations for pain relief. You won't get stoned, and you won't "feel no pain." CBD takes the edge off, though.
• Address the cause of your pain. Like any pain relief substance, CBD will only provide temporary relief. Getting to the root cause of the pain should be your long-term plan.