Commentary: The complicated case of transgender cyclist Dr. Rachel McKinnon
The debate over cycling's first transgender world champion can't be resolved, but it can be better understood.
Heading out the door? Read this article on the new Outside+ app available now on iOS devices for members! Download the app.
This past weekend Dr. Rachel McKinnon won the masters world championship in the match sprint in the women's 35-44-year-old age category. The victory carried historical significance: Dr. McKinnon is a transgender woman, and her victory is the first world title by a trans athlete in track cycling (Michelle Dumaresq won a downhill mountain biking masters world title in 2006).
After her win, Dr. McKinnon tweeted out a photo of her victory and tagged multiple cycling sites, including VeloNews.com. A few hours later, news of her victory was picked up by Breitbart.com, with the opening sentence "A biological male claiming to be a transgender woman, won the 2018 UCI Masters Track Cycling World Championships in Los Angeles over the weekend."
What happened next? Our Twitter feed became a firehose of offensive comments aimed at Dr. McKinnon from the dark and toxic dregs of the internet.
Buried within the muck, however, were more than a few serious questions asked by female athletes about fair play and ethics. Was Dr. McKinnon's participation fair to the other women in the race? Does Dr. McKinnon's birth gender give her an unfair advantage?
This debate is hardly new. A decade ago I first wrote about transgender athletes for VeloNews, and I reported on the topic again in 2011 for The New York Times and in 2015 for The Wall Street Journal. In each instance, I saw a familiar scenario play out. Those few transgender athletes participating in sports were met by the torch- and pitchfork-toting masses. Those athletes who raised serious concerns over fair play and equality were either lumped in with the bozos or completely drowned out by the chorus of angry tweets and offensive chants. In all cases, intelligent and nuanced conversation was overshadowed by hate.
My column today, alas, does not solve the debate swirling around Dr. McKinnon and her world championship. Instead, my goal is to present a civil and nuanced conversation around transgender athletes in sports. If you want to understand why this topic is so complicated and emotionally charged, please read on. If you want to yell and scream, go back to Twitter.
The current rules and research
First, let's get the basics out of the way. Transgender people exist in society. They always have, and they always will. Within our society, people of all races, genders, and religions have the right to participate. The International Olympic Committee follows this philosophy too. The IOC's stated "Fundamental Principals of Olympism" is an ode to inclusivity:
"The practice of sport is a human right. Every individual must have the possibility of practicing sport, without discrimination of any kind and in the Olympic spirit, which requires mutual understanding with a spirit of friendship, solidarity and fair play." 
But how should international sport, and its spirit of inclusivity, create rules that govern a society that is inherently unfair and unequal?
There is no universal rulebook governing transgender participation in sports; instead, various governing bodies have crafted rules for these athletes. Perhaps it's no surprise that many of these rules focus on the participation of transgender females (individuals who were born male and then transitioned to female), because male athletes, on average, have physical advantages in terms of strength and stamina over female athletes.
The various rules often focus on testosterone and whether an athlete must suppress or boost the male hormone in order to compete.
There is no testosterone standard across all sports. Under the NCAA's rules, a trans female (male to female) can compete in women's sports after completing one calendar year of testosterone suppression treatment, while a trans male (female to male) can no longer compete in female sports after starting testosterone replacement therapy.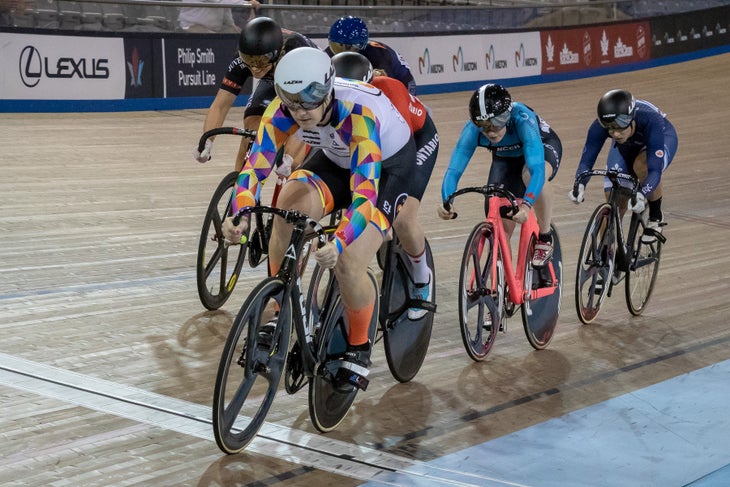 The IOC has its own rules, which were revised in 2015 (the previous rules required transgender athletes to undergo irreversible genital surgery). Under the IOC rules, transgender males are allowed to compete in the male category without restrictions. Transgender females face more restrictions. They must show that their testosterone has been below 10 nanomoles (one billionth of a mole) per liter of blood for 12 months prior to their first competition. They must then maintain at or below this level through the period of eligibility. They are subject to testing.
Do these rules make everyone happy? Of course not. There are those who believe the restrictions are not strong enough, and others who believe them to be too restrictive. And both ends reference science to back up their respective arguments.
In her recent interview on VeloNews.com, Dr. McKinnon cites a recent study performed on elite track runners that seems to show no relationship between an athlete's endogenous testosterone levels and performance. According to this study, 1/6 of elite male track runners had lower endogenous testosterone than the average range for a female. She also cites a study done by Dr. Joanna Harper that shows how suppressing testosterone in trans women limits performance. When combined, these studies uphold the belief that men's and women's physical performances are closer than we may think, and that endogenous testosterone suppression can create a major decrease in male athletic performance.
There are other researchers, however, who cite evidence to counter this way of thinking. And there is also the basic eyeball test; the fastest female marathon runners are slower than top males, female Olympic weightlifters can lift less weight than the top males. For many people, the eyeball test is enough evidence to convince them that transgender females have an unfair advantage.
How do the governing bodies handle this conundrum? In 2015 I interviewed Dr. Eric Vilain, a professor of human genetics at UCLA. Vilain helped write the NCAA's rule for transgender participation. Under those rules, transgender women must undergo one year of testosterone suppression therapy before being allowed to compete. Vilain referenced studies that showed that a year of testosterone suppression significantly dropped the muscle mass in adult males.
Vilain told me that the NCAA's rules were also aimed at inclusivity and that the governing body aims to give everyone the chance to compete. Creating rules around transgender participation, he admitted, was extremely challenging. He said that the entire concept of anatomical equality for transgender athletes was simply not feasible, and thus, it was not a stated goal of the NCAA's rules.
"It is not about making everybody biologically equal, and I think that is a common misconception when we start talking about transgender athletes," he said. "People want transgender [females] to be physiologically identical to [born] females, and if they're not, it's unfair. That is not possible."
Dr. Vilain referenced the structure of the pelvis and the mass of certain muscle groups as anatomical differences between the male and female body that will always be somewhat different. But achieving total equality is not the point, Dr. Vilain said. The purpose of the NCAA's rules is to, in a sense, shift the transgender female athlete's muscle mass and physiology away from that of the average male. The goal is to create a pathway to include the transgender athlete, not create total equality.
"Can you turn a man's body into a woman's body? The short answer is 'no," Vilain said. "I think we need to move past that idea completely."
Pushback from female racers
But what if the rulebooks are wrong? Track racer Sarah Fader believes the IOC's rules create an unfair situation for cis women (cisgender refers to individuals whose gender identity matches their birth gender). 
Known by some cycling fans for her maiden name, Caravella, Fader raced in the U.S. professional road scene from 2006-2015. Fader was set to race against Dr. McKinnon in the masters finals in Los Angeles. She was the defending masters world champion in the event, and she set the fastest time in the qualifying heats. She beat Dr. McKinnon in both a 200- and 500-meter time trial during the weekend.
Fader, however, told me that she felt that racing against Dr. McKinnon was simply not fair. Dr. McKinnon stands six feet tall and weighs 200 pounds. Fader, by contrast, is  5-foot-5 and weighs 135 pounds. So minutes before the finals were set to start, she pulled out of the competition entirely.
"I thought that doing it this way was my own form of protest," Fader said. "I knew that I personally did not agree with the situation. I don't want to compete in a sport where the rules are unfair."
In my conversation with Fader, she spoke about Dr. McKinnon with a calm tone of respect. She did not use mean or insulting language, or question Dr. McKinnon's trans status, as critics often do online. Fader was cognizant that Dr. McKinnon's position placed her in a challenging position. She believes the current rules simply place athletes like her at an unfair disadvantage.
Prior to the race, Fader said she read about Dr. McKinnon online, and also read the rules governing transgender participation in sports. Some of the articles Fader read — columns that questioned the science behind the IOC rulings — made her question the current rulebook on transgender participation. Fader said she does not blame Dr. McKinnon for competing in the event; rather, she disagrees with the rules allowing her to race against cis women.
"I'm not blaming Rachel for competing. A lot of people are calling her a cheater, and she's not a cheater because the current rules allow her to do it legally," Fader said. "I just don't believe the current rules."
Fader says her opinion was upheld by what she saw in the qualifying rounds. In Fader's eyes, Dr. McKinnon dominated the other riders at the competition. Her power on the bicycle was simply too great for tactics and strategy to overcome, Fader said. And when Fader learned that Dr. McKinnon had switched from road cycling to track racing less than two years ago, she also questioned her inclusion. Fader is a cycling coach, and she believes Dr. McKinnon's rapid rise from track newbie to world champion is a sign of an unfair advantage.
"It's taken some women five to eight years to get that fast and [Dr. McKinnon] made these leaps and bounds in a few years," Fader said. "For her being such a beginner and being able to hit these times that took us years to hit how do you even measure that progression?"
Other female competitors shared her opinion, Fader said, however, they were scared to speak out publicly against Dr. McKinnon. These riders feared being labeled discriminatory and insensitive, and thus kept their opinions to themselves. Indeed, one other rider from the race reached out to me to share a similar opinion to Fader's. This rider wished to remain anonymous.
"There's a lot of sensitivity here. I've spoken with women who are afraid to give their opinion because they think they will be deemed to be discriminating against transgender people, or that people will think they hate [transgender people]," Fader said. "I don't think it's about discrimination, I think it's about looking logically at the rules."
Dr. McKinnon's race results
Earlier this week Dr. McKinnon did a long interview for our website, which I recommend reading. She discussed her background with cycling, talked about her story of transition, and explained some of the science and ethics that govern transgender participation in sports. The short version is that Dr. McKinnon transitioned in her late 20s. She had been an elite badminton player and took up recreational cycling as a hobby. She raced in road events and criteriums and progressed from newcomer to Category 1 racer in three years. About 15 months ago, she switched to track cycling.
Per the UCI rulebook, Dr. McKinnon is well within her rights to compete. She has submitted the results of tests from her endocrinologist that prove she is well below the allowable testosterone limit. "My body produces next to no testosterone, and my levels are below the bottom of the average female range, to the point where they're essentially undetectable," she said.
Dr. McKinnon disagrees with Fader's assessment that she dominated the competition in Los Angeles. Fader beat her in both of the qualifying time trials, she said. Dr. McKinnon's victory in the quarter-final was against a rider whose qualifying time was more than two seconds slower.
"My semi-final rides were difficult and I certainly didn't 'dominate,' Dr. McKinnon said. "[Competitor] Linsey Hamilton rode hard, and I think that it's a little insulting to suggest that I 'dominated' her when I had to give it my all to beat her."
In the finals, Dr. McKinnon beat Dutch rider Carolien van Herrikhuyzen, who was also undefeated in the competition at that point. After Dr. McKinnon defeated van Herrikhuyzen, the Dutch rider reached out and held Dr. McKinnon's hand as the two circled the velodrome.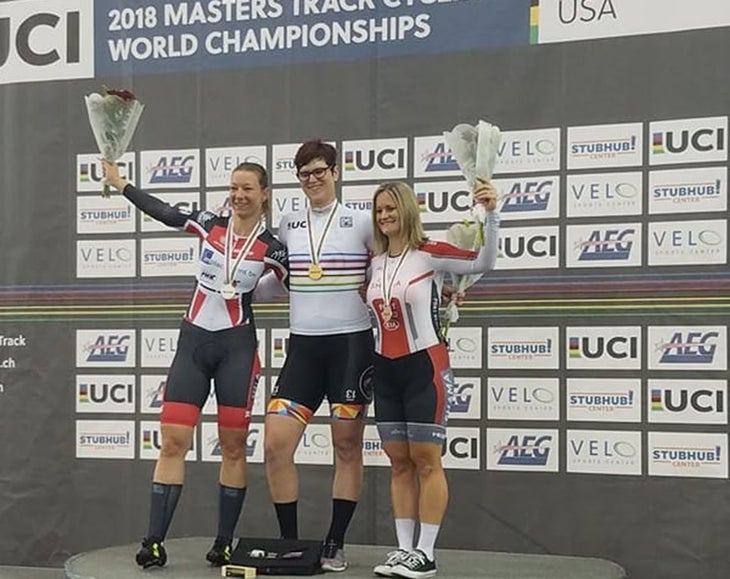 Dr. McKinnon points to other results in track competitions that put her physical ability in a wider context. She raced in the international elite field in Trexlertown, Pennsylvania earlier this summer. In the spring qualifier, Dr. McKinnon finished sixth place, nearly half a second behind winner Caitlin Ward, the runner-up at Australia's elite sprint national championships. In September, she competed in Canada's elite national championships, where she finished in 11th place in the 500-meter timed sprint. In Dr. McKinnon's eyes, she is a great track racer, but nowhere near the best.
"People seem to think that there's no issue of 'unfair advantage' when I lose, but it only seems to be an issue when I win," Dr. McKinnon said. "I don't think that's fair or reasonable."
She points to her power numbers as further proof that her performances are not an aberration. Her best peak power output was 1,741 watts, which she held for one second during training. Normally, her peak power is in the range of 1,550 watts. By contrast, Fader said her average peak power is 1,350 watts, and she weighs 135 pounds. In terms of pure watts-per-kilogram power, Fader actually has a higher number (21.99 compared to 17.05). I reached out to two elite cycling coaches, and both said that Dr. McKinnon's power output is consistent with what would be expected from an elite track sprinter of her size. The extra wattage, one coach said, is needed to overcome the greater forces of wind and gravity acting against Dr. McKinnon's larger body.
"There's nothing too exceptional about my [power to weight]," Dr. McKinnon said. "There are many world-class track sprinters with higher values."
The ethics of transgender participation
Before we continue, I want to address the question many readers have asked: Why don't transgender athletes compete in their own category?
Creating a separate category for transgender athletes effectively bans them from actual competition. In most sports, there are too few transgender athletes to comprise an entirely new division. In 2007 I wrote about Canadian downhill mountain biker Michelle Dumaresq, the sole transgender woman in the pro mountain bike scene at the time. She explained the argument against transgender category succinctly.
What's the point of racing against yourself? No matter if Dumaresq sped down the track in world-record time, or she crashed and walked to the bottom, she would earn first place and every race, week after week. At some point, those medals would carry no significance, and thus, the victories would not matter.
Therein lies the ethical conundrum that governs transgender participation. To deny the participation of Dr. McKinnon is, in essence, a denial of their basic human rights to competition, as outlined under the IOC's charter. But, in the opinion of Fader and other riders, Dr. McKinnon's participation sacrifices their right to fair competition.
In my 2015 story for the Journal I spoke on background with cisgender female athletes in both Cross Fit and Mixed Martial Arts who echoed this opinion. These athletes declined to speak on the record, fearing a public backlash against their points of view. A mixed martial arts fighter, Tammika Brents, later told an MMA website that she felt overpowered in her fight against transgender fighter Fallon Fox.
"I have never felt the strength that I felt in a fight as I did that night," Brents said. "I can't answer whether it's because she was born a [male] or not because I'm not a doctor. I can only say, I've never felt so overpowered ever in my life and I am an abnormally strong female in my own right."
As Brents implied, there is never a truly level playing field in sports. She is usually able to overpower her opponents. Some athletes are simply stronger or bigger than their competitors — no matter whether they are cisgender or transgender. Rules can approximately create a fair competition by forbidding outright cheating, but no athlete expects to compete against others who are identically matched in size, strength, ability, or intelligence. Instead of prioritizing a level playing field, sports are inclusive, giving anyone a chance to compete.
And that's what the current rules for transgender athletes try to do. Some athletes, like Fader, have legitimate arguments against the rules. At the moment, the rules governing reflect what Dr. Vilain said: It's not about making everyone biologically equal. 
Dr. McKinnon and other transgender athletes often reference an analogy that, for some readers, may be challenging to swallow. I've recited a few times now, and each time it makes more sense.
Imagine a young girl who is incredibly tall and will someday stand well above six feet. Should she pursue gymnastics or diving, her height may be a hindrance, and she will likely never score top results. Should she pursue volleyball, however, her height will be an incredible competitive advantage. After thousands of hours of hard work and training, she may even reach the Olympics.
Now, imagine a young girl who was born into a male's body. At some point in her life, she transitions to become female, yet elements of her male anatomy remain. Should this young girl pursue a sport like gymnastics or the pole vault, her physiology may hold her back. Nobody will raise concerns over unfair advantages, should she pursue these sports. But, what if this girl chooses cycling or weightlifting or some other sport where here unique physiology gives her a competitive advantage?
Is her anatomy something to be looked at the same way society views the tall girl's height? Or, is it something to be punished?