Could Meiyin Wang be the one to lead China to the WorldTour?
For years, China has tried to graduate pro cyclists to the WorldTour. Could Meiyin Wang be the man to open the door for his country?
Heading out the door? Read this article on the new Outside+ app available now on iOS devices for members! Download the app.
The world's most populous nation counts just one man within pro cycling's highest echelon.
Meiyin Wang is China's sole rider in the UCI WorldTour this year, riding his second season with Bahrain-Merida. Upon his hiring, the team heralded the moment as a major step forward for cycling's global ambitions.
"The inclusion of Wang on the team once again shows the importance of the team making it more international," director Brent Copeland said in a 2017 interview with Cyclingnews.com. "We are now sitting on 12 different nations in our team and this gives us a lot of satisfaction."
If Wang's signing marked a high point for Bahrain-Merida, the moment represented a seismic event for China's largely government-sponsored cycling development system. China may be home to roughly 1.4 billion people, but less than a dozen Chinese athletes have ever ridden for WorldTour teams.
Wang's journey to the WorldTour took him from his youth as a promising runner, through sports school, to racing a road bike for his home province of Shandong. He drew WorldTour interest with results at races like the Tour de Langkawi, Tour of Hainan, and Tour of China.
The dearth of top-tier Chinese road pros is part of a larger sports conundrum that the country has faced for decades. How do you create champions from a seemingly unending pool of talent? China's answer has been to use government resources to identify and develop athletes. Over the years China has come to dominate a plethora of global sports — swimming, table tennis, figure skating, and competitive diving, among others. There are other sports — soccer, for example — that have eluded China's model.
Road cycling exists between these two poles. The sport receives plenty of government support and enjoys a moderate government-funded domestic racing scene, but Chinese cyclists have long struggled to graduate to the international peloton. Unlike figure skating or table tennis, road cycling, particularly on the men's side, does not revolve around the Olympic cycle. Instead, success is generally gauged via results in a European-dominated professional peloton that races practically year-round. China still has a long way to go to find results there.
There are signs of progress. Wang's is a success story for Chinese cycling as it currently operates. Meanwhile, the growth of Continental teams like the Mitchelton-BikeExchange development squad, on which there are seven Chinese riders, could provide them with the needed experience to step into the global ranks in greater numbers. A strong presence on the world scene may not be a thing of the distant future for the East Asian powerhouse — but the road to success in the international peloton remains paved with challenges.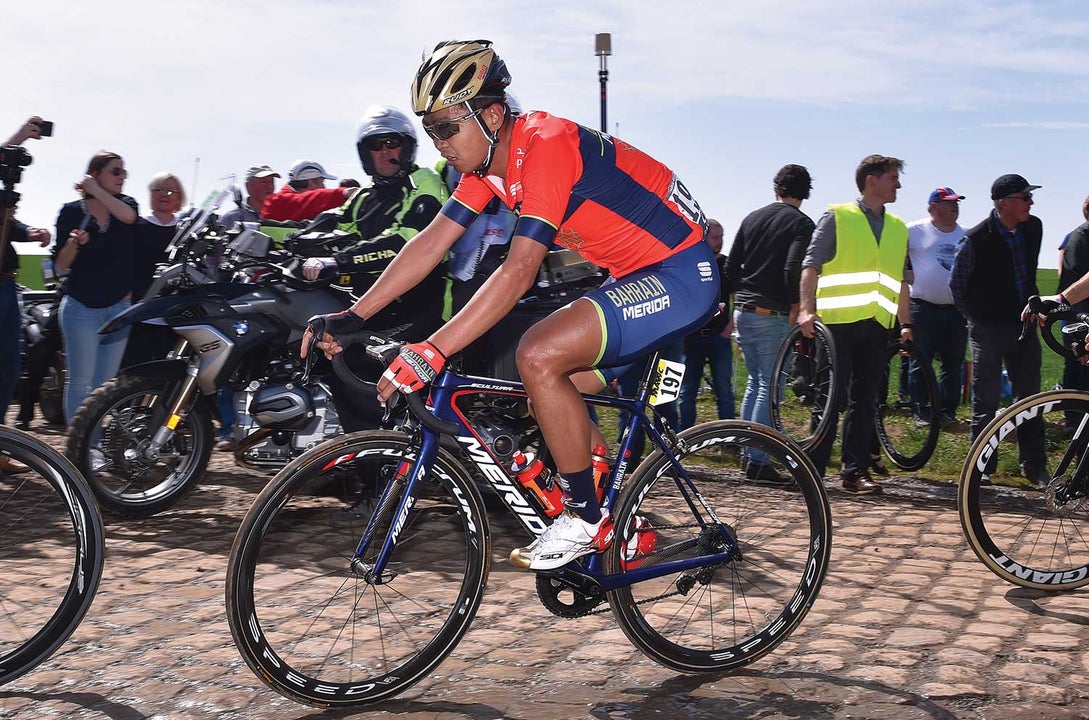 WANG, LIKE SO MANY Chinese athletes, came up through a sports school system.
The Chinese government invests heavily in identifying and developing talented kids from a young age. Children who show athletic gifts are sent to schools that focus primarily on sports. The most talented ones stay in that system throughout their school-age years, before graduating to even more selective training programs and teams.
"Our Chinese sports system is like a pyramid. We're the base, the fattest part of the pyramid. The middle of the pyramid is the professional provincial teams, and the national team is the apex," said Tian Hua, the headmaster of a Chinese sports school, in a 2008 interview with National Public Radio. "Our main role is to choose future athletes."
Sometimes athletes are steered toward a certain sport, depending on their abilities and the country's larger goals. Former runner Jingjing Wang and former road cyclists Ren Chengyuan and Ying Liu, for instance, gave China a highly-vaunted mountain biking trio at the 2008 Beijing Olympics.
Wang started his own journey to elite sport as a runner. He transitioned to cycling in his late teens. After school, he made it to his city-level team. From there, he graduated to the provincial level.
Chinese provinces staff their own provincial teams, which compete against each other. For most elite riders in China, riding for a provincial team is the pinnacle of a racing career. Provincial teams compete in a national racing series within China, earning points towards participation at the annual national championships and the all-important National Games of China, which are held every four years.
The government-funded provincial teams provide healthy infrastructure for developing riders, connecting them with coaches, putting them in a serious racing environment, and providing an income that allows them to race full-time.
Yet the system creates a challenge for those riders hoping to race overseas. Chinese riders have limited exposure to the European racing scene, and therefore lack opportunities to ever race the world's best. In turn, international teams rarely see the talent present in China's domestic leagues.
Those few that do manage to link up with European teams, often via provincial team connections, recalibrate their schedules to focus on UCI events. Provincial teams, whose funding is dependent on results in the national racing series and the National Games, are loath to lose their young stars. The handful of athletes who do make it to the Continental level or higher often feel obligated to continue racing for the provincial team whenever called upon.
"It's like an invisible contract when the [province] coach calls the riders to come back for provincial races," says Chinese cycling journalist Michelle Chen of QI Cycling. "They pretty much don't have a choice, because in the future they're all going to retire, and then they're going to come back to China."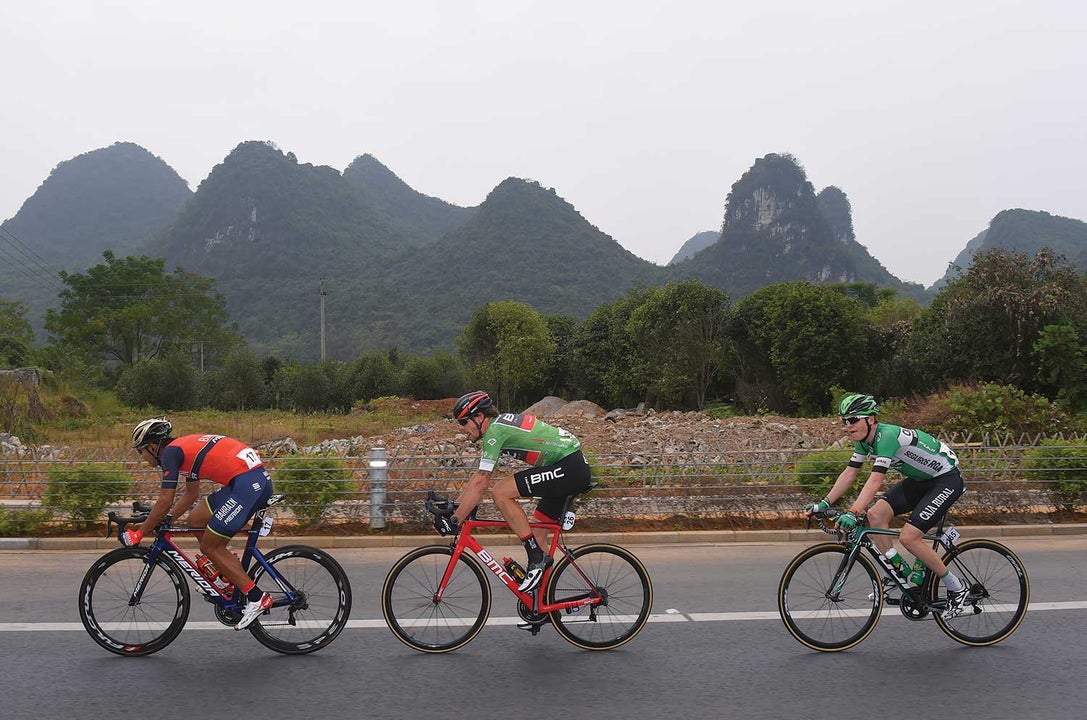 MEIYIN WANG'S JOURNEY TO the WorldTour relied heavily on the pathway built by Fuyu Li, who became China's first-ever WorldTour pro when he joined the Discovery Channel team in 2007. Both men hail from Shandong.
In 2009, Wang stepped into the international ranks with Li's then-team, the Continental-level Trek-Marco Polo squad, the first professional team registered in China. Wang raced in a handful of UCI Asia Tour events over two seasons. In 2011, he joined the Hengxiang Cycling Team.
Unlike Trek-Marco Polo, Hengxiang was (and still is) almost entirely composed of Chinese riders, pulling heavily from the Shandong provincial team. The Hengxiang squad represented an important lifeline to cycling's pinnacle, albeit a lifeline with major challenges. The team's small infrastructure meant riders struggled.
"The team leveraged coach [Fuyu] Li's experience racing with Discovery. He tried to prove that riders from the Shandong province could get good results at the international level," says Wang, who spoke to VeloNews through a translator. "It was really hard at first. Pro teams have soigneurs and sports directors; for us, everybody [on staff] had to do everything. They had to be a soigneur and a coach, and so on."
The Hengxiang team gave Wang a chance to prove his talents to larger international squads. In 2013 he won a stage and finished fifth overall at the Tour de Langkawi. He also won the mountains classification there. Those awards caught the eye of WorldTour teams. Results in the Tours of China I and II and the Tour of Taihu Lake in the following years cemented his status as a promising rider.
Wang's coach, Li, acted as his agent and received offers from several international teams. "[Li] had offers from not only Bahrain-Merida but a few other teams too, which was a dream come true," Wang says. According to Wang, he'd also heard from Giant-Alpecin and Orica-GreenEdge along the way, but Bahrain-Merida represented the most appealing option — with the most opportunities — to finally make the jump to the WorldTour.
"Li thought Bahrain-Merida would be the best choice career-wise," Wang says. "I liked the idea of joining a young team, like when I was at Hengxiang. I thought it would be a nice adventure."
The upgrade to the WorldTour brought new challenges, among them the language barrier. All of the sources VeloNews spoke to for this story put it atop the list of challenges facing Chinese riders.
Now based in Italy, Wang is studying both English and Italian simultaneously.
"I don't have a teacher and I'm really busy with racing and training," he says. "I learn mostly by talking with the team, so it's that kind of vocabulary."
When he's not in Italy, Wang does occasionally return to China to kit up for the national series, though he says he only rarely competes with his provincial squad these days. The team is content for him to focus on his WorldTour career as long as he accrues the necessary points for the annual national championships, with the next National Games still a few years off.
Some riders struggle to convince their provincial coaches that their international ambitions should come first, but Wang can at least point to the benefits of his racing experience in Europe.
"Just before I got to [the Tour of] Japan, I raced in a national series event to get points for the July national championships," Wang says. "I won the time trial, criterium, and road race, I think thanks to the training I got from riding the Tour of the Alps."
[pullquote attrib="Shayne Bannan"]"They really didn't understand what was going on in terms of logistics, how to get to the stage start, etc., so I really assisted them a lot, in that particular event, and that built a bond."[/pullquote]
AS CHINA'S SOLE REPRESENTATIVE on the WorldTour, Wang carries a nation's hopes on his shoulders. He also represents a major opportunity for cycling's growth around the globe.
Pro cycling's various powers have long looked to expand in China, due to the country's economic might. Wang and other Chinese riders become the focal point of promotional efforts focused on the Chinese market. The UCI has invested heavily to get pro racing off the ground in the country. Lampre-Merida nearly became the Chinese-registered team known as TJ Sport two seasons ago before a deal fell through, with the United Arab Emirates stepping in at the last moment.
It's not the only foreign project to focus on Chinese cycling. Currently, the Australia-based Mitchelton-BikeExchange team is looking to gain inroads in China.
That project traces its roots back to a chance encounter in 1987. Shayne Bannan, now general manager of GreenEdge Cycling, was in Italy for the Giro della Regioni when he met Jinkang Shen, coach of China's national cycling team. Bannan's conversations with Shen would become the seed of a project that now sends seven Chinese riders to races all over the world.
"We spent a couple of nights in the same hotel, and we formed a friendship," Bannan says of his first meeting with Shen. "They really didn't understand what was going on in terms of logistics, how to get to the stage start, etc., so I really assisted them a lot, in that particular event, and that built a bond."
In 2012 the duo discussed a plan to launch a team for Chinese riders. Five years later, in 2017, Bannan and the rest of GreenEdge decided to act. They launched a Continental squad then known as Mitchelton-Scott. That name was adopted in 2018 by GreenEdge's WorldTour team, and the Continental team became Mitchelton-BikeExchange. As of this season, the squad is one of nine Continental teams registered in China. Seven of the team's 13 riders are Chinese.
Connecting those riders to a WorldTour-level support structure gives them serious advantages as developing athletes. Just as critical as that WorldTour structure is the team's calendar. Mitchelton-BikeExchange raced the Dubai Tour in January alongside nine WorldTour squads and completed a two-month block of racing in Europe at the end of May. Bannan points out that many of the Chinese riders had never been to Europe before signing with the team.
The calendar was a can't-miss opportunity for a Chinese up-and-comer like Zhihui Jiang. He rode for the Netherlands-based SEG Racing development team in 2015 and 2016 but wasn't sure about his future after that. Then, his coach, Wu Weipei, introduced him to the Mitchelton-BikeExchange team.
"After the National Games I once thought I wouldn't have any more opportunities to go back to Europe," Jiang says. "[Mitchelton-BikeExchange] gave me another chance."
The Australian team faces a long list of challenges, namely the language barrier. Bannan says that some riders have begun to learn basic Chinese, to ease the challenge.
"It's important that we make an effort as well, not just the Chinese riders," he says. "It's a real educational program for all of us."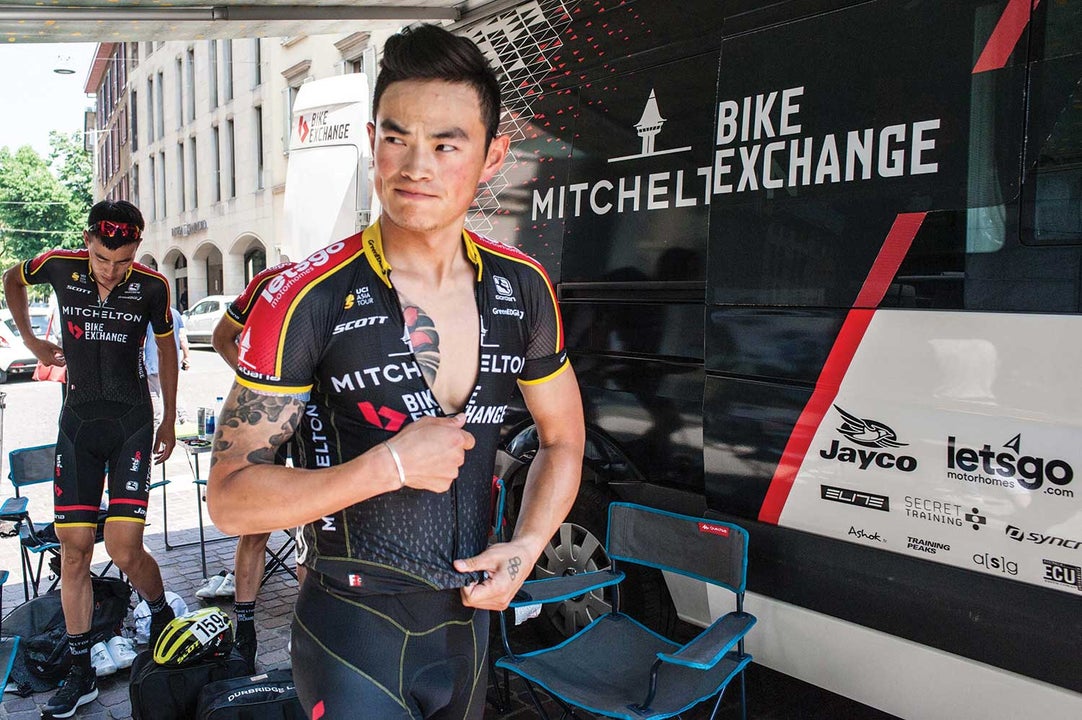 FOR NOW, MAJOR RESULTS for China's top pros remain elusive. Wang has struggled at the WorldTour level. He raced the spring classics in 2018 but did not finish the Tour of Flanders, Paris-Roubaix, Amstel Gold Race, La Flèche Wallonne, or Liège-Bastogne-Liège.
Nevertheless, Wang represents one opportunity for China to change that narrative. His success at a race like the Tour de Langkawi, which typically sees multiple WorldTour teams in attendance, suggests that results at the highest level may be an achievable goal. Wang isn't content to simply have a WorldTour contract. He says his biggest career target is a stage win in a WorldTour race, and he knows a breakaway may be his best pathway to that ultimate goal.
None of the Chinese riders on Mitchelton-BikeExchange have yet won a European race. Bannan is patient and hopeful that success will eventually come.
"Yes, there are Chinese riders at the moment that are capable of becoming WorldTour riders," Bannan says. "The next step is to actually have them win at the WorldTour level."
Winning will require patience and increased investment. That said, it's hardly a surprise how much effort the UCI has put in over the years attempting to promote pro road racing in China. The world's second-largest economy could help a sport with eternal financial problems turn the page.
Bannan, for one, knows just how big of an opportunity China represents for competitive cycling. He is hoping that efforts like Mitchelton-BikeExchange's may eventually bear fiscal fruit as well.
"The primary goal is to build a platform to create a pathway for Chinese riders. As a byproduct of that, I think the commercial side of it does interest us very much," he says. "We're of the opinion that a strong Chinese cycling in the future is also a strong global cycling."