American cyclocrossers take the battle to Belgium for holiday week racing
BRUSSELS, Belgium (VN) — The week between Christmas and New Year's is prime time for cyclocross in Belgium and the Netherlands, and in recent years the races have brought an influx of international competitors, including a large number of Americans and Canadians.
Heading out the door? Read this article on the new Outside+ app available now on iOS devices for members! Download the app.
BRUSSELS, Belgium (VN) — The week between Christmas and New Year's is prime time for cyclocross in Belgium and the Netherlands, and in recent years the races have brought an influx of international competitors, including a large number of Americans and Canadians.
The Europeans were looking to make final tune-ups to their form ahead of their national championships next weekend weekend. The North Americans, who had their nationals earlier in the season, were looking to gain a huge helping of international experience in as short a time as possible.
While U.S. national championships runner-up Ryan Trebon packed up after skipping Sunday's World Cup race, a host of American men remained, including the Belgium-based Jonathan Page, the Wisconsin duo of Brian Matter and Mark Lalonde, and four Elite EuroCrossCamp attendees: Sean Babcock, Ryan Iddings, Mitch Hoke, Ryan Knapp. Add to the mix the U23 national champion, Danny Summerhill, and runner-up Zach McDonald, along with a number of other junior and U23 racers, plus Canadians Craig Richey and Shaun Adamson, and there were moments when fans who didn't look closely could mistake men's races for a stop on the USGP circuit.
A busy week
The seven days following the Zolder World Cup brought five opportunities for world class competition, with the nighttime sixth round of the Superprestige series in Diegem on Monday, GVA Trofee races in Loenhout and Baal on Wednesday and Saturday, a sandy, seaside race in Bredene on Thursday, and the last of the non-series Fidea Cyclocross Classics, rounding out the busy week on Sunday.
A number of American women also made the trip, though national champion Katie Compton departed following her win in Zolder to focus on pre-worlds training. Sue Butler, Maureen Bruno Roy, and Belgium-based Christine Vardaros remained in Europe, and were joined later in the week by Amy Dombroski.
White Christmas turns brown
As temperatures warmed in the wake of a series of historic snowfalls, racers faced a series of slippery — and increasingly muddy — courses during the week. In Diegem, just outside the Belgian capital of Brussels, snow still covered most of the course; by the time racers got to Baal on New Years Day, they were racing in a thick, dark, foul-smelling soup of semi-frozen slop.
Fans were treated to a series of tightly contested races; all five elite men's races of the week featured Sven Nys, who twice was derailed by technical problems in close contests with Niels Albert. Nys also traded wins with Zdenek Stybar, falling short in Bredene before powering through the mud to a victory in Baal, his hometown. On Sunday, Nys, the reigning Belgian champion, launched a ferocious late-race attempt to reach Albert, who was off the front, but fell short when he bobbled on the final lap.
Related: See Nys and Albert favorites for Belgian nationals
Stybar returns
The big battles between Nys and Albert may have taken center stage, but they weren't the only story. Cyclocross also welcomed its men's world champion, Stybar, back to competition after he was forced to take nearly a month off to rehab a knee injured in training. The Czech managed two third places before a win in Bredene and the close second in Baal proved he was truly back on form.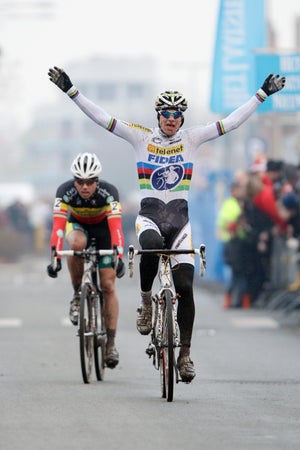 "Today I felt really very good, finally, and I was really very close for the win," said Stybar after his near miss in Baal. "It's of course very promising, and I'm really very happy with it. But I always stay very ambitious, so when I was so close to winning, I don't look for the problems that I had in the last month, I just look that I could have taken a great win here in Baal. I never could have expected that I would jump back into racing like this. I already won my first race and today if I had maybe one more second of good luck then I would have won today as well. And that's really very promising for me."
Page coming on form
But Stybar wasn't the only one recovering from injury. Jonathan Page, who posted the best results among all North American men during the week, was racing with a torn tendon from a fall Scheldecross the week before Christmas.
Page finished ninth in Loenhout and inside the top 15 twice — in Baal and in Tervuren— despite the ankle injury. Throughout the week, the American was dogged by slow starts, but he consistently rebounded in the second half of the races he did.
"It took me a long time to start going faster, I was really like a diesel," Page said after his race in Diegem. "I tried to keep pushing and keep pushing, but I wasn't getting anywhere at the beginning. I guess I'd rather have the second half of the race be better than the first, but if I can get a good start, then I'll be OK."
Page did get a better start in Loenhout, just missing a chance to ride with the leaders, and worked together with Belgian — and former teammate — Sven Vanthourenhout to race his way into the top ten.
A much happier Page told VeloNews after that race that he was hoping the improvement would continue coming into the final two rounds of the World Cup and the World Championships.
"I did pretty well today," he said. "I didn't make the first selection, which was probably the key to even a better race, so I had to come back to get to that second group. My season hasn't been so steady, but am I happy where I am? Yeah. I'm not in bad form, I just had some bad luck, and now, with a couple results like today, that would be the real icing on the cake, if I can do it again and again."
The battle for North American bragging rights
Throughout the week of racing, the Canadians, Matter and Lalonde, and the EuroCrossCampers battled for top North American honors behind Page.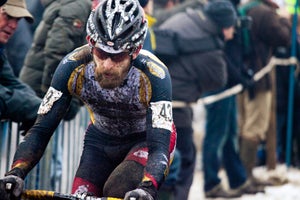 In the dark in Diegem, Canada's Richey took the title, edging out Matter for 34th place. Afterwards, he pointed out one of the real benefits of traveling to Belgium to race in December.
"This fall I did a three-hour flight to Toronto and then drove ten hours by myself for a weekend of racing in New Jersey against a group of Americans like I raced tonight," he told VeloNews.
"I came to Belgium for race experience. Before this season I had only raced 15 UCI 'cross races, while the typical Belgian pro my age has probably raced 200-plus. The bottom line is that Belgium riders have more race practice than North Americans and coming over here helps close that gap."
Matter shot back, however, taking the top spot in Loenhout, with a 45th place ahead of Czech rider Martin Zlamalik, then grabbing the holeshot in Bredene before finishing 23rd. With Page absent, Matter was the top American finisher there.
Sporting an impressive mountain-man-style beard during his time in Belgium, Matter was a hit with the Flemish fans, who nicknamed him Jesus.
"The beard is a hot topic right now," he said, several races into his European campaign. "It's good for the weather, and the Belgian fans love it. They're cheering for me, 'Go, Jesus!' I've never had a beard before; I was just doing it to see what it would look like and it grew in pretty good. Now it's like I have to keep it. The fans love it. I'm an NHL hockey fan — the guys don't shave for the playoffs, this is like my playoffs, so I'm not shaving."
Matter, a two-year veteran of the EuroCrossCamp, racing in Belgium on his own for the first time, held on to the top American title for the remainder of his trip, with a 32nd place ahead of Mark Lalonde in Baal and 36th in Tervuren, just behind Belgian Elite-without-contract champion Geert Wellens. He credited the camp, run by UCI Cyclocross Commission member Geoff Proctor, with preparing him to be able to race on his own in Europe.
The campers
And while Matter struck out successfully on his own, a number of developing riders were learning the ropes. Ryan Iddings and Mitch Hoke missed out on the early races of their trip when snowfall snarled air travel across Europe, leaving them stuck for several days without luggage and, more importantly, equipment. But the two were going again in time for the Zolder World Cup, and posted solid results throughout the week.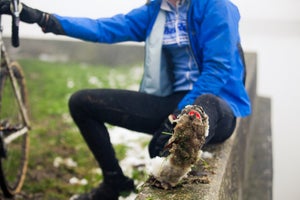 Camper Ryan Knapp had better luck getting his equipment here, but ended his trip on a sour note when he crashed hard in Bredene, sustaining an arm injury that forced him out of the race.
"I'm really disappointed to end my trip with a race like that, but such is cycling," he wrote on his blog following the crash. "That's how it goes, just enough good to keep you coming back."
Before the crash Knapp was riding towards the top 15 — a result that would have been his best of the trip.
Knapp and his fellow camper, Sean Babcock, each told VeloNews at the outside of their trip that they hoped the few weeks in Belgium would provide some insight into the highest levels of racing. At 26 and 27 respectively, both riders are still relative newcomers to cyclocross, each with only a few years of experience.
Both had their moments nontheless. Babcock was the third American in the Kalmthout World Cup, finishing just a few minutes behind Page and Trebon. Knapp looked strong among some of the top developing European riders before his fall in Bredene.
Missed opportunity for McDonald
U23 Zach McDonald had the opportunity to take the best result of any American during the week, in the front group with a chance to land on the podium for much of his race in Loenhout. McDonald got tangled in a crash when his lead group got caught by a chase group behind him with just a few laps to go, and wasn't able to recover. He finished a minute down in 19th place.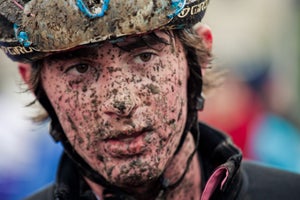 "I'm trying not to get too pissed," he said of the missed opportunity. "I was blowing by them in the mud, then I'd get dropped on the pavement. But right after that first corner I'd get them. I had fun, at least."
In the end, the best result by an American belonged to Dombroski, who finished seventh in the final race of the week in Tervuren. Dombroski skipped the December World Cups in order to focus on additional base training, and said her legs were still improving as she started racing again.
All week, American women posted strong results, as Sue Butler finished 11th in Loenhout and Maureen Bruno Roy finished two places behind the best American in both races: ninth in Tervuren and 13th in Loenhout.
"It was fun, it was different than any other time I raced this course," said Butler after the race in Loenhout. "My goal was top ten, and I guess I missed it by one. It was super fun. I like racing over here, and it was a good post-World Cup training. Now I go home and train for three weeks and come back for Hoogerheide."
With American selections for the World Championships still not announced, the week of racing provided a chance for the women to show that they belong on the team.
"I'm hoping I can keep improving," said Bruno Roy after Loenhout. "I got 20th in Zolder, 13th today. The competition is pretty stiff everywhere, so if I can just improve and feel like I'm having strong races and hold on to fitness, it will just make the trip even better."
Headed home
At the end of a gloomy week in Belgium where the clouds hung low and dark over the Flemish countryside and the thawing ground swallowed boots and front wheels whole, the sun finally broke through on Sunday, for the last race of a busy season. Racers from around the world packed their bags and bikes, and prepared for a long trip home. In some cases the time at home would be brief — several will return for Worlds in just a few weeks — but for others the sunshine in Tervuren marked the end of another year of cyclocross.
Matter, heading to Arizona for some decidedly different weather, summed up the appeal of the trip to Belgium.
"Its like nothing else in the world," he said. "It just blows me away that so many people want to go stand in the middle of a soggy field during the holidays and watch bike racers go in circles. It's that energy though that keeps me coming back; every year I seem content and don't plan another trip to Europe, but it's like an addiction.
"Maybe next year I'll come back for longer and get even more comfortable and maybe race even faster, maybe I won't come back at all. All I know is that the last three seasons in Belgium have been a once in a lifetime experience that I will never forget; racing the best in the world in one of the toughest sports in the world."
Page will spend two weeks training in Switzerland, while most of those who made the trip to Europe will pack up and head for training in warmer climes back in the United States. World Championship selections for Women, U23, and Junior riders are due at the end of this week; Elite men's selections will be announced the following week.
International cyclocross continues with the seventh round of the UCI World Cup in Pont-Chateau, France, on January 16.