Analysis: what Jingle Cross tells us about 'cross nationals
Trebon has had a hard time shaking the Cannondale duo this season. IOWA CITY, Iowa (VN)_  The U.S. national cyclocross championships are less than two weeks away in Bend, Oregon, and a slew of the top contenders just fought for three days in Iowa. What did Jingle…
Heading out the door? Read this article on the new Outside+ app available now on iOS devices for members! Download the app.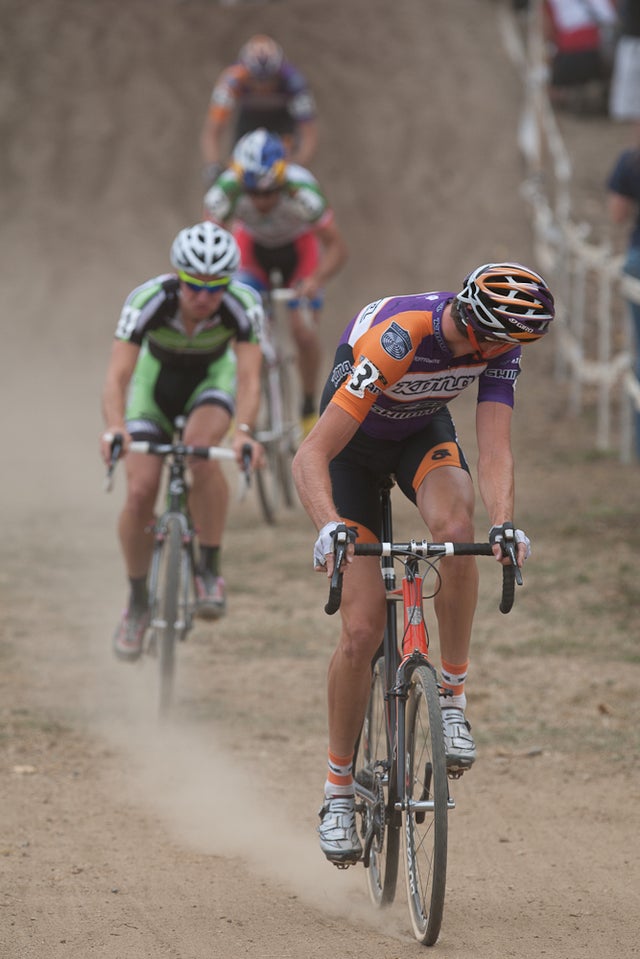 IOWA CITY, Iowa (VN)_  The U.S. national cyclocross championships are less than two weeks away in Bend, Oregon, and a slew of the top contenders just fought for three days in Iowa. What did Jingle Cross tell us about the men's elite field for nationals?
The Favorites
By any measure, the Cannondale-Cyclocrossworld.com tandem of Tim Johnson and Jeremy Powers has ruled the 2010 season. Powers on Sunday closed out the North American Cyclocross Trophy title — his first major series win — in Sterling, Massachusetts. Johnson leads the USGP of Cyclocross ahead of that series' final stop in Portland, Oregon, this weekend. The duo has traded wins at each USGP stop, other than Canadian Geoff Kabush's (Rocky Mountain-Maxxis) victory at Colorado's sloppy New Belgium Cup.
Their palmares notwithstanding, the weather will be far from dry and warm in Bend. This fall has seen unusually mild conditions across the circuit, something that has played into Johnson and Powers' favor. A dry course allows for a more tactical race and with two of the top U.S. riders sharing colors, the job of outfoxing the pair has proven extremely challenging.
"All the top guys are really good at handling their bikes in the bad conditions, but it eliminates the teammate thing," said Todd Wells, one of The Others. "I feel like it caters to the strongest guy, not just the strongest team. Whoever's strongest that day will win."
That said, Johnson was the strongest last December and pulled the stars-and-stripes on a frozen track in Bend after Powers crashed out of the lead. Both are skilled bike handlers and will be extremely motivated to continue their seasons beyond nationals to the Christmas-week races in Belgium and the build-up to worlds at Sankt Wendel, Germany, in January.
Johnson and Powers skipped Jingle Cross for the Koksijde World Cup (where Johnson was 32nd) and the NACT finale (where Powers won both days), respectively. The Iowa weekend provided the last good look at the other contenders before the elite riders descend on Oregon for the USGP/nationals week on Friday.
The Others
Ryan Trebon (Kona-FSA) has been the most consistent antagonist for Johnson and Powers this fall, regularly finding himself on the losing end of their one-two punch. At the USGP Derby City Cup, the former 'cross and mountain bike champ was forced to chase Powers Saturday and Johnson Sunday, their teammate planted firmly on Trebon's wheel. Tree Farm suffered a groin injury in Colorado in October and was recently sick for nearly two weeks, severely limiting his training.
Trebon crashed out hard Friday night on the icy descent of Mt. Krumpit, but returned to win Saturday and finish fourth after a frustrating hour on Sunday. The Kona rider is either all-in or all-out and he struggled with the mental side Sunday. If he can get off to a good start on a tough surface in Bend, there is no reason the two-time champ can't earn a hat trick of 'cross jerseys for his hometown fans.
"For some reason I've started to do better when it gets muddy. So we'll see. It'll be muddy in Portland (for the USGP finale). It'll be something in Bend," Trebon told VeloNews. "Every race we've done have been these dry, twisty little courses. I like courses like Saturday in Fort Collins where it's hard 'cross racing."
Todd Wells (Specialized) eased into the season, took a two-week break in early October, and has come on strong in November. The current national cross-country and short-track mountain bike champ scored a podium at the Boulder Cup and finished fourth in the mud on the first day of the New Belgium Cup. A nasty crash when a bunny-hop went wrong on day two took Wells out of commission for almost a week before Thanksgiving.
Wells has the extra motivation of chasing a third jersey this year. "Man, I really want to get it. Trebon has held the cyclocross and cross-country jerseys, but not all three. To hold all the disciplines you compete in in one year would be pretty special," Wells told VeloNews. "This year I've got two of the three and it would be nice to get all three."
The two-time national 'cross champion was tentative in his return to racing Friday night, but came back to score two second-places over the weekend. A late race attack on the steep run-up on Mt. Krumpit pushed Wells onto the second step Saturday, while a mishap in the first corner saw him fall out of the top 10 when Jamey Driscoll made the race-winning move in the first lap. Wells had some of the fastest lap times of the weekend and if he can piece together a solid 60 minutes, his fitness is on track to contend for the jersey.
Jamey Driscoll (Cannondale-Cyclocrossworld.com) is the third arm of the green and black express. The 24-year-old nearly held on for a second consecutive long flier at CrossVegas in September and scored podiums in Gloucester, Massachusetts, Providence, Rhode Island, and in the mud in Fort Collins. The powerful 2008 nationals silver medalist has been insulated from the spotlight by his higher profile teammates much of the season, but has shown his potential at times.
Driscoll won both races that he contested in Iowa. While a rest day gave him an edge on Sunday, Driscoll's results on climbing heavy courses that didn't necessarily suit him prove that he is nearing top form. "I think it goes to show — this weekend and at Fort Collins — that I race a lot better when I'm well rested," he told VeloNews. "Hopefully I'm going to take that lesson as seriously as I can."
Driscoll's acumen in the slop will suit him well in Bend, but the course does include a lot of technical, stop-and-go features that don't play nicely with his low-burning engine. Driscoll is a favorite for the podium and when the surface is inconsistent, any podium contender is a challenger for the win.
Chris Jones (Rapha-Focus) arrived on the 'cross season for the second year with a new squad and took a few weeks to get rolling. Equipment issues made for a miserable time at the USGP Planet Bike Cup for last year's 10th-place nationals finisher. Since then Jones has recovered with top 10 rides in Louisville and Fort Collins.
Jones has suffered from the slow starts this fall and needs to right that situation in a hurry. He overcame problematic opening laps this weekend to ride up to third late each day. Jones knows Johnson and Powers well from the road scene and claimed that the fitness levels of the field are equalizing at this point in the year. "The gap comes down between Tim and Jeremy as far as fitness levels," he told VeloNews. "It just shows that on any given day any of us are capable of winning … You're one mistake away from winning the race or being on the podium."
The Rapha rider is hoping for a top-five in Bend, particularly if conditions are challenging. As a relatively new 'crosser, Jones is still honing his skills on variable surfaces. A podium is within reach, so long as his race starts from the gun.
Troy Wells (Clif Bar) is an outsider looking in and would be "psyched" with a top-five in Bend. Da Bear is quietly enjoying a great season. He has been a constant fixture in the top 10 on the national circuits, scoring a sixth-place on day two of the New Belgium Cup, and is just getting to his best part of the year, when the snow and mud take grip. Wells' best nationals finish was a fifth on the ice in Kansas City in 2007.
"I always try to focus more on when it starts to get muddy because — I don't know why — I just don't have the speed for the dirt crits early on. When it gets more mountain bikey and sluggy, I come around better," he told VeloNews. "Hopefully it snows and rains in Bend and that would be perfect."
Wells diced it up with the leaders at Jingle Cross, but faded each day after about 45 minutes. He didn't slide far, running fifth on Friday and Sunday, and seventh Saturday. Wells looked strong and rode cleanly, but came up short when the efforts went really deep on the climbs. The three-day weekend should sharpen his fitness and a taper for nationals should clean that edge up and make Wells a serious contender to podium.
---

Editor's Note: Brian Holcombe is a reporter with VeloNews. He covers all things racing in the U.S. and has been accused of attacking too much on the VN lunch ride.