Anthony and Lindine kick off Verge New England series in Vermont
Anthony sizes up Annis. Photo: Todd Prekaski - 20poundskull.com The 2011 Verge New England Cyclo-Cross Series kicked off Saturday at the Catamount Family Center in Williston, Vermont. The traditional kickoff to the New England season, the Green Mountain Cyclocross Weekend tests racers ability to suffer on…
Heading out the door? Read this article on the new Outside+ app available now on iOS devices for members! Download the app.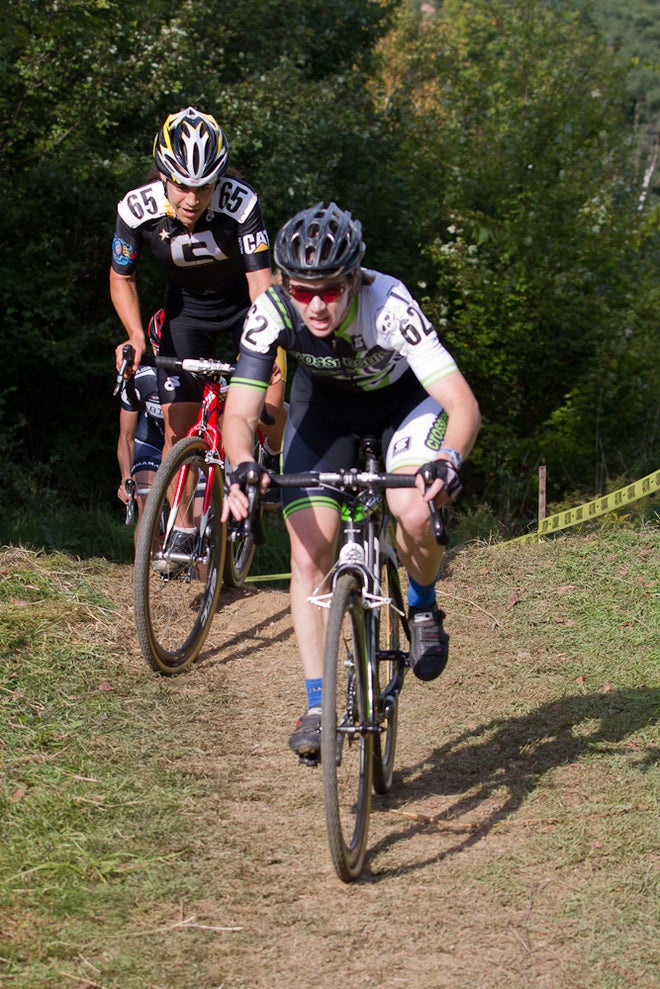 The 2011 Verge New England Cyclo-Cross Series kicked off Saturday at the Catamount Family Center in Williston, Vermont. The traditional kickoff to the New England season, the Green Mountain Cyclocross Weekend tests racers ability to suffer on some of the longest climbs in New England cyclocross. The landscape surrounding the course is beautiful and the weather was perfect, but all the action happened inside the tape.
The elite women started off with Crystal Anthony (Ladies First Racing) taking the early lead, pushing a hard pace for the first few laps. With her were Sally Annis (crossresults.com/JRA Cycles) and Catherine Sterling (bikeman.com).
Behind, there was a large group including Ann D'Ambruoso (Ladies First Racing) and Rebecca Wellons (Quad Cycles) among others. The hard pace set by Anthony and Annis proved too much for Sterling, who fell off the pace. Meanwhile, Wellons had shed her group and was riding alone in fourth place, eventually catching and dropping Sterling.
At the front, though, the battle was on between Anthony and Annis and it seemed like it would come down to a sprint as the two received the bell for the final lap. Anthony, knowing that Annis packs a big punch in a sprint, unleashed a huge attack on the backside of the course. Annis was broken by the assault of Anthony and came across half a minute back with Wellons a further 20 seconds behind.
In the elite men's field, Justin Lindine (bikereg.com/Joe's Garage) picked up where he left off last season, taking the bull by the horn and riding off the front from the gun. Lindine put all his chips on the table with this first move and within the first two laps had created a sizable gap to the field.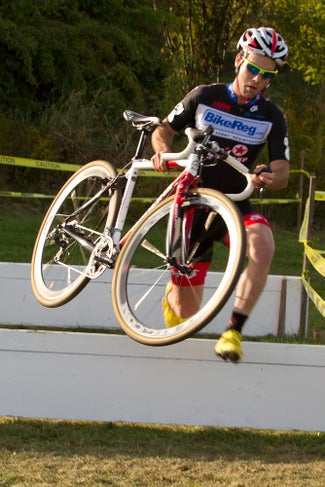 Behind Lindine, a large group formed that lasted through to the finish of Adam Myerson (SmartStop/MOB Cyclocross), RGM Watches/Richard Sachs teammates Dan Chabanov and Josh Dillon, Matt O'Keefe (cyclocrossworld.com) and Luke Keough (Champion Systems/Keough Cyclocross).
While Lindine continued to build his advantage, the group behind kept a torrid pace. In the end, Lindine managed to put a minute into the chasing group and started his season off the right way with an emphatic victory. The group fighting for second came into the final set of corners close together, with Luke Keough taking the sprint from the front and Adam Myerson coming across third. Behind him, Chabanov bested O'Keefe and Dillon for fourth.
The Green Mountain weekend continues Sunday with a UCI category 2 race.

1. Justin Lindine, Bikereg.com / Joe's Garage, at 0:56:14
2. Luke Keough, Champion System P/b Keough Cyclocross, at 0:01:01
3. Adam Myerson, Smartstop-Mob Cyclocross, at 0:01:01
4. Dan Chabanov, Rgm Watches-Richard Sachs, at 0:01:01
5. Matthew O'Keefe, Cyclocrossworld.com, at 0:01:01
6. Josh Dillon, Rgm Watches-Richard Sachs, at 0:01:01
7. Johannes Huseby, Cyclocrossworld, at 0:01:49
8. David Wilcox, Cycle-Smart, at 0:02:03
9. Thierry Laliberte, Xprezo-Borsao, at 0:02:10
10. Wayne Bray, Embrocation Cycling Journal, at 0:02:10
11. Philip Wong, Essex County Velo, at 0:02:10
12. Christian Favata, Rgm Watches-Richard Sachs, at 0:02:17
13. Sylvain Jean, Kona/bio-Max, at 0:02:46
14. Nicholas Keough, Champion System P/b Keough Cyclocross, at 0:02:49
15. Kevin Sweeney, Crossresults.com P/b Jra Cycles, at 0:02:55
16. Colin Reuter, Crossresults.com P/b Jra Cycles, at 0:03:02
17. Jesse Keough, Champion System P/b Keough Cyclocross, at 0:03:15
18. Evan Huff, Bikereg.com / Joe's Garage, at 0:03:15
19. Greg Whitney, Ride Studio Cafe, at 0:03:28
20. Adam St. Germain, Nbx / Circle A Cycles, at 0:03:33
21. Jeffrey Bahnson, Van Dessel Factory Team, at 0:03:33
22. Karl Hoppner, Emd Serono Specialized, at 0:03:33
23. Conor O'brien, Emd Serono-Specialized, at 0:03:33
24. Donny Green, Cycle-Smart, at 0:03:33
25. Adam Sullivan, Embrocation Cycling Journal, at 0:05:30
26. Christopher Hamlin, Bicycle Express, at 0:05:34
27. Michael Wissell, B2c2/ Boloco, at 0:05:37
28. Ben Coleman, Uvm Cycling, at 0:06:26
29. Austin Pferd, Cyclocrossworld.com, at 0:06:34
30. Matthew Green, , at 0:06:34
31. Cary Fridrich, Embrocation Cycling Journal, at 0:06:59
32. Richard Bardwell, Cycle-Smart, at 0:08:35
33. Dan Hock, , at 0:08:46
34. Pierre Vanden Borre, Embrocation Cycling Journal, at 0:08:53
35. Manny Goguen, Bikereg.com / Joe's Garage, at 0:10:03
1. Crystal Anthony, Ladiesfirst Racing, at 0:45:35
2. Sally Annis, Crossresults.com P/b Jra Cycles, at 0:00:34
3. Rebecca Wellons, Quad Cycles, at 0:00:57
4. Catherine Sterling, Bikeman.com, at 0:01:21
5. Sheila Vibert, Sunapee Racing Team, at 0:01:40
6. Kate Northcott, Beam Team Racing, at 0:02:11
7. Ann D'ambruoso, Ladiesfirst Racing, at 0:02:28
8. Vicki Thomas, Ottawa.cx, at 0:02:36
9. Nancy Labbe-Giguere, Ladiesfirst Racing, at 0:02:36
10. Frances Morrison, J.a.m. Fund/ncc, at 0:02:45
11. Sophie Matte, Stevens Racing P/b The Cyclery, at 0:03:12
12. Elle Anderson, Ladiesfirst Racing, at 0:03:30
13. Sarah Krzysiak, Nycross.com, at 0:04:26
14. Rosanne Van Dorn, Team Placid Planet, at 0:04:32
15. Emma White, Nycross.com, at 0:04:32
16. Julie Lafreniere, Stevens Racing P/b The Cyclery, at 0:04:56
17. Anna Milkowski, Wheelworks Racing, at 0:05:22
18. Lauren Kling, New England Athletic Cyclocross, at 0:05:49
19. Mélissa Houde, Sportif Bromont, at 0:05:57
20. Christina Tamilio, Ladiesfirst Racing, at 0:07:19