Bazin and Dombroski solo to victory in Vermont
Driscoll and Powers didn't have much of a chance to enjoy the scenery. Photo: Todd Prekaski - 20poundskull.com Local hero Amy Dombroski (Crankbrothers Race Club) and visiting Frenchman Nicolas Bazin (Team Big-Mat Auber 93) won on day 2 of the Green Mountain cyclocross weekend, held at…
Heading out the door? Read this article on the new Outside+ app available now on iOS devices for members! Download the app.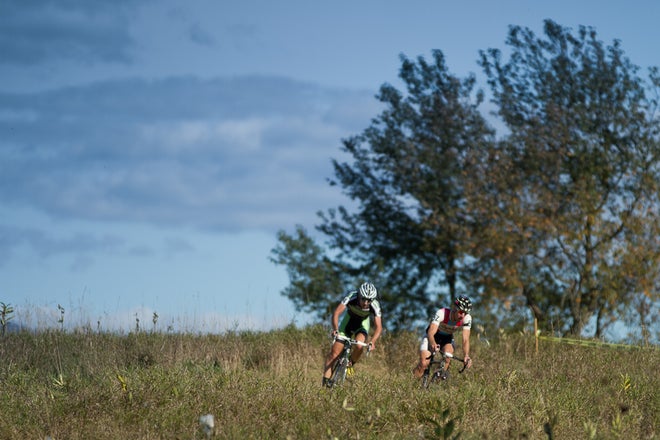 Local hero Amy Dombroski (Crankbrothers Race Club) and visiting Frenchman Nicolas Bazin (Team Big-Mat Auber 93) won on day 2 of the Green Mountain cyclocross weekend, held at the Catamount Family Center in Williston, Vermont.
The sun was bright and temperatures were well into the 70s by the time the elite races were underway. The course was focused around several sustained climbs as well as a set of stairs and a pair of uphill barriers. Long straights as well as a fast descent meant for lots of opportunity for larger groups to form.
Elite women
Amy Dombroski, coming off a second place at CrossVegas and in one of her three domestic race appearances before kicking off on a long European campaign, headlined the elite women's race.
Lining up alongside the local favorite were Andrea Smith (Ladies First Racing), herself coming off an 11th place in Las Vegas and her teammate, Saturday's winner, Crystal Anthony.
Runner-up from Saturday, Sally Annis (crossresults.com p/b JRA Cycles), came back looking for a step up. Sara Bresnick (Embrocation Cycling Journal) looked to pick up some early season UCI points as well.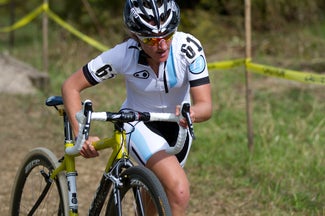 From the gun, it was clear that, despite the late return from Las Vegas, Dombroski and Smith were the class of the race. Dombroski took the holeshot and stretched a gap from the very beginning.
Behind her there was a concerted chase put on by Smith, Annis, Bresnick and Anthony, along with Rebecca Wellons (Quad Cycles). Smith took the reins of the group and quickly snapped the elastic, fighting to reach Dombroski.
Smith's tactic had her well-placed should Dombroski make any mistakes, but no such mistakes came and she rode a smooth, fast and clean race, taking a victory in front of her father and home crowd.
"It feels good to come home and to win here," said an exhausted Dombroski. Behind her, Smith's second-place was never in any real jeopardy as Annis sat half a minute behind her. Coming across the line, Smith pumped her fist, obviously pleased with her result. Annis held off a chasing Bresnick for third and a great start to her season with two podiums against stiff competition.
Elite men
The first New England UCI race brought some of the big local names out of the woodwork. Freshly minted Rapha-Focus racer Jeremy Powers came up after a couple of late nights in Las Vegas.
Local product and former teammate of Powers, Jamey Driscoll (Cannondale-Cyclocrossworld.com) came with hopes of taking victory on his home turf. New England workingman's favorite Justin Lindine (bikereg.com/Joe's Garage) had hopes of doubling-up on his weekend while New Hampshire native Ted King (Liquigas/Cannondale/iamtedking.com) decided to reacquaint himself with the dirt in the wake of a successful road season.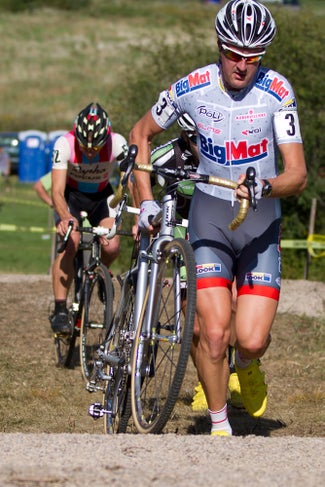 The wild cards for the field were the European contingent. Joachim Parbo (Challenge Tires) of Denmark came back east from Las Vegas while Frenchman Nicolas Bazin arrived for his American campaign on Wednesday and kicked off today in Vermont.
The race got underway with Powers taking the holeshot and leading the field through most of the first lap. Even in the opening couple of minutes, it was clear that Powers, Driscoll and Bazin had form that was a cut above the rest. The surprise was that, from the chase group behind emerged Justin Lindine, who, following an early mechanical, bridged to the leaders as the gap to the rest of the field grew.
While the four duked it out at the front, Parbo, King, Johs Huseby (Cyclocrossworld), Josh Dillon (RGM Watches/Richard Sachs), Luke Keough (Champion System p/b Keough Cyclocross) and Adam Myerson (SmartStop/MOB Cyclocross) fought for the remaining UCI points on offer.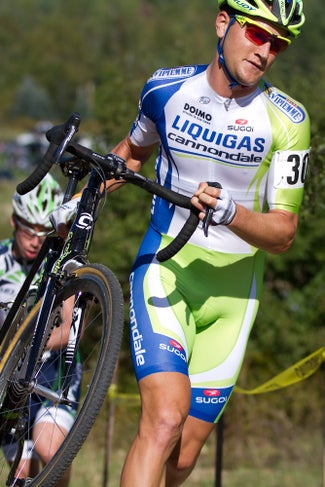 At the front, Driscoll made an attack typical of his style: A hard attack with four laps remaining that netted an advantage of fifteen seconds. For two laps, his companions let the leash loose, but Powers drove hard to bring it in, knowing that Driscoll's only chance at victory would be through a solo move.
Powers dragged the other leaders back to Driscoll's wheel only to have Bazin launch an attack of his own through the finishing straight with two laps remaining. Bazin, who sports an impressive palmares and has represented France at the world championships in the past, made his move count and maintained an advantage for the final lap and came across for the win in his first race on American soil.
Behind, Powers bested Driscoll and Lindine for second with Driscoll rounding out the podium and Lindine fourth. In the second group on the course, Ted King took full advantage of the long power sections on the course and in his words "lost ten seconds going into each corner but picked up fifteen coming out of each." His surging style broke the group and King rode away for fifth. Keough, Parbo, Dillon and Huseby rounded out the group as Myerson was forced to abandon following an unfortunate late-race crash.

1. Nicolas Bazin, Team Big-Mat Auber 93
2. Jeremy Powers, Rapha/focus
3. James Driscoll, Cannondale P/b Cyclocrossworld.com
4. Justin Lindine, Bikereg.com / Joe's Garage
5. Ted King, Liquigas-Cannondale / Iamtedking.com
6. Luke Keough, Champion System P/b Keough Cyclocross
7. Joachim Parbo, Challenge Tires
8. Josh Dillon, Rgm Watches-Richard Sachs
9. Johannes Huseby, Cyclocrossworld
10. Alec Donahue, Joe's Garage
11. Wayne Bray, Embrocation Cycling Journal
12. Greg Whitney, Ride Studio Cafe
13. Thierry Laliberte, Xprezo-Borsao
14. Donny Green, Cycle-Smart
15. Kevin Sweeney, Crossresults.com P/b Jra Cycles
16. Anthony Clark, J.a.m. Fund / Ncc
17. Adam St. Germain, Nbx / Circle A Cycles
18. Manny Goguen, Bikereg.com / Joe's Garage
19. David Wilcox, Cycle-Smart
20. Conor O'brien, Emd Serono-Specialized
21. Colin Reuter, Crossresults.com P/b Jra Cycles
22. Dan Chabanov, Rgm Watches-Richard Sachs
23. Stephen Pierce, Embrocation Cycling Journal
24. Adam Sullivan, Embrocation Cycling Journal
25. Michael Wissell, B2c2/ Boloco
26. Thomas Sampson,
27. Christopher Hamlin, Bicycle Express
28. Austin Pferd, Cyclocrossworld.com
29. Jesse Keough, Champion System P/b Keough Cyclocross
30. Matthew Green,
31. Jean-Philippe Thibault-Roberge, Trek-Bontrager
32. Karl Hoppner, Emd Serono Specialized
33. Richard Bardwell, Cycle-Smart
34. Pierre Vanden Borre, Embrocation Cycling Journal
Women
1. Amy Dombroski, Crankbrothers Race Club
2. Andrea Smith, Ladiesfirst Racing
3. Sally Annis, Crossresults.com P/b Jra Cycles
4. Sara Bresnick-Zocchi, Embrocationcycling.com
5. Crystal Anthony, Ladiesfirst Racing
6. Rebecca Wellons, Quad Cycles
7. Sheila Vibert, Sunapee Racing Team
8. Anna Barensfeld, Sterling Cx P/b Sendmail
9. Catherine Sterling, Bikeman.com
10. Elle Anderson, Ladiesfirst Racing
11. Vicki Thomas, Ottawa.cx
12. Nancy Labbe-Giguere, Ladiesfirst Racing
13. Julie Lafreniere, Stevens Racing P/b The Cyclery
14. Sophie Matte, Stevens Racing P/b The Cyclery
15. Kathleen Lysakowski, Cycle Lodge
16. Kate Northcott, Beam Team Racing
17. Rosanne Van Dorn, Team Placid Planet
18. Christina Tamilio, Ladiesfirst Racing
19. Lauren Kling, New England Athletic Cyclocross
20. Anna Milkowski, Wheelworks Racing