Clara Honsinger three-peats at 2022 US Cyclocross National Championship
Raylyn Nuss and Austin Killips rounded out the podium on a snowy day in the northeast. Maddie Munro and Kaya Musgrave take the U23 and junior titles, respectively.
Heading out the door? Read this article on the new Outside+ app available now on iOS devices for members! Download the app.
HARTFORD, CONNECTICUT (VN) — Clara Honsinger (EF Education–Tibco–SVB) handily won the 2022 US Cyclocross National Championship women's elite race on Sunday to take her third consecutive national title in the discipline.
Raylyn Nuss (Steve Tilford Foundation) finished second about 90 seconds later, and Austin Killips (Nice Bikes) rounded out the podium on the snowy day.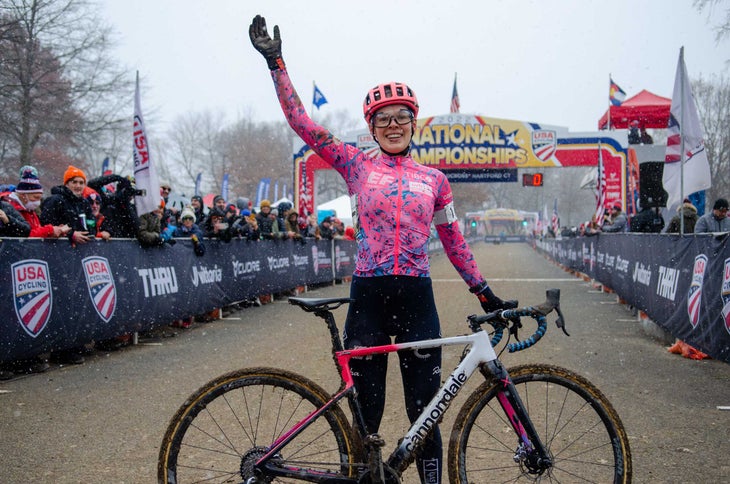 The race got off to a hot start, knocking top-rated Honsinger back a few places early in the first lap. But it wouldn't take long for the defending champion to regain her positioning and build a gap that soon grew to over a minute.
Also read: Curtis White wins hard fought 2022 US Cyclocross National Championship
"I haven't raced in a couple weeks," Honsinger explained of the slow start. "It felt a little bit slow to start, plus I've had a little bit of a cold, so it took me a little while to warm up."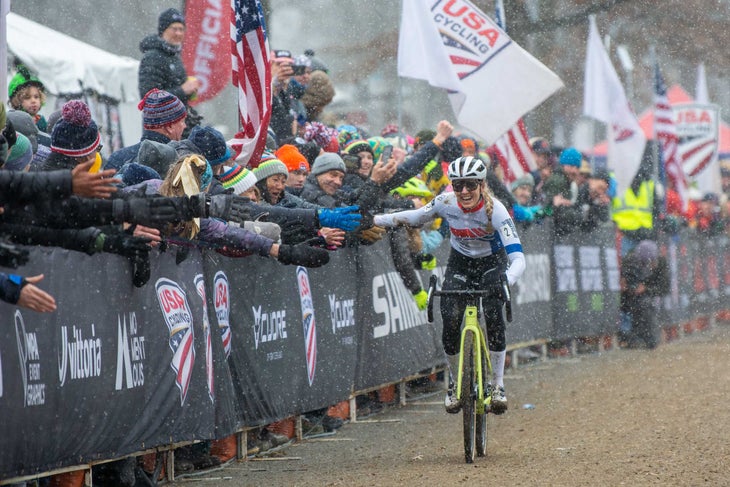 But Honsinger didn't panic.
"It took some patience not going too deep into the red," she said of following Nuss on the first lap.
Honsinger used her steady, skillful riding to gain time through each corner on the muddy, slick course that was becoming more challenging as light snowfall in the opening laps intensified over the course of the race.
On the second lap, she caught Nuss and didn't look back.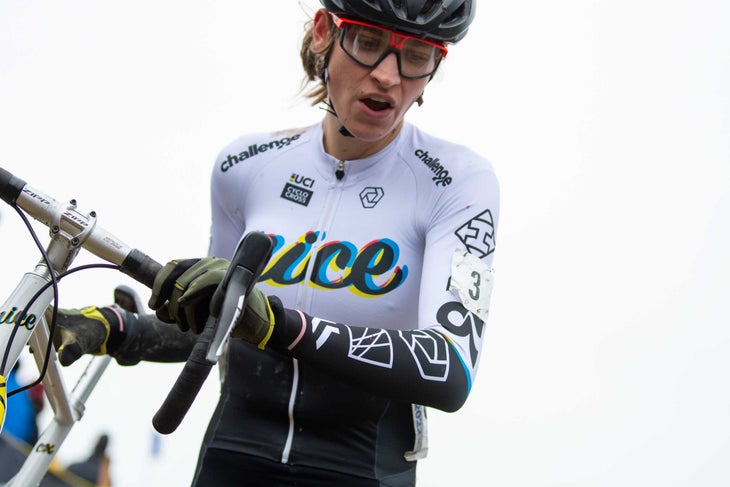 Honsinger eased into her position in the front, a place that has become familiar for her at the national championship the past two years, as she built up her advantage to north of a minute.
Also read: Pro bike gallery: Clara Honsinger's national champion edition Cannondale SuperSix Evo CX
Results
Clara Honsinger (EF Education-Tibco-SVB) 48:58
Raylyn Nuss (Steve Tilford Foundation) +1:37
Austin Killips (Nice Bikes) +3:26
Hannah Arensman (Ignition p/b Rigd-Leitner) +3:28
Jenna Lingwood (Point S Nokian) +3:45
No repeat of anti-transgender demonstrations
Rumors circulated on social media this week that there would be a repeat of the anti-transgender athlete demonstrations seen at last year's nationals.
Those never came to fruition on Sunday. The only signs about transgender athletes were supportive and were displayed by a handful of spectators throughout the event.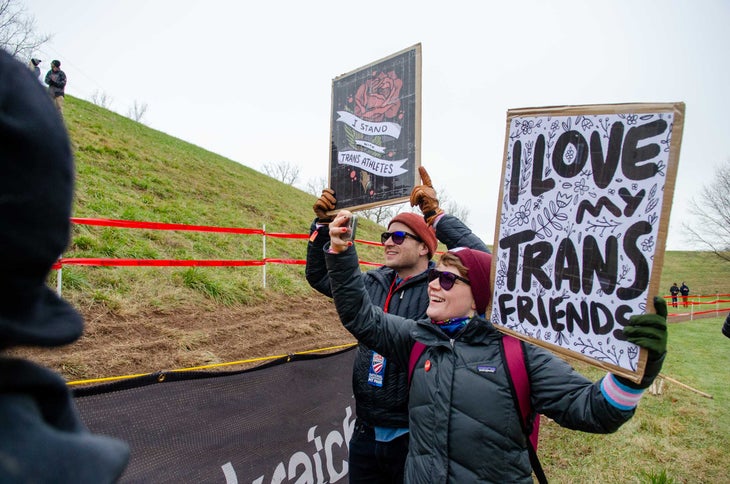 USA Cycling's fan code of conduct was updated earlier in 2022, explicitly stating that "Displaying signs, symbols, images, using language, or making gestures that are threatening, abusive, or discriminatory on the basis of race, ethnicity, national origin, religion, gender, gender identity, ability, or sexual orientation," are prohibited at events sanctioned by the governing body.
USA Cycling had the code of conduct posted at entrances to the event.
Madigan Munro wins women U23 title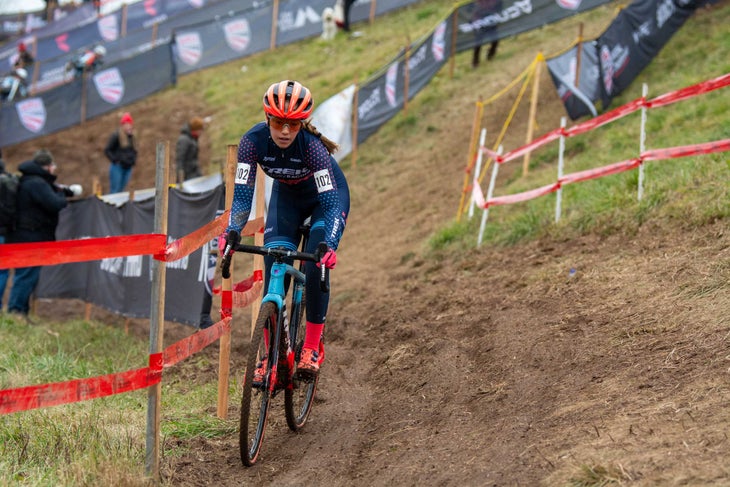 In the women U23 race, Madigan Munro (Trek Factory Racing CX) raced the first lap with a group of three other riders.
In lap 2, she used the technical sections to take control and build up a lead to take the national title.
Katie Clouse (Colorado Mesa University) finished second and Lauren Zoerner (Alpha Bicycle Groove Silverthorne) rounded out the podium.
Kaya Musgrave wins junior women's title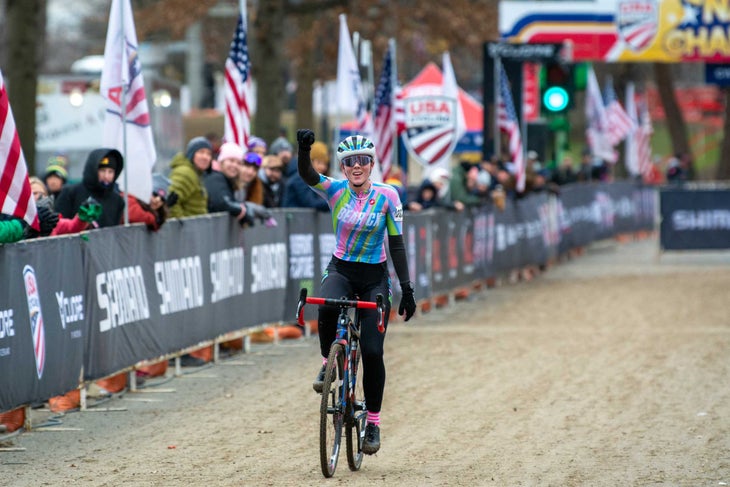 Kaya Musgrave (Bear CX) rode to first place in the women juniors race. Samantha Scott (CompEdge Racing) took second after a close battle with Musgrave, and Greta Kilburn (Green mountain CX) rounded out the podium.