Compton out of final World Cup
Katie Compton's run at the cyclocross World Cup overall title is officially over, as yet another bout of leg cramps will keep her off the start line at Sunday's series finale in Hoogerheide, Holland.
Heading out the door? Read this article on the new Outside+ app available now on iOS devices for members! Download the app.
By Jason Sumner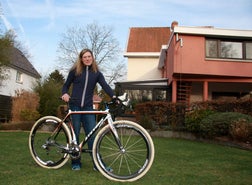 Katie Compton's run at the cyclocross World Cup overall title is officially over, as yet another bout of leg cramps will keep her off the start line at Sunday's series finale in Hoogerheide, Holland.
"I'm cramping when I try to ride now, so there's no way I can race," the reigning U.S. national champion told VeloNews on Friday afternoon. "World's (on Jan. 31 in Tabor, Czech Republic) is still possible, but there was no way I'm going to just go and pretend on Sunday. Right now I just need to rest and recover and hope things change. Rest is the best thing right now."
Compton, who's been dealing with this often-debilitating ailment for most of her career, says the problem can last anywhere from seven to 28 days. "Lately when it's happened it's been more like 14-28, but hopefully it'll only be two weeks this time. Right now it'll have been 16 days between when they came back and Tabor."
Compton's latest cramping episode began last Saturday during a reconnaissance lap of the World Cup course in Roubaix, France. The Planet Bike rider said she crashed near the bottom of a steep descent and hit her legs wrong.
"I rode the rollers beforehand and felt fine and was pretty excited," she said. "But when I crashed on one of the steep downhills, I must have hit my legs because they just immediately started to cramp. Sometimes I can ride through it, but they just locked up and were not getting better. I got off the bike and did rest and recovery the rest of the day, but when I tried to pre-ride Sunday it didn't work."
As for what exactly is causing the issue, the American doesn't know. She says she's seen numerous doctors over the years, but no one has been able to offer an answer — or more importantly a solution.
"Nobody seems to know," she lamented. "Most tests come back normal. Right now I think there is a lot of testing that has to be done. When I get back home I'm making an appointment with a specialist in Texas who deals with muscle disorders, but it could take a long time."
Compton says the cramps are far worse than the standard dehydration form that hits nearly all cyclists from time to time.
"Usually you can push though electrolyte cramps," she explained. "This is a lot worse. My legs lock up and every time I try to bend them it feels like the muscles are tearing apart. I call it cramping because I don't know what else to call it. But it's more like a burning sensation. Twelve years and it's the same thing and the doctors don't have any idea."
Despite crashing hard on the Roubaix velodrome, Dutchwoman Daphny Van den Brand took over the World Cup lead from Compton last week in France. This weekend she'll need to stay upright if she wants to hold off fellow countrywoman Marianne Vos, who also jumped ahead of Compton in the standings.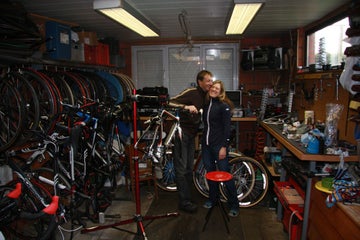 The top two are separated by just 20 points, meaning if Vos wins in Hoogerheide, Van den Brand would need to finish third or better to maintain her overall lead.
Times are tough all over for Compton, who also recently found out that 2009-10 season sponsor Planet Bike is not renewing her contract next year.
"I kind of knew it was coming," she said of the bad news. "But then they announced that they were re-signing (Jonathan Page) for another year, so we were hopeful. But it was no go. So after world's I don't know what is going to happen. Right now we are talking to a few teams and there seems to be some interest out there, but I can't say much more at this point. I'm hoping it will be something that will be mountain biking and cyclocross combined. I want to have a better mountain bike season than last year, and having one complete deal just makes more sense."
Compton's career highlights include six U.S. national cyclocross titles, six World Cup wins, and a bronze and silver medal at the world championships. Whether she gets a chance to add gold this year now seems very much in doubt.
"It's a good thing that I'm starting to get used to disappointment," she said. "It's not any easier but I'm learning to better deal with it."