Czech-ered Past
U.S.-based cyclocross and mountain bike star is making a rare racing appearance in her native Czech Republic this month at the world cyclocross championships.
Heading out the door? Read this article on the new Outside+ app available now on iOS devices for members! Download the app.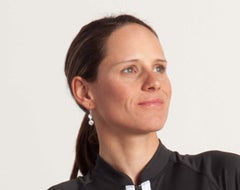 By Wendy Booher
Famous for her ability to make wives and girlfriends jealous (a power she seems to be oblivious of), Kateřina Nash nevertheless caused a collective gasp throughout the cycling world when she declared the uncertainty of her racing career prior to the 2009 season.
Then came the sigh of relief when Nash returned to racing stronger than ever, a run of good form that lasted throughout the North American mountain and cyclocross seasons and may carry her to a top-5 finish when she races at the UCI Cyclocross World Championships in her native Czech Republic at the end of this month.
Nash (née Hanusová) was born into Communist-controlled Czechoslovakia in 1977 and grew up only 30 minutes away from the closed border with West Germany.
(see sidebar: The Velvet Revolution )
Young athlete
Nash started out as a ski racer at age 5 and got into mountain bike racing at age 15 as part of her summer training. Then came a second place finish as a junior at the Mountain Bike World Championships in Kirchzarten, Germany  in 1995, and a spot on the Czech Republic's  Olympic team for the debut of mountain biking in 1996. She remained a dedicated skier and earned two more trips to the winter Olympics in 1998 and 2002.
Czech loyalty
Despite relocating to the U.S. to attend the University of Nevada at Reno, and later becoming eligible for citizenship through marriage, Nash has retained her Czech Republic passport and chooses instead to pledge allegiance to her racing team, the LUNA Chix Pro Team. She is indisputably one of the most formidable bike racers in the world and, as rules governing nationality tend to bend backward whenever a nation's sporting reputation is at stake, no doubt there are many countries who would love to have her on their team. She has, however, remained loyal to the Czech Republic, which gets some credit for raising a superstar.
"Bike culture (in the Czech Republic) is huge!" Nash exclaimed. "My 80-year-old grandma still commutes by bike around town. Bike racing is not that popular for spectating, however, cycling is covered by Czech TV on a very regular basis and there are good opportunities for talented cyclists. Cycling has a long tradition in Czech and cyclocross is certainly one of the most popular (due to the good results of our racers)."
It's true too. A glance at the UCI's current 'cross rankings shows five top-20 Czech racers for the men and three for the women. Only France and the Netherlands hold more places with four apiece in the women's rankings. By comparison, Belgium's weak showing (two top-20) contrasts sharply with the nine places it holds for the men.
With such strong showings from Czech racers for both the men and women, Nash dismisses  any criticism of the level of competition in the women's field and the depth of the Czech talent.
"I don't think women's bike racing is a joke," explained Nash. "We have had few good racers and I think people in Czech respect success and don't care that much about gender."
A rare home-country appearance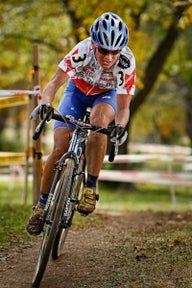 Nash, who still lives in Truckee, California, full-time, will race 'cross  in her homeland for the first time this month. Despite rarely racing in Czech, her successes are well-known to her fellow citizens and she will be closely watched with a mix of both pride and perhaps intrigue, since many have known her more as a ski racer.
Nash's titles:
2008 U.S. Short Track Series Champion (fourth consecutive title)
2008 and 2009 USGP Cyclocross Series Champion
2009 Downieville Classic overall women's champion
2007 Czech Republic National Mountain Bike Champion
3-time Czech Republic Olympic Team Member (2 times cross-country skiing, 1 time mountain biking)
Bronze Medalist, 2007 European MTB Championships
Former NCAA Cross-Country Ski Champion
More:
The UCI Cyclo-cross World Championships take place the weekend of January 30-31 in Tabor, Czech Republic.