Exergy brings equal prize money as new USGP sponsor
Jeremy Powers wrapped up his USGP series title with a win at the Stanley Cup last year. Photo: Wil Matthews Exergy Development Group continues to expand its reach into cycling this week and Tuesday becomes the title sponsor of the U.S. Gran Prix of Cyclocross. Exergy, which…
Heading out the door? Read this article on the new Outside+ app available now on iOS devices for members! Download the app.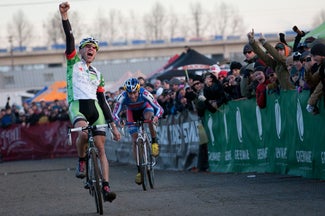 Exergy Development Group continues to expand its reach into cycling this week and Tuesday becomes the title sponsor of the U.S. Gran Prix of Cyclocross. Exergy, which last week announced its backing of the women's 2012 road team and the renewed Women's Challenge in Idaho, will join the nation's premier 'cross series immediately.
Series event director Joan Hanscom said that Exergy's support of women's cycling lined up perfectly with the USGP.
"We are absolutely delighted to partner with Exergy," she said. "As far a partnerships go, we could not have asked for a more compatible company to work with — they are deep and passionate supporters of equality for women's racing, which has long been one of the USGP's core values. They believe in the growth and development of the sport of cycling and 'cross and are going to be instrumental in our ability to grow the sport here in a truly responsible way. I am looking forward to working with them this season and for many seasons to come. I believe we will go exciting places together."
With Exergy's entry, the series will offer equal prize lists to the top finishers of the men's and women's elite fields, something Hanscom called a necessity for the energy conglomerate's involvement. (Per UCI regulations, men's fields at C1 events will pay out to the top 30 finishers, while women's fields will pay 15 deep; at C2 events, men's fields pay out to the top 25, and women's again pay 15 deep.)
Advancing efforts from events like the Cincinnati UCI3 Festival and Mid-Atlantic Cyclocross series, the move makes the USGP the first series in the States to offer complete equal payouts across its calendar.
National champion Katie Compton (Rabobank-Giant) and 2010 USGP winner Georgia Gould (Luna) have pushed for equal prize money for women for a half decade. Gould filed a petition with the UCI four years ago requesting equal payouts for the top men and women in cyclocross events. Compton was surprised and thrilled with the news.
"It's awesome. It's everything we've worked for and pushed for the last three or four years since Georgia put out that petition," Compton told VeloNews. "We work just as hard as the men and it's just as expensive to travel to races. This will really make it more possible for the elite women to travel and race more nationally. I'm really happy that the USGP is doing it."
The move means that, just like the men, the women's fields will battle for a top-15 purse of $7,716 in each of four C1 events and $1,833 in each of four C2 events.
"Exergy is both humbled and extremely excited to be part of the quality of competitiveness in this fast growing arena of cyclocross," said Exergy CEO James Carkulis.
"Our first year entering professional cycling proved to us we made the right decision in support of an edgy men's squad who turned heads both on and off the circuit. With the announcement of our new sponsorship of one of the top female professional cycling teams, Twenty12, Exergy shall forge onward furthering our impact in professional cycling, building competitive male and female squads to race internationally, advancing quality youth cyclist programs in the USA, while striving to remove the gender inadequacies in the sport of cycling."
The USGP kicks off this weekend with the Planet Bike Cup in Sun Prairie, Wisconsin. The eight-race series will continue October 8-9 at the New Belgium Cup in Fort Collins, Colorado, and November 12-13 at the Derby City Cup in Louisville, Kentucky. The series finale will take place at the Deschutes Brewery Cup in Bend, Oregon, December 10-11.