From the pages of Velo: The 2011 Velo Awards — International and North American Cyclocross Rider of the Year (Women)
VeloNews.com presents selections from the January 2012 edition of Velo, the magazine's 24th annual awards issue.
Heading out the door? Read this article on the new Outside+ app available now on iOS devices for members! Download the app.
Editor's note: VeloNews.com is presenting selections from the January 2012 edition of Velo, the magazine's 24th annual awards issue. It's only a sampler — so if you want the full scoop, pick up a copy of the January 2012 edition of Velo.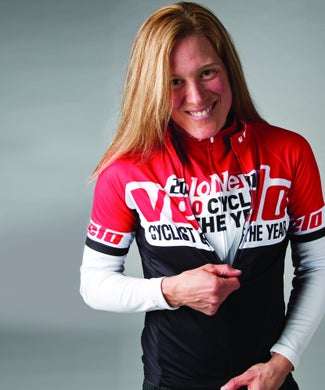 Katie Compton, our 2010 Cyclocross Rider of the Year, won nearly every race she contested during the 2010-11 cyclocross season — except the one that matters to her most, the world championship.
She didn't win the World Cup, but won five of seven rounds and only missed out on the title by 10 points, even after skipping two rounds.
For the second consecutive year, Compton failed to close a dream season in rainbow, however. She was second to Velo's International Road Cyclist of the year Marianne Vos at worlds, but Compton made the race. As she had all season, the seven-time U.S. champion set an aggressive, relentless pace from the gun and sprung Vos and bronze medalist Katerina Nash; only the Dutch champion could come around on the final lap.
Compton wore the white jersey of the World Cup leader and the green of USGP leader in 2010, but it is the rainbow jersey of world champion that she values most.
"My goal first and foremost is always winning 'cross worlds," Compton told Velo in October. "I did the best I could do on that day and Marianne was just faster. I was disappointed with the result, but it was the best I could do."
The Colorado Springs-based Compton is the total package — as technically sound as she is powerful — something her American rivals saw all season. Compton won every race she contested in North America last year, save for a bobble in the pits against Nash at the USGP New Belgium Cup and a pair of crashes that took her out of contention with Georgia Gould during the Boulder Cup weekend.
She has won every national cyclocross championship she has contested (seven since 2004) and crushed all comers in Bend, Oregon, in 2010, topping Gould by 31 seconds and third-place Meredith Miller by an astounding 3:19.
While it is not the striped jersey she covets most, Compton proudly wore the stars and stripes when she opened her 2011-12 European campaign with a demonstrative win at the first round of the World Cup in Plzen, Czech Republic.
Coming Wednesday: North American Cyclocross Rider of the Year (Men).