Gone in 30 seconds: Jeremy Powers plummets from 1st to 3rd
Down but not out: Jeremy Powers hits the deck, loses gold but saves bronze.
Heading out the door? Read this article on the new Outside+ app available now on iOS devices for members! Download the app.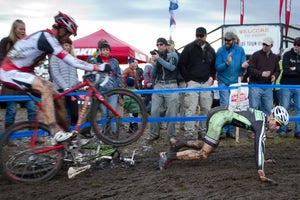 BEND, Oregon (VN) — It was his day. Jeremy Powers (Cannondale-Cyclocrossworld.com) was on top form and riding the mud in Bend, Oregon, as well as anyone at the U.S. national cyclocross championships Sunday.
And then it happened. A domestic season as dominant as any American 'crosser has had since Ryan Trebon's 2006 tear came to a halt – albeit for just 30 seconds – on a tricky right-hand corner.
The lap counter at the finish line read four to go. Powers and Todd Wells (Specialized) held nearly a 30-second lead over Trebon and were adding to their advantage every time around the circuit at the Deschutes Brewery. Powers led over a set of double barriers and up a steep, loose climb. The U.S. Gran Prix of Cyclocross and North American Cyclocross Trophy series winner took Wells onto a 100-meter section of asphalt at full gas.
The exit corner from the straightaway had sent riders sliding all week before the elite men lined up for the final race of championship week. The high speed, tricky collection of angles in the up-down bend and a three-inch layer of mud on top of well-kept grass made it one of the toughest turns on a technical course.
When Powers exited the pavement into the sweeping right-hand corner his front wheel let go. He was down immediately.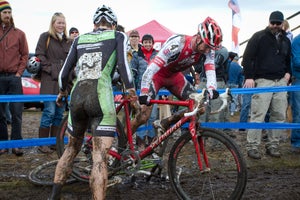 "It was one of those things where I wasn't worried. I knew I would crash once here. I just knew it and I figured, 'Well, crash once and get that out of the way,'" said Powers. "The problem was Todd crashed on top of me."
The problem
Wells was tight on his rival's wheel when he went down, and as Powers went sliding on all fours, the pro mountain biker reacted with a bunny-hop. And it nearly worked. But Powers' seatpost wouldn't allow a narrow miss — it grabbed Wells' crank and brought him down.
The eventual race winner was up immediately, but his bike was not.
"He's stork-like, so when he was trying to get … he had his leg through his frame and my frame into one of my wheels," said Powers. "When push came to shove I just stepped back. I was like, 'Okay, I'm just going to let him figure out what he's doing right now because he's all tangled up and I clearly took him out.'"
The three-deep crowd pressed in on the course fencing and camera flashes popped. Across the infield Trebon climbed past the barriers.
"I've been there too and it's frustrating when someone crashes in front of you and it's out of your control," said Powers. "We were going as hard as we could go."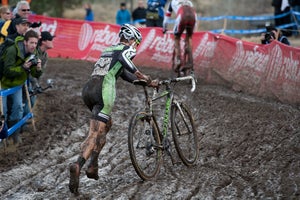 After eight seconds that seemed an eternity, Wells was able to free his bike and remounted quickly, knowing Trebon was closing. Powers did the same, but something wasn't right.
"I moved my shifter, banged that back," he said. "But then my wheel wouldn't move and I couldn't see it with the mud and everything. I couldn't figure it out."
Powers started to run as Trebon passed him, one pre-race favorite taking the silver medal from another. When he reached the top of the flyover 20 meters later, Powers found that one of his brake calipers had jammed under his rim wall, locking the wheel in place.
"I couldn't see it. I tried the skewer twice," said Powers.
Keeping cool
The situation – crashing out of the lead of the national championship as a favorite, on a day when the legs are good – would send many riders into a panic. Not Powers, though. He'd been there before, a year ago in Bend.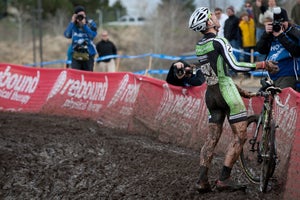 "I was prepared for that mentally and that was something I really, really wanted to be prepared for because last year I lost my head as soon as that happened. I could have stayed in it and I lost everything," said Powers. "That's what happened last year. This year was more controlled."
A half-minute after he washed out, Powers was on his bike, rolling down the flyover, solidly in bronze-medal position. The entire ordeal was over in just 30 seconds, but in cyclocross there is no such thing as just 30 seconds. Powers would not see the leaders again.
Powers is arguably the strongest U.S. cyclocross rider to have never won a national title. The pressure weighed on him in the week leading up to the race and the disappointment hung on his face as he leaned over his handlebars at the finish.
"It's just nice to be done with this because it's stressful for me," he said. "When you have good legs and you have good form it's almost more stressful because you're thinking, 'Well, everything's in place. I didn't get sick. I've got good legs. Now I've just got to go out and do it.' It's easier said than done.
"This is definitely a disappointment for me. The more I think about it the more I'm disappointed. It'll come and go just like last year."
A teammate's take
Powers' teammate and three-time national champion, Tim Johnson, has been down at nationals before. He finished fifth Sunday and offered a few words to his friend after the race.
"He's going to learn to win. He's going to learn to lose," said Johnson. "He's had an amazing year and crashes happen. Crashes happen, flats happen, anything happens. He did his best to come back from it and held on for third."
Johnson flatted early at nationals in 2005 and 2006 before clawing back for a silver and bronze medal, respectively.
"When you're in the middle of it, especially when you're in the lead, to have something like that happen, it's pretty crushing," he said. "But he's going to learn how to deal with winning and losing.
"When you're lucky enough to race your bike for a living, you get to a lot of start lines and a lot of finish lines and whatever happens in between is the shit you've got to learn how to deal with. This is one of them."
Powers is learning that lesson and he'll be back, with even more motivation. "Maybe it's better because it drives me," he said. "If I don't win this thing, it's just something to look forward to more."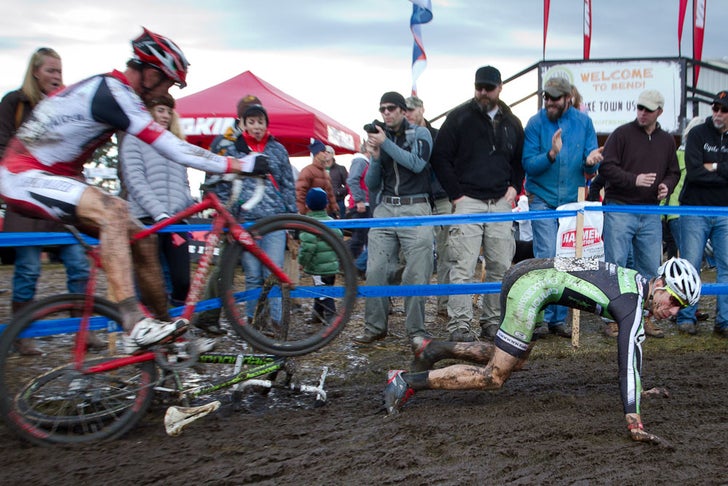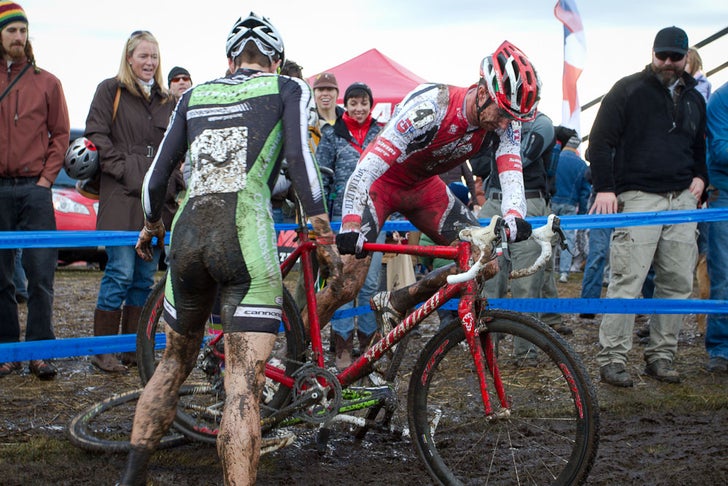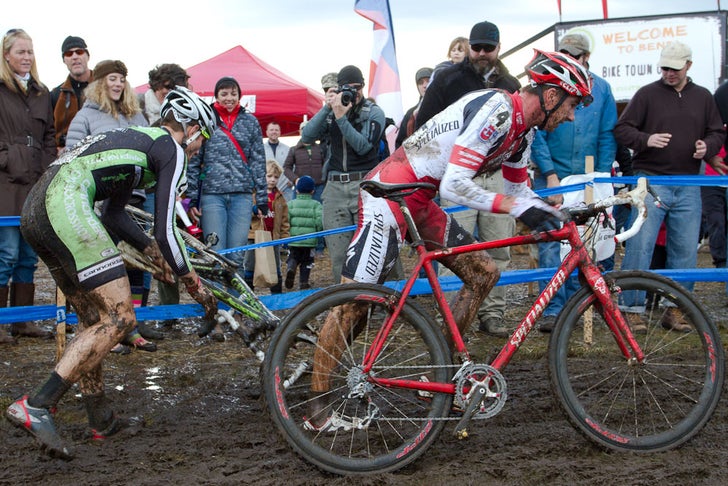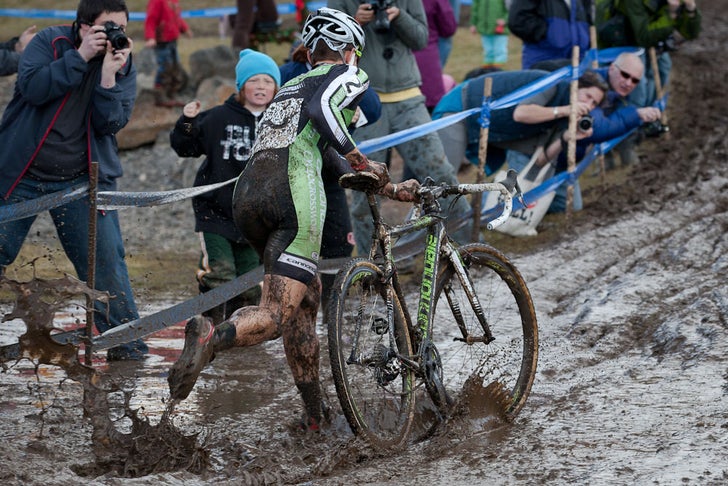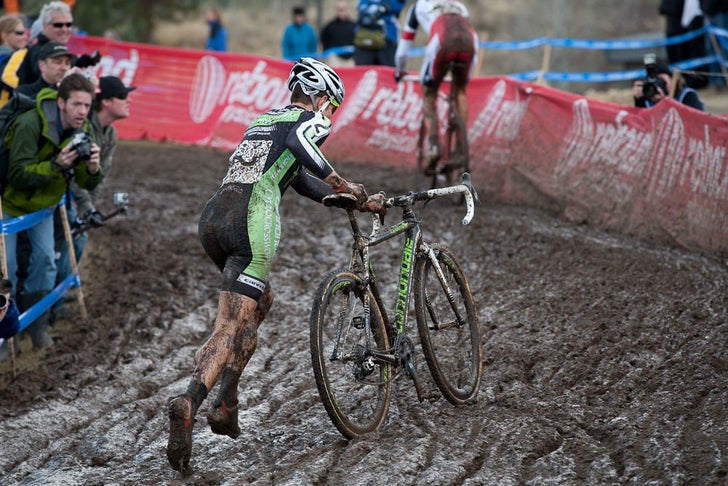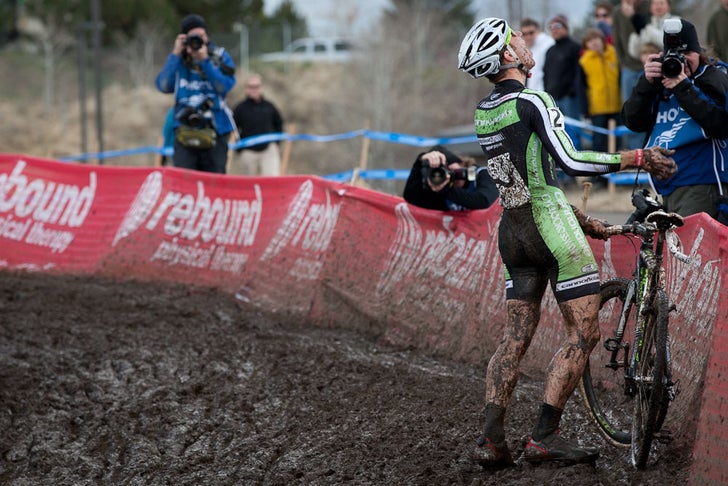 ---

Editor's Note: Brian Holcombe is a reporter with VeloNews. He covers all things racing in the U.S. and has been accused of attacking too much on the VN lunch ride.