'I think it will be 50-50': New chapter in Van Aert vs Van der Poel epic to be written at 'cross worlds
Little to separate two cyclocross titans in eighth elite world title clash when counting recent form, historical records, Dutch crowds.
Photo: BELGA MAG/AFP via Getty Images
Heading out the door? Read this article on the new Outside+ app available now on iOS devices for members! Download the app.
A movie-maker couldn't script it better.
Two childhood rivals, inseparable for the past decade. A pause in hostilities. A return to battle in a season of blitzing duels. An underdog in front of a home crowd.
The popcorn-worthy rivalry between Mathieu van der Poel and Wout van Aert will see a new scene at the cyclocross world championships Sunday, and it's set to pack some pyrotechnics.
"I will be nervous. But you need that," the typically ice-cool Van Aert said of Sunday's race.
After a pause for breath at last year's Fayetteville champs, the "two titans" will take center stage Sunday in Hoogerheide for their eighth elite-level title throwdown.
Also read:
With reigning champion Tom Pidcock absent and the specialists left in the rear-view all winter, Van der Poel and Van Aert look likely to face off in a true two-rider battle royale.
And better still, they'll roar into the Dutch circuit with massive momentum and rainbows in their eyes after they both recorded huge solo wins last weekend.
"In principle, I don't need that world champion's jersey," said Van Aert, who's not worn the cyclocross rainbow bands since 2018.
"But I am very ambitious and I am very excited to wear that jersey again. It's been a long time."
'I think it will be 50-50. We have shown we are evenly matched'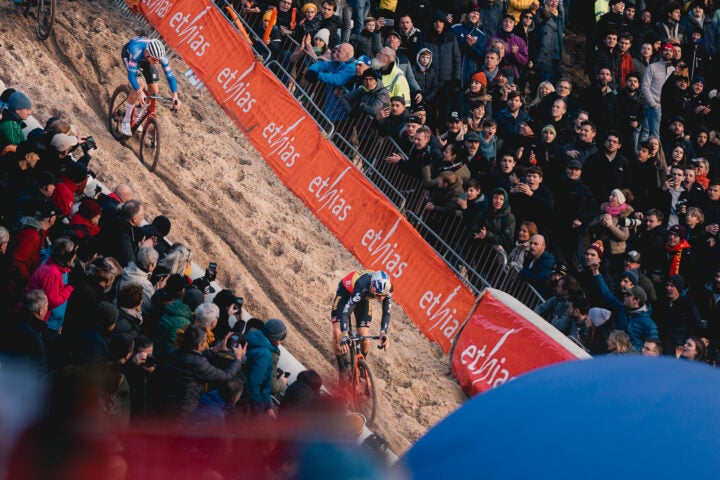 After years of following each others' wheels through the juniors and U23s, Van Aert and Van der Poel faced off at every elite 'cross worlds from the 2014-15 season through to Oostende in January 2021.
Subplots in the spring classics saw the rivalry extend to the tarmac, with the 2020 Tour of Flanders the jewel in a glittering crown of one-day wrestles.
But it's the mud, guts, and ruts of 'cross where it all began, and that's where it will continue Sunday.
Van Aert is looking to claim a fourth elite jersey that will draw him level with Van der Poel, while the Dutchman wants to twist the ratchet to make the score five-three in his favor.
Elite male cyclocross champions, 2014-15 – present
2015 – Tabor: Van der Poel
2016 – Zolder: Van Aert
2017 – Bièles: Van Aert
2018 – Valkenberg: Van Aert
2019 – Bogense: Van der Poel
2020 – Dübendorf: Van der Poel
2021 – Oostende: Van der Poel
2022 – Fayetteville: Pidcock [MvdP, WvA both absent]
Currently four-three in front in the rainbow jersey count, and with a 2021 victory on Oostende's beach in the memory, the history books are on Van der Poel's side heading into Hoogerheide.
But the momentum may not be.
Van Aert obliterated the winter with nine victories in 13, regularly leaving his Dutch foe choking on fumes and the specialists left to spectate.
"10 out of 10 does not exist," Van Aert said when asked to rate his season.
"There are always things that could be better – perfection doesn't exist. In terms of results, I give this 9.5 out of 10. I won a lot more than I thought."
I N C R E D I B L E@mathieuvdpoel 🆚 @WoutvanAert 🔥#CXWorldCup pic.twitter.com/emROZtV19C

— UCI Cyclocross (@UCI_CX) January 24, 2023
Van der Poel likewise crushed his 'cross calendar, but a brief bout of back pain and a half-watt less than Van Aert puts the Dutchman on a record of six wins in 14. And more crucially, he's four-six down in duels with his childhood rival.
Nonetheless, the Dutchman claims his back has been de-crooked, and he refuses to accept any underdog status for the coming weekend.
"I think it will be 50-50," Van der Poel said Sunday after winning in Besançon.
"Of course, Wout has already had the advantage a few times this season, but if I can offer resistance next week, we have already shown that we are evenly matched."
The slightest slip, a botched bike change, or the state of the course surface could be all that makes the difference Sunday … or perhaps a bad back.
Hoogerheide: 'Van der Poel country'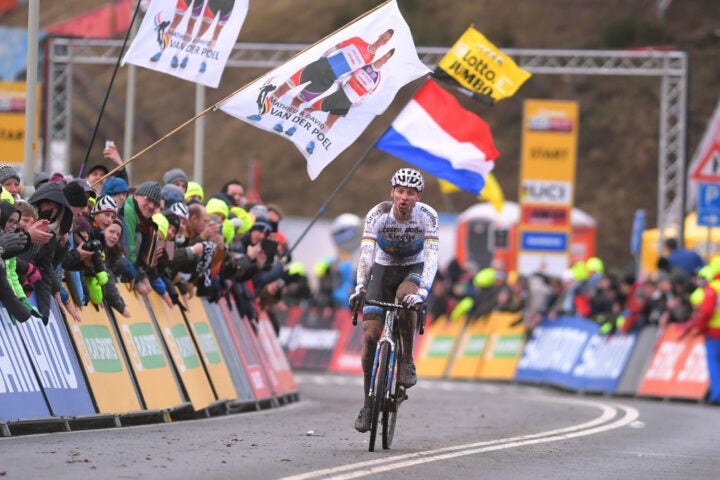 The Hoogerheide circuit comes loaded with history for both Van Aert and Van der Poel.
The grassy Dutch track is "Van der Poel country" – a true citadel of Van der Poel sovereignty.
The historic Hoogerheide race is co-designed by "father VdP" Adrie – it's not called the "GP Adrie van der Poel" for nothing – and Mathieu won five elite races on its soil.
But intriguingly, Van Aert won there when it mattered most. The Belgian disappointed the home crowds when he claimed the U23 title over Michael Vanthourenhout and Van der Poel in 2014.
A circuit centered on its now iconic U-turn and the so-called "stairway to heaven" set of steps is set to see some 10,000 beered-up 'cross crazies from across Europe on Sunday. Look for Dutch orange in abundance.
"I expect a lot of people. I hope to feel sportsmanship among the supporters," Van Aert said. "But it doesn't really matter to me who designed the course."
Forecasts for dry weather this weekend will see Van der Poel purring with pleasure after seeing Van Aert rule any remotely boggy race in recent seasons.
Yet home crowds, historical records, and season results might mean little when Van Aert and Van der Poel line out in their national jerseys Sunday.
Bragging rights and a decade-long beef will mean a lot more.
Bring on a barnstormer.
A battle is coming ⚔️

The 2023 UCI Cyclo-cross World Championships takes place in Hoogerheide, Netherlands 🇳🇱 on 3-5 February.

Stay tuned for all the action! 👊 pic.twitter.com/OLTlrapr5l

— UCI Cyclocross (@UCI_CX) January 25, 2023