Jeremy Powers to race cyclocross with Rapha-Focus through 2013
Top American cyclocross racer Jeremy Powers is leaving his longtime post at Cyclocrossworld.com-Cannondale to race for Rapha-Focus in 2011.
Heading out the door? Read this article on the new Outside+ app available now on iOS devices for members! Download the app.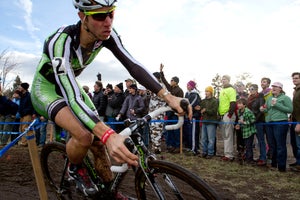 Top American cyclocross racer Jeremy Powers is leaving his longtime post at Cyclocrossworld.com-Cannondale to race for Rapha-Focus in 2011.
The two-year deal will see Powers riding in Rapha clothing aboard a Focus bike through the 2013 world cyclocross championships in Louisville, Kentucky.
Powers, 27, was arguably the most dominant American male of the 2010-11 cyclocross season. He claimed the overall titles at both major American series, the Greenware U.S. Gran Prix of Cyclocross and the North American Cyclocross Trophy, and was the top-ranked American in USA Cycling's individual rankings.
All that was missing from Powers' near-perfect season was an elusive national title; after taking off to an early lead at the national championship, he was positioned for a two-up sprint against Todd Wells until a mid-race crash and subsequent mechanical ended his bid.
A professional road racer with Jelly Belly since 2004, Powers has raced off-road for Stu Thorne's Cyclocrossworld.com teams since 2007. He told VeloNews that leaving Thorne's program wasn't any easy decision, but added that his relationship with Focus Bicycles had grown strong over the past few years. Focus sponsors his Jelly Belly team as well as the J.A.M. Fund, a New England-based racer development foundation Powers co-founded with a pair of friends.
New for the 2010-11 season, Rapha-Focus riders had respectable, if not remarkable results. Elite rider Chris Jones took second at a USGP in Portland and finished ninth in the national standings; under-23 rider Zach McDonald finished second to Danny Summerhill at the national U23 championship, and second in USA Cycling's U23 standings.
"Slate (Olson) from Rapha came to me in 2009 with the idea of starting up a team for the 2010 season, and it was in the back of my mind all last year," Powers said. "At the time it wasn't right for me, and I also knew that every first-year team has to work out the kinks. But since then I've won most everything I wanted to win, barring nationals. I know what I can do. I'm more confident in what I can do on the bike, and after watching (Rapha-Focus) last year, I'm also more confident in what the team can provide. Rapha want to see me in their clothing, Focus really wants to be part of what I'm doing, and between the two brands I just can't say no."
The 2010-11 cyclocross season was Powers' most prolific to date, however much of his success must be attributed to the collective strength of his Cyclocrossworld.com team, which also boasted three-time national champion Tim Johnson and rising talent Jamey Driscoll. The depth of the squad consistently thwarted perennial frontrunners Wells, Ryan Trebon, Geoff Kabush and Jonathan Page, who were often outnumbered against the tactics of the green-and-black attack. Wells won only one race, the national championship, while Trebon struggled all season, notching only a handful of wins.
Collectively the Cyclocrossworld.com-Cannondale men attended 25 North American races last year, winning 21 and reaching the podium at all 25. Powers won both national series finishing just ahead of Johnson, who raced the 2010 season wearing the stars-and-stripes of national champion.
Though Powers said he left Cyclocrossworld.com-Cannondale on the best terms possible, he acknowledged that it had been an unusual situation to spend last season battling at the front with his teammate.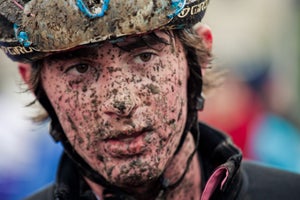 "Tim is a very good friend and he was my toughest competitor, my roommate, my everything guy," Powers said. "But everyone wants to win. When you put that all together, we dealt with it very, very well. We had a good working relationship and friendship. We played off each other well, and I think you can see that in the  'Behind the Barriers' videos we shot last year. I don't see that changing. He understands it was the right move for me. Focus is so involved in what I'm doing, it made a lot of sense to me."
Powers said he would race a similar schedule in 2011, taking two trips to Europe — one in the early season, where he will race a pair of World Cups, and another leading into the world championships. In between he'll focus on the biggest UCI races in North America, including both the USGP and NACT series, where he hopes to mentor McDonald.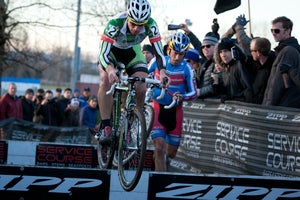 McDonald, 19, raised eyebrows in November when he finished sixth in the elite men's race in slippery conditions at the USGP in Fort Collins, Colorado — sandwiched between Johnson and Powers.
"Zach has a lot of potential, he's a guy we'll look to in the future for U.S. cyclocross," Powers said. "He's someone I am looking forward to taking under my wing and showing him what I can."
And though Powers said that leaving a successful team like Cyclocrossworld.com doesn't necessarily mean he will win less, he acknowledged that it will make the racing more exciting for North American cyclocross fans.
"In cyclocross the strongest guy almost always wins," Powers said. "If I looked out for Tim last year, it was limited. There was never a time someone couldn't get by me if they really wanted to. It can be tactical, especially at a race that is tight and twisty, but generally it's not all that tactical. And no matter what, as a fan, it should be exciting. This should only add to U.S. cyclocross."