Katie Clouse: The teenage star of U.S. cyclocross
Katie Clouse is America's next top young female rider, but those around her are making sure she gets to be a kid.
Heading out the door? Read this article on the new Outside+ app available now on iOS devices for members! Download the app.
CINCINNATI, Ohio (VN) — A damp October evening transformed the cyclocross track at Devou Park into thick mud, and by the midpoint of the professional women's race, riders were unrecognizable underneath the muck. As the bunch sped around the muddy track, one rider stood out. She was shorter than her competitors and bore the unmistakable facial features of youth. Yet she raced with the calm confidence of her older, more experienced rivals, and fought her way to 12th place.
Not bad for a 16-year-old.
This year, the national cyclocross scene got its first look at Katie Clouse, America's next great female bicycle racer. Just 16, Clouse was, by far, the youngest female cyclist to compete in this year's U.S. Cup-CX professional category. For four race weekends Clouse went head-to-head with seasoned professionals twice her age. After seven rounds she finished 10th overall in the series, and second in the U23 division.
The results spoke to Clouse's readiness for pro racing. And according to Clouse she's been ready for years — in fact, she and her family petitioned the UCI to allow her to compete in UCI-ranked events.
"I've been waiting to race UCI on the 'cross bike for like four years," Clouse told VeloNews. "This year I finally get to race UCI with all of the top racers and it's been keeping me honest definitely. I definitely didn't see myself being up there actually."
Clouse is no stranger to victory. She has dominated junior races across her home state of Utah and Colorado for years. And she already owns 20 national titles across three disciplines — mountain bike, cyclocross, and road. It's not a matter of if Clouse ascends to the professional ranks, but when.
But there are pitfalls that await talented young cyclists, both male and female, who seem to have that mixture of gifts and desire. Burnout, fatigue, overtraining and the pressure to perform have, for years, derailed talented youngsters on their way to the top. Clouse and her family believe they have a plan to negotiate this minefield. She has surrounded herself with seasoned mentors and coaches, including some retired riders. She has decided to attend a high school that values athletic competition. And she has sought out advice from other uber-talents who picked up cycling at a young age. The key is focusing on her education and not becoming one-dimensional.
"School is definitely still my top priority, especially next year I'm going to start focusing on college and where I want to go," Clouse said. "I try to do as much homework as I can when I'm gone and teachers are always working with me to catch back up when I get back. I get emails from them every day on what to do and it's really nice. It's really helpful and school's going good, even with the school that I am missing."
Clouse grew up in Park City, Utah, and began her athletic life as a skier. Her brother, Evan, was an elite-level bicycle racer, but Katie had other plans for her athletic goals. She envisioned a career in ski racing, with cycling as her cross-training activity in the off-season.
Mountain biking was the first cycling discipline Clouse tried, competing in her first race at age nine. Her father, Ed, used to race, so while it was foreign to her, her parents knew all about the sport.
"I remember doing my first race and getting crushed and like, 'Oh I really want to beat this girl next time,'" Clouse said. "We ended up going back every single week and racing."
The Clouse family is tight-knit. Her parents have dedicated significant time to their children's passion for cycling. It became evident early on that Clouse and her brother, Evan, weren't ordinary junior racers. There were many hours spent in the car together traveling to races, mainly east to Colorado. Going to races outside of Utah gave Clouse and her brother more competition. Katie began competing in cyclocross when she was 11 and has won her age-group national championship for the past five years.
With few cyclists her age, Clouse spent hours chasing her brother up and down the hills around Park City. The interval training, matched with Katie's mountain biking skills, helped her excel at cyclocross. She took her first of five junior national titles in 2013. Later that year, Katie rode alongside seasoned pros Georgia Gould, Meredith Miller, and Nicole Duke at the Colorado state championships race.
At 12 years old, the results were eye-popping. Now, she competes side-by-side with riders who have world championship medals — and beating them.
"It's crazy," Clouse said. "I definitely didn't see myself being up there actually. I was definitely hoping, but I'm trying to get as many UCI points as I can for if I get accepted for worlds because call-ups is definitely important for worlds."
Katie has committed fully to the sport. Evan had already decided to pursue cycling, and for high school, he chose to attend the Miller School of Albemarle in Virginia. The private high school supports an accomplished junior cycling program.
When it came time for Katie to choose a high school, she decided to follow in her brother's footsteps. She enrolled at the Miller School in 2017 and began racing with the school's cycling program.
"Being with my brother and being in school and training with him every day, it makes me happy because next year he'll be off at college and I want to spend as much time with him and train with him," Clouse said. "Why I got so fast is training with him and him pushing me. I'd do an interval and then he would attack me and be like, 'Catch-up Katie.'"
Clouse is not quite sure what the near future holds for her or her cycling career. She wants to attend college, yet she also feels the pull of pro racing. This past year she competed on the Visit Dallas DNA road team, though not with UCI squad because of her racing age. She also competed at the Alabama Cycling Classic and Tulsa Tough, going wheel-to-wheel with established criterium racers and competing against the heavyweight squad of UnitedHealthcare.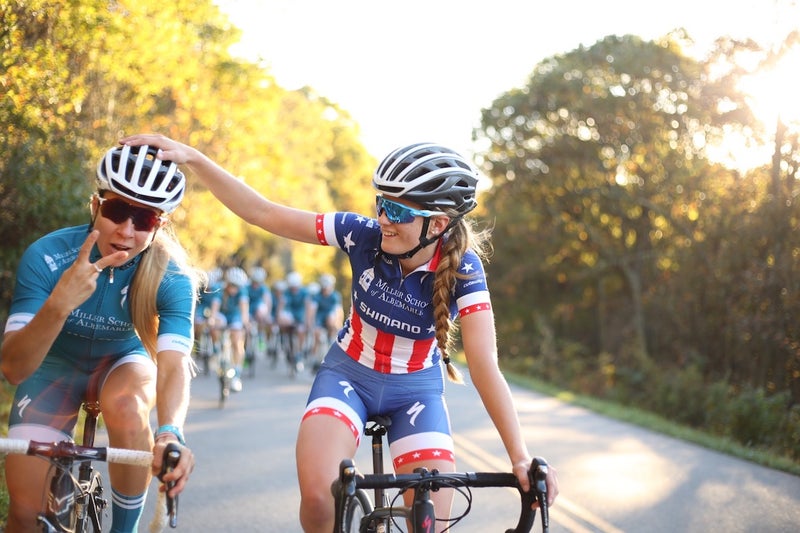 Turning 17 in 2018, Clouse will finally be able to compete in UCI races on the road (UCI rules require a minimum racing age of 17). However, despite the pull of a possible blossoming professional career, Clouse is firmly set on attending college and even following in her mother's footsteps and earning her degree in nursing.
Clouse finds herself in a fairly unique situation for a young female racer. It's no secret that America's female professionals have traditionally entered the sport later in life, often times after college. Kristin Armstrong, Evelyn Stevens, and even Amber Neben never raced a bicycle until they were well into their 20s.
In recent years, young talents have begun to emerge from the junior ranks. Most recently, Coryn Rivera has become a star on the international circuit after winning 71 national titles through her storied career in the junior ranks.
Clouse met Rivera this past summer at the Tour of America's Dairyland, a two-week-long series of criterium races. While Rivera fought for wins, signed autographs and took pictures, Clouse was gritting her teeth, fighting to score a top-10 finish.
A relationship soon blossomed, and Rivera began to give Clouse advice on her career.
"Someone had mentioned to her to do only cyclocross and I told her as a junior I think it's really good to just continue to do all of the disciplines and learn the skills from all and get stronger in all of them," Rivera said. "As you get older you kind of learn more what you want."
In Rivera's opinion, Clouse should also maintain a life away from the bicycle. She stressed that Clouse goes to college and maintain her racing schedule across multiple disciplines. Because Clouse is still growing and maturing as a racer, the multiple disciplines will help her develop a multitude of skills, Rivera said.
Andrea Dvorak, Clouse's coach at Miller School, is another athlete who gives Clouse advice. Dvorak, 37, saw Rivera struggle through her own early years and believes Clouse can benefit from those lessons.
"We actually had her sit down and say, 'Where do you see yourself in a year, three years, five years, seven years,'" Dvorak said. "Especially for women, the career can be long and especially if she has the drive for it, for Katie, it can be very successful …"
"There'll be time when it's a 110-percent professional on everything that comes along with being a professional cyclist, which is a challenge sometimes. We want to make sure she is enjoying her high school experience in every way, both with her cycling talent, but also academically and with her group of friends [at Miller School]."
Clouse says that attending Miller School has helped her deal with the pressure to perform. Her academics and cycling are now under one roof, making life much simpler. She rides with her coach daily and has her pick of fellow riders.
"Being able to actually ride with multiple people and my coach is definitely motivation for me to go out and train and is definitely a lot more fun," Clouse said. "It gives me more motivation because I'm actually having fun training and having fun racing."
Dvorak believes Clouse has Rivera's grit, and also a maturity that reaches beyond her 16-year age. "Katie definitely has a good head on her shoulder and is definitely determined and focused," Dvorak said.
Two weeks prior to her result in Cincinnati, Clouse lined up for another UCI race, this time the C2 U.S. Open of Cyclocross in Boulder, Colorado. The field was not as deep as the U.S. Cup race, yet there were plenty of talented riders in the bunch. Clouse rode to an impressive finish, this time coming in second place and beating Frenchwoman Caroline Mani.
At the finish line, Clouse maintained a humble attitude, despite the impressive finish. But her youth shined through. She grinned wide in disbelief while standing on the podium above women she idolizes.