Katie Compton wins USGP #2 in Wisconsin
Compton shows she is back with a KFC-style dominating win at the Planet Bike Cup in Wisconsin.
Heading out the door? Read this article on the new Outside+ app available now on iOS devices for members! Download the app.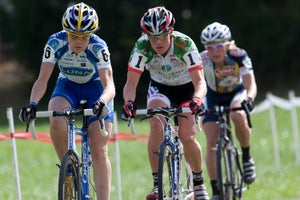 It's not often that all three riders on a cyclocross podium are pleased with the day's result, but that was essentially the case Sunday afternoon in Sun Prairie, Wisconsin, after Katie Compton won day two of the Planet Bike Cup on a solo attack.
With her second consecutive win, Compton (Planet Bike) took a firm lead in the Greenware U.S. Gran Prix of Cyclocross series, 100 points to 80 over Luna's Georgia Gould, who again finished second.
"Today hurt a lot more than yesterday," Compton said. "The course was more wide open, with less turns, which made it more of a fitness course than yesterday. Because of the time I took off (due to a knee injury), I preferred the turns, because I could fake it. I just followed Georgia and then accelerated and tried to keep her under pressure."
However with Compton declaring that she will not pursue the series title — she'll miss the USGP stops in Kentucky and Oregon to race in Europe — Gould moves into the virtual series lead by 20 points ahead of Sue Butler (Hudz Subaru), who finished third Sunday to better her fifth place finish Saturday. It was Butler's first USGP podium finish since Portland in 2008 after a 2009 season spent battling exercise-induced asthma.
And given that Gould had a much-improved start Sunday and held Compton's gap to within 15 seconds or less, the Luna rider was also pleased with her weekend's performance.
"Today I felt a little better. I was actually having fun and suffering, rather than just suffering," Gould said.
On a sunny afternoon, Compton waited a bit longer than usual to make her move. After a slower-than-usual start, the U.S. national champ worked up from about sixth place early in the opening lap to join Gould and Butler at the front.
"Before the race, Georgia recommended I try to not start so fast, and see if I might last longer at the end," Butler said, referencing her hole-shot start Saturday that ultimately yielded a fifth-place finish. "So I took her advice and stuck right to her wheel for the first two laps instead."
Compton patiently followed Gould for several laps, while Butler hung on to the back of the duo. The threesome quickly pulled away from a chase group containing Kathy Sherwin (Hudz Subaru), Meredith Miller (California Giant-Specialized), Amy Dombroski (Luna) and Mo Bruno Roy (Bob's Red Mill).
With four and a half laps to go, Compton attacked. Gould was able to keep her in sight for a few laps, while Butler went backwards but recovered to occupy the space between Gould and the Miller-Dombroski-Bruno-Roy chase group.
Compton, wearing the USGP leader's jersey and her stars-and-stripes U.S. champion's shorts, settled into a 15-second lead over Gould, who fought to keep it close.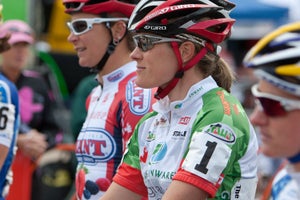 "Georgia was definitely better today," Compton said. "She's only going to get faster from here."
The gap fluctuated over the final laps, but Compton's lead was never in jeopardy, while Gould and Butler also were well established in their positions.
Behind, however, the race for fourth was animated, as Miller and Sherwin traded places and fought for advantage. In the end it was Sherwin who was able to follow Miller into the last corner and take the sprint for fourth.
Race notes
For her efforts Butler was awarded the SRAM Most Aggressive Rider award. Butler said her 2010-11 season goals include a top-15 result at a World Cup, a podium finish at the national championship and a top-10 finish at the world championships.
After the race Compton was asked about her knee, which she said felt fine, adding, "I guess I can't use that as an excuse anymore."
The women's race saw a promising display of skill by several young riders, with four riders under age 24 in the top 12, including 20-year old Ashley James (Kenda), in seventh, 24-year-old Teal Stetson Lee (California Giant-Specialized), in ninth, and 18-year-old Kaitlin Antonneau (a new member of Cannondale-Cyclocrossworld.com), in 12th.
Brief results:

1. Katie Compton (Planet Bike)
2. Georgia Gould (Luna)
3. Sue Butler (Hudz Subaru)
4. Kathy Sherwin (Hudz Subaru)
5. Meredith Miller (Cal Giant-Specialized)