Mathieu van der Poel crashes, Tom Pidcock flashes to Superprestige Boom victory
UPDATED: Van Alphen blazes to win, Betsema slots into series lead in tight women's race.
Photo: BELGA MAG/AFP via Getty Images
Heading out the door? Read this article on the new Outside+ app available now on iOS devices for members! Download the app.
The hyped Mathieu van der Poel vs. Tom Pidcock clash didn't last long Saturday after the Dutch star crashed early in the second lap at Superprestige Boom.
Van der Poel slipped out his front tire on a left-hander coming onto some cobbles and slammed hard on his left knee. Pidcock, who was right on his wheel, could not avoid falling as well.
"Mathieu fell, I tried to avoid him, but it was slippery, so I fell too," Pidcock said. "I'm OK, I hope he is OK, too. He finished, so I don't think he's in too much pain."
Van der Poel limped through the next few laps, and never regained the momentum. But he did manage to stay in the race, signaling that he was not seriously injured, and keeping the clash of the "Big Three" on track for Sunday at the Antwerp World Cup stop.
"I did hurt myself, especially on my shoulder and knee," Van der Poel said. "I was shouting something to the aid station, and I was not focused on the corner at the moment."
Also read:
Pidcock shook off the mishap, and powered back into the lead, and never looked back to his most impressive victory so far in his 2022-23 cyclocross campaign.
In the women's race, Aniek Van Alphen powered to victory (see more below).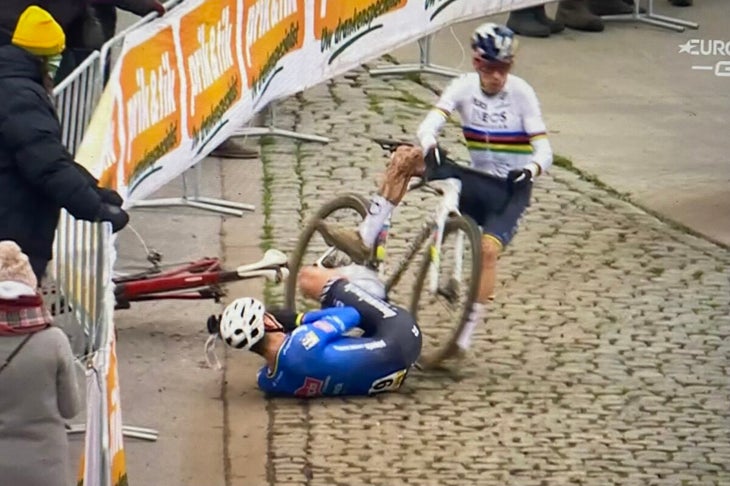 Pidcock powers to near-perfect win
With Van der Poel out of the frame, no one could stay close to Pidcock on the fast, technical course loaded up with short, punchy ramps that favored Pidcock's featherweight build.
The world champion kept snatching away a few seconds here and a few more there to ride comfortably in the closing laps.
Pidcock continued to set a searing pace to convert the race to one for the places of honor behind him. Following a broken wheel at Hulst last weekend, Saturday went as smooth as things can go in cyclocross for Pidcock.
"I thought I'll just push on. I had a good start and wanted to keep my own rhythm. It's a tough course. Because of those climbs, the last laps were tough. Eli and Lars were closing in so I had to hold the gap to the finish," Pidcock said at the line. "I had it under control, I didn't need to win by thirty seconds. 15 seconds is also enough, but they were strong in the last rounds."
Behind him, the race was on for the leftovers. Van der Poel eventually crossed in 13th.
"That surprised me a bit. I was just riding to finish so I wouldn't get too stiff and to get some cross rhythm," Van der Poel said after his hopes of winning were dusted.
"Those first two laps my shoulder and knee hurt, but in the end it went well. You don't have to, but it's often best to keep going after a crash," Van der Poel said. "In the beginning, it really didn't work, later it started to run a bit better. Although it's not like I've really found my rhythm again. But I will be at the start tomorrow."
Lars van der Haar was second, with Eli Iserbyt taking third.
Both closed the gap on the closing laps, but there was no catching Pidcock.
"It will be a great race," Pidcock said about Sunday's clash with Van Aert and Van der Poel. "There is a lot of sand. I don't like that very much, but I hope to be able to compete with Wout and Mathieu. It's not my course, but if I can compete with them, that would be nice."
Results powered by FirstCycling.com
Aniek Van Alphen wins big in Boom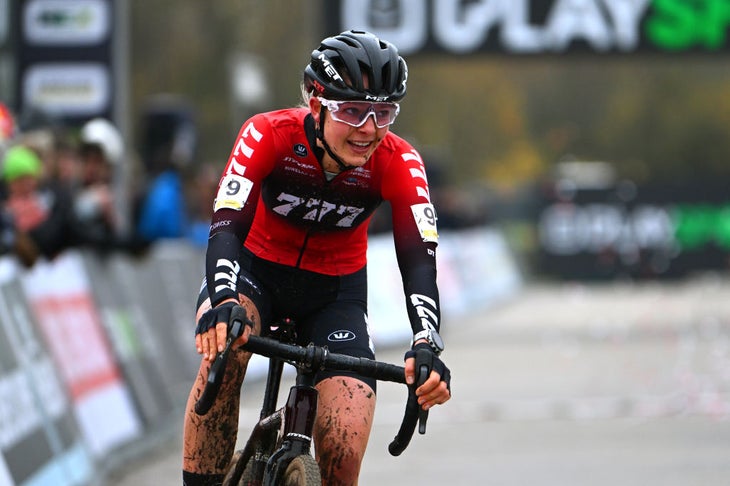 Aniek Van Alphen blazed to victory in the women's race.
She out-kicked series co-leader Denise Betsema in a thrilling finale to a hard-fought race. Shirin Van Androoij crossed the line third at 27 seconds back to round out the podium.
"The last time I won like this was more than two years ago. I thought it was about time and I am very happy that I was able to win," Van Alphen said. "It went really well today. I really got morale because I overtook so many riders.
"I knew I had the best chance if I got through that sandbox first," she said. "I'm not a sprinter at all, but luckily Denise isn't either. I just managed to keep it up to the finish."
Series co-leader Ceylin del Carmen Alvarado struggled, and finished a distant seventh at 2:23 back. Lucinda Brand, another pre-race favorite, did not finish.
With Alvarado lost in the bunch, the podium spot put Betsema into the Superprestige series lead.
Results powered by FirstCycling.com