No fear: Compton, Trebon win Colorado Cross Classic
BOULDER, Colo. (VN) — Ryan Trebon (LTS-Felt) and Katie Compton (Rabobank) prevailed Saturday on the first day of a weekend of racing here.
Heading out the door? Read this article on the new Outside+ app available now on iOS devices for members! Download the app.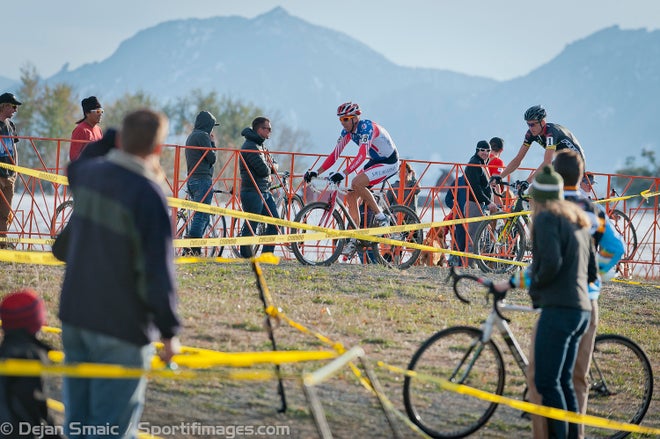 BOULDER, Colo. (VN) — Ryan Trebon (LTS-Felt) and Katie Compton (Rabobank) prevailed Saturday on the first day of a weekend of racing here.
The two U.S. 'cross mainstays each finished alone after dominating their events on a cool, windy afternoon on the Colorado Front Range. Compton separated herself from her competition in the first quarter lap, while Trebon battled with a handful of riders for about three laps before getting away by himself.
Compton schools 'em, while Mani improves
French national champion Caroline Mani (SRAM) grabbed the holeshot, tailed by Boulder's Nicole Duke (Cannondale-Cyclocrossworld.com), Compton and Katie Antonneau  (Cannondale-Cyclocrossworld.com).
Mani held the lead through the tight opening turns and over the first barrier, but Compton came charging by on the first long straightaway and never looked back.
Mani and Georgia Gould (Luna) traded places a few times in the first third of the race before Mani was finally able to break clear for second place, with Gould completing the podium.
Mani, who is completing a business internship at SRAM next month, came into the season after a long layoff from competition due to an injury and school. Her fitness has improved steadily over the season and her result Saturday is one of her best yet this season.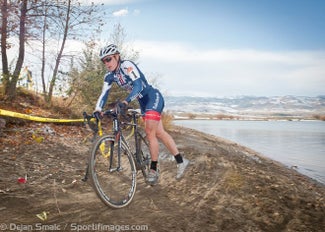 "I wasn't able to follow (Compton)," Mani said. "I made a small mistake, but she was so strong. … But I'm pretty glad I was able to beat Georgia, and she's pretty fast."
Compton turned her focus to technique.
"I was working the turns and the ruts were challenging," she said.
She admitted she was somewhat disappointed that the Boulder Reservoir course did not contain as much sand as prior years — she was hoping for some extra sand practice prior to the upcoming World Cup in Koksijde, Belgium, which is known for its sand dunes. Koksijde will also host the world championships in January, Compton's primary focus this season.
Race notes:
Rapha-Focus' newest recruit, France's Julie Krasniak, left the race on the second lap after crashing at the edge of the reservoir and hurting her back.
Meredith Miller (Cal Giant-Specialized) was a spectator at the race, giving herself another day of recovery after a European racing trip. She plans to race Sunday.
Tangled web for Wells
National cyclocross champion Todd Wells (Specialized), Geoff Kabush (Rocky Mountain-Maxxis) and Belgian Ben Berden (Ops-Ale-Clement) got the best start, with Trebon fourth wheel through some the opening series of tight turns.
When the course straightened out for a long upwind straight, Trebon moved to the front and an elite group of five riders formed at the front. with Wells, Danny Summerhill (Chipotle), Trebon, Berden and local youngster Yannick Eckmann.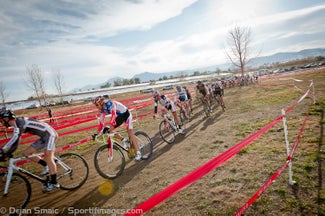 The group fought it out for two laps, with Wells and Trebon clearly the strongest. Wells showed he was able to make up ground in the tight turns, some of which were still a bit slick from Wednesday's snowstorm. Trebon said he felt a bit out of sorts on his bike in the opening laps, but later swapped bikes and felt better.
Trebon threw in a vicious attack into the wind on the third lap and only Wells could haul him back. The two dueled until Wells got tangled in some course tape that wrapped around his cassette and front axle.
"It's the first time I've ever got tangled in tape, in all my racing," Wells said afterward. "I couldn't shift."
Wells managed to stay a few bike lengths behind Trebon until he reached the pits and grabbed a new bike. But after the pits, Trebon poured on power and Wells could not regain contact. Instead he linked up with Summerhill for a few laps.
"I thought we could work together to catch Ryan, but Danny was stronger on the straights and I was better in the turns, so we didn't work well together," Wells said.
Trebon was invincible, especially after he swapped bikes, and his gap ahead of Wells just grew over the final half hour of the race.
"I felt really good, the bike felt really good once I got going," Trebon said.
Behind, Cannondale-Cyclocrossworld's Jamey Driscoll was dieseling along, picking off riders one by one. He passed Berden and Summerhill to move into third with two laps to go, and he had Wells looking over his shoulder coming into the last lap.
In the end it was a well rounded top four, with the Northwest (Trebon), the Rockies (Wells), New England (Driscoll) and Europe (Berden) filling out the spots.
Sunday's race is a higher category event, with more UCI points and prize money on the line. Trebon is confident he'll be able to contend for the win again.
"I never get tired on the second day. Tomorrow is a bigger race, but this is a good race, too. Anytime anyone puts something on and the top guys come out, I want to go for it, whether it's a C2 or whatever," Trebon said.
Race notes:
Cannondale-Cyclocrossworld's Tim Johnson opted not to start due to fatigue from his recent return for Europe. Johnson is expected to race Sunday's Boulder Cup. His teammate Christian Heule did not start Saturday because of a calf injury during warm-up.
Quick results
Men
1. Ryan Trebon (USA), 1:01:29
2. Todd Wells (USA), 1:01:39
3. James Driscoll (USA), 1:01:56
4. Ben Berden (Bel), 1:02:18
5. Daniel Summerhill (USA), 1:02:32
Women
1. Katherine Compton (USA), 42:04
2. Caroline Mani (Fra), 43:15
3. Georgia Gould (USA), 43:44
4. Nicole Duke (USA), 44:13
5. Susan Butler (USA), 44:42