Passion powers Trek's investment in cyclocross
Five years ago, Trek made its first foray into cyclocross. Now, the Wisconsin-based bicycle brand is a true powerhouse within the sport.
Heading out the door? Read this article on the new Outside+ app available now on iOS devices for members! Download the app.
In the not-so distant past, American cyclocross fans hoping to watch the sport's European stars had just two options. One was to seek out sketchy, low-quality internet feeds that were — let's be honest — almost certainly illegal. The other was to buy a ticket to Belgium and watch the race in person.
Today, things are very different. The United States hosted the UCI cyclocross world championships in 2015, and each year at least one round of the UCI World Cup is staged on American soil. Live feeds of the European action are beamed across the internet on reliable feeds. Americans have more access to the sport's top level than ever before.
The pathway that brought American 'cross to where it is today made a few stops — in Las Vegas, Louisville, and Iowa City. And now it goes directly through Waterloo, Wisconsin, and the world headquarters of Trek Bicycles.
Prior to 2013 Trek wasn't particularly involved in cyclocross, either as a sponsor or as a bike manufacturer. Today, the brand is unquestionably linked to 'cross. So what changed?
According to Eric Bjorling, Trek brand manager, a handful of cyclocross fans within the company helped drive Trek toward the sport. CFO Chad Brown, former elite cyclocross racer — and reigning masters 35-39 world champion — Matt Shriver, and Trek Race Shop manager Scott Daubert all pushed Trek to pursue cyclocross.
Brown, an avowed 'cross fanatic whom several people at Trek describe as "the camp counselor," stoked the company's interest in the discipline.
"I just kept inviting people to 'cross practice and showing them how much fun it was and how attainable it was," Brown says. "Like most things at Trek, people love a good time, and when you have the product teams developing great products and Matt Shriver bringing a lot of connections, there was just a lot of stuff working in our favor."
According to Brown, serendipitous timing led Trek into cyclocross in 2013. As Trek pursued title sponsorship of the WorldTour team that became Trek-Segafredo, the company learned that 'cross star Sven Nys's bike deal with Colnago was ending.
"Somebody said, 'Should we get Sven?' And our jaws just dropped," Brown recalls. "And we said, 'Yeah, we need to get Sven if he wants to work with us.'"
The decision kickstarted Trek's involvement in the sport. The brand revealed its sponsorship of Nys in August of 2013. Nys, in turn, helped the brand develop its flagship Boone, which was launched the following season. The bike launched a cyclocross renaissance in Waterloo.
Today, Trek sponsors Nys's Telenet-Fidea Lions, a major Belgian cyclocross team headlined by Lars van der Haar and Ellen Van Loy. It also supports other athletes including rising American star Ellen Noble, as well as 14-time U.S. champion Katie Compton. Trek also promotes a World Cup event, about to return for its second year, on the grounds of the company's Wisconsin headquarters. And they stream European races from the DVV Verzekeringen Trofee on their website for free. By any measure, Trek has become a powerhouse of American cyclocross.
"We really tried to go from zero to 100 really quickly," Bjorling says. "I think there's a lot of things about cyclocross culture that run parallel to Trek corporate culture, which I think is why cyclocross became such a big deal — it was a natural fit for us. Trek is just a place filled with people who enjoy being around each other, and it's a lively social scene, so this format of racing just felt natural for us."
It was not a small investment. Putting on a World Cup race requires an entirely different way of thinking about everything, from venue to course. To manage the expanded race, Trek hired Brook Watts, who built CrossVegas into America's first World Cup, to help guide their own race through the transition to a major world event.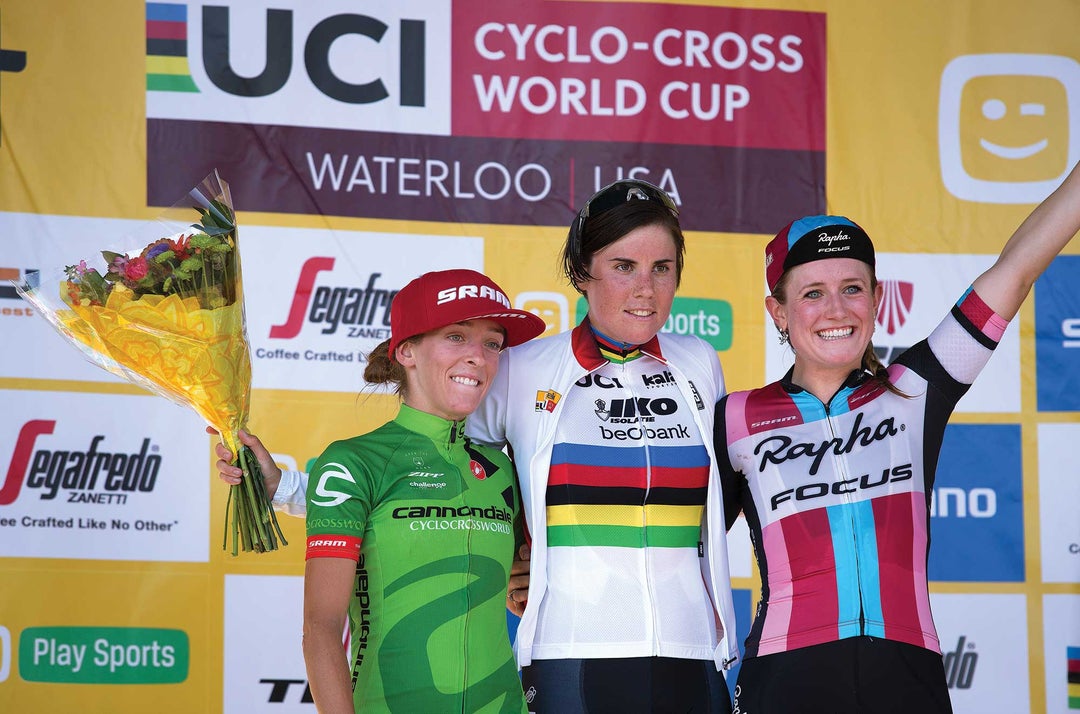 "People don't realize that a World Cup event, or any major cyclocross event, is a made-for-TV event," Watts says. "And it changes how you think about everything from site layout — how we run TV cables, do we need to run conduit under the course? — to the course design. 'I need a course in which a single camera can get the riders coming and going.' That sort of thing."
Likewise, streaming the DVV races required Trek to develop the complex technology necessary to record video direct from the race broadcaster's satellite feed using a host in Switzerland, then package it and transmit it to their Stateside servers via the internet.
These are the kinds of problems major media companies solve, not something a traditional bike manufacturer would chase.
It's easy to take a cynical approach to Trek's investment in a growing category, but Trek representatives say the company's investment is not solely about bike sales. The idea to host a World Cup sprung from a comment Nys made about Trek's then Category 1 race. The race streaming was an organic response to a few employees' frustration that they couldn't watch the races they wanted to see.
"I'd love to tell you there was some strategy to this, but it really has grown organically," Bjorling says. "I think one thing 'cross suffers from, in our view, is really just a lack of access. And so, taking a look at the barriers people have to accessing 'cross, that was a strategy we had. Asking what we can do to make this easier to view, easier to enjoy, and more available for more people. Let's start there and then we'll build around that."
Trek again landed at the forefront of the sport this year when it announced it had elevated the women's World Cup event to the marquee spot at the end of the day. For the second year running, it will also provide equal payouts for men and women.
If these are corporate decisions, it seems an awful lot like they're about culture, and not profit.
"I think people can speculate if it's about selling bikes or passion, but whether or not there's a payout to it, there's a passion behind what they're doing," Noble says. "There are a lot of brands that do things that are solely money motivated, and they will use money as an excuse to not invest in things that are challenging. Investing in cyclocross and investing in women's racing? Those are things that are challenging and are not necessarily going to pay off. If there's not passion in what you're doing, you just won't take the risk."
Brown says the company's cyclocross fans are also motivated by the legacy of helping build cyclocross in the United States. Should the sport grow into something greater in the U.S., perhaps future generations will someday look back on the work done by a handful of individuals and appreciate the effort.
"I'll look back at it 20 years from now with my son and say we did some cool stuff, maybe we helped influence some things that you can't even believe were ever an issue with sports …" Brown says. "What a cool legacy that would be. What if all we had to do here was make our kids proud? That's a job worth having and something worth doing."