Ryan Trebon disappointed to lose 2011 Derby City Cup opener
"I saw the finish and I was like, 'I'm going to light his ass up in this,' because I was feeling good and had a lot left in my legs and it just didn't get to happen," said Ryan Trebon. "It's bike racing; it just happened."
Heading out the door? Read this article on the new Outside+ app available now on iOS devices for members! Download the app.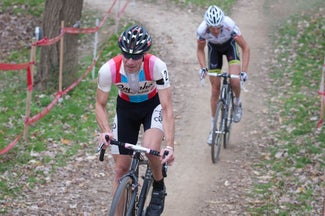 LOUISVILLE, Ky. (VN) — Ryan Trebon has a sour taste in his mouth after Saturday's Exergy U.S. Gran Prix of Cyclocross Derby City Cup opener and said he wouldn't lose it for a while.
The LTS-Felt rider said he would have beaten Jeremy Powers in a sprint to close out the opening day of the two-race weekend in Louisville, Kentucky, but never had the chance.
The taste of Saturday's defeat at the hands of Powers (Rapha-Focus) will stay with Trebon beyond Sunday's Louisville finale. Pulling onto the finish straight Saturday, 150 meters from the line, Trebon dumped his chain, skipped his rear wheel and watched Powers ride away to close out one of the best hourlong duels we've seen in U.S. cyclocross this fall.
"I lost the opportunity to even sprint because I was in a rush to shift," Trebon told VeloNews. "Losing races like that is hard because you do everything right in the first 59 minutes and that last 20 seconds of the race you make a mistake and see it all go away from you."
Powers passed Trebon late in the final lap in the technical run-in to the finish straight. Trebon left the final run-up two bike lengths behind Powers. He felt he was perfectly positioned to come around his top rival on the U.S. circuit this season.
"I saw the finish and I was like, 'I'm going to light his ass up in this,' because I was feeling good and had a lot left in my legs and it just didn't get to happen," said Trebon. "It's bike racing; it just happened."
Trebon's powerful sprint could have delivered his third USGP win of the season, but he was left wanting. He stood on the pedals and upshifted, but brought the chain down his cassette too quickly. With his third pedal stroke on the asphalt, Trebon slowed instantly, his rear wheel skipping on the ground.
Powers was gone.
"I was trying to go through the gears too fast and lost my chain," he said. "It happens. It was my fault for trying to shift down to the 11 from the 23 or whatever I was in. It's frustrating because there's always the should'a, could'a, would'a, didn't."
Trebon finished second to Powers, officially three seconds back. The time gap was much tighter than the finale played out; when Trebon faltered, Powers took a lead of more than 25 bike lengths. Trebon said that the toughest part of the incident was knowing that he was on a good day and not taking advantage.
"I don't mind losing bike races when someone clearly beats me, but to see people win in front of me, it always gets me,'" said Trebon. "Today's going to stick with me for a while. It's going to take me a while to let go. I'm not disappointed; I'm just bummed."
Trebon and Powers exchanged words quietly before and after the podium, Trebon pursing his lips, shaking his head and telling the Rapha rider that he wouldn't soon forget the day that got away from him. With the competition higher than any ever before in U.S. cyclocross, and the world championships in Louisville just 15 months away, a late error like Trebon's is particularly disappointing.
"When you have good legs and ride the bike well you want to capitalize on those days," he said. "(Sunday) I could have bad legs and not ride the bike well. We'll see."
Trebon and Powers will face off again Sunday at 3:30 p.m. EST, with live video coverage at VeloNews.com.