Succession success: Who are the next top U.S. 'cross riders?
Americans Katie Compton and Jeremy Powers have more to give before they quit 'cross, but they're also busy laying the foundation for up-and-comers.
Heading out the door? Read this article on the new Outside+ app available now on iOS devices for members! Download the app.
'Cross isn't coming. It's already here.
In the U.S., the sport enters the 2016-'17 season after a decade of tremendous growth, fueled by major international events. There was the 2013 world championships in Louisville, and last year's World Cup opener at CrossVegas (the first World Cup on American soil). This year, our country hosts the first two World Cup rounds in Las Vegas and Iowa. Cyclocross is no longer a sideshow: It's the center stage.
On top of that, America's best ever female 'cross racer Katie Compton is still a contender at home and abroad. Compton now owns 12 national titles, two World Cup overall championships, and four world championship medals. She is still searching for the elusive world championship victory, and is poised to have one of her best seasons ever.
The question on the minds of 'cross fans is how long the 37-year-old Compton can stay competitive at the sport's pinnacle — and who will replace her when she's done.
In men's racing, four-time national champion Jeremy Powers has spent the last half-decade focused on World Cup success. Powers nabbed a seventh at Tabor in 2012 and a sixth at CrossVegas last season. That was the best-ever World Cup result for an American man, but still short of where he wants to be. Can his determination to showcase his true talent on home soil propel him to do it this year? Just as important, which young talents are poised to improve upon his accomplishments?
[pullquote align="right" attrib="Geoff Proctor"]"Any discussion of [Compton's] successor has to include Kaitie Antonneau. Her podium at Valkenberg last year was a big, breakthrough ride."[/pullquote]
While Compton leads and inspires through her performances, Powers plays a more active role as a mentor to the next generation.
The successors to both Powers and Compton could be competing right now for one of the country's burgeoning junior development programs, which each year bring new talent into the sport. These teams are scattered across the country: Rad Racing and Bend Endurance Academy in the Pacific Northwest; Bear Development in California; Boulder Junior Cycling in Colorado; Lionhearts in Ohio; the JAM Fund in New England; and Team Twenty20 in Maryland. All have a focus on juniors. Countless smaller programs scattered across the country also expose kids to cyclocross at the entry level.
The growth of these programs bodes very well for American 'cross. When Compton and Powers ride off into the sunset, U.S. cycling will need a handful of young talent to continue the American invasion into cyclocross's muddy European heart.
KATIE COMPTON BELIEVES SHE still has good years left in her legs. In fact, she's excited that a recent medical discovery could help her achieve greater heights in 2016.
Compton struggled in 2015, finishing the season without a World Cup victory and placing a distant 13th at the world championships. The setback was just the latest in 20-plus years of hurdles for Compton. Over the course of her career, she has dealt with severe muscle pains, cramping, allergies, and fatigue. She was diagnosed with hypothyroidism in 2010, and started having problems with allergy-induced asthma in 2011.
Last August, after listening to a podcast on thyroid issues that touched upon many of the symptoms she suffers from, Compton went to her endocrinologist. Eventually she learned she has a gene defect: Her body lacks the methylenetetrahydrofolate reductase enzyme (MTHFR) needed to convert folic acid into the usable form of methyl folate. (Compton refers to this gene with an expletive.) Ultimately, it can lead to an accumulation of folic acid in her system, which can become toxic, and causes the host of issues she's consistently struggled with.
To combat the problem, Compton has simply had to adjust her diet. She no longer eats grains and enriched foods that contain folic acid. The dietary shift has had big results, especially since dialing it in this summer. "My power numbers are the highest they've ever been — ever," she says.
Compton enters the 2016-'17 season with plenty to prove. She will no longer have the full support of the Trek Factory Team. Instead, she and husband Mark Legg-Compton have assembled sponsors (including title sponsors Trek and Panache) to run an efficient program that will see her hit five of the eight World Cups (including Vegas and Iowa) and the major domestic races. But at this point in her career, it's all about January and the world championships, a race that has thus far proven to be her nemesis, despite those four medals.
"I would love to put together a world championships where I'm like, 'Holy shit, I rode the best I could,' so I can walk away being super happy and positive," she says. "In years past, it just has never been 100 percent, in terms of a result."
When Compton does retire, who will take her throne? Compton is a once-in-a-generation talent, so asking one youngster to fill her shoes is an unfair task. Instead, Compton's eventual departure could require a couple of Americans to step up. Or six.
Geoff Proctor, director of EuroCrossCamp and the U.S. junior and U23 national coach, has his eyes on one rider, in particular.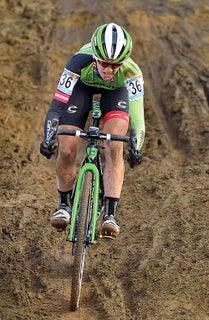 "Any discussion of [Compton's] successor has to include Kaitie Antonneau," Proctor says. "Believe me, last year, her podium at Valkenberg was a pretty big breakthrough ride." Antonneau, 24, followed that performance with the top American placing at worlds, coming home eighth in Zolder. Before we see the last race of Compton, even bigger things are expected of Antonneau.
And she has other riders on her heels. Forging her own path is Elle Anderson, 28, who returns to face her demons in the heartland of cyclocross, basing herself in Belgium and tackling another full European season. She has shown promise: She beat Compton in 2013, came second to her at nationals in January 2014, and was fifth at the Valkenburg World Cup that fall. Then it all came crashing down as she struggled through a series of traumatic experiences and the emotional aftermath. Two years later, she can't wait to return to Belgium.
"In Europe, the racing is not really inclusive, not really friendly, not really approachable," Anderson says. "But for some reason I just love it more."
Younger still, Ellen Noble joins Powers on the Aspire Racing team. The 21-year-old was sixth at the under-23 world championships last year. There's also 19-year-old Emma White (Cannondale-Cyclocrossworld.com), who was third at the under-23 national championships (and won two silver medals at junior worlds in Richmond, in the road race and time trial).
Compton believes other youngsters will emerge.
"In women's racing, you never know who might just jump in there and be really good," says Compton, who herself flashed onto the scene when she won her first national title after transitioning from track racing. "Maybe she's racing collegiate or maybe she's not even racing her bike yet."
THE LAST TIME AN American won a world championship in cyclocross was in 1999, when Matt Kelly rode his custom-made LeMond to a historic victory in the junior race in Poprad, Slovakia. American men have come up short ever since, with 2007 being the most noteworthy close call. That year, Jonathan Page and Danny Summerhill took silvers in the elite and junior races, respectively.
American men have struggled at World Cup races. Powers, 33, readily admits that Europe doesn't elicit his best work. "It eludes me," Powers says. "I do fine, but they're not my best performances."
Luckily for him — and American cyclocross fans — there are those two World Cup races in the U.S. this season. That has Powers determined to be better than ever. After all, his sixth place at CrossVegas last year gave him a huge boost of confidence.
[pullquote align="right" attrib="Jeremy Powers"]"Stephen's ability to adapt is strong. Being in Belgium doesn't really affect him like it does me."[/pullquote]
"I can tell you that's the best finish an American male has ever had at a World Cup. That's not insignificant," Powers says. "It means that from where I came from, which was getting my head kicked in when I was 20 racing in Belgium, to over the last 10 years almost being able to podium at a World Cup, someone's got to do that work. It's just not easy."
Though Powers is clearly not done yet, he won't last forever. Who will fill the void when he retires?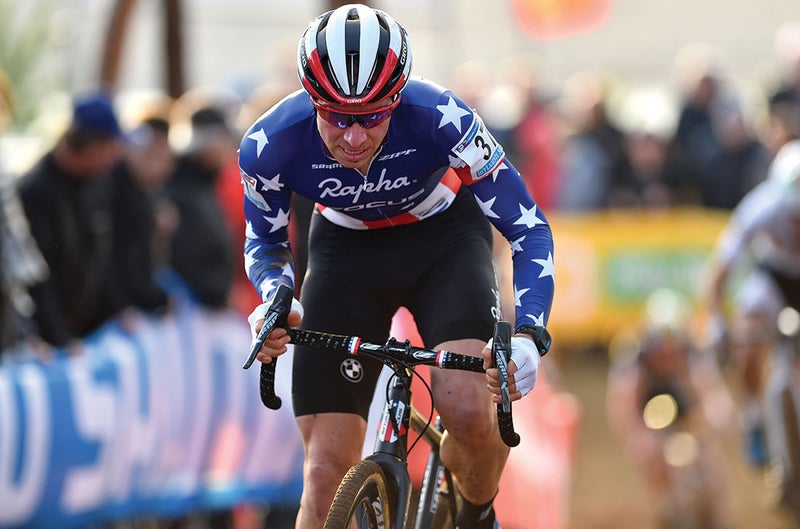 The man who often challenged him last year, Stephen Hyde (Cannondale – Cyclocrossworld.com), is most likely to step up. Hyde isn't young, at 29, but Powers and Proctor both see him having four or five more years of steady progression and success.
Powers predicts Hyde could top his own results in Belgium.
"His ability to adapt is strong," Powers says. "Being in Belgium doesn't really affect him like it does me. I'm not a fish out of water over there, but I'm a fish in low water."
Behind Hyde, the next generation may be ever stronger and deeper. Gage Hecht will be very good, Powers says. (He was fourth at junior worlds in 2015.) Spencer Petrov, too. (He was fourth at the juniors Namur World Cup in 2015.) There's also Curtis White, who has already shown he can compete with the likes of Powers in the elite races. Tobin Ortenblad will be a bit of a late bloomer, according to Powers. (He's the under-23 national champ, having beaten White in the process.) Eric Brunner, Denzel Stephenson, Grant Ellwood: the list goes on.
"I can see all of those guys, and others like them, going on to have great, lucrative, fun, and fulfilling careers in cyclocross," Powers says.
And then there's Logan Owen, 21, who has been racing one bike or another since he was four. The multiple-time national champion is at another level, regularly contesting for big wins against Powers, Hyde, and the other stalwarts of the domestic 'cross scene. He was third at elite nationals. He's had success in Europe as well. But Owen admits he is on the cusp of having to choose between road and 'cross.
[pullquote align="left" attrib="Geoff Proctor"]"We're getting closer. To be world champion in cyclocross takes an absolutely complete rider. … Steady improvement, eyes on the prize."[/pullquote]
And what of that choice, pitting one discipline against another? Is that sucking talent out of 'cross?
Proctor believes the most effective approach a young rider can take is to maintain a mix of disciplines well into his U23 years. In his mind, all five disciplines (cyclocross, road, mountain bike, track, and BMX) can provide opportunities for cross-fertilization and ultimately produce the most talented racer. The hope is the rider eventually settles on the discipline that fits him or her best. As far as a full-fledged 'cross career, Proctor firmly believes it is well within the reach of some of America's developing riders.
Powers has a more business-like take on the situation: Win some 'cross races, make a name for yourself, and then go to the road. He sees no reason, especially when you're 20, to go to the WorldTour.
"The model in cycling is not hard to see," he says. "Cycling is about branding yourself. As soon as you put a foot over that bike and win a race, you should be branding yourself as an athlete, as someone that people should look for to get content from."
Powers points to international riders Lars Boom and Zdenek Stybar as success stories from this model. He believes if cyclocrossers forgo marketing their personalities, they are missing out on cash and longevity in the sport.
"If you have that kind of personality and you can do that and you're not doing it, you're setting yourself up for disaster," he says.
Powers does as much as he can to be a mentor to the younger riders, including managing his JAM Fund development squad. He also regularly reaches out to the next generation, offering advice on everything from how to race to excelling as a personality in the sport. Cyclocross is a hard sport to be in, as he says, and he wants to take a little bit of his extensive experience and pass it on.
In the past two years, Proctor and USA Cycling have worked hard to grow the American program, taking European trips built around the World Cup calendar. They pay special attention to the selection of riders who they feel are ready for that level of competition, all in an effort to prepare them for the world championships.
As a result, in the UCI's nations rankings, the U.S. sits in the top four across all five categories: fourth in elite men's, second in elite women's, and third in under-23 men's, under-23 women's, and junior men's.
So, how many more years will we have to wait for another world championship gold medal?
"We're getting closer," Proctor says. "To be world champion in cyclocross takes an absolutely complete rider. Some riders are really powerful while pedaling. Some riders are really good running with the bike. Some are super technically, some tactically. But to put it all together, the complete package? That's pretty extraordinary and remains the absolute goal. Steady improvement, eyes on the prize."