World cyclocross champion Zdenek Stybar expects no curses
Zdenek Stybar is staying close to home as he prepares for a cyclocross season in the world champion's stripes.
Heading out the door? Read this article on the new Outside+ app available now on iOS devices for members! Download the app.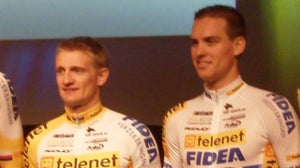 Zdenek Stybar is getting ready to start a new season after an amazing 2009-2010 campaign in which he won the World Cup overall, the Superprestige series overall, the Czech Republic's national championships and finally, the world championships in his home country.
The 25-year-old is starting his sixth season on the Fidea team (now Telenet-Fidea) and attended the team's official introduction Thursday at sponsor Ridley Bicycle's new factory in Beringen, Belgium. VeloNews caught up with Stybar in between photo shoots outside the factory.

VeloNews: You had an incredible season last year. What do you still have to accomplish in this season?
Zdneck Stybar: I didn't start really great this spring. This season just after a rest period I had some problems, but now everything is solved and I can go. I had a really good training camp at high altitude in St. Moritiz and now just before the season last week we did the Tour of Slovakia, and everyone who was there was in good shape and I think I was, as well.
Now I'm just waiting for the first races and, you know, if you start good then you have a good start to the season and you go. If you have a bad start then you just have to refocus for the second part of the season.
VN: What problems did you have in the spring?
ZS: Ah, I don't know how to say it. Let me just say I had problems sitting on the saddle that had to be operated on and I lost about two weeks (of training). And when I started to get the problems, I was changing positions with my body because of it and I got some problems with my knees, but now they are all good.
VN: Does the rainbow jersey add pressure?
ZS: Unitl now I haven't felt it because I am trying to just put the pressure out of my head and just enjoy the situation and just take the advantages form it. But also you have lots of disadvantages. I just have to see how it will go during the season. It brings some pressure, but it's nice pressure. You have to really enjoy it because it may be the first and last time that I have the jersey — I hope not, but it can happen. So I'm just going to see what it's like and wait for the season.
VN: I heard you rode your 'cross bike at the Tour of Slovakia.
ZS: Yes, because with a road bike and a 'cross bike there are some small difference and I had already trained a month on the 'cross bike and then to jump back on the road bike is not really ideal. You can get some injuries to your knees and your back just from changing too many bikes too many times.
In Slovakia we didn't go there for GC, we go for the kilometers and the hours and nothing more. Whether you ride on road bike or cyclocross bike, it doesn't matter. I even did some sprints with the SPD pedals, no problem.
VN: The saddle on your bike looks well-used; has it been with you for a while?
ZS: This is my training bike and sometimes a used saddle is better than a new saddle, because the saddle will form to your body. So sometimes it's better to train on old saddles and use the new ones on the race bike because you spend a lot less time racing than training.
VN: When will we see you in the U.S.?
ZS: I look forward to the world championships in 2013, I hope it goes well. I had thoughts about doing Las Vegas and those races, but you know in the situation I am now as world champion, it would be nice to start the season in another country, but it's not easy because you lose quite a bit of time with the traveling.
So my first race is September 25th in the Czech Republic. There are two races there and the first race is in my city and that will be really nice to start the season in the world champion's jersey in my own city.