The Dirt: Beach fat biking, World Cup DH, and sponsorship news
It's your weekly news round-up on what is happening in the worlds of gravel, mountain biking, and all things rough and dirty.
Heading out the door? Read this article on the new Outside+ app available now on iOS devices for members! Download the app.
Welcome to The Dirt, the weekly news round-up on what is happening in the worlds of gravel, mountain biking, and all things rough and dirty.
Fat bike racing for those who don't like the cold
Don't live in a snowy place? Hate riding in the cold? That doesn't mean you can't get in on the fat biking craze. While the Fat Biking World Championships crowned champions in Crested Butte at the end of January, U.S. Open Fat Biking Beach Championships are right around the corner, March 16-18. "Last year's race was difficult, exciting, exhausting, physically and mentally challenging all at the same time," said Zoe Worsham, defending women's elite champion. "It was only two-and-a-half hours, but it was as challenging as any six-hour race I've done."
And the race isn't just a straight-up hammerfest around the one-mile oval course. "Many popular obstacles from last year including the sandbag minefield, keg jumps, and snake pit will be on the 2018 course," said Shawn Spencer, race chairman.
How a World Cup downhill track is built
Downhill racetracks don't grow on trees, and no one knows this better than the intrepid group of mountain bikers who are building a trail by hand for the new stop on the UCI downhill mountain bike World Cup circuit on Lošinj Island in Croatia. The race is scheduled for April 21-22 and will be broadcast on Redbull.TV. In the meantime, the builders put together a quick edit to get riders and fans stoked (and prove that they're busting their butts on this project!).
[vimeo id="257729695″]
Bell rings in 2018 with Gwin and McCaul
Two of mountain biking's biggest stars will wear Bell helmets in 2018. Aaron Gwin, winner of 19 World Cup DH races will again don a Bell full-face for 2018, hoping to follow up his fifth World Cup overall title won in 2017 with an elusive world championship. Freerider Tyler McCaul will also wear a Bell helmet this season. He's a new addition to the helmet company's line-up and will focus on the Crankworx events as well as Red Bull Rampage.
Olympic champ Rissveds steps away from racing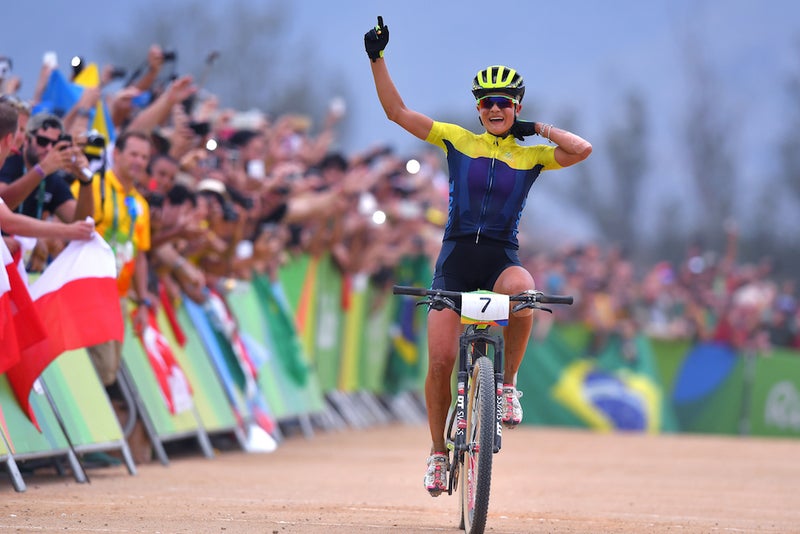 Although Swede Jenny Rissveds was riding high after an Olympic gold medal in Rio, her 2017 season was fraught with challenges. She had a dispute with the Swedish Cycling Federation and lost both her grandfathers in a short period of time. Rissveds made the difficult decision to part ways with her Scott-SRAM team ahead of the 2018 mountain bike season. "I would love to stay a part of the team but to be part of a team you need to contribute and unfortunately, I am simply not able to do so at the moment," she said. "It hasn't been an easy decision, but I am convinced this is for the best for all parties involved and that this will provide me with the best conditions for coming back, better and stronger than ever."
Coal mine to transform into bike park
I'll spare you the quips about domestic energy policy and just say: More bike parks are always good. PeopleForBikes provided an $8,000 grant to support the Prestonsburg, Kentucky in its plans to build a bike park adjacent to Jenny Wiley State Resort Park, where there are already 24 miles of mountain bike trails.
'Queen of Dirty Kanza' Tetrick continues with Lezyne
Alison Tetrick, winner of Gravel Worlds and Dirty Kanza 200 in 2017, is back with Lezyne for another season. She's been involved with the brand since 2011 and announced her retirement from pro road racing at the end of last season. But she's definitely not slowing down. Tetrick has a full season of gravel racing ahead, including a return to the 150-mile Gravel Worlds in Nebraska as well as Dirty Kanza.
We talked to her at Interbike last fall on the VeloNews podcast >>
A neuroscientist to guide your MTB ride
Colorado has a new mountain bike tour company, Sacred Rides Boulder, run by Lauren Costantini. The tour company will offer a variety of one-day rides with small groups for riders of all levels. Costantini is a masters medalist at both cyclocross national championships and masters mountain bike worlds. Perhaps more intriguing, however, is her background before bikes. In her early years, she was a ballerina in New York, moved to musical theater and traveled around the country performing. She went on to get a Ph.D. in neuroscience when showbiz didn't pan out. Her lab at Harvard Medical School discovered treatments for Parkinson's and Alzheimer's. Eventually, she landed in Boulder where she began her latest venture.
Got some news you'd like to share in The Dirt? I'd love to hear from you. Please email me your news and updates on all things gravel and mountain biking.