The Dirt: Courtney crushing Cape Epic; Epic Rides get sweeter
American Kate Courtney is on a tear at Cape Epic, winning four stages with teammate Annika Langvad and holding the overall lead.
Heading out the door? Read this article on the new Outside+ app available now on iOS devices for members! Download the app.
Welcome to The Dirt, the weekly news round-up on what is happening in the worlds of gravel, mountain biking, and all things rough and dirty.
Courtney crushing Cape Epic
The eight-stage Cape Epic is one of the toughest tests of early season form for pro mountain bikers, and so far American Kate Courtney has been passing with flying colors. The 22-year-old is teamed up with another Specialized-sponsored rider, former world champ Annika Langvad, as is customary for this South African race. They've won the first five stages and hold the overall lead by a whopping 32 minutes.
Another Specialized rider — and fellow American — Howard Grotts is having a fine outing at Cape Epic as well. He's teamed up with Olympic gold medalist Jaroslav Kulhavy. Together, they lead the men's race by about four minutes after Thursday's stage 4. The duo also won stage 3.
The 658km race finishes Sunday in Wellington.
Here's a montage of the stage 4 highlights:
For more, check out Cape Epic's YouTube page.
Epic Rides series adds Honey Stinger as nutrition sponsor
The four-race Epic Rides mountain bike series just got a little sweeter. Honey Stinger will sponsor the series, which includes the Whiskey Off-Road, Grand Junction Off-Road, Carson City Off-Road, and new this year, the Oz Trails Off-Road in Arkansas.
"Honey Stinger is excited to partner with the Epic Rides Event Series in 2018 to provide riders with high quality, honey-based nutrition on course and off," said Kirsten Tidik, Honey Stinger events coordinator. "And to assist in training for the Off-Road Series, all registrants will receive a complimentary Honey Stinger waffle in the mail after they register for an Off-Road Series event."
Marion and Overton win U.S. Open Fat Bike Beach Championships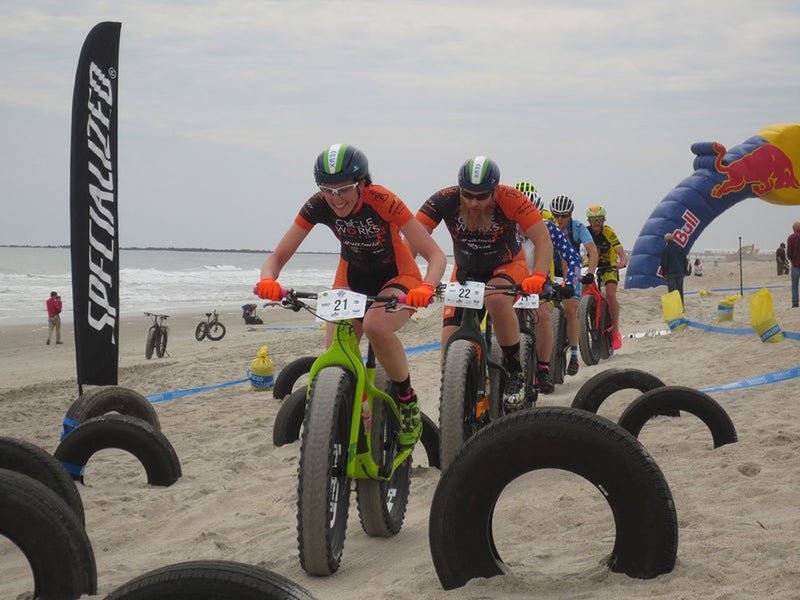 Philicia Marion of Mount Airy and John Overton of Wilmington won the female and male championships in the elite super-fat division.
"Last year the course was really technical," said Overton. "It wasn't as technical today. So you could power through, set the throttle and try to keep it there for the two hours, and this course allowed for that."
"The dredge pipe [36-inches] was cool," he added. "That added a different element. We crossed the pipes four times on every lap [32-laps for Overton]. A unique experience you're probably not going to find that anywhere else."
Blowin' up my feed: Land Run 100
Wait a minute, isn't Land Run 100 the gravel race that sends riders into quagmires of derailleur-destroying peanut butter mud? Not this year. I actually made it out to Oklahoma for Land Run to race the rough, hilly, and (this year) dry roads. I also got a peek at some new stuff coming from Vittoria. Stay tuned for more on that, as well as a full story in VeloNews magazine about the event.
But the brief summary is: Land Run is a fun, hard, well-organized, and extremely welcoming event. I mean, come on, just look at how they greeted the DFL finisher, almost 16 hours after the race began!
And race sponsor Salsa Cycles also got in on the fun. For 2018 they're putting a chaise lounge in the middle of the course at five select gravel races so you can have a little lie-down. Even race winner Mat Stephens took a minute to hang out with second-place finisher and Canadian national 'cross champ Michael van den Ham.
In case you're wondering, women's winner Amanda Nauman also took a stop at the chaise before getting her finish hug from race organizer Bobby Wintle (and kicking my ass in the process).
https://www.instagram.com/p/BgcUcDFDJko/
Well Salsa, you seem to have done it… My feed has been totally blown up.
Got some news you'd like to share in The Dirt? I'd love to hear from you. Please email me your news and updates on all things gravel and mountain biking.