The Dirt: Rusch rides Enve, Donnelly gravel tour
Welcome to the weekly news round-up on what is happening in the worlds of gravel, mountain biking, and all things rough and dirty.
Heading out the door? Read this article on the new Outside+ app available now on iOS devices for members! Download the app.
Welcome to The Dirt, the weekly news round-up on what is happening in the worlds of gravel, mountain biking, and all things rough and dirty.
'Queen of Pain' Rusch rides with Enve
Longtime endurance athlete Rebecca Rusch has a new set of wheels to ride in 2018. Enve will sponsor Rusch for the upcoming season with its M-Series carbon fiber wheels. Rusch won the Leadville 100 four times; she is a three-time winner of Dirty Kanza 200, and she holds the fastest women's time on the Kokopelli Trail from Fruita, Colorado to Moab, Utah.
Enve will also support her gravel race, Rebecca's Private Idaho on Labor Day weekend.
If you'd like to read more about Rusch, check out Chris Case's story on her 1,200-mile ride on the Ho Chi Minh Trail. She's also got an autobiography out with VeloPress, "Rusch to Glory."
Donnelly X'Plor Tour to offer tire and titanium demos
The Donnelly tires X'Plor Tour kicked off Saturday in Washington state at the Race Cascadia Super G. Throughout the season, the company will have demos available at select events in the western half of the U.S. You can test ride some of Donnelly's tires or ride one of the Sage titanium Barlow Gravel demo bikes. Here's the 2018 schedule:
April 8: Gorge Gravel Grinder – The Dalles, Oregon
April 13-14: Belgium Waffle Ride Lifestyle and Fitness Expo – San Marcos, California
April 19-22: Sea Otter Classic – Monterey, California
May 12: Fountain Roubaix – Fountain, Colorado
May 19: Rattlesnake Rally – Casper, Wyoming
June 2: The Dead Swede – Sheridan, Wyoming
June 9: The Palmer Divide – Palmer, Colorado
July 14: Leadville Massive – Leadville, Colorado
August 11: Powderhorn 100k – Grand Mesa, Colorado
Blowin' up my feed: Ride Cascadia Super-G
Speaking of that Donnelly tour, how about the Pacific Northwest gravel scene? The Ride Cascadia Super-G looked a little muddy, but those dark loamy forests are irresistible. Last Sunday's 55-mile race had an overall classification and a KOM/QOM competition.
[instagram url="https://www.instagram.com/p/Bg_-hzEHw16/"]
[instagram url="https://www.instagram.com/p/BQJN4z_B3QF"]
Even former under-23 cyclocross national champion Lance Haidet showed up! (And he won.)
[instagram url="https://www.instagram.com/p/BhJ8N36BN64/"]
Gourmet Gravel makes dirt riding taste good
If you're looking for a gravel event that makes post-race food a priority, Gourmet Gravel might be the ticket. Scheduled for May 12 in Nevada City, California, this event has two climbing-centric route options, 49 or 29 miles. And afterward, food will be provided by Briar Patch Food Coop with craft beer from Ol' Republic Brewery. Who is behind this combination of tough riding and tasty eats? Gourmet Gravel is actually the brainchild of former U.S. Pro road champion Kurt Stockton!
Mammoth Bike Park and Snow Summit to open May 25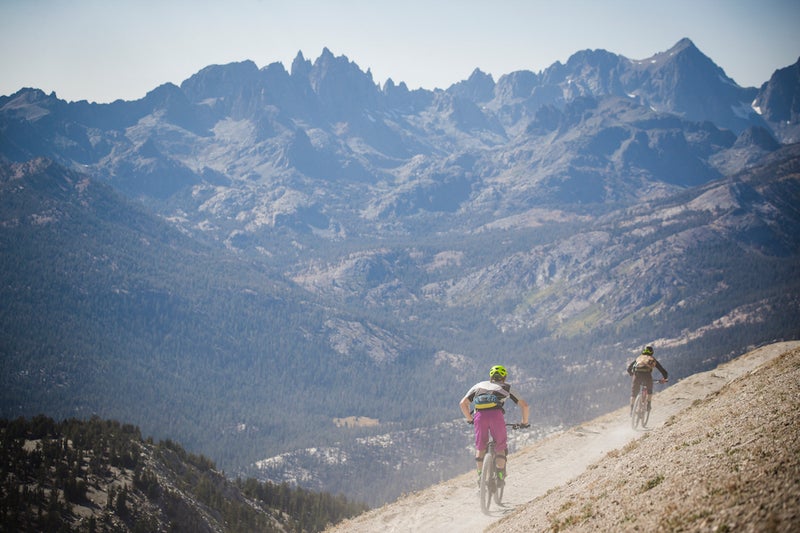 For those who prefer a ski lift to get up steep hills, Mammoth Mountain and Snow Summit will open for mountain biking this spring on May 25. A combined season pass for both mountains is now available:
Unlimited adult pass: $349 ($299 for 2018/19 winter pass holders)
Unlimited child pass (Ages 5-12): $99
Borah gets Epic for 2018 mountain bike season
Borah Teamwear will be the official jersey of the Epic Rides mountain bike series, a calendar of four endurance events including the Whiskey Off-Road, Grand Junction Off-Road, Carson City Off-Road, and Oz Trails Off-Road. Each race will have a special jersey. But you're going to have to wait. Epic Rides will unveil each event's jersey on social media throughout the season, so stay tuned.
Got some news you'd like to share in The Dirt? I'd love to hear from you. Please email me your news and updates on all things gravel and mountain biking.