Ellen Noble inks Red Bull deal
One of the most outspoken athletes in cycling, Noble becomes the most recent cyclist to partner with the energy drink company.
Heading out the door? Read this article on the new Outside+ app available now on iOS devices for members! Download the app.
Ellen Noble, known for her talents on the mountain bike and 'cross course, as well as her outspoken stance on women in cycling, is the latest cyclist to become a Red Bull athlete, signing a partnership with the brand that begins this cyclocross season.
"It's such an honor to work with a globally recognized brand that's non-endemic to the sport. It's been a dream of mine," said Noble, who races for Trek Factory Racing. "I grew up doing sports that were so male-dominated. But I want younger girls to see that there is a career path here now. There's an established role for women in action sports, and a Red Bull partnership really amplifies that message."
The Austrian energy drink company, which sponsors an abundance of athletes and teams across sports ranging from auto racing to soccer to cycling, has made a recent push into cyclocross. It signed three-time world champion Wout Van Aert late last season. Pauline Ferrand-Prévot, the only rider in history to hold world titles in cross-country, cyclocross, and road racing at the same time, is also a Red Bull athlete. Now retired from racing, three-time U.S. cyclocross national champion Tim Johnson has been sponsored by the brand for a decade.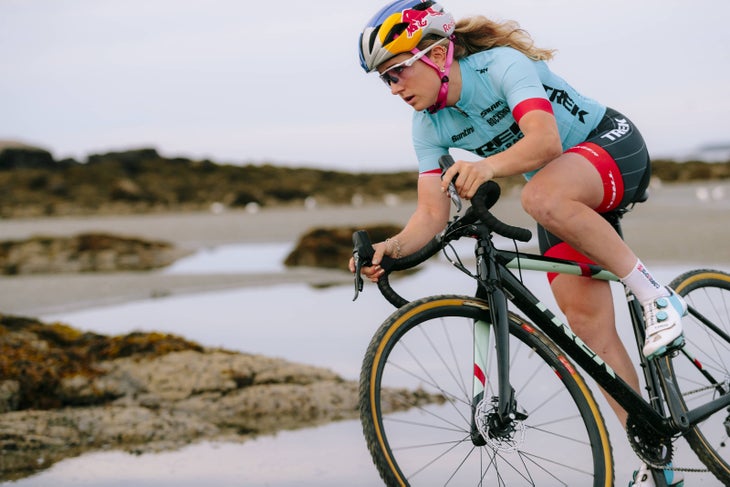 Noble, a former U23 national champion who last year finished second to Katie Compton in the elite field, is one of the most outspoken athletes in cycling. Her eloquent and introspective posts on Twitter, Instagram, and other social media outlets have helped her gather a passionate following. Her stance on women in sport, and particularly cycling, has resonated with fans.
"I think a lot of people who see the news of my signing will make the connection … 'Oh if you bunny-hop the barriers maybe you'll get a Red Bull helmet,'" Noble said, referring to the attention she garnered for bunny-hopping 40-centimeter-tall 'cross barriers just weeks before the start of the 2017-18 season, while filming a "Behind the Barriers" episode. She noted, however, that she has been speaking with Red Bull about a potential partnership since long before she made those headlines.
"I like to think that I fit the model of the brand for pushing your own limits and telling a story outside of just racing bikes," she said. "Supporting women in action sports has become this amazing thing. Women are starting to have a much greater presence in these industries. I'm lucky to be here now when a lot of companies are starting the invest as much in women as they have in men."
Noble will begin her 'cross season at the Rochester races in September. She will then turn her attention to the full UCI World Cup schedule, as well as many of the domestic UCI C1 category races.