Ergon Allroad collection review: Consider vibrations damped
The Allroad saddle, flexy carbon seatpost, and handlebar tape promise additional comfort on mixed surfaces without the bulk and weight of suspension.
What does the word 'allroad' even mean? Those of us still recovering from gravel bikes being dubbed the next big thing won't have time to recover from the latest addition to Ergon's growing components list. Called the Ergon Allroad collection, it promises "more comfort and less strain on all road surfaces." So, gravel with less suffering?
Whatever the word allroad means to you, Ergon is known for its well-considered products that trade a bit of flash for effective rider comfort. The Allroad collection focuses on touchpoints, including handlebar tape and a saddle lineup, as well as an award-winning carbon seatpost to bring about that rider comfort. All three promise improved ride smoothness, though how they each achieve it is different.
We brought in the Ergon SR Allroad Core Pro saddle, CF Allroad Pro Carbon seatpost, and BT Allroad handlebar tape to figure out just what allroad means. 
Ergon SR Allroad Core Pro saddle in review
Ergon is perhaps best known for making comfort-aiding touchpoints – think saddles, grips, and places where you directly interact with your bike – so it makes sense that they'd release an Allroad saddle. And while the German company has a lineup of road-centric saddles, this is the first to offer those shapes with a bit of the padding and foam they're well-known for.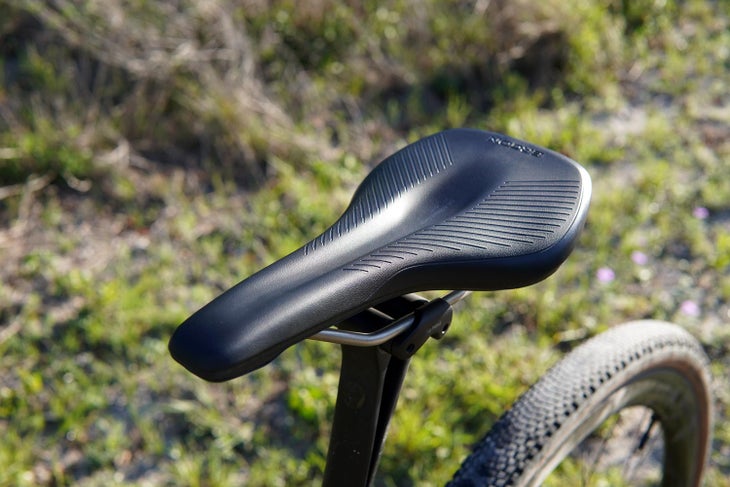 The SR Allroad Core Comp bucks the trend of short-nose saddles that are nearly the norm across road bikes. This saddle is about 20 mm longer than the likes of something like a Specialized Power, but at 262 mm long it is still shorter than most. That said, just about all that extra length comes at the nose, making fit more like a traditional saddle.
It also doesn't have an obvious saddle cutout, instead offering a recessed pressure channel similar to what one might find from a Mimic-equipped Specialized saddle.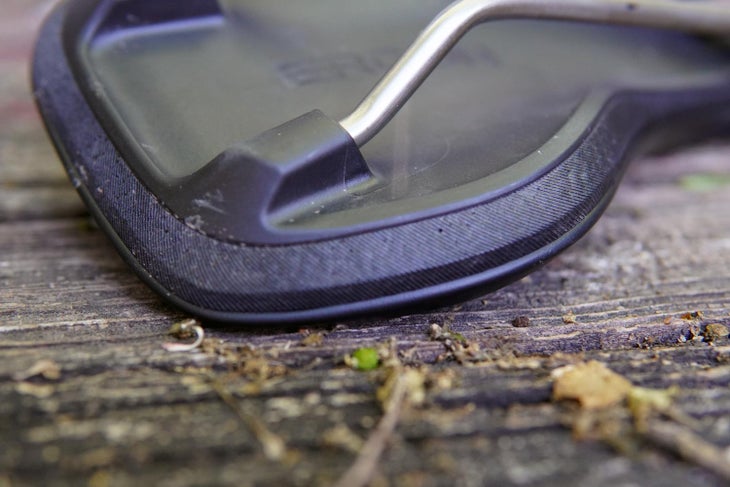 SR Allroad Core Comp saddles feature a simple nylon composite and chromoly rails. Moving up to the Core Pro saddle nets a carbon composite shell and titanium nitride oxide rails (TiNox) that theoretically add further vibration damping. The Core Pro Carbon receives the carbon shell as well as carbon rails. 
In between the saddle shell and the outer material is what Ergon calls 'Core HD.' This layer consists of thousands of foam particles sandwiched together, similar to the foam particles one might find in the soles of high-end running shoes. This section was designed to dampen high-frequency road vibrations as you ride along.
The outer layer of the saddle is Ergon's AirCell seat foam. This material is rather firm, and according to Ergon, firm means supportive. The foam is said to only provide give in the immediate area where pressure is applied, aiding in long-distance comfort and ensuring the saddle is comfortable after years of riding.
As a package, Ergon claims the saddle should do a good job of muting high-frequency vibrations from the road, and they're so proud of it that the foam cell material is visible from the outside of the saddle.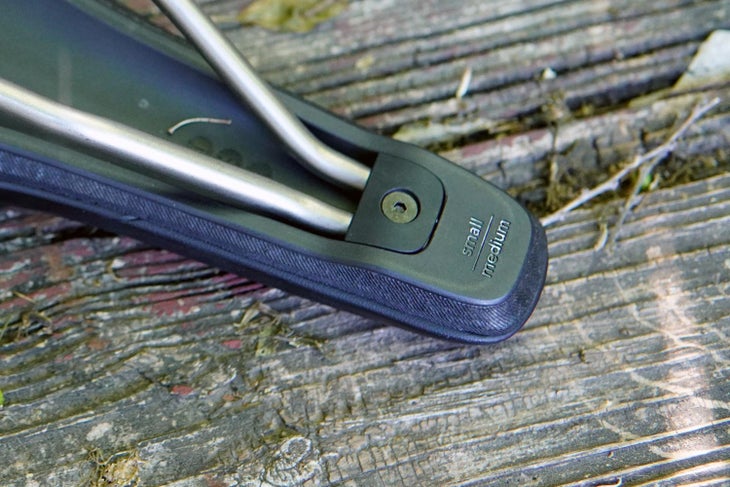 Saddle choice is about as personal as your social security number or your favorite Starburst flavor (mine is strawberry). It won't mean much to tell you to blindly go and purchase this saddle, but I'll provide some context behind what I like. 
My last few years on drop bar bikes have been spent on short nose saddles after years on the curvy Fizik Antares. More recently, I've come to really like the Cadex Boost saddle on my road bike and the Pro Stealth Offroad on my gravel bike. I have also found good success with a number of WTB saddles that share a bit of curve and slightly more padding than normal. 
I am the kind of person to ride my bikes with and without a padded bib short and have traditionally ridden with 10 to 15 cm saddle-to-bar drop. And despite my use of short-nose saddles, I tend to move around a bit on the saddle; I move back when descending and I scoot toward the nose when climbing.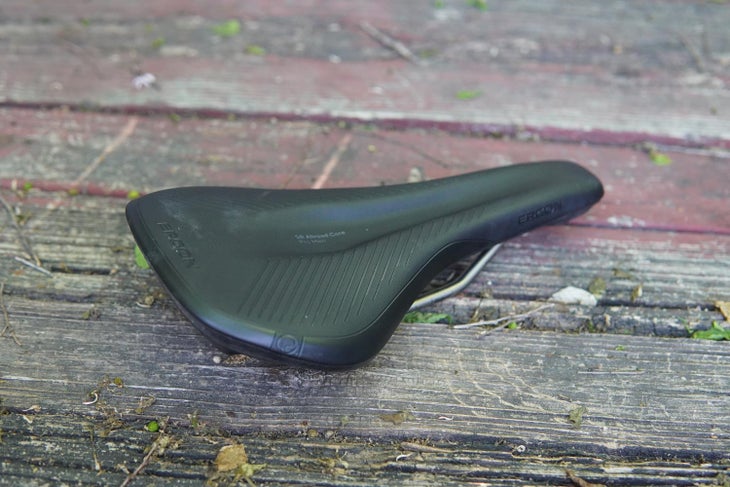 The Ergon SR Allroad Pro saddle seems to really hit its stride on setup with more saddle-to-bar drop. The side/wing areas seemed to cause soreness in my sit bone area when riding in a more upright position. Riding more aggressively, however, the saddle became much more comfortable.
Curious to test this saddle-to-bar drop idea further, I moved the saddle to my road bike, which has an even more aggressive saddle-to-bar drop. There I found even more comfort and plenty of ability to move fore and aft along the saddle.
Once I found the right position, Ergon's claims of shock absorption really started to make sense. The saddle did best muting the smaller vibrations that come from chip seal and imperfect roads. Shallow potholes and the like were noticeably smoother as well, not unlike dropping the tire pressure on your tire a few PSI. Bigger rocks, cracks, and the like however were not filtered out so easily.
The SR Allroad Pro saddle might have a bit less padding than other Ergon saddles, but there is still plenty of vibration damping to be found here. I found a lot of success with this saddle as a way to add comfort to your bike without compromise. Just make sure your riding position accommodates the saddle's shape and that your riding weight doesn't exceed the somewhat surprising 212-pound (100 kg) limit.
Price: $159.95 / € 159.95
Ergon CF Allroad Pro Carbon seatpost in review
The Ergon CF Allroad Pro might be a relatively new release for the German company, but make no mistake: this is basically the same as the Ergon CF3 Pro seatpost that was previously unavailable in North America and released in 2012. It also bears a striking resemblance to the Canyon VCLS 2.0 CF seatpost. Either way, the design is well-loved by folks who have been lucky enough to find one.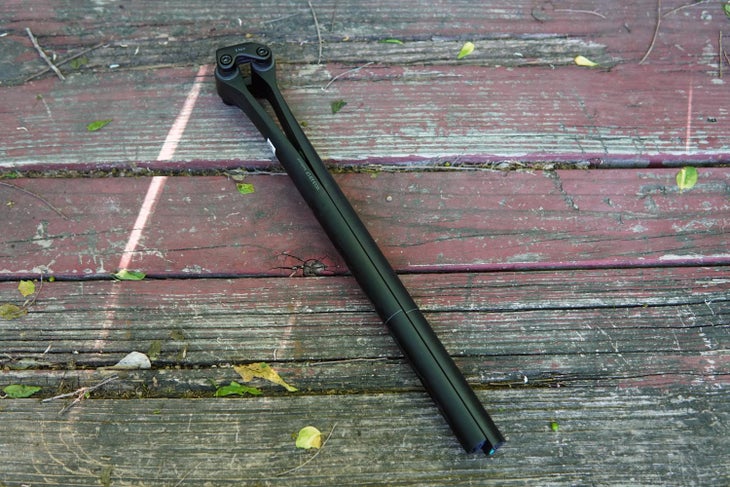 While is no shortage of options for suspension or compliance-adding components available, the CF Allroad Pro seatpost has always stood out for its relative simplicity. 
The seatpost consists of two carbon leaf springs bolted together at the bottom with a gap up top to encourage movement. There are no elastomers, no shocks to worry about, and no pivots that need cleaning after a dirty ride. Its simplicity makes it relatively light: its 220-gram weight (claimed; 225-gram actual) is about the same weight as a mid-range carbon seatpost.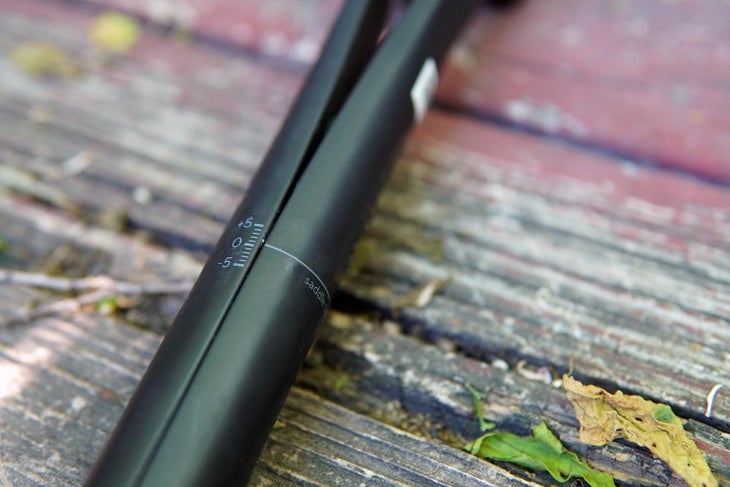 While having a noticeable gap in the middle of your seatpost is a unique look, it is a more subtle way of introducing suspension than other options like the Cane Creek eeSilk seatpost or the Redshift Shockstop seatpost.
The aforementioned gap doesn't just look distinctive; the design allows for the seatpost to flex without "any lateral instability." All of this means the saddle angle is said to never change despite the seatpost's flexing as you ride.
And flex it will. Ergon claims the leaf spring can offer up to 20 mm of rearward deflection. There is no damping control with a seatpost like this, so overall flex is dependent on how much seatpost you have exposed. The more seatpost you have exposed, the more flex you'll find. Further, heavier riders are much more likely to experience that 20 mm deflection than lighter riders.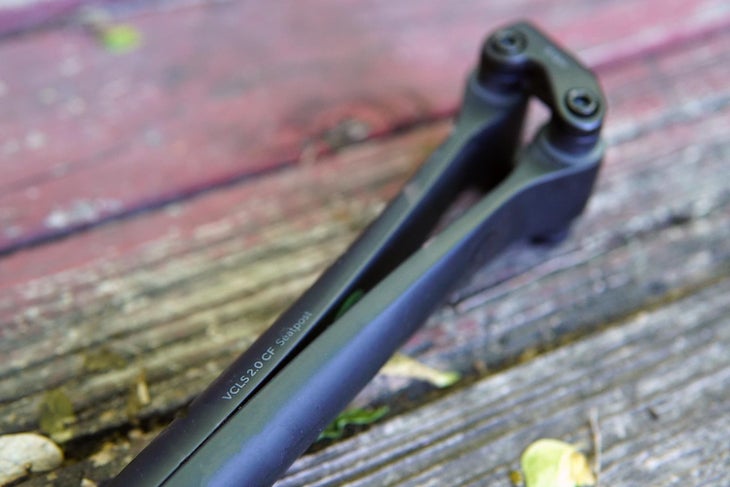 I find myself in that lighter rider camp at around 130 pounds or 59 kg. Without thinking about it, I was able to pedal seated through chunky gravel segments that friends and other riders weren't. It wasn't something I really considered, but other folks pointed out the difference to me. 
The feeling of suspension wasn't immediately obvious, but once I keyed into it there are a few differences. There's no bobbing sensation, and you don't feel your saddle moving forward and backward like one would on an early, uncontrolled Trek Isospeed decoupler system. Chattery gravel roads were less chattery, akin to substantially dropping your tire pressure or moving to a wider tire. 
The seatpost does a good job of being both a small-bump comfort aid and a medium-chunk aid. It takes the sting out of medium stuff one might otherwise want to coast through.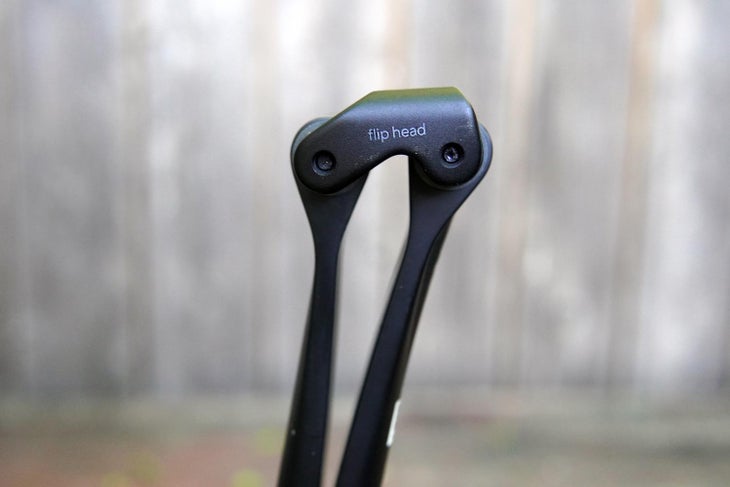 It won't provide extra traction like a more active suspension seatpost like a Cane Creek eeSilk, and it doesn't take the edge off big hits quite like a Redshift Shockstop. But for the medium stuff that is generally uncomfortable to pedal though, the CF Allroad seatpost provides worthwhile improvements.
There are a few compromises here. The CF Allroad Pro is essentially two halves of a seatpost bolted together at the bottom, so finding your right saddle angle requires a bit more work than tightening down the seatpost and then tightening the clamp head.
Di2 batteries can't be tucked into the seatpost either. And while there is a choice between a zero-setback and 15/25 mm setback option, the CF Allroad Pro is only available in a 27.2 mm diameter.
This seatpost has a max rider weight of 220 pounds (100 kg), lower than the aforementioned Redshift and Cane Creek options.
Price: $299.95 / € 249.95
Ergon BT Allroad handlebar tape in review
The Ergon BT Allroad handlebar tape measures 2.5 mm in thickness. This isn't especially thick but the foam used here is squishy. The tape is decidedly long, however. Ergon claims 2.1 meters (7 feet) per roll, leaving plenty of room for your extra-wide gravel handlebars.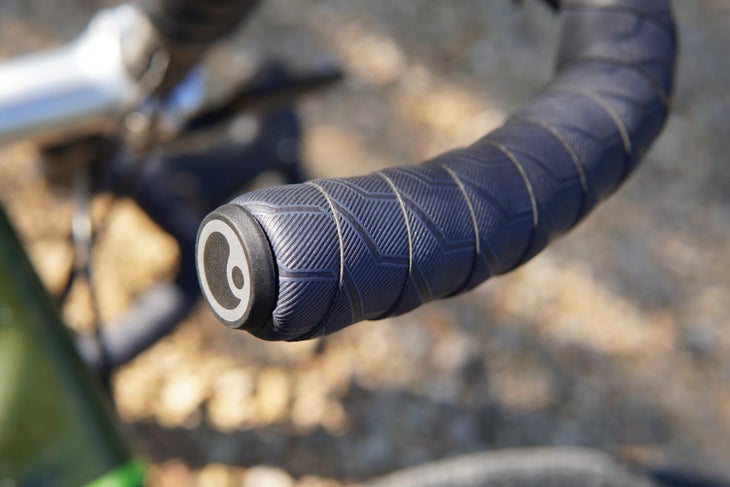 Despite the amount of squish, the bar tape isn't particularly stretchy. Nonetheless, the tape is relatively easy to wrap. The tape features a three-step pattern that is helpful in making for a consistent wrap. This allows you to tune how thick of a wrap you want, a great way to encourage even wrapping.
I tend to ride gravel bikes with unpadded, full-finger gloves. I found this tape to be grippy but robust enough against abrasion and scrapes. There's plenty of foam padding here but it is still fairly firm in overall feel.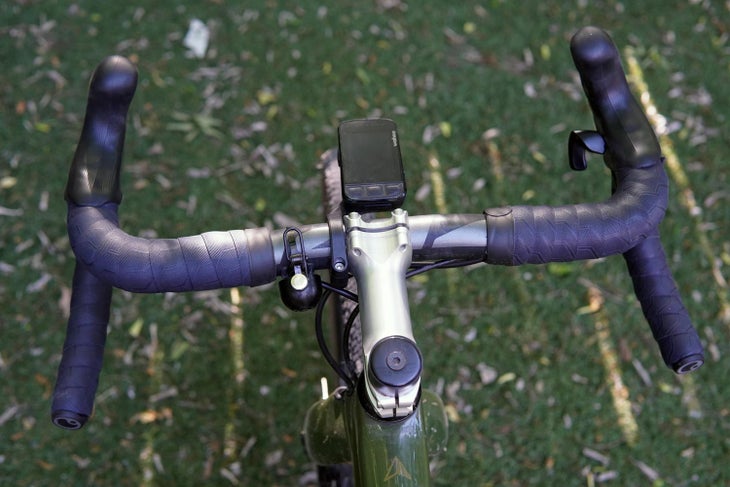 The way I see it, this tape is an inexpensive way to add cushioning to the drops. Plenty of gravel bike handlebars are flared in such a way that they encourage plenty of time there, and this is a simple way to aid vibration damping.
Price: $37.95 / € 37,95
Ergon Allroad as a system: does it make a difference?
I'll get straight to it: yes, the Ergon Allroad collection makes a difference in ride comfort. How much of a difference it makes depends on your riding style, riding weight, and even frame choice.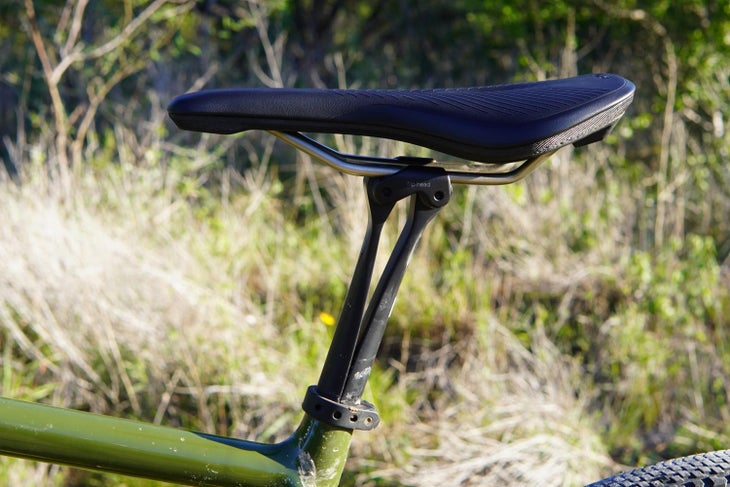 Some people are likely to view riding comfort as being completely isolated from what's going on beneath them. The Ergon Allroad stuff doesn't do that. Rather it is like taking fine-grit sandpaper to your riding terrain; the small stuff isn't really felt anymore but any major imperfections in the road will require something with a lower grit – like a suspension fork.
If I were to recommend one piece of kit here, it would be Ergon CF Allroad Carbon seatpost. In my experience, this seatpost is the most effective bit of kit here in adding ride comfort on gravel. Further, the seatpost is the bit of kit I am most excited about, and something I can see myself using on my gravel bike and road bike alike. 
The caveats to that performance are worth considering before buying the seatpost. I suspect a vast majority of folks will have my experience: noticeable long-ride comfort on chip seal and gravel roads and simple design, with a minimal weight penalty. But as mentioned above, not everyone will have that same experience, which makes the seatpost a bit harder to recommend.
There is also no denying the effectiveness of the Ergon SR Allroad Core Pro saddle in my experience. There is real vibration damping here, though it is less obvious in my experience than the seatpost, much less Ergon's other, more-padded saddles. Saddles are a personal choice, but if the SR Allroad Core Pro fits your riding style, you'll find a saddle that adds small-bump vibration damping as well.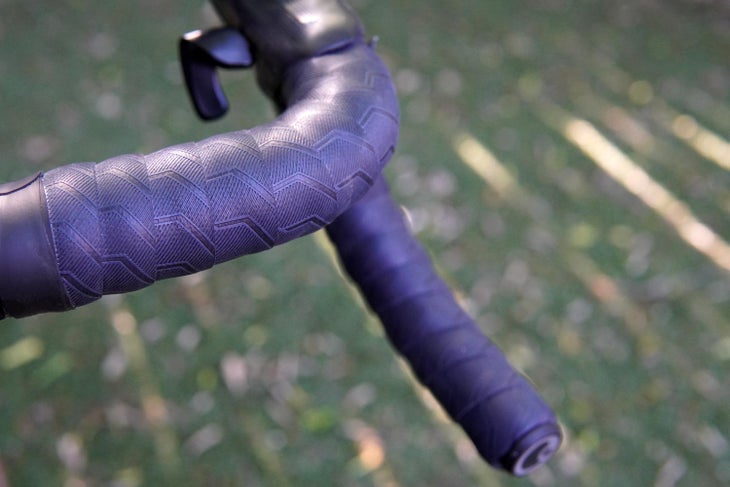 I am generally against handlebar tapes with any bit of cushioning, including on the gravel bike. However, the BT Allroad tape provides strong benefits as well. If you spend any of your riding time in the drops, you'll find a pleasantly firm tape that offers vibration damping, just not quite to the extent of the Allroad seatpost and saddle. 
While the cost outlay is on the high end for handlebar tape, the added comfort while in the drops will be beneficial for just about any rider on any bike, provided they don't spend 100 percent of their riding time with their hands on their hoods.
Conclusion
If I am to gather what the word 'Allroad' means, at least in marketing speak, it is added durability or concessions to comfort without adding a whole bunch of weight. Really it's for the rider that wants it all: riding comfort and vibration damping without adding weight or complexity to my gravel bike. The Ergon Allroad collection doesn't quite do that, but it comes pretty darn close.
The Ergon CF Allroad Carbon seatpost, SR Allroad Core Pro saddle, and BT Allroad handlebar tape provide legitimate benefits while doing so in a lightweight, simple package. There are qualifiers to that, but all three of these products are easy recommendations for riders looking to make their gravel bike smoother.
Just make sure you're okay with the phrase 'allroad' before you dive in.
Learn more about Ergon Allroad and Ergon bike components at ergonbike.com.
Gallery