Evan Huffman: To Astana and back
The 26-year-old talks about his quick rise to the WorldTour, which was followed by a return to the U.S. racing circuit.
Heading out the door? Read this article on the new Outside+ app available now on iOS devices for members! Download the app.
Few expected the breakaway to make it. I certainly didn't, listening in a cloud of jet lag to the commentary piped from TourTracker through the radio of my rented Hyundai. I was fresh from the Giro d'Italia, dropped into the Amgen Tour of California and its heinous traffic for the race's second stage. "King and Huffman can't play games if they want to make it," Paul Sherwen said, and I almost hit the car in front of me.
Huffman? Evan Huffman? Did I hear that right?
Huffman and Cannondale's Ben King were off the front, had been all day. They played no games, per Sherwen's recommendation, and survived until the finish. King took the stage win and yellow jersey. Huffman picked up enough points to grab the polka-dot jersey for his new Rally team, an American-registered Continental squad. He would hold it through the week by jumping into more breakaways, snatching KOM points from WorldTour riders. When the race reached its final finish line, the dots were still on his shoulders.
Huffman stepped onto the podium in Sacramento and threw his arms in the air. It was his first major result since a two-year trip to Astana and back again, a trip that left him whirling, unsure of his talent, his priorities, and his future as a bike racer. Four years ago, this young man from El Dorado Hills, California, stepped from the comfort of a tiny American development team into the sky-blue abyss of Astana Pro Cycling. He did not fly.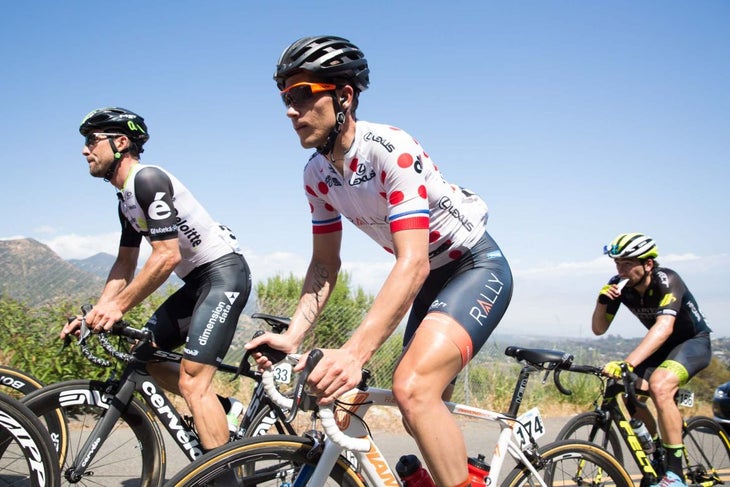 On Huffman's left forearm is a tattoo that says "Truth." On his right, "Grace." He added the ink at the end of 2014, upon returning to the United States after two years with Alexander Vinokourov's team. The two words sit inches from his face when he rides. They remind him why, he says: Why ride? Why race? Why all the sacrifice?
"Why?" was not always a question Huffman could answer, nor cared to answer. Nobody asks, "Why am I doing this?" as they rise. It's a question asked and answered after a fall.
My double-take in the car that day in California was warranted. Last time I saw Huffman, the setting was slightly different. It was the night before Paris-Roubaix in 2013. He was in Compiegne, France, as a late call-up to the world's toughest one-day race. Former VeloNews reporter Matthew Beaudin and I met him at his team hotel after dinner to talk about what was coming. He was three months into his Astana contract and arrived wearing a blue tracksuit and short-cropped hair. Did he know what he was in for? Had he ever ridden cobbles? It felt a bit cruel, at the time, watching this young rider step into a race in which he was destined to fail. He was 23, nervous but not scared, quiet but surprisingly introspective. Matt wrote a nice little story about him. He DNFed the next day, as we expected.
"It's not the race that suits him best, but we are short a man. And he hasn't raced a lot this year," Astana sport director Jaan Kirsipuu said at the time. It was a matter of fact. He didn't know it, but he had just explained away Huffman's next two years.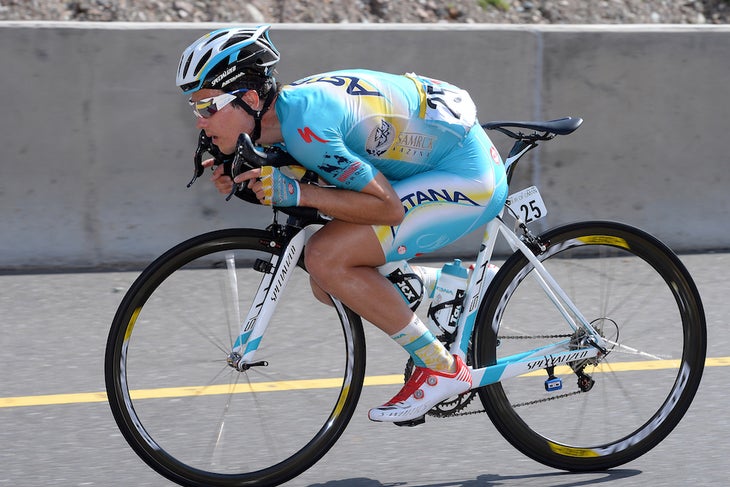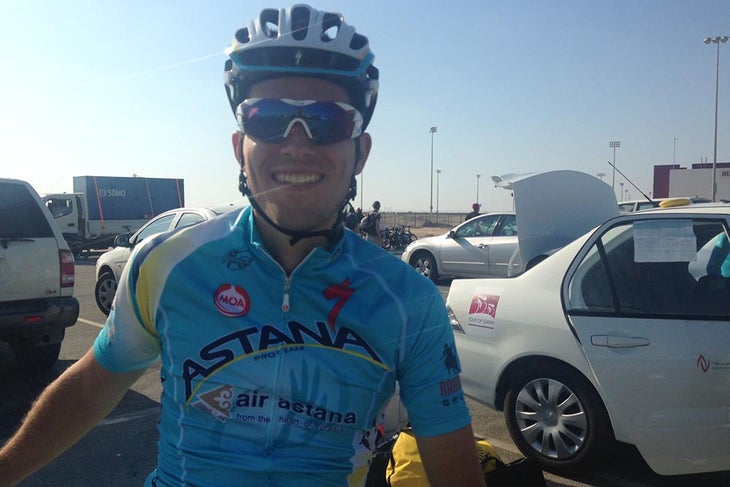 How does that happen? How does a young American get sent off to Astana? The team's culture is often inscrutable and frequently questionable. It's led by a man convicted of doping (not that this is unusual) and who has been accused of race fixing (ditto, sadly). More relevant is the fact that Astana has so few American fans, who tend to define it equal measure by its twin Italian grand tour stars and handful of doping positives.
The answer is simple: Specialized. Huffman's contract came via the bike brand, which was the backer of his Cal-Giant development team and the sponsor of Astana. "We were told that season that if we had good results, Specialized would get us into the WorldTour," Huffman says. "It was totally brokered by them."
There's a reason Specialized was so keen on placing its best young riders on its own WorldTour teams. Two years prior, Andrew Talansky fell through the brand's fingers. He, too, was a Cal-Giant graduate. He was a Specialized athlete when he won the under-23 national time trial title and the best young rider's jersey at the Tour of the Gila. So when he stepped into Jonathan Vaughters's Slipstream program at the end of the 2010 season — a team that was on Cervélo then and is now on Cannondale — Specialized felt it lost him.
"Specialized was not happy about that, so they wanted to be more directly involved with me," Huffman says. He followed Talansky's path: success at the Tour of the Gila, then a win at the national time trial championship, both on Specialized bikes. "Pretty much every step of the way I was in contact with them, and vice versa," Huffman says. "It was back and forth with which team it was going to be and at the last minute it was like, 'We got you a spot with Astana,' and I was like, 'Cool. Let's do it.' I didn't really know what I was getting into, obviously."
When a rider is young, upward movement is a goal in itself. Who was Huffman to turn down a WorldTour slot? He didn't have any other good options, anyway. A few Continental squads were sniffing around, but no major teams. The dream that consumed him — turned him into a different person, he says now — was just a signature away. Of course he picked up the pen.
"I was like, 'I've been to Europe before and I've lived by myself before, so it'll be fine. I'll just do it,'" he says.
His first year with Astana saw no standout results, even in his preferred time trials. A 39th at Coppi e Bartali is not resumé material. He finished all but two races — Paris-Roubaix and 4 Jours de Dunkerque — and ended the season with 48 race days. 2014 was almost identical: Another DNF at Paris-Roubaix and a pile of results indicative of domestique work. At the end of the season, his two-year contract was not renewed.
"It was difficult. I think it's always hard," Huffman says of those two years. "I think you see that with a lot of young Americans, particularly, that go to the WorldTour and try to live full-time in Europe. It was hard."
[pullquote align="right"]"I was like, 'I've been to Europe before and I've lived by myself before, so it'll be fine. I'll just do it.'"[/pullquote]
It's always hard. It was hard for Kund and Boyer in the 1970s and LeMond and Phinney in the 1980s and Hincapie and Armstrong in the 1990s. It was hard for Ian Boswell and Joe Dombrowski and Nate Brown just a few years ago. The support structures have improved, but as the lone American on a team full of Italians and Eastern Europeans, Huffman was isolated. Going to Astana, in particular, offered its own set of challenges, as well as a few benefits.
"It's a really big team, so there was a lot of support, but it's a different culture for sure," Huffman says. He made mistakes, too. He didn't have a roommate and was lonely. He got homesick but came up with reasons to stay in Europe instead of flying home to see friends and family.
"When you're really young and motivated and cycling was the biggest thing in your life, it's like 'Yeah, of course, I'm going to stay in Europe and train.' I think I really underestimated the mental aspect of the sport," he says.
Riders like Janez Brajkovic, who lives in the U.S. and now rides for UnitedHealthcare, took Huffman and tried to guide him. "It's mostly not even stuff in the races, just how you interact with your teammates," Huffman says. "Going to and coming from races and all of those little things. But I didn't feel like I really had that from a director, so I think I did get a little bit lost in the shuffle of the team."
Neo-pros are always low on the pecking order. Even on a team with a familiar culture — think Talansky and Slipstream — the early years often see bad (or unpredictable, or both) race calendars. That's how a rider like Huffman, or Phil Gaimon this year, ends up at Paris-Roubaix. A roster slot needs to be filled, and the new guy gets to fill it. The fact that Astana and its directors did not select Huffman for their team in the first place didn't help.
"Because they didn't select me, it was like I just got thrown into them," he says.
I press him about the team, and its management. Its internals are a mystery, and its reputation is not particularly friendly. He won't speak ill of them. "I think they tried to make it work," he says.
"I don't have any hard feelings toward those guys. I don't think that they tried to screw me over. I just think it was a hard situation and I was different. It wasn't all bad. I think there were good moments and some bad moments, but in the end, they just didn't want to keep me on for another year."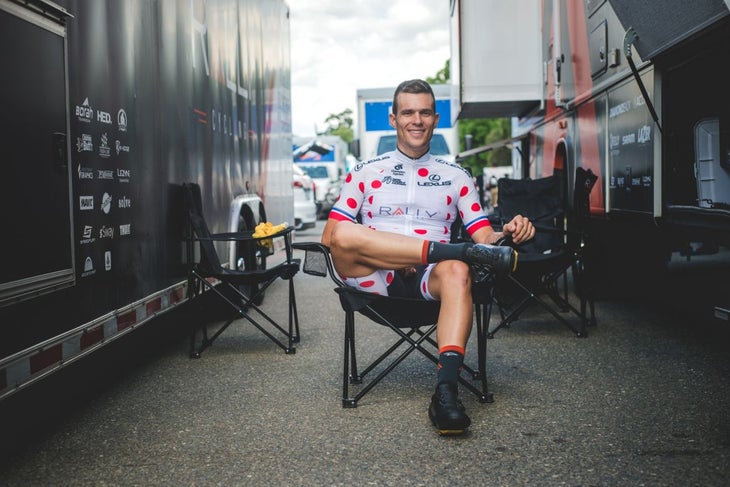 Huffman's future is difficult to define. He admits as much. He was moving up through the ranks in 2012, slowly making headway. Then he shot straight to the top, perhaps too early. He returned to the U.S. in 2015 with Team SmartStop, which folded the same year. He signed with Rally for the 2016 season on a one-year deal.
When a wave crests and crashes, it ends up back where it started. The question, now, is how high Huffman can ride the next one? And, does he want to ride it at all?
"I think from the outside it looks really bad, in a lot of ways, to go to a WorldTour team and then come back down. It seems like a failure," he says. "But I don't really feel that way. I think that I learned a lot. Even now, this year, having been back for a year, I'm still drawing on those experiences and those lessons that I learned from Astana to be successful now. So I don't have any regrets."
[pullquote align="left"]"I think from the outside it looks really bad, in a lot of ways, to go to a WorldTour team and then come back down. It seems like a failure."[/pullquote]
He's now 26 years old. Jumping to the WorldTour after about 28 is almost unheard of. There are exceptions — Mike Woods is 29, Gaimon is 30 as he reenters — but the reality is that teams want to see room for improvement, and that decreases with age. His previous stint at Astana helps. It proves he can handle the racing. The polka-dots at California help, too. His talent sits at or near the top of the U.S. domestic peloton. But if Huffman wants to rejoin the WorldTour, he needs to do so in the next two years.
There are things that could keep him on U.S. soil. He rededicated to his faith after returning to the U.S. late 2014 — that's the source of the tattoos on his forearms. John 1:17, "For the law was given through Moses. Grace and truth came through Jesus Christ." They are a reminder of a change in priorities.
"I'm super involved with a community, a small group that I go to at home, which is why living in the U.S. is becoming more and more appealing," he says. "I'm becoming more connected and making more friends and being a little bit more social here."
Bike racing and faith are a tough mix, but not an impossible one. The sport itself is quite secular, particularly in its American incarnation. "Sunday mornings are not a good time for cyclists," Huffman says with a smile. There is an organization called Athletes in Action that has members at the top of the WorldTour. Chad Haga is one, Ben King another. It provides the sort of community Huffman speaks of, through weekly Bible studies and even pre-race chapel services. Huffman is loosely connected to that organization now. Staying connected with a community that gathers on race day isn't impossible, he says, it just takes commitment.
We've chatted for half an hour now, sitting between Rally's RV and its mechanic truck in two black folding chairs. His faith is just one more thing to balance, and he appears unsure where the scales are going to come down. As he considers his future he leans back. His hands fidget.
"I don't know what my goal is," he says.
"I think when I was on Cal-Giant, especially in 2012, the last year I was there, the huge central focus of my life was 'I want to be on a WorldTour team. I want to do this.' And now I feel more content with where I'm at, but I also don't want to not realize my potential," he says. "I think I'm good enough to race at that level. I think I'm stronger now than I was four years ago, but the circumstances are different. I want to put myself in the position to have that opportunity again. I'd rather turn down the offer than never have it, but I'm not sure where I see myself next year or two years."
He pauses and seems to settle on an answer.
"I would say I probably do want to go back," he says.
Why?
"That's the point. Right?"