Evelyn Stevens, the final interview
VeloNews catches up with the 33-year-old who is now a retired pro cyclist to talk about her career and what may lie ahead.
Photo: Balint Hamvas, Velofocus
Heading out the door? Read this article on the new Outside+ app available now on iOS devices for members! Download the app.
"I think that might have been my last interview ever," Evelyn Stevens said, her voice trailing off as if the finality of her decision was still setting in. For a year, she slowly ticked off each step toward an extrication from pro cycling; this was one of the last.
Stevens warned the world of her impending retirement in August and followed through in October, hanging up her wheels after the team time trial in Doha, Qatar, which her Boels – Dolmans team won. She's done fighting a peloton through the roads of Europe, she said. Done crashing. Done living a nomadic life. Her career was a success, and she accomplished most of her goals. In Doha, she finished on a high.
"It's time for a new thing," she said, sitting outside a cafe in Boulder, Colorado three days after her final race.
At 33, Stevens is ducking out of a sport she discovered less than a decade ago, one for which she has a preternatural gift. It feels sudden, even premature, but it's not an unreasonable retirement age, really. Maybe it seems early because she arrived so late. It feels like we just got to know her and already she's on her way out.
Cycling landed Stevens on world championship podiums, sent her to Rio de Janeiro for the Olympics, and added her name to the hour record books. It gave her a livelihood and the quirky sort of international fame that comes with niche sport. She came out of nowhere to become one of the best in the world.
It seemed apropos, then, to start her final interview — or at least the last one about bike racing conducted mostly in the present tense — with a conversation about talent.
Nature or nurture? Where did your success come from?
[pullquote align="right"]"Everything I ever did up until cycling I was always fighting, fighting, it was just pure persistence."[/pullquote]
I've thought about this a lot. I had such an unusual entrance. I just went right to HighRoad. I just dove into the deep end. I almost drowned a few times in that deep end, I'll be honest, looking back on it. I think a lot of it, of course, is genetic, but I've been asked a lot: "If you could, because you know your cycling talent, would you have started earlier?" I don't think I would've because I think a lot of what made me successful on the bike was my path to get to the bike.
When I played tennis at Dartmouth, I was always fighting for that last position. Everything I ever did up until cycling I was always fighting, fighting, it was just pure persistence. I think the 'in' term right now is grit. I feel like there was a lot of persistence, a lot of grit, a lot of failing at other activities. I say failing because I had a high standard. I know people say I didn't fail, but in my mind if I wasn't at the top, winning, I was failing. I think a lot of that built who I became on the bike.
There's a physiology of cycling, but then there's the mental side, because cycling is so mental. Mentally, it's one of the hardest things. When you're racing there's so much going on. It's just not you having to push watts. You have to be thinking constantly. Who's around you? Where are you going to go? Should I brake, go? I think it's a pretty equal mix of physiology and then how you've been nurtured … like your personality type.
You used the word "failure" there. Trying things and failing. How do you feel about this gift you have, and about finding another one?
It's an interesting question for me now, as I transition to find whatever my next thing is. I don't think there's one thing for one person. I think there are certain things that people are probably better at. If I look back on my tennis team, the thing I was best at was, they had those wind bikes. I could beat every woman. I still hold the record. I beat the men. At the time I thought I was good because I'm stupid and can suffer on them more than anyone else. I never, in that moment, thought I should go ride a bicycle. I never knew anything about this. No part of me ever thought I would be a professional athlete.
I get asked by a lot of young women how to become a pro. A lot of my path was not about being pro. I never really wanted to be pro. It was more about winning. I want to win, so I want to be on the best team, because I want to learn. I want to have the best equipment. It was never about being pro. That was actually the hardest part, to learn what it means to be a professional. Now I think I'm really good at it, so I think it's going to be hard to switch back to not being pro. I'm a little bit worried about that.
As your search for the next thing begins, is the big talent you already found a source of confidence? Or of fear? Maybe you can't find another talent? Some people never even find one, at least not like yours.
It's confidence inspiring. I think the easy thing would have been for me to stay in it. I think it gives me confidence. I hope it does.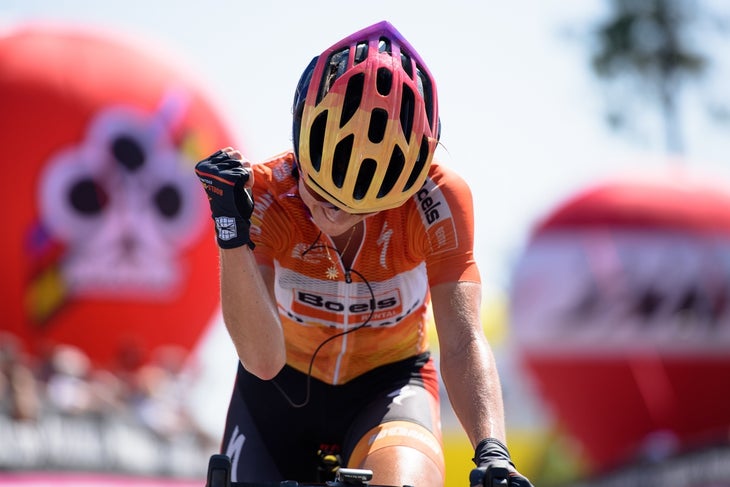 Each race this year was a small wave goodbye. Stevens knew she was retiring; she knew it was her last Flèche, her last Giro. At GP Plouay, the whole team crossed the line together and said their on-course goodbyes. A teammate, Chantal Blaak, made Stevens a little retirement book with photos from her career and notes from teammates and friends and gave it to her in Doha. She clearly has a deep attachment to Boels – Dolmans, her teammates, and the staff.
That's part of the reason why she finished with the TTT at worlds, she said. Finishing with Boels was meaningful. But the discipline was doubly fitting as an exit.
Stevens was never a road racer, not a natural one anyway. The nuances of the peloton were always a struggle, she said. Escaping that stress contributed to her decision to retire.
You told ESPN's Bonnie Ford that you never want to battle a 200-woman peloton in Holland again. Hasn't that been your job for seven years?
Yeah.
So what didn't you like about it?
I think it's so funny, my personality is actually pretty cautious. Not in what I do in my life, like societal choices, like quitting my job. But physically. You're not going to see me jaywalking or bombing down a ski decent. I'm pretty cautious when it comes to movement. So, for me, the high speeds … I think every part of my brain is like this is not safe. There are so many things that can go wrong in a bike race. I actually think for me, every time I did a race, it was overcoming that massive fear. Every race was fearful in a sense. Which I think is a part I enjoyed and then didn't like.
It's odd to hear a pro bike racer say they didn't like road racing. Did you always dislike it?
I've always struggled with the peloton. I think Lizzie [Deignan], she's very sweet, she goes, "You know what I liked about you? In the races that you wanted to win or the races that you were just a worker, you always had a hard time." It wasn't like I don't care about this race so I'm just going to sit back here. It was like every race I lined up at, it was a battle to ride. I could do it. Obviously, you can't win if you can't do it, so I could do it, but it was never a comfortable thing for me. I love when it got down to 10-15 women and it's hard and epic, I love that, but I had to get to that. You had to get through the 200 women to get to the final battle. It was always a challenge. Every race.
It wasn't a skill issue, it was just a mental thing?
I think it was mental, yeah. I think my skills are fine. It's really a mental … But even when I drive I have a little bit of trouble with spatial stuff, so I can't tell how close a car is. I hate driving, so that should also say something. I hate it. You will very rarely see me drive. I have a spatial thing, but it's not a lack of skills, it's just a lack of comfort going at high speeds really close to other women, just riding through it.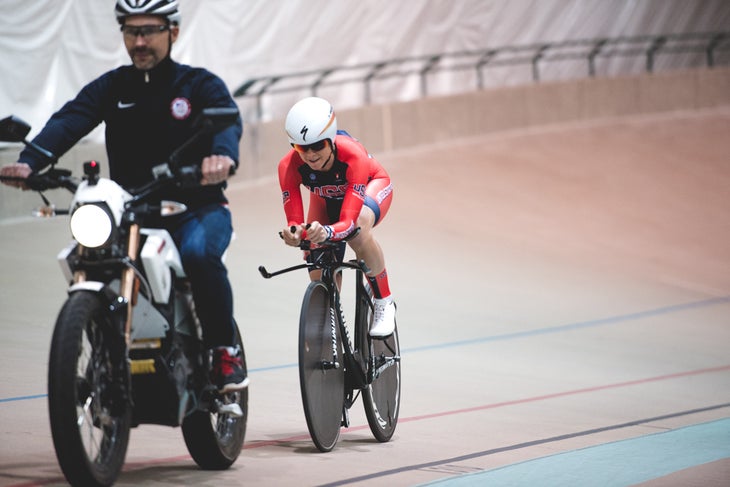 If there was a blemish on Stevens's final season, it was the Rio Olympics. The mere mention set her shifting in her chair. Her voice changed. She's clearly thought about Rio and answered questions about Rio. So the answers now seem as if they're being read off an invisible sign over my head.
I didn't even have to ask a question, actually.
Rio.
Rio.
Yeah. So, the road race. I was the second worker. Kristin [Armstrong] was first, I was second, so I started early up that first climb. We were going for Mara, so that was the plan. It's unfortunate … I watched the video and you can see when I get dropped. I think I just needed one second of recovery, but I think that one second of recovery or 10 seconds of recovery wasn't the same as for Mara what she needed. That was the plan. We knew it would be tough for her to hold to the line, but I think the race was just epic. I actually just watched the [Annemiek van Vleuten] crash, which I hadn't. I won't ever forget going past her and seeing her. I almost stopped. Part of me was like, "Should I have sat with her?" Once you get to that climb you have no information, so I didn't know Mara [Abbott] was ahead, I knew nothing. You're just riding blind. They could be right in front of you …
I thought it was a great showcase for women's cycling.
It absolutely was.
The time trial. Obviously not the result I would have wanted. [10th — ed.] I think a lot of that time trial showed where some of my weaknesses lie. The day before it was hot, the winds were different, it was dry and then that day it was raining. I remember waking up and I was like, "Oh man."
I hesitated in the wet corners and once you scrub speed, you've lost it. I think Olga [Zabelinskaya] almost caught me within the first 5k and she never passed me. She got second, so she never could pass me, but she caught me early, but once I got my speed going it was fine. I think I just hesitated and that's … But I think it's been interesting. You can be disappointed because you don't have a result or you can look back on the experience and the process leading into it. Personally, I'm really proud of how I went into it and my form. How I approached it. I didn't get the result, but I couldn't have done anything differently.
No regrets?
Nope.
None?
Unless they had changed the weather.
I guess if it's out of your hands, then it's out of your hands.
I am the rider I am and I think there is weakness and there is strength and you've just got to accept who you are. I think there were a lot of wonderful things about Rio and getting there and training for it. I feel like I came into it with my best form. There's nothing left to do.
Like Mara, really.
Yeah that's it. There was a lot of… being arbitrated and all of that ugliness before the race, but that was just an unfortunate experience. I wouldn't wish that upon any cyclist.
It seems to be a recurring theme.
I really hope they change the process. Of course, you could make it personal and be like, "Oh, Amber and Carmen," but really, USA Cycling needs to change. There's something wrong with the process that people think they should arbitrate. I believe I earned my spot. I was the 2012 national champion and I did not go to the Olympics. I did not arbitrate either and I'm so grateful that I did not arbitrate because I really found it to be an ugly process. There's nothing positive about it. I don't think it brings our sport, women's cycling in America, up. I just think it totally degrades it, so I hope the process is changed.
Still, no regrets.
No, I have no regrets. Except for the weather.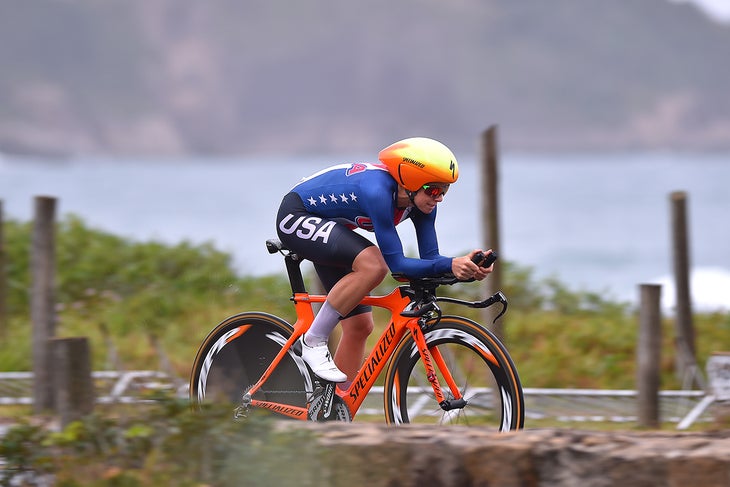 Months before Rio, Stevens's final season began on a high. 50,000 people tuned in to watch her lap the velodrome in Colorado Springs for an hour, a level of interest she points to as proof of an audience for women's racing. "They tuned in to watch me ride in circles," she said. "Circles!"
She's right, of course.
I don't necessarily like that every time I talk to a female pro we end up discussing the plight of women's racing.
I think it's essential to talk about. If it was equal we wouldn't have to talk about it, but it's not.
OK, so what worked? Tell me what worked. You did this for seven years.
I think a really good improvement was California. The Tour of California. I was really excited that they actually added a stage. That was a really good event.
I'd like TV coverage, but you know … Anytime there was TV coverage that was great. Think about the Olympics, people loved watching it. I also think my hour record is a great example. There were a ton of viewers. Which is amazing. I'm glad I hit those foam things at the end to put a little excitement into it, so people don't think it was just me cruising around. I do believe there is a demand, so anytime there is coverage that is a plus and that works. I don't think we have proven to disappoint when there is coverage.
Racing on the same day as the men is great. Longer races would be great.
You made your own grand tour one year.
Yeah, that was awesome. I was like, "we can handle it." I think women's bodies are more adept for longer races. I think it's great when you see some of the organizers putting on longer races because I do think we can handle it. The Olympics is a great example. It was a long race. It was exciting. The talent is definitely deeper, in my opinion. There are more good top teams.
I think the team time trial is a great event. I think that's nice. This year we got equal prize money.
At worlds?
Yeah, which is great. I'm pumped, because I never understood why we didn't get equal prize money.
Is prize money a big motivator? [pullquote align="right"]"For me, if I could make the salary of a top man, I would keep racing."[/pullquote]
Before the TTT we were discussing it. Like, "That's pretty legit" … I mean if it's legit prize money then yeah, it's nice. We don't get paid a ton of money, so it's nice when you have that outside source.
I think most women in cycling aren't usually doing it for the money, but I do think the more money that is available the more talent you're going to get, because it's more sustainable, right? It's all opportunity cost. For me, if I could make the salary of a top man, I would keep racing. I wouldn't stop. Why would I stop? If I could still make that kind of money and then go work.
Your male equivalent, top of the sport, makes well over a million euros a year.
Yeah, I know, right? You listen to what the men make and I'm like, "Damn." I would not stop if I could keep getting that kind of salary. It's pure opportunity cost. What are you losing when you're bike racing?
I think men's cycling is having trouble too, though. I don't understand how the UCI works …
Few do.
It just seems like the structure, like even Doha, everything about Doha confused me. I'm like, "why are we in Doha? What is going on in Doha?" Some of it was great, we stayed at a nice hotel, but it was weird. There weren't people watching.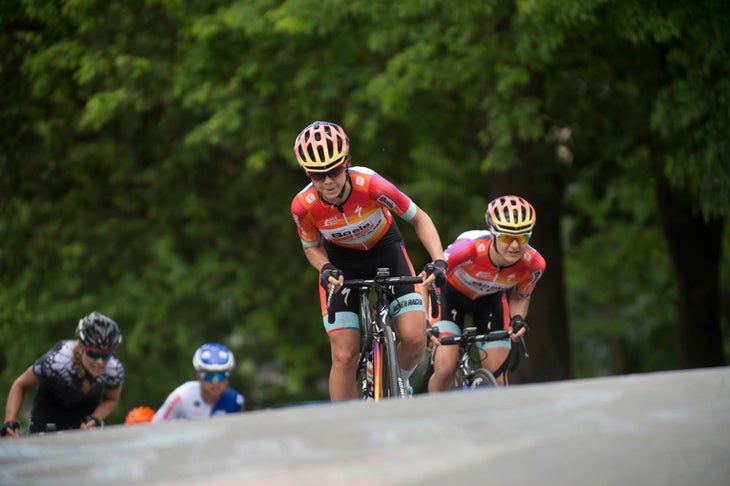 "It's time for a new thing," Stevens said. What is the new thing? It's the glaring, obvious question, but Stevens didn't really have an answer. "Finance, maybe," is as close as she got. That's what she lived and breathed before she discovered drafting in central park, tried out a local race, and become a world-beater. But right now there is no clear path forward, only "a big hole," she said. For seven years, that hole was filled with training and racing and recovering. No longer.
But back into finance? Disappear into the banking world?
"No, I won't disappear. I don't think I can disappear. I think right now it's figuring out how, and what will make me the most effective," she said. That could mean working with Specialized, her longtime sponsor, or the UCI, or USA Cycling, improving the lot of women's racing and riding. She doesn't know yet.
"I'm so competitive. I'm driven, I'm so focused, that whatever I do next is going to be very goal-oriented," she said.
Her future is a blank canvas. There's some fear in that, and a lot of freedom. Kind of like a bike race, actually.