Friday's Foaming Rant: And the winner is. …
Is pro cycling sport or entertainment? Master of ceremonies Patrick O'Grady has the envelope.
Heading out the door? Read this article on the new Outside+ app available now on iOS devices for members! Download the app.
"There's no right, there's no wrong, there's only popular opinion."
— Brad Pitt as Jeffrey Goines in "12 Monkeys"
Some years ago, I wrote a couple of columns for Bicycle Retailer and Industry News about the fine line that separates sport from entertainment.
The rules, according to me, were "simple but unyielding, not unlike myself." To be considered a sport an activity must:
1. Have a finish line or points awarded impartially for specific actions.
2. Require physical fitness and vigorous activity.
3. Require a variety of specific skills.
4. Be impossible to do or cover properly while drunk, or require intoxication to watch.
It was TV's obsession with baseball, figure skating and golf at the expense of cycling that set me off the first couple of times, in 1995 and '97. In 2002 it was The New York Times, which ran a story about the Westminster Dog Show on its sports page.
A dog show. The sports page.
I immediately threw a flag.
Consulting my rulebook I decreed that dog shows were not sport, and neither were "rhythmic gymnastics, halfpipe snowboarding and any other activity with an outcome that depends upon the whims of judges. One need only examine the last presidential election to gain an understanding of how profoundly unreliable judges can be. But a finish line expresses no political affiliation, can't be bought and never awards the gold medal to the guy who came in second."
And as I had in my two previous columns, I argued: "Bicycle racing in all its various incarnations is sport, unless I'm doing it, in which case it's entertainment, for everyone but me."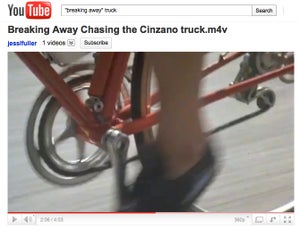 Nine years later, I'm still pretty entertaining to watch on a bicycle, if you can catch me at it. But professional cycling can no longer be considered a sport, because while it still has a finish line, it is no longer on the course. It's at the Court of Arbitration for Sport.
When I first floated my mistaken notion about pro cycling being a sport Miguel Indurain was still winning Tours de France. Since Big Mig hung up his bibs we've enjoyed yellow-jersey performances by the likes of Bjarne Riis, Marco Pantani, Floyd Landis and Alberto Contador. Lesser jerseys have gone to the likes of Richard Virenque, Erik Zabel, Santiago Botero, Óscar Sevilla, Ivan Basso, Michael Rasmussen and Alessandro Petacchi.
Jan Ullrich and Lance Armstrong remain among the usual suspects, not yet rounded up. You don't hear much about ol' Jan these days. And while you hear plenty about Big Tex, it doesn't have much to do with how well (or badly) he rides his bike.
And we're just talking about the big show here. It seems you can hardly visit this website anymore without tripping over some human pincushion who got tripped up by the Dope-O-Meter® at the Tour of Greeneggsandhamistan.
Modern pro cycling is equal parts doctors, cops and lawyers, the magic combination that props up prime-time television. The athletes have become secondary characters in some never-ending series — "Law and Order: The Yellow Jersey Files" — and viewers almost need degrees in medicine and law to follow the plot.
This doesn't mean you have to change the channel — or worse, take up golf, rhythmic gymnastics or dog shows, because then we'd have to do likewise and none of us wants to work for The Journal of Competitive Dog Shows. You can still watch and enjoy the spectacle of pro cycling, the way you might a Hollywood blockbuster or Fox News. Just don't believe everything you see. You will never be able to visit Gotham City in hopes of seeing Batman in the flesh, or hear a true word spoken by Glenn Beck. And you may never see a pro bike race won on the level.
In fact, it might be smart to think of the podium ceremony at your favorite event as the equivalent of being nominated for an Emmy, a Golden Globe or an Oscar. The judges have yet to render their decision. The envelope remains unopened.
But that's part of the fun, isn't it? The anticipation? So stay tuned.
You'll want to know who wins best actor, right?