From the magazine: Worlds Collide – the Garmin-Cervélo merger and intrasquad dynamics
Editor's note: The following article appeared in the March 2011 issue of VeloNews magazine. We thought our web readers would enjoy a look at the what the Garmin-Cervelo team said about team cooperation before the season really started.
Heading out the door? Read this article on the new Outside+ app available now on iOS devices for members! Download the app.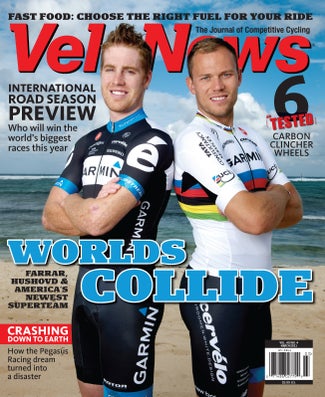 Editor's note: The following article appeared in the March 2011 issue of VeloNews magazine. We thought our web readers would enjoy a look at the what the Garmin-Cervélo team said about team cooperation before the season really started.
Garmin and Cervélo merged to form a pro cycling super team — but how will the intrasquad dynamics play out?
In 2011, the world road champion will be a lead-out man.
That got your attention? Good. Because while it might be a gross exaggeration to claim that Thor Hushovd will be relegated to second fiddle as a new member of the Garmin-Cervélo team, of all the developments to occur during pro cycling's 2010 silly season, the merger of the Garmin and Cervélo squads was by far the most significant.
When the Canadian bike brand was no longer able to shoulder the cost of sponsoring the two-year-old Cervélo TestTeam, team management struck a deal with Garmin, announced August 27 during the Vuelta a España, that found homes for seven of its contracted riders. The new, top-heavy Garmin-Cervélo squad instantly became one of pro cycling's only super teams, a fact punctuated with an exclamation point when Hushovd took the world championships on October 3, bringing the rainbow jersey to a team known for its argyle flair.
Questions arose immediately following the merger announcement, particularly around the pairing of Hushovd, a two-time green jersey winner and one of the most consistent sprinters of the last decade, with world number-two sprinter Tyler Farrar, the man Mark Cavendish loathes to cite as his biggest threat in the final 150 meters of any race. The questions around sprint dynamics within the new team only intensified when factoring in Heinrich Haussler, runner-up in 2009 at both Milan-San Remo and the Tour of Flanders.
In the days after the announcement Garmin manager Jonathan Vaughters, who rode alongside Hushovd at Crédit Agricole from 2000 to 2002, clarified the roles his two biggest stars would play, telling VeloNews, "Thor and Tyler are different types of sprinters. Thor can survive hearty mountain stages, and he excels on hard, uphill finishes; Tyler is really fast. I think they are very compatible. If Thor were six or seven years younger, like when he was quick sprinter, it might be different. But now he's really strong, he time trials well, and he's proven at one-day races that are 260km long, and with climbs. Tyler is pure speed. I think they complement each other, rather than supplement each other."
As for Haussler, his 2011 forecast is uncertain after losing much of the 2010 season to a knee injury that required surgery. "Heinrich is on a bit of a comeback year," Vaughters said. "He wants to come in the season hot, and he is probably our best guy for the Tour of Flanders. But first we have to make sure he is back to full form."
So when races are too long, too hilly or just too hard for Farrar, Hushovd will have free rein to make the final group and sprint for the win. Otherwise, the world champ will be an integral component of what is possibly the sport's most stacked lead-out train, consisting of riders like David Millar, Brett Lancaster, Murilo Fischer, Julian Dean and Farrar — with Haussler playing the wildcard.
Add to that list of strongmen Cervélo riders Roger Hammond and Andreas Klier, a pair of podium finishers at Gent-Wevelgem, and Johan Van Summeren and Martijn Maaskant, a pair of Paris-Roubaix top-10 finishers, and, on paper, Garmin-Cervélo boasts the deepest classics team in the world. Fabian Cancellara and Tom Boonen may be the sport's strongest classics riders, but Garmin-Cervélo jerseys could outnumber Leopard-Trek or Quick Step in the final 50km by a ratio of three-to-one.
However a team's strength on paper and what happens on the road can be two very different situations, and a perfect marriage between the two squads is no guarantee. The riders that came over from Cervélo learned about their team's collapse in late August, via email, after the fact — not the recipe for an ideal transfer. And the North American riders that have been part of the team since it entered the sport's top level in 2008 saw longtime teammates Danny Pate, Steven Cozza and Timmy Duggan cast aside to make room for the heart of Cervélo's established classics squad.
In order to accelerate a sense of harmony among his all-star squad, Vaughters organized a team-bonding camp in early December, held at a posh beachside resort on Grand Cayman Island. The weeklong gathering consisted of a week of outdoor island adventure, with the team swimming with stingrays one day and scuba diving the next, playing golf and volleyball, taking helicopter rides and a trip on a submarine and participating in a scavenger hunt — all shared experiences intended to forge friendships and allegiances between former rivals.
"If there's only a small turnover, say four or five guys, you can just integrate a group like that into a team. But when you have two large, closely knit groups, it's different," Farrar said in Grand Cayman. "At Garmin we've been a closely knit group, and I'm sure it was the same at Cervélo. You can't just snap your fingers and have guys become friends — at least not the kind of friendships that we've built racing together for three years. But this gets the process started in a fun setting."
Klier, a smart-but-serious German entering his 14th year as a pro, said the camp had been a success, but added that blending the best of two squads into one super squad was still a work in progress.
"It's too soon to say if it will work out or not," Klier said. "We had a nice time in the Cayman Islands, but it's too early to say this will be, without problems, the best team ever. But I think everything will come good."
Classics Supremacy
Without a clear-cut Tour de France contender on board —the team's GC leaders will be Christian Vande Velde and Ryder Hesjedal — Garmin will instead focus on sprint wins, the classics, and smaller stage race glory. An ideal 2011 season, Vaughters said, would include at least one win at cycling's five monuments, as well victory in the Tour de France's team time trial, time spent in the maillot jaune, and the green points jersey in Paris — be it Hushovd or Farrar. (Haussler will skip the Tour and use the Vuelta for world championships preparation.)
In Hushovd, Farrar and Haussler, the team has three riders with similar strengths but disparate personality types. Hushovd is the strong, silent type, an independent and reserved Norwegian, regarded by many as a worthy world champion. Farrar is well spoken and personable, and an amalgam — he's the popular, all-American high-school jock, fearless in the sprints yet sporting a tattoo on his left forearm that reads, "May all be happy" in a Buddhist script. And then there's Haussler. Raised by an Australian mother and German father, he's a blend of Teutonic sternness and the stereotypical carefree Aussie, a free spirit renowned for his hard partying as well as impenetrable bonds with his teammates, telling VeloNews, "Cervélo was a special group. We still have the seven classics riders, but two of the riders, Jeremy Hunt and Martin Reimer, were like brothers to me, and it was really hard to not have them on the new team."
One characteristic all three men share, however, is a disdain for HTC-Highroad sprinter Mark Cavendish. Hushovd and Cavendish had a very public feud during the fight for the green jersey during the 2009 Tour de France. After being relegated in a sprint, losing any hope for green, Cav suggested that Hushovd was unworthy of wearing the maillot vert. Haussler watched his 2009 San Remo win go up in smoke when Cav came from behind and pipped him by a centimeter at the line; 16 months later the Aussie lost his spot on Cervélo's Tour team after he and Cavendish tangled in a horrific finish-line tumble at the Tour de Suisse, aggravating a knee injury. Adding insult to injury, Cavendish reportedly spat on the ground where Haussler lay immediately after the crash. And as Cavendish's biggest threat, Farrar has been on the receiving end of several of the Manxman's barbs in the press.
Hushovd knows as well as anyone that in order to beat Cavendish, they'll have to work together, which is why he's dedicated himself to Farrar for the points jersey.
"I've tried for the green jersey many times in my career, and I've managed to win it twice," Hushovd said. "But to be honest, in 2011 I prefer to wear my rainbow jersey at the Tour. Besides, you have to look back two or three years for the last time I beat Mark Cavendish in a flat field sprint. I don't want to sprint for second, third or fourth. I prefer to choose a few stages that are better suited for me, and on days that are for Tyler, I am happy to help him. If I can play a role in him winning some sprint stages, and beating Cav, it will feel as good as doing it myself. And if Tyler starts winning, it's possible he will be a strong contender for green. He definitely has the potential."
And just as Hushovd has sworn his allegiance to Farrar in the field sprints, Farrar has promised to dedicate himself to Hushovd's dream of winning Roubaix while wearing the rainbow stripes. After finishing third in 2009 and second last year, it's the only podium spot Hushovd hasn't stood upon in the Roubaix velodrome.
"Roubaix, for Thor, is priority one," Farrar said. "And I'm happy to try and help him win that. I have been developing as a classics rider, but I haven't had the opportunity the last few years to do much at the end. We had a young classics team and I never had the chance to ride with someone who was riding his ninth Roubaix. With guys like Thor, Andreas Klier and Roger Hammond, there's a wealth of knowledge I can profit from down the road."
Things might be settled between Farrar and Hushovd for the Tour and Roubaix — but what about the rest of the riders, and the rest of the season?
"We're certainly full of talent in certain areas, that's for sure," said sport director Matt White. "It's a mixed blessing. It won't all be smooth sailing, I'm sure. It's not going to be that easy, the sprints and the classics. I think there will be a few tricky moments this season, at certain races, when you've got guys sharing the same goal. But you can always work out a solution. A lot of the time form picks itself, or you can see who is the man to work for, but at times it might not always work out like that."
With only 25 days of racing last year, Haussler will bookend the season, focusing on regaining form for the classics before taking a break in July, and then using the Vuelta as preparation for the world championship.
"I know that if I'm injury free and don't crash, I will be back up there like I was in 2009," Haussler said. "When I was in form last year, I was up there. In Suisse, I was on good form. Maybe if I didn't crash there, things would have been much different. But that's in the past, and I am very, very motivated for 2011."
A matter of tactics

On form, Haussler will be the man the team looks to in Flanders. However before Flanders comes Milan-San Remo, the race with the most obvious potential for conflict between Garmin's three strongest strongmen — it's the first of the spring classics, with a course that caters to each of their strengths. Haussler finished an inch behind Cavendish in 2009; Hushovd finished on the podium in 2005 and 2009; and though he hasn't aced it yet, it's a race well suited to Farrar's finishing speed should he reach Via Roma with the lead group.
"I think Milan-San Remo is going to be tricky for us," White said. "Races like Flanders and Roubaix are such lotteries, numbers work. There aren't that many tactics in San Remo. There's not that many ways you can play out the final. There are two climbs in the final that matter, everyone knows where they are and how far from the finish they are. It's not that complicated."
Before San Remo all three riders will race together at Tirreno-Adriatico, which team management will use as its testing ground, eyeing their ability on the longest stages, as well as the dynamic between the three men.
"We'll need a tactic for Milan-San Remo," White said. "You can't have three sprinters on the same sprint. Someone is going to have to help someone, or someone is going to have to attack early. We're not looking to run second, third and fifth. We're there to win it. There are always solutions. It's my job to find them, and work it out with those guys."
All three riders are also scheduled to ride together at the Vuelta, as preparation for a sprinter-friendly world championship course, near Copenhagen, Denmark. Vaughters said at the Vuelta, they will " just have to look at the stages, and decide which finish suits who more."
Klier, who was a road captain at Cervélo and expects to serve a similar role in 2011, said a few hiccups are to be expected. "We may have three or four races where it may be difficult, because of the quality of the team. We will find a solution, and we will ride how (management) tells us, or how we think we should ride. And after the finish, in the bus, we won't need to have a big discussion about it."
And Klier, who ride with Telekom from 2001 to 2007, was frank in his assessment of the Garmin squads of the past three years, saying, "It seemed like a well-organized team, but I think some of their riders were riding under their value. I think they could have had more success with different tactics. It wasn't a problem with their equipment, or their fitness, just their tactics."
However White was relaxed about having too many capable riders, a problem most directors dream of. "As long as the guys ride intelligently, it's not a problem," he said. "The classics are a numbers game. We might not have the strongest guy in the world for those races, but collectively I think we can do some damage — if they ride smart, and ride for each other. Even guys we weren't talking about 12 months ago as leaders, guys like Maaskant and Van Summeren, the ball is in their court now."
Vaughters is also beaming about signing 20-year-old Belgian Sep Vanmarcke, who finished second at the 2010 Ghent-Wevelgem riding for Topsport-Vlaanderen as a neo-pro. "I would say he's the most talented young classic rider in the world, by a long shot," Vaughters said.
If the classics present the potential for infighting at the top of the roster, further down the list, nothing is assured. The team boasts eight riders who have finished in the top five of a cobbled classic. Younger riders that fancy themselves future classics riders, such as Australian Cameron Meyer, will likely end up as alternates, or on B squads, riding E3 Prijs Vlaanderen-Harelbeke rather than Gent-Wevelgem, or Three Days of De Panne rather than the Tour of Flanders.
"All those experienced classics guys, I want to learn from them," Meyer said. "I hope to learn about that style of racing. But first I have to get a start at the races they're doing."
With such a deep sprint squad, it's easy to imagine that Dean, who rode as Hushovd's lead-out man at Crédit Agricole from 2004-2007 and has been guiding Farrar through the chaos over the past three years, might have some opportunities to ride for himself at lesser races. In Farrar's absence Dean finished second three times in grand tour field sprints last year, behind Greipel at the Giro and behind both Petacchi and Cavendish at the Tour. Couldn't Dean race the Amgen Tour of California while Farrar races the Giro? Actually, no, Dean said — as soon as the Garmin-Cervélo merger was announced, he and Farrar vowed to stick together.
"I'm committed to Tyler," Dean said. "That's what I've always done. That's my job as a professional. If something happens, and Tyler gets injured, as he did at the Tour de France, then I might try to step up and fill the gap."
Dean's unwavering loyalty to a longtime teammate is what every sport director desires. And it's just that kind of loyalty, which still exists within both the Garmin and Cervélo squads, that Vaughters and White will need to bring together in order for the new squad to fulfill its potential.
The GC squad
While the team's classics and sprint squads offer its sport directors countless scenarios, when it comes to stage races — and especially the Tour — the strategy is clear. Vande Velde will again be the team's primary GC hope, hoping to replicate the form that landed him fourth overall in 2008. Crashes at the Giro d'Italia in 2009 and 2010 left him in pain and derailed his Tour preparation, which is part of why the Chicago-area native will forego the Italian grand tour in 2011 in favor of the Amgen Tour of California.
Hesjedal will play the team's GC wildcard. Coming off the heels of his surprising seventh-place finish at last year's Tour — an opportunity afforded to him with Vande Velde's injury-forced departure after stage 2 — Hesjedal had the best year of his career in 2010, finishing in the top 10 from March to September and ending the year ranked eighth in the UCI World Tour rankings.
Both men will also race the Ardennes Classics, where Hesjedal had a breakthrough week in 2010, finishing second at Amstel Gold, ninth at Flèche Wallonne and 12th at Liège-Bastogne-Liège. Just don't expect any drama between Garmin's GC leaders. Over the past three seasons Vande Velde and Hesjedal have become very close friends, with Vande Velde bringing his family to Maui, Hesjedal's winter home, for training during the winters of 2009 and 2010.
"We'll go into the Tour with Christian and Ryder," White said. "Hopefully we'll have the same problem we had with Christian and Bradley (Wiggins), two guys in the top 10, and then we'll ride for whoever is going best. That's something that doesn't need to be worked out even at the start of the Tour. Normally their legs are going to sort out who is going the better out of the two. "
Behind Vande Velde and Hesjedal the team boasts a list of strong GC riders who will be given opportunities: Tom Danielson, who is striving to start his first Tour de France; Dave Zabriskie, a perennial Tour of California podium finisher; and Irish climber Dan Martin, who, assuming he's kicked his ongoing allergy problems, will be given carte blanche to go berserk on the numerous summit finishes at the Giro.
"With the team we have, there are a lot of races we can target to win." White said. "We've been close in California, it would be great to finally win there. Dan Martin had a bit of a breakout season, and he's not even on the Tour list. He's a guy we can target at some races, and I want him to target the Giro — it's made for him with so many hilltop finishes and no long, flat time trials."
Classics men like Haussler and Klier have no intention of racing next year's Tour. Between sprinters, GC leaders and team time trial specialists, Tour team selection, like with the classics squad, will be difficult.
"Everyone here has dealt with not making a team selection," Hesjedal said. "That's just part of the sport."
And in 2011, that's going to be a big part of riding on Garmin-Cervélo. Let the games begin.