From the pages of Velo: Preparing to Pounce
In a look at our archives, Wiggins and Leipheimer revive 2011 Tour hopes with strategic stage race victories
Heading out the door? Read this article on the new Outside+ app available now on iOS devices for members! Download the app.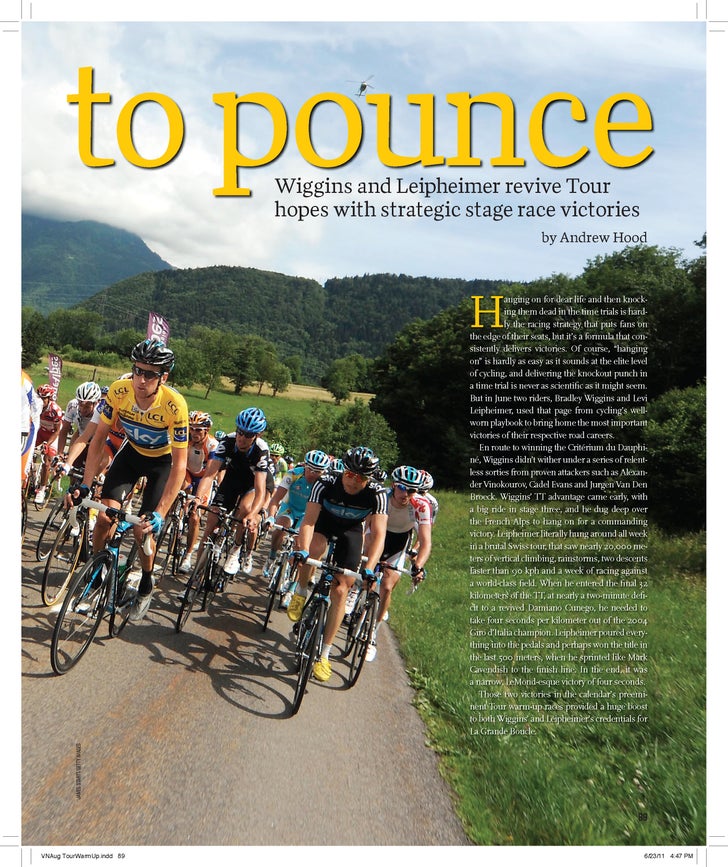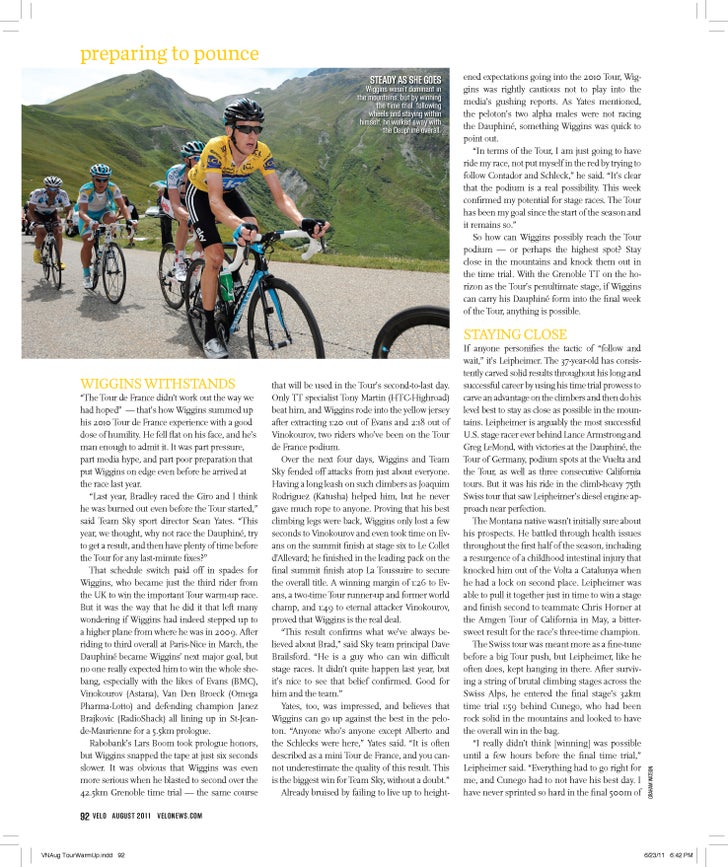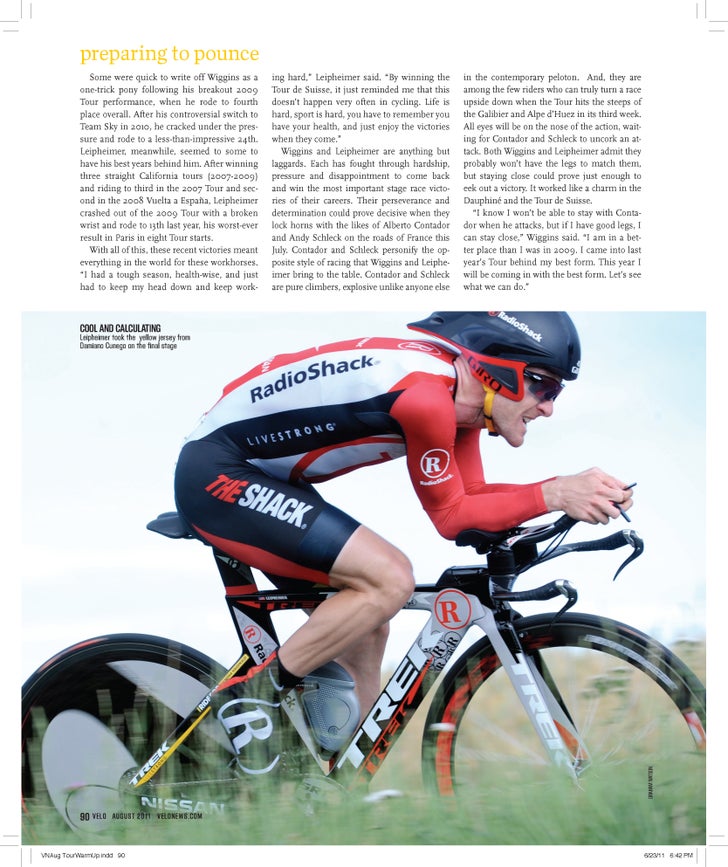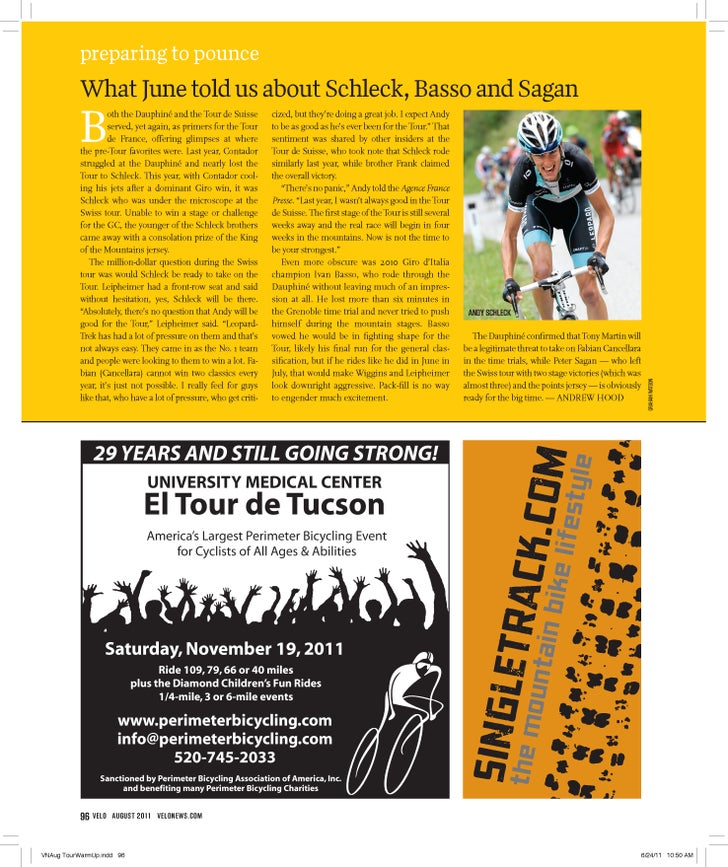 Editor's Note: The following story appeared in the August 2011 issue of
VeloNews
. With the Critérium du Dauphiné in full swing and the Tour de Suisse starting Saturday, we look back at the 2011 Tour de France tune-up races, knowing full-well how the Tour eventually played out.
Hanging on for dear life and then knocking them dead in the time trials is hardly the racing strategy that puts fans on the edge of their seats, but it's a formula that consistently delivers victories. Of course, "hanging on" is hardly as easy as it sounds at the elite level of cycling, and delivering the knockout punch in a time trial is never as scientific as it might seem. But in June two riders, Bradley Wiggins and Levi Leipheimer, used that page from cycling's well-worn playbook to bring home the most important victories of their respective road careers.
En route to winning the Critérium du Dauphiné, Wiggins didn't wither under a series of relentless sorties from proven attackers such as Alexander Vinokourov, Cadel Evans and Jurgen Van Den Broeck. Wiggins' TT advantage came early, with a big ride in stage 3, and he dug deep over the French Alps to hang on for a commanding victory. Leipheimer literally hung around all week in a brutal Swiss tour, that saw nearly 20,000 meters of vertical climbing, rainstorms, two descents faster than 90 kph and a week of racing against a world-class field. When he entered the final 32 kilometers of the TT, at nearly a two-minute deficit to a revived Damiano Cunego, he needed to take four seconds per kilometer out of the 2004 Giro d'Italia champion. Leipheimer poured everything into the pedals and perhaps won the title in the last 500 meters, when he sprinted like Mark Cavendish to the finish line. In the end, it was a narrow, LeMond-esque victory of four seconds.
Those two victories in the calendar's preeminent Tour warm-up races provided a huge boost to both Wiggins' and Leipheimer's credentials for La Grande Boucle.
Some were quick to write off Wiggins as a one-trick pony following his breakout 2009 Tour performance, when he rode to fourth place overall. After his controversial switch to Team Sky in 2010, he cracked under the pressure and rode to a less-than-impressive 24th. Leipheimer, meanwhile, seemed to some to have his best years behind him. After winning three straight California tours (2007-2009) and riding to third in the 2007 Tour and second in the 2008 Vuelta a España, Leipheimer crashed out of the 2009 Tour with a broken wrist and rode to 13th last year, his worst-ever result in Paris in eight Tour starts.
With all of this, these recent victories meant everything in the world for these workhorses. "I had a tough season, health-wise, and just had to keep my head down and keep working hard," Leipheimer said. "By winning the Tour de Suisse, it just reminded me that this doesn't happen very often in cycling. Life is hard, sport is hard, you have to remember you have your health, and just enjoy the victories when they come."
Wiggins and Leipheimer are anything but laggards. Each has fought through hardship, pressure and disappointment to come back and win the most important stage race victories of their careers. Their perseverance and determination could prove decisive when they lock horns with the likes of Alberto Contador and Andy Schleck on the roads of France this July. Contador and Schleck personify the opposite style of racing that Wiggins and Leipheimer bring to the table. Contador and Schleck are pure climbers, explosive unlike anyone else in the contemporary peloton. And, they are among the few riders who can truly turn a race upside down when the Tour hits the steeps of the Galibier and Alpe d'Huez in its third week. All eyes will be on the nose of the action, waiting for Contador and Schleck to uncork an attack. Both Wiggins and Leipheimer admit they probably won't have the legs to match them, but staying close could prove just enough to eek out a victory. It worked like a charm in the Dauphiné and the Tour de Suisse.
"I know I won't be able to stay with Contador when he attacks, but if I have good legs, I can stay close," Wiggins said. "I am in a better place than I was in 2009. I came into last year's Tour behind my best form. This year I will be coming in with the best form. Let's see what we can do."
Wiggins withstands
"The Tour de France didn't work out the way we had hoped" — that's how Wiggins summed up his 2010 Tour de France experience with a good dose of humility. He fell flat on his face, and he's man enough to admit it. It was part pressure, part media hype, and part poor preparation that put Wiggins on edge even before he arrived at the race last year.
"Last year, Bradley raced the Giro and I think he was burned out even before the Tour started," said Team Sky sport director Sean Yates. "This year, we thought, why not race the Dauphiné, try to get a result, and then have plenty of time before the Tour for any last-minute fixes?"
That schedule switch paid off in spades for Wiggins, who became just the third rider from the UK to win the important Tour warm-up race. But it was the way that he did it that left many wondering if Wiggins had indeed stepped up to a higher plane from where he was in 2009. After riding to third overall at Paris-Nice in March, the Dauphiné became Wiggins' next major goal, but no one really expected him to win the whole shebang, especially with the likes of Evans (BMC), Vinokourov (Astana), Van Den Broeck (Omega Pharma-Lotto) and defending champion Janez Brajkovic (RadioShack) all lining up in St-Jean-de-Maurienne for a 5.5km prologue.
Rabobank's Lars Boom took prologue honors, but Wiggins snapped the tape at just six seconds slower. It was obvious that Wiggins was even more serious when he blasted to second over the 42.5km Grenoble time trial — the same course that will be used in the Tour's second-to-last day. Only TT specialist Tony Martin (HTC-Highroad) beat him, and Wiggins rode into the yellow jersey after extracting 1:20 out of Evans and 2:18 out of Vinokourov, two riders who've been on the Tour de France podium.
Over the next four days, Wiggins and Team Sky fended off attacks from just about everyone. Having a long leash on such climbers as Joaquim Rodriguez (Katusha) helped him, but he never gave much rope to anyone. Proving that his best climbing legs were back, Wiggins only lost a few seconds to Vinokourov and even took time on Evans on the summit finish at stage six to Le Collet d'Allevard; he finished in the leading pack on the final summit finish atop La Toussuire to secure the overall title. A winning margin of 1:26 to Evans, a two-time Tour runner-up and former world champ, and 1:49 to eternal attacker Vinokourov, proved that Wiggins is the real deal.
"This result confirms what we've always believed about Brad," said Sky team principal Dave Brailsford. "He is a guy who can win difficult stage races. It didn't quite happen last year, but it's nice to see that belief confirmed. Good for him and the team."
Yates, too, was impressed, and believes that Wiggins can go up against the best in the peloton. "Anyone who's anyone except Alberto and the Schlecks were here," Yates said. "It is often described as a mini Tour de France, and you cannot underestimate the quality of this result. This is the biggest win for Team Sky, without a doubt."
Already bruised by failing to live up to heightened expectations going into the 2010 Tour, Wiggins was rightly cautious not to play into the media's gushing reports. As Yates mentioned, the peloton's two alpha males were not racing the Dauphiné, something Wiggins was quick to point out.
"In terms of the Tour, I am just going to have ride my race, not put myself in the red by trying to follow Contador and Schleck," he said. "It's clear that the podium is a real possibility. This week confirmed my potential for stage races. The Tour has been my goal since the start of the season and it remains so."
So how can Wiggins possibly reach the Tour podium — or perhaps the highest spot? Stay close in the mountains and knock them out in the time trial. With the Grenoble TT on the horizon as the Tour's penultimate stage, if Wiggins can carry his Dauphiné form into the final week of the Tour, anything is possible.

Staying close
If anyone personifies the tactic of "follow and wait," it's Leipheimer. The 37-year-old has consistently carved solid results throughout his long and successful career by using his time trial prowess to carve an advantage on the climbers and then do his level best to stay as close as possible in the mountains. Leipheimer is arguably the most successful U.S. stage racer ever behind Lance Armstrong and Greg LeMond, with victories at the Dauphiné, the Tour of Germany, podium spots at the Vuelta and the Tour, as well as three consecutive California tours. But it was his ride in the climb-heavy 75th Swiss tour that saw Leipheimer's diesel engine approach near perfection.
The Montana native wasn't initially sure about his prospects. He battled through health issues throughout the first half of the season, including a resurgence of a childhood intestinal injury that knocked him out of the Volta a Catalunya when he had a lock on second place. Leipheimer was able to pull it together just in time to win a stage and finish second to teammate Chris Horner at the Amgen Tour of California in May, a bittersweet result for the race's three-time champion.
The Swiss tour was meant more as a fine-tune before a big Tour push, but Leipheimer, like he often does, kept hanging in there. After surviving a string of brutal climbing stages across the Swiss Alps, he entered the final stage's 32km time trial 1:59 behind Cunego, who had been rock solid in the mountains and looked to have the overall win in the bag.
"I really didn't think [winning] was possible until a few hours before the final time trial," Leipheimer said. "Everything had to go right for me, and Cunego had to not have his best day. I have never sprinted so hard in the final 500m of a time trial in my life. When I got across the line, I was anaerobic and really didn't know what was going on. I knew it was going to be close."
How close, Leipheimer couldn't imagine. Cunego forfeited four seconds per kilometer, dooming him to lose the race by a painful four seconds. It was that last 500 meters that seemed to tip the balance and the jersey went from the Italian to Leipheimer, who walked away with what he called the most important win of his career. Cunego's disappointment was Leipheimer's celebration — meaningful for a rider who has won and lost more than his share of races by a handful of seconds.
"I have to hand it to Damiano, he really handled it like a true champion. He said to me, 'You have to learn how to lose before you can enjoy winning,' but I know it was hard on him. After all he's been through, I know how much he wanted to win," Leipheimer said. "To be honest, I wasn't thinking about winning the Tour de Suisse until the race started. I went to California with a lot of pressure and we came to Switzerland not as the pre-race favorites. We played it just right, staying close and keeping our options open."
Keeping their collective options open was RadioShack's mandate as the team shifted gears for the Tour. The team had the luxury of starting not with a five-star favorite, such as Schleck or Contador; instead, the Shacks took a multi-pronged attack to France, with Leipheimer and Andreas Klöden sharing duties with Horner and Brajkovic. Leipheimer said strength in numbers would help the team and insisted there would not be any internal acrimony, or battles, for team leadership.
"We've got guys who can go high on GC. We don't have the favorite, and that's an advantage, so we can let the race unfold, conserve our energy and stay as fresh as possible to be ready to pounce when the opportunity comes," Leipheimer said. "The legs will decide [who is the team leader]. This is professional cycling. This is our job. The number-one goal is that the team succeeds, whether that's Jani, Chris, Andreas or myself. The strongest guy will get the entire support of the team."
Leipheimer's surprise Swiss win undoubtedly gave him a huge boost of confidence ahead of the Tour. He's keen to get back in the heat of the battle, and for Leipheimer, that means racing intelligently and conservatively. Though he often catches flack for not racing more aggressively, Leipheimer defended his "ever-steady" racing style.
"It's easy to be an armchair quarterback. It's hard to explain to someone who's never been in the Tour de France and experienced what it's like to race 20km cols, four or five a day, for days on end," he said. "I don't have that acceleration like Alberto does. I have to calculate. How can I get from point A to point B in the least amount of time? That's the way I've always raced.
"The only thing you can do is look for other chances, perhaps look for other wheels, or go when the pace slackens a little. You need to be thinking. If I am strong enough to attack, I only do it when I think I can take it all the way to the line. And to attack against guys like Schleck and Contador, you have to be damn strong. I believe when I am strong, I can go toe-to-toe with these guys. I can stay close and sometimes I can pull out a TT like I did at the Tour de Suisse."

What June told us about Schleck, Basso and Sagan
Both the Dauphiné and the Tour de Suisse served, yet again, as primers for the Tour de France, offering glimpses at where the pre-Tour favorites were. Last year, Contador struggled at the Dauphiné and nearly lost the Tour to Schleck. This year, with Contador cooling his jets after a dominant Giro win, it was Schleck who was under the microscope at the Swiss tour. Unable to win a stage or challenge for the GC, the younger of the Schleck brothers came away with a consolation prize of the King of the Mountains jersey.
The million-dollar question during the Swiss tour was would Schleck be ready to take on the Tour. Leipheimer had a front-row seat and said without hesitation, yes, Schleck will be there.
"Absolutely, there's no question that Andy will be good for the Tour," Leipheimer said. "Leopard-Trek has had a lot of pressure on them and that's not always easy. They came in as the No. 1 team and people were looking to them to win a lot. Fabian (Cancellara) cannot win two classics every year, it's just not possible. I really feel for guys like that, who have a lot of pressure, who get criticized, but they're doing a great job. I expect Andy to be as good as he's ever been for the Tour." That sentiment was shared by other insiders at the Tour de Suisse, who took note that Schleck rode similarly last year, while brother Frank claimed the overall victory.
"There's no panic," Andy told the Agence France Presse. "Last year, I wasn't always good in the Tour de Suisse. The first stage of the Tour is still several weeks away and the real race will begin in four weeks in the mountains. Now is not the time to be your strongest."
Even more obscure was 2010 Giro d'Italia champion Ivan Basso, who rode through the Dauphiné without leaving much of an impression at all. He lost more than six minutes in the Grenoble time trial and never tried to push himself during the mountain stages. Basso vowed he would be in fighting shape for the Tour, likely his final run for the general classification, but if he rides like he did in June in July, that would make Wiggins and Leipheimer look downright aggressive. Pack-fill is no way to engender much excitement.
The Dauphiné confirmed that Tony Martin will be a legitimate threat to take on Fabian Cancellara in the time trials, while Peter Sagan — who left the Swiss tour with two stage victories (which was almost three) and the points jersey — is obviously ready for the big time.