Geox team boss Mauro Gianetti says he's mystified by ProTeam exclusion
Mauro Gianetti, head of the expensively assembled Geox-TMC squad, told VeloNews Tuesday that he is "astonished" that the UCI has declined to offer his team a ProTeam slot . The Spanish-registered team, formerly branded Footon–Servetto, secured a huge…
Heading out the door? Read this article on the new Outside+ app available now on iOS devices for members! Download the app.
Mauro Gianetti, head of the expensively assembled Geox-TMC squad, told VeloNews Tuesday that he is "astonished" that the UCI has declined to offer his team a ProTeam slot .
The Spanish-registered team, formerly branded Footon–Servetto, secured a huge increase in budget by aligning itself with the Italian shoe retailing giant. In signing Carlos Sastre and Dennis Menchov, grand tour winners both, Gianetti had hoped to persuade cycling's governing body that the team merited a place at the top table, but to no avail.
"They haven't given me a plausible explanation, and the whole thing seems to me to be subjective," he said. "We'd an idea that we were 17th on the so-called sporting classification, so there's no surprise in that sense. What we still don't really know, however, is how it's being calculated. Nor do we know how significant — or otherwise — the ethical criteria is. I find the whole thing utterly mystifying …"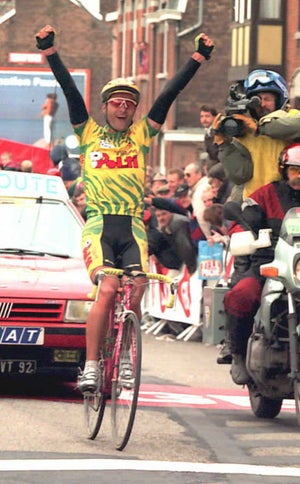 The first 15 of the 18 available ProTeam spots are automatically determined by the UCI's sporting criteria ranking (assuming the team meets the required ethical, financial and administrative qualifications). The UCI licensing commission chooses the final three ProTeams from among the next five teams on the sporting ranking. The UCI says ethical, administrative and financial qualities determine the choice, as does a more detailed look at the sporting criteria.
Geox was passed over despite having a higher sporting ranking than Ag2r and Quick Step, which were accepted. The Cofidis team also failed to earn ProTeam designation, despite having a higher sporting criteria than Ag2r.
Not making the cut means that Geox and Cofidis will register as Pro Continental and will rely on invitations to participate in the most prestigious races, including the grand tours. Such invitations are not necessarily hard to come by for Pro Continental teams with a few star riders: BMC and Cervelo TestTeam, for example, were each invited to most major races in 2010, despite lacking ProTour team designations. But the uncertainty concerns sponsors and riders.
Gianetti's program was deeply hurt by the 2008 Tour de France scandal involving two of his Saunier–Duval charges, Riccardo Riccò and Leonardo Pieopoli. He signed Sastre for 2011 in particular to be seen to be promoting clean cycling.
"Carlos Sastre, probably uniquely among grand tour winners in the last decade, has never been implicated in any way in a doping issue. He conducts himself impeccably, both ethically and on a human level, and is guaranteed not to besmirch the name of the sport," he said.
No good deed unpunished?
In an odd coincidence that irks Gianetti, the Dutch team Vacansoleil has hired Ricco, who has returned to racing following his suspension. Ricco's 2010 performances contributed to Vacansoleil's 12th spot on the sporting ranking and the team's resulting ProTeam designation for 2011.
"We have four grand tour wins and ten podiums, and yet we're not deemed fit for automatic selection. That strikes me as utterly nonsensical, particularly in light of the fact that we've actively tried to embrace the new reality. We've taken a team of talented young riders, none of whom have any doping issues, and augmented it with two high quality, clean grand tour winners. Quite what more we could have done is beyond me …"
This season's results reflected the fact that Gianetti was working with a limited budget and, by extension, a very young team. In light of his team's ignominious exit from the 2008 Tour, he sought to change the culture of the organization and, arguably more importantly, the public perception of it.
However, Gianetti spent Tuesday afternoon communicating the very worst-case scenario to a bewildered new sponsor. Geox, he told VeloNews, was never offered any guarantee of ProTeam designation; but in shelling out for two of Europe's best stage racers, the shoe brand made a massive investment in the sport.
"They are reasonable people, and Mario Moretti Polegato (the billionaire owner of Geox) understands and appreciates that we've acted in good faith. The reality, though, is that the message he's receiving isn't at all good. Geox, a high quality, value-oriented sponsor, of precisely the kind cycling needs right now, is being told that his return on investment is subject to some abstractive ruling in Aigle (Switzerland, the UCI headquarters). No disrespect, but that doesn't strike me as terribly clever …"
Gianetti was something of a pariah in cycling even before the 2008 scandal, because of his willingness to hire David Millar after the Scot returned from a doping suspension in 2006. While Millar is now acclaimed for his outspoken anti-doping stance, Gianetti is often perceived as symptomatic of 'old' cycling's moral insolvency.
"Stuff like this is hard to reconcile, but I have no choice. Cycling is who I am and I know that I have nothing to reproach myself for. I have a team of excellent young men, and I will do everything I am able to give them a chance to ride the big races. I don't know how the Tour, for example, will react, but the notion that Sastre and/or Menchov won't be able to compete is too ridiculous to contemplate …"
It could be argued that those most likely to suffer are the young guns. The excellent Fabio Felline is a case in point. Touted in Italy as a potential successor to Francesco Moser, Felline won the five-day Tour of Lorraine at just 20, but will in all probability be left kicking his heels for protracted periods this season.
"Felline has time. He's a bright boy and he'll be OK. It'll be more difficult to convince the likes of (Juan José) Cobo and (Mauricio ) Ardila, seasoned professionals brought in to help Sastre and Menchov, that they've made the right choice."
Difficult yes, but Mario Gianetti has spent his entire adult life in and around professional bike racing.
Difficult is precisely what he does …
Editor's note: Herbie Sykes is an English journalist living in Turin, Italy.