Gravel Dispatch: Up and down and up again at Dirty Kanza 200
Chris Case swore he'd never race Dirty Kanza again. He was lying. And the second time around wasn't much easier.
Heading out the door? Read this article on the new Outside+ app available now on iOS devices for members! Download the app.
Editor's note: Managing editor Chris Case raced Dirty Kanza 200, and lived to tell the tale. This coverage is sponsored by 3T, PowerTap, and Enve. Case rode a 3T Exploro, on Enve's G23 wheels, laced to a PowerTap G3 hub power meter.
"I'll never do that again. Never!"
I muttered these words — first to myself, and then to anyone who would listen — as I rolled across the finish line of the 2013 Dirty Kanza 200.
I guess that makes me a liar.
I competed in the 2018 edition of the 206-mile gravel race in the name of science and suffering, despite the fact that five years ago it became readily apparent that my body was not built for 200-mile rides. This time around, it would be an experiment, to try and rework my physiology and dial in my fueling strategy to better withstand the rigors of a really long day at a significant pace.
Working with VeloNews's resident physiologist, coach Trevor Connor, we set about attempting to convert me (a cyclocross racer by nature) into someone who wouldn't have to completely empty every cell in his body just to finish. It took some serious work — and a lot of data crunching from my PowerTap hub power meter. After months of training, it was time to race.
As I arrived at the start line, flashes sparked across the sky as distant storms rumbled over the Flint Hills. Winds howled, raindrops dripped, and a short delay saw riders lay their bikes in place at the start line and run for cover under the historic Granada Theater in downtown Emporia.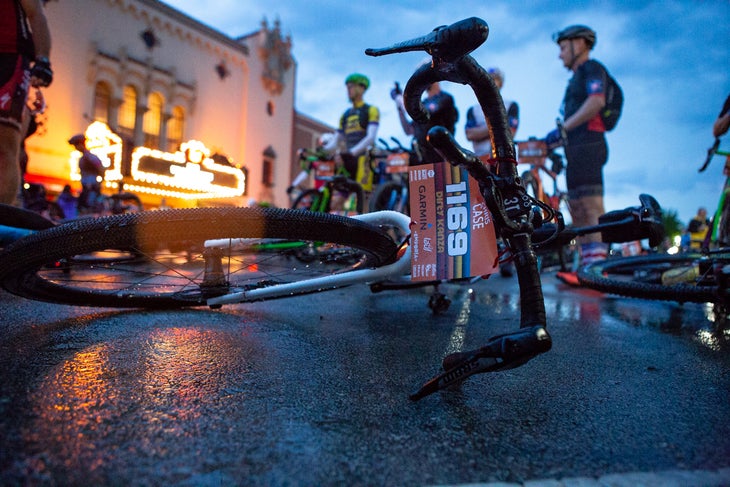 As the sun peaked through the clouds, race director Jim Cummins gave us the countdown to start, and then we were off. With over a thousand racers barreling down the road behind us, the lead group rolled out of Emporia to the occasional squeal of disc brakes and calls to move left or right to avoid a puddle or tailgate. We waved to the local residents who had parked themselves on their front lawns amid small American flags. They would have it a bit easier today, I thought. Smart folks.
Based on my recollections from 2013, I anticipated an unsustainably fast start once we hit gravel. While it wasn't mellow, the pace was reasonable, and we trundled onto chunkier, more rolling terrain and into the hills proper, lush with tall green grasses and the black specks of scattered cattle.
Suddenly, that dreaded sound. Pfffff. I could feel the bottoming out of my Enve G23 wheels, and that sinking feeling came over me. I had slashed my tire an hour into what I was hoping was going to be a 12-hour ride. My friend, the former VeloNews editor in chief, Ben Delaney, who was positioned several riders behind me rolled past. "Damn, sorry Chr…" Pfffff. He flatted. Jinx!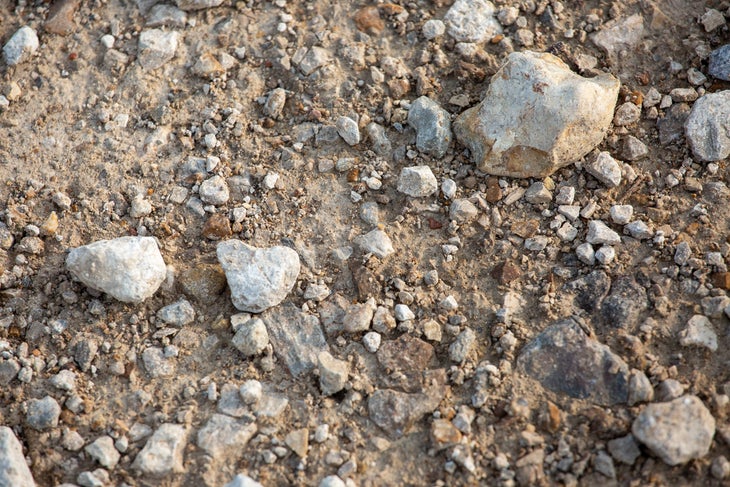 Together we futzed with our respective flats — first attempting to plug them, and finally resorting to using tubes — for a good 20 minutes. (Cycling industry folks … what can I say?) In an instant, the game-plan for the day changed from one of fierce competition to as-fast-as-possible completion.
It was comforting to have the company as hundreds of riders passed us by. It was also nice to be able to use Ben's pump after I broke the valve core off inside mine, rendering it useless. While Ben continued to fiddle (he took first prize in "The Slowest Flat Change in the History of Bicycle Competition"), I rolled slowly back onto the double-track road knowing that we'd end up riding together further along in the day. The chase was on.
"On your left!" "Through the middle!" It became a constant call as I wove my way around the many riders who had slipped past. (Perhaps next time I'll mount a good bell on my bike for situations like this.)
I was having to occasionally scoot around back-markers by going off the road. I was comforted by the fact that the new Enve wheels I was riding were designed with a blunt leading rim edge to greatly reduce the chances of pinch flatting. So bob and dive I did.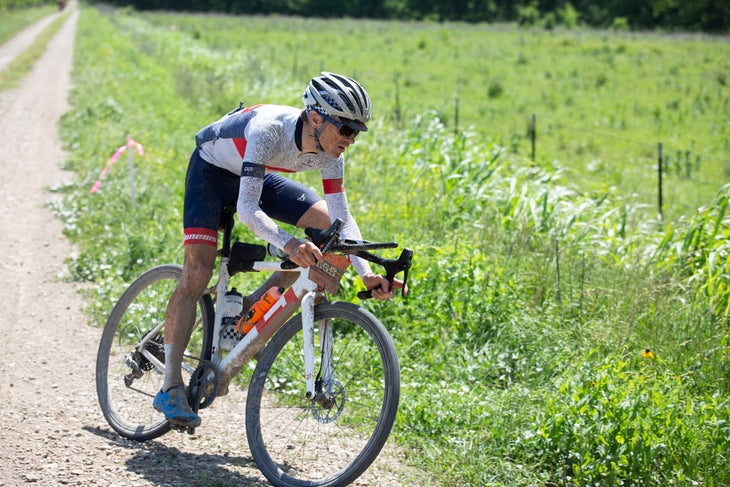 Just after the first aid station, Ben caught me. It was time to go to work, and by that I mean it was time to suck off Ben's wheel. Even still, riding the wheel of a guy who often reminds me of Zdenek Stybar, he took me into places I didn't necessarily belong. I knew from my PowerTap what watts I needed to hold for it to be sustainable. Oops.
Minutes turned into hours. Hours were filled with long pulls, occasional periods where we'd sit up and chat about life or have a laugh about why we were doing this voluntarily, and a lot of talk about pizza. Probably too much talk about pizza.
Throughout the day we rolled up on groups — sometimes we latched on, sometimes we sailed by. We always gave a nod or a wave, and many times a group would coalesce. Everyone was in this thing together. There comes a time where thoughts of competition become contemplations on completion, and the collective becomes the savior.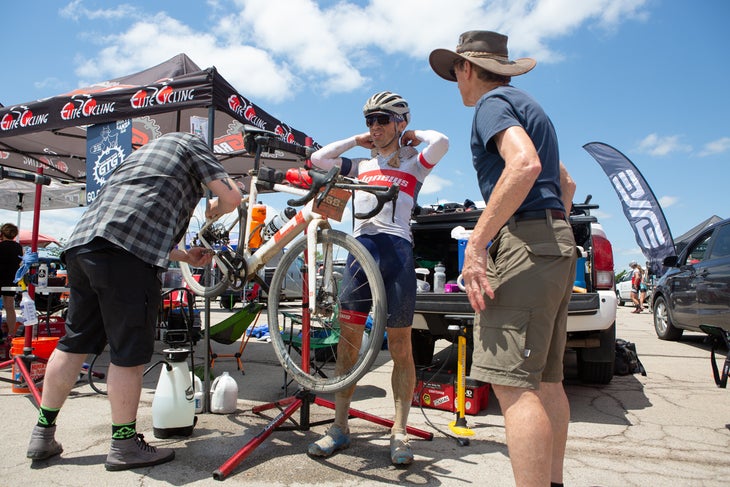 Eventually, the heat, wind, and pace were leading me to that depleted place I felt so acutely in 2013. This time around I had paid attention very well to what I was eating and drinking throughout the day, but ultimately it caught up to me. The tummy began to rumble.
I had to let Ben go. Now I'd be able to ride alone, which had its positives and negatives. There is a bit of relaxation that comes from riding by yourself, not beholden to another's pace, especially on a day so long. You can also feel quite exposed way out there amid the hills, with the buzzards drifting slowly above your head. I rode alone for many anonymous miles; when I did get caught or did some catching, it felt like an intrusion into my solitude. Even knowing that I could go faster with the aid of another engine, it was easier to ride my own race and let the others drift away. The struggle to hold a wheel was a struggle I didn't prefer — the struggle inside my own mind was a marginally more comfortable place to be.
Then I would remember that my 3T Exploro was designed to be as aerodynamic as possible; I was on a machine that was helping me slice through the humid Kansas air. I dropped into my one aero bar, elbows on the tops of my handlebar, hands wrapped around the horn for a bit of leverage. (I called it the GNARwhal, some people coined it the AEROcorn. In either case, I split the middle on the debate about whether aero bars should be allowed in mass-start gravel races.)
At the third aid station, I tasted a bit of paradise: It came in the form of a bag of potato chips and a ginger beer. By god, how is it that such nutritionally vapid food can taste so damn good after 10 hours of spinning your legs in circles? Who cares, it just does. I didn't linger, knowing if I did I'd never want to go back out into the heat.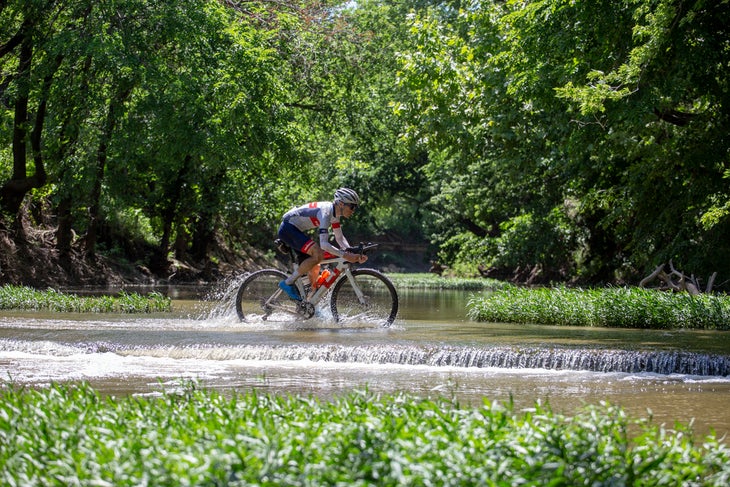 I was all alone still. This is when I reached that inevitable place of calculation — much like I did in 2013.
My brain became a calculator on auto-pilot, computing about one thing or another. It was like an SAT question that won't leave your head the night before the big test — the algebra kept flooding my thoughts. If I had 43 miles to go to the finish, and could average 17 miles per hour, how long would it take to get there? If I had only 19 minutes before 13 hours came and went, how fast would I have to ride to finish before that goal?
If I had been trying to sleep, I wouldn't have. If I had been taking a test, I would have been fidgeting in my seat. At Dirty Kanza, with a numb brain and hours to waste, I toiled over meaningless math problems just to pass the time — and because I couldn't stop. It's all I had out there.
At mile 175, I turned into a stiff headwind, and my Garmin told me there were 5.5 miles until the next turn. I had officially reached my low point. In all that time and distance, I didn't go anywhere, though I traveled far and wide. I expended many calories, crawled over many hills, churned circles in incalculable numbers; yet I was headed right back where I started, in Emporia.
But what goes down must come up. Not long after, a group of four drifted ever closer to me. Fine, I thought, this time I'm holding wheels and getting this thing done. I latched on and stared at the rear tire in front of me. I focused on small chunks of time: to the next telephone pole, the next house, the next turn. I tried very hard not to look at the miles slowly ticking away. Before I knew it, we were on the outskirts of town. There was luscious pavement for a change. There were buildings. And finally, there was the finishing straightaway, filled with rabid fans, cheering for anyone and everyone, giving me the acknowledgement I needed to understand it was all over. I could stop pedaling. I could stop calculating. I could finally get that pizza.
"I'll never do that again. Never!"
Only 359 days to become a liar again.
Case's effort, by the numbers
Finishing time: 13:08:09
Average speed: 15.70 mph
Distance: 206.2 miles
Elevation gain: 10,079 feet
Training Stress Score (TSS): 655
Kilojoules: 7,801
Weighted average power: 190 watts
Weight loss: 9 pounds