A big guy on ti: Brennan Wertz partners with Mosaic Cycles for 2023
Wertz will ride for the family-run custom bike brand at events like the Life Time Grand Prix, BWR, and the Grasshopper Adventure Series, as well as adventures beyond the race circuit.
Photo: Jim Merithew / Kali Protectives
Heading out the door? Read this article on the new Outside+ app available now on iOS devices for members! Download the app.
At 6'5 and 2oo pounds, Brennan Wertz already stands out among the fairly diminutive gravel crowd.
And in 2023, he says, he's going to "lean into that a little more," by working with brands and products that also aren't ubiquitous in the off-road racing world. Chief among them is Mosaic Cycles, a small custom bike brand based in Boulder, Colorado.
After spending the 2022 season with the Scuderia Pinarello aboard the brand's carbon fiber Grevil, Wertz is making an unconventional leap to titanium with Mosaic. He'll ride the handmade bikes at events like the Life Time Grand Prix, the Grasshopper Adventure Series, and BWR California and SBT GRVL.
He's also scheming some bikepacking trips, adventures abroad, and will be logging plenty of miles on the dreamy Marin County, California roads he calls home.
Wertz says that while his relationship with Mosaic — and his other 2023 sponsors — does have to do with racing, it's not predicated on results. In fact, it's all about relationships.
"I know I'm doing something totally different," Wertz says. "It's this really cool opportunity to have not so much a sponsorship or partnership but more of a friendship with Mark [Currie] and Aaron [Barcheck, Mosaic's founder] and the rest of the team.
"That's important for me and really cool to be able to put into practice this year. To have a couple friends I call up when I need something and we talk like we're friends and it's not a business arrangement, it's a friendship first."
Friendship first
Wertz's relationship with Mosaic now spans a few years — which is longer than his professional cycling career.
In 2021, while he was working in sales and marketing for Above Category, a bike shop in Sausalito that happens to be the country's number one Mosaic dealer, Wertz had the opportunity to do a custom build project with Enve for Unbound Gravel. Mosaic crafted and painted the frame, and Above Category built the bike.
Wertz, then a relative unknown, sailed the titanium Mosaic GT-1 gravel bike to a 1oth place finish in Emporia that year. Later that summer, he rode the same bike to ninth place at SBT GRVL.
Meanwhile, he'd gone through another custom bike build project through Above Category with Pegoretti bikes out of Verona, Italy. So, at the same time that he was having some legitimate results as a gravel racer, Wertz was also becoming enamored with the custom build process.
"I had these opportunities to ride sweet bikes, go through the process of building the bikes, and I saw the whole process unfold," Wertz says. "I also got to see what it means to be a privateer and how that all works."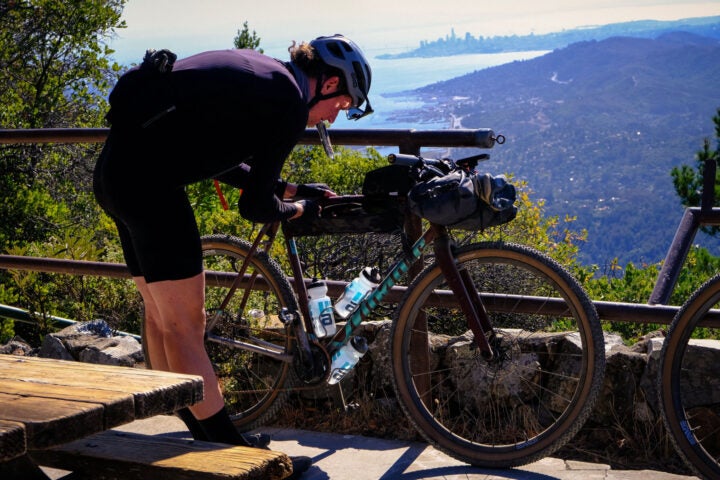 All year, Wertz kept in touch with his new contacts-turned-friends at Mosaic, even taking them bikepacking in Marin County when Sea Otter was held in October.  Although Wertz would go on to ride for Pinarello in 2022, the friendship he'd forged with Mosaic persevered — until it eventually became an opportunity.
"This year I had baggage go missing, the usual equipment challenges of racing," Wertz says. "A few times it happened in Colorado and the guys at Mosaic were basically jumping at the opportunity to help me out in any way possible, from stripping their personal bikes down to give me what I needed.
"I think they've had a good couple years and they're growing and continue to grow. They don't have the budget of a massive production carbon company but they're in a position now when they can invest in what I'm trying to do."
It's supposed to be fun
Wertz, who found cycling after a collegiate rowing career, was drawn to the gravel scene soon after he started racing. And although he entered the discipline just as it was beginning its sharp arc toward professionalization, he never wanted to become so serious about it that he didn't enjoy riding his bike.
"I like training, I like being competitive, I want to try and win at least one proper race next year, but I also want to have fun doing it," Wertz says. "I don't just want to be 'on the program,' not having fun. It's supposed to be fun, like Sarah Sturm said. Ninety-eight percent of these people are paying for this, and it's their vacation. I really want it to feel like that for me."
Wertz says that finding brands that aligned with his approach to racing was important, and that while he enjoyed his experience with Pinarello in 2022, "a smaller, tighter, more family-style brand is a really good fit for me."
Going the privateer route (having an amalgamation of sponsors rather than riding for a team) in gravel has its perks, but Wertz admits that he's taking a pay cut by stepping away from Pinarello. Nevertheless, his arrangement with Mosaic feels so authentic that it's a small price to pay.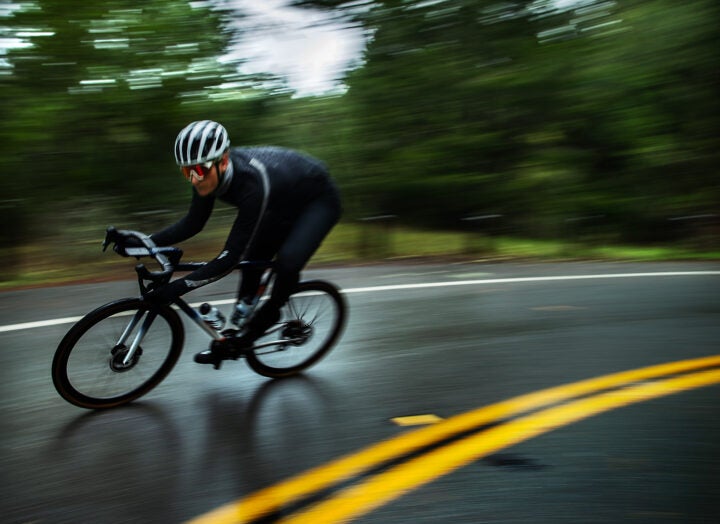 "I'm not gravel racing to make a ton of money or to be famous, I'm doing it because I love riding my bike and they really align well with that," Wertz says. "They know that the best way to support me is to give me the tools to do a bunch of cool stuff and be stoked and that will in turn create above and beyond what they want.
"They'll be at a couple of events with me, but they're not sitting down in November looking at a contract, saying you need to do this, this, and this for it to be worth it to them. They're looking to do something that's new and unheard of in the small custom builder realm. We all feel strongly that for all of us to maximize the relationship, it has to be genuine and the rest will take care of itself."
Something new and unheard of
While it may be new and unheard of for a small batch frame builder to sponsor a gravel pro, it's also unheard of for a gravel pro to ride titanium. In a sea of carbon fiber bikes that barely tip the scale, Wertz will likely be the only one at the pointy end on a heftier ride.
Not only is he not worried about it, he's found plenty of other reasons to embrace it.
"Disadvantage? The only thing I could really think of is weight," Wertz says, "but I don't think that's a huge penalty. The bike might be a pound heavier but look at me, I weigh 200 pounds. These bikes can still be plenty light. It's not a heavy material, there's a reason it's still used in aerospace."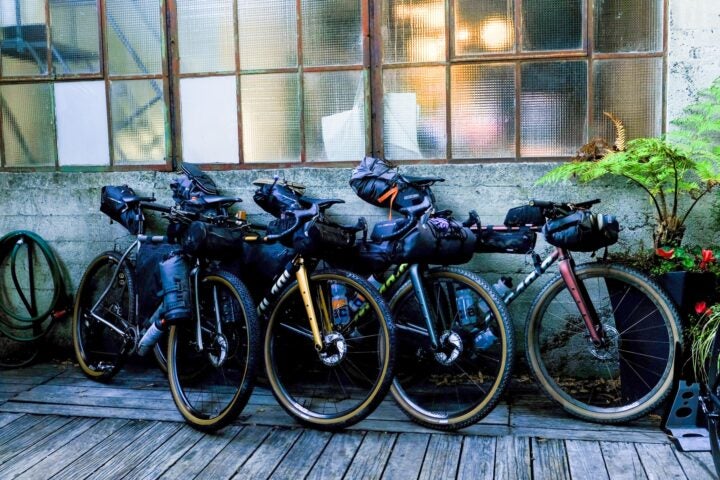 After riding a titanium Mosaic gravel bike to three top ten finishes in 2021, Wertz has reason to be confident. Although Mosaic now offers "batch built" frames in stock geometry for some of its models, Wertz's bikes will all be custom-made. The customizability of titanium is a part of the process he's most excited about.
When Barcheck built Wertz's GT-1 45 for Unbound in 2021, "they sourced an oversized tubeset that they normally wouldn't use," Wertz says. "The top tube was the same size as a typical downtube, and they found an extra oversized tube for my downtube and were able to build me a super stiff mega oversized frame.
"With Pinarello I was never going to be able to design a frame. 'Oh, I want bigger clearance, or I want this chainring' — with Mosaic that becomes possible and I think that's a really cool privilege."
Wertz's varied racing and adventure calendar also gives the builders at Mosaic an interesting challenge — but one that's perfectly up their alley.
The product demands just within the Life Time Grand Prix, which includes three gravel races and three XC MTB races, are enough to warrant multiple different bikes, and Wertz will take full advantage of Mosaic's range of gravel and mountain bikes.
However, he also wants to showcase the customizability of titanium — that, with a few tweaks, one bike can kill the quiver.
"Having friends and partners that are able to really make products for specific events and courses, that's something I want to lean into and highlight, but we also know that the average consumer is not buying five different bikes for a season of riding," Wertz says. "I get to lean into that, too — you don't need an adventure bike for bikepacking or a different bike at Unbound than Crusher [in the Tushar], but Mosaic happens to make different models for different things. I get to showcase different products for different things while knowing fully there's plenty of overlap, that I could do an entire season of racing on one bike. I did that in 2021."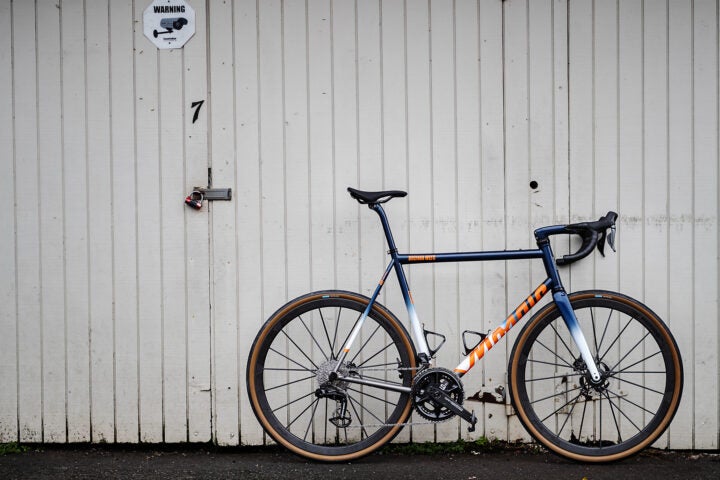 In fact, Wertz's 2021 GT-1 45 gravel bike is currently in the shop for a new paint job and parts refresh — "I love that that's a bike that I can have forever and my grandkids can be ripping around on it some day," he says. Also in the queue is a new model of Mosaic's GT-1 AR all-road model for road-centric gravel races and training, as well as a MT-2 hardtail for mountain bike races.
When Wertz talks about his new partnership with Mosaic, he's as excited about the process of building the bikes as he is about riding them. It comes back to the relationships being foundational above all else.
"The product itself is so cool and unique, but the coolest part about custom is the relationships that come with it," he says. "The ability to shake the hand that made my bike. It's harder to put into words — the aesthetic of Aaron himself welding it. Watching him take a stack of metal pipes, welding into a bike frame that gets painted with beautiful art, then sent to Above Category where they finish off the build. That relationship is super cool."